Bologna snaps Clapham's seven year streak!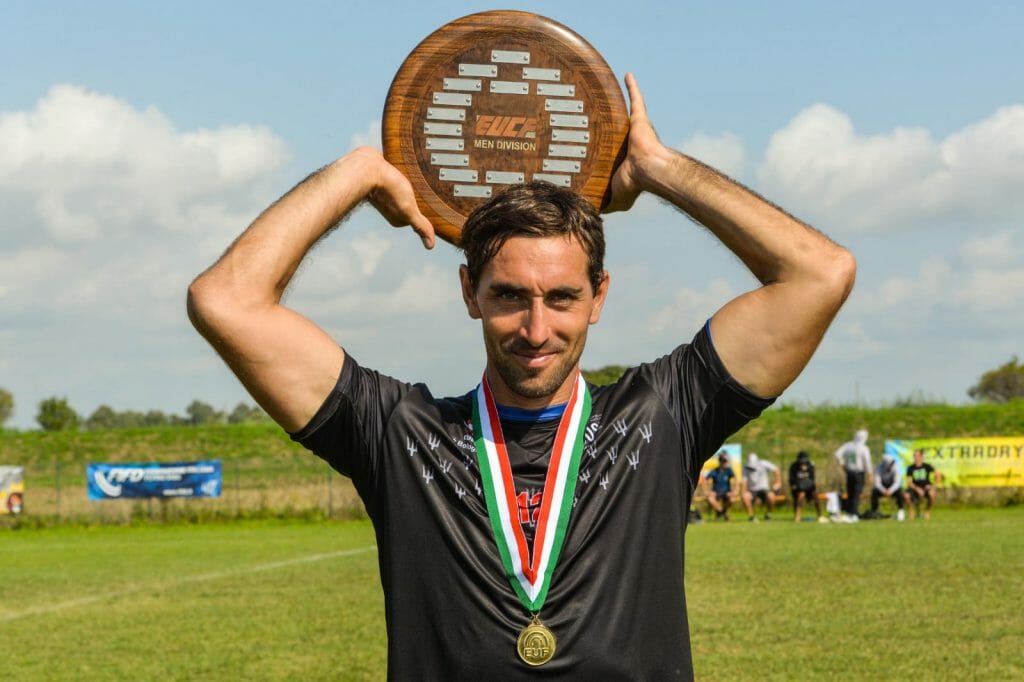 EUCF coverage is presented by Tokay Ultimate cleats. Support Ultiworld Sponsors, and check out Tokay, the cleats you were looking for.
The 2019 EUCF final turned out to be a repeat of last year between tournament favorites Clapham and CUSB La Fotta. However, nobody predicted the brutal execution of the most successful club ever in Europe at the hands of Davide Morri and his army of young guns. The Italians ran away 15-7 winners in a game none of us will forget any time soon. Here's how it all went down on the sunny runway field of Caorle, Italy.
Both teams started off with two clean holds and the packed side lines on site were all glued to the action on the showcase field. Clapham's Nomadic Tribe import, Katsuhide Hori, had the first turnover of the game due to a miscommunication and CUSB capitalized on the break opportunity and took the lead at 3-2. Hori is clearly a top player but at times he was on a different wavelength to Clapham who play a less dynamic offense than most Japanese teams. La Fotta's Ricardo Zanni then made a ridiculous grab over both James Freeman and Alex Cragg who had better position to keep La Fotta's offense clean at 4-3.
For most of the game the Bologna boys clogged in and around the disc with monumental defensive pressure forcing Clapham to take on massive crossfield swings just to keep the disc alive. Eventually Bruno Mine came flying across Josh Briggs on one of these swing passes which put off Briggs enough to earn a turn. Pádraig "Pen Dragon" Sweeney got his name on the stat sheet scoring a break off a short pass from Filippo Simonazzi. Bologna broke again with Giovanni Santucci boxing out against Justin Foord before getting the thrower's bookends. The London based O-line were in complete disarray and looked towards their D-line team mates to try and stop the bleeding. The Italian fields continued to bleed British blood as Clapham gifted CUSB another possession off a Conrad Wilson slip and Stefano Sgubbi reeled in another La Fotta score. CUSB take half 8-4. No turnovers, no hesitation, no fear. The fans watching on are shell shocked.
Wolfgang Mitterer scored coming out of half and the Italians had no intention of letting Clapham back into the game. James Mead added his name to the already long list of Clapham players responsible for unforced errors but at 9-4 La Fotta had their first turn of the game, they are human after all. Luca Tognetti fluffed a high release backhand pass to Ivan Cantú which allowed Magnus Wilson to make a big play on the disc. Finally a moment for Clapham to try and steal some momentum but this joy was short lived as Bologna got the disc back and Cantú got his goal on the second try. Gabriele Spisso was responsible for the first O-line turn from the Italians but Michele Angella denied the reigning champions their first break on the doorstep of their endzone and La Fotta eventually held. Clapham's D line got a chance to cross over on offense again as Tom Abrams launched a big hammer to James Freeman to keep them in with a chance. At this point Justin Foord started pulling double duty and earned Clapham their first real D of the game but James Freeman was on hand to continue Clapham's new tradition of calamitous errors with a simple pancake catch drop. A huck was then sent up between Conor McHale and Angella with McHale launching himself into orbit but about two seconds too early. Angella's leap had the timing of a bespoke Swiss wrist watch, roofing McHale for the goal.
On game point Briggs threw out of bounds looking for Hori deep. Briggs, who has been outstanding all season, picked a bad time to have his worst performance of the year. Simonazzi got his third assist of the game throwing the winning goal to a wide open Riccardo Venturoli. The crowd erupted like Mt. Vesuvius as Prosecco and tears of joy fell from the skies. This marked the end of an era for Clapham Ultimate dominance and the dawn of what might be a reign of terror by CUSB La Fotta.
After the game the Italian men celebrated with their women's team who also won the title whilst Clapham drowned their sorrows in some presumptuous champagne which was bought in anticipation of their tenth European championship win. Jamie Cross, a pseudo coach of Clapham, had this to say: "[CUSB] played the best game they have ever played against us and Clapham didn't play at the level we have all come to expect from them over the last couple of years."
It was many years ago when Davide Morri planted the seeds for success in the city of Bologna and now after 20 years of playing he get's a gold medal alongside some of the best players in Europe that he started coaching when they were as young as ten years old. When asked about the success of the D-line in the final Davide Morri had this to say "we picked our matchups to deny the preferred way of the player. Under cuts by Justin Foord were covered really well by Luca Tognetti and Riccardo Venturoli took away the same from Conrad Wilson. With these two guys shut down Clapham struggled with their systems". Davide also explained how they forced backhand to try and limit flick hucks from Briggs but once Clapham got outside the endzone they would occasionally switch to a flick force.
Looking at the post mortem, Clapham never got a break. In fact, they only had two opportunities to do so. In sharp contrast Bologna broke on seven out of seven opportunities. Six of these conversions were perfect as the D-line only turned over once all game. The O-line turned over twice but got it back both times with grit and hard work. It's back to the drawing board for the Clapham offense who had a success rate of 50%. Comparisons can be made to the PoNY win over Revolver across the pond last year. PoNY never allowed Ashlin Joye to throw a flick huck, CUSB tried their best to stop Briggs doing the same. Revolver had a similar style of isolation offense that was exposed by clever defense. Hard honest defense seems to be a thing of the past. With many teams nowadays scouting their opposition, the big aim seems to be to take away each player's preferred option. Teams would often gift players something else in return, but this seems to be a recipe for success this season. The same could said for the EUC final where Holger Buettenmüller never scored a goal as he was forced under all game.
In other news on the day Chevron Action Flash made it on the podium after dismantling a tired RealFive team in the bronze medal match and Flying Angels Bern picked up the spirit award. This of course all over shadowed by the outstanding Italian opera.
---
Editor's note: Earlier this caption said that this was the first time Morri won a gold medal, but he won before with Flying Angels Bern ↩