Sewell faces years in jail.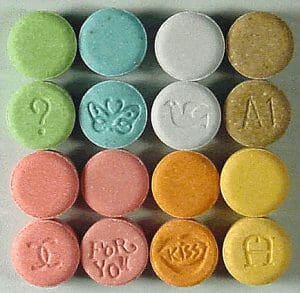 Matthew "Skip" Sewell — a long-time ultimate organizer, player, and the founder of USA Goaltimate — has been charged in federal court for trafficking ecstasy (MDMA) and ketamine with an intent to distribute.
According to unsealed court documents, police found 29 pounds of MDMA, 7.8 pounds of ketamine, $375,000 in cash, and drug paraphernalia associated with distribution in Sewell's Oakland apartment in late June. Authorities obtained a search warrant after conducting an investigation that began when a FedEx facility in Memphis intercepted four packages containing multiple pounds of MDMA and ketamine en route to California.
Special agents with the Homeland Security Investigations team went to the addresses listed on the packages, leading them to multiple private mailbox facilities in the Bay Area. The packages were sent to three different names registered at the mail facilities under Florida, Washington, and Maryland drivers licenses. After one mail worker identified the man who picked up packages under that name, authorities used the license plate number of his vehicle and determined that the vehicle belonged to Sewell, whose picture the criminal complaint said matched those on the licenses. Sewell allegedly attempted to pick up a package at one of the mailboxes during the investigation.
Sewell has a storied history in ultimate as an organizer. He co-founded Cultimate, a prominent (and notorious) tournament organizing company in the late 2000s; served as the Creative Director for Major League Ultimate; has hosted countless tournaments, including long-standing ones like Centex and Trouble in Vegas; and started USA Goaltimate in 2016 to serve as the governing body for the growing sport. He also played competitively with Seattle Sockeye and Austin Doublewide, among other teams.
Under federal law, Sewell faces a maximum of 20 years in prison and a $1,000,000 fine if convicted. He is currently being held without bail after being arrested on August 16th in Denver.