How a small college star is the off-field key to an all-star crew looking for a second straight title.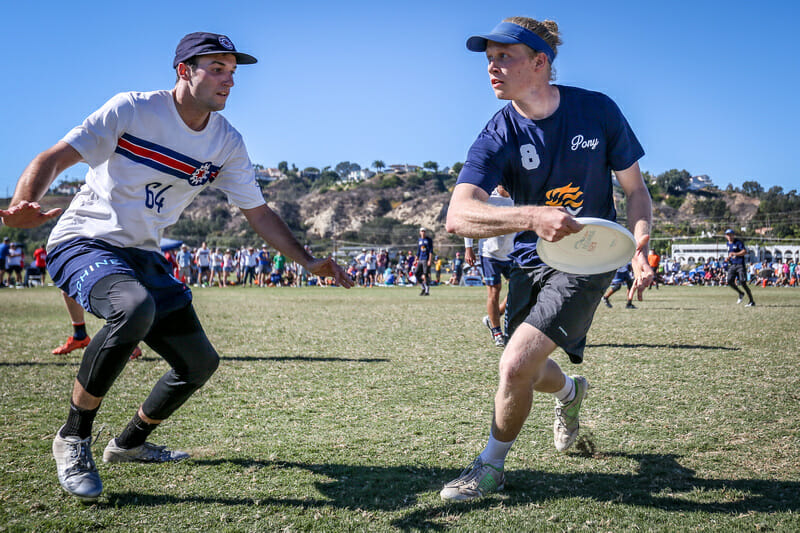 Harper Garvey takes pleasure in holstering his 70-yard hammer. Sure, he could break it out to hit a receiver streaking down the break side in stride, or it could unlock a tricky zone, but Garvey is just as happy if one of his teammates scores more conventionally. Of course, if the shot is there he'll take it — and more often than not it works out.
Known more for his monstrous throws and easily spottable attire, Garvey is a driving force for #3 New York PoNY and a key social team builder off the field. Big names like Jimmy Mickle, Chris Kocher, Grant Lindsley, Jeff Babbitt, and Beau Kittredge get a lot of attention on PoNY, but Garvey deserves recognition for his impact in bringing together a team that loves each other and that can be successful at the highest level of the sport.
***
If you ran into Garvey on the street, he would not strike you as a prototypical elite ultimate player. Standing 5'10" with his long blonde hair usually tied up in a bun, Garvey isn't afraid to stand out. While many teammates opt for a hat, Garvey likes to sport a visor, allowing his hair to peek out the large hole in the top. Acknowledging the stereotypes they entail, he also has recently taken to wearing sunglasses while he plays, avoiding the need to squint through entire tournament days. It's a distinctive look, but one that matches his electric play on the field.
Garvey first touched a disc in fourth grade, when a teacher taught him the basic throws and rules of the game. By seventh grade, he was playing on his high school team, and by senior year he led that team, St. Paul Charter, to the semifinals of the 2012 Minnesota State Championships. After playing through soccer, basketball, volleyball seasons in years past, by the time he was a senior, ultimate was Garvey's only sport — he simply says he enjoyed it more, and all of his friendships were built around ultimate.
By that point, Garvey was already really good at ultimate too. He had neighbors who played who would play catch with him and his sister. This early exposure developed his throws into the balanced, monstrous hucks and challenging breaks he utilizes today.
Garvey might have played at a small high school, but he did not go unnoticed. The summer after he graduated high school, Garvey, to his surprise, made the USA U20 National Team.
Harper Garvey Is PoNY's Unsung Hero is only available to Ultiworld Subscribers
Already have a subscription? Log in
Whether you visit Ultiworld for our reporting, our podcasts, or our video coverage, you can help us continue to provide high quality content with a subscription. By becoming a subscriber, not only do you receive benefits like exclusive articles and full article RSS feeds, you also help fund all of Ultiworld's coverage in general. We appreciate your support!