The most shocking upset in the women's division thus far!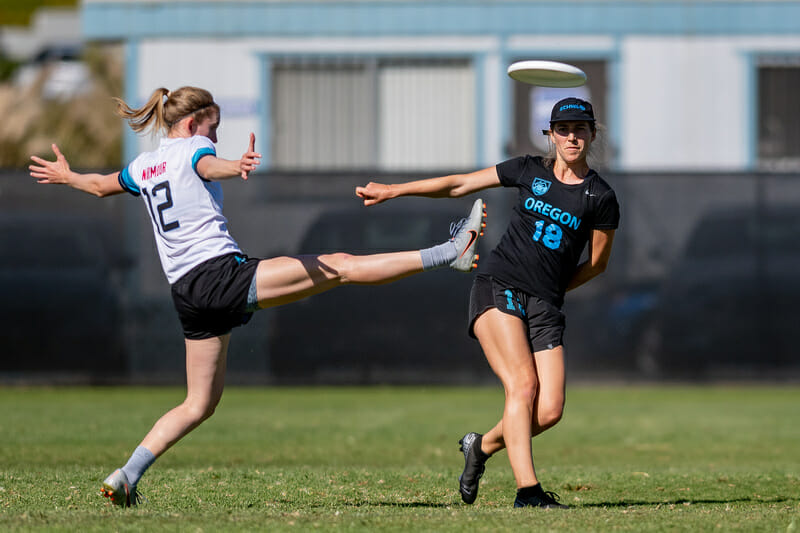 Our coverage of the women's division at the Club Championships is presented by Breakside Strength and Conditioning. Check out Breakside to find out how you can unlock your athletic potential for just $10 a month.
It's the unpredictable that can make any game engaging, and there was absolutely no way to predict what happened in the women's quarterfinal between Portland Schwa and Denver Molly Brown. After taking a decisive lead, Schwa choked it all away, only to edge their way back into the lead and hold on to pull off the upset over Molly Brown, to the shock of everyone, by a score of 15-14.
The only hint of this possible outcome came from way back in June, when Schwa almost toppled Molly Brown at the Pro-Elite Championships, only to lose on double game point. Starting on offense, Schwa had the chance to put the game away, but a small execution error gave the disc to Molly Brown, who punched in the goal, sending them to the final. That game showed that Portland could go the distance with Denver, but doesn't hold a candle to what transpired in this quarterfinals match.
It started with a bang. Molly Brown fumbled the pull catch, giving Schwa a short field and a chance to set the tone of the game, which they did willingly. "[Molly Brown] started out with a bit of jitters," noted Schwa coach Matt Melius. "Their dropped pull and subsequent short turn from our pressure gave us a lot of energy… it put them on the ropes and we knew we could hold them there." Things only got worse for Molly Brown from there, as the Portland squad continued to bully them into submission, racking up another break only a few points after.
At 4-2 to Schwa, Molly Brown finally woke up, and started playing with the confidence that had carried them all tournament. Manuela Cardenas, Claire Chastain, and Alika Johnston started hitting their shots, putting Schwa on the back foot defensively. That didn't stop Schwa's offense from maintaining their consistency, as they powered through Molly Brown's backhand force throughout the first half. Eva Popp was particularly electric, as was Mariel Hammond, who took a lot of the defensive load after any O-line turns. Schwa kept playing Molly Brown tight, giving them no separation, and even earned another break heading into half, leading 8-5. "Our team's energy was way up," said Melius. "We had a mindset change at the end of yesterday where the team bought into shortening lines and really going for it. Everyone bought in, and it showed in our game against Traffic and in this one."
Even though Molly Brown was down, there was a lot to like about their game. The chemistry between Jesse Shofner and Lisa Pitcaithley was on point, and they fit two perfect passes to each other in the first half. Cardenas and Shofner also had eyes for each other, with the Colombian's blading flicks landing safely in Shofner's bread basket twice on similar plays. But the halftime score made it clear: Schwa was in the driver's seat in this game.
And then Molly Brown threw their zone.
Where Schwa's offense had once looked unstoppable, the team suddenly amassed turnovers in sets. With Pitcaithley on the mark, Schwa had no choice but to dump the disc back, or risk trying to throw through Denver's plucky defenders. Without many options, they fell into every trap that Denver set out. In short succession, Molly Brown cut the deficit from three, then to  one, and eventually took the lead by two points. It was a drumming, as Molly Brown rattled off six straight breaks.
"A lot was running through our minds at that point. Mostly curse words," said the Schwa coaches wryly.
During this time, Molly Brown's defense excelled, but it was their offense that sealed the deal. By tightening their lines, Denver was only sending out their best unit, and it meant every player was a threat after the turn. Shofner, Chastain, and Ronnie Eder split through Schwa's fractured defense, connecting on every harrowing throw they could attempt. "One of the things we talked about heading into Nationals was taking smart risks in tight games," said Eder. "In order to win you have to take risks… trusting your teammates to take those risks matters."
The difference between Schwa and Molly Brown was noticeable in these points. Schwa tightened and played more conventional ultimate, trying to ensure they dotted their i's and crossed their t's. Molly Brown let the tide take them on offense, using their system to score, but not trying to force any shots that wouldn't work.
Schwa got their first breath of air after trotting out their defensive unit to earn a hold, which they accomplished. Hammond was done with allowing Molly Brown to dictate events, and slotted a high pass over the stack to hit Popp in the back of the end zone. Her hat-spike immediately after was exactly the fuel that Schwa needed to keep them going. They still trailed 10-9, but they were building their confidence again, especially now that their defense could take the field once more.
"Once we got on defense our momentum shifted again," said Melius. "Our D-line snatched that back when they scored, and kept it in subsequent points."
The small break that their offense was given didn't last long. Molly Brown's offensive unit was well-rested and ready to take the field. With only a few short passes, the Denver unit punched in a goal, starting a trend of holds that lasted for four straight points. Cardenas was Molly Brown's X-factor during this stretch. She carved up Schwa's defense with her flicks and made every smart move to keep the disc in hand.
Unfortunately, Molly Brown's luck wouldn't last. The downfall of playing risky ultimate is what happens when the defense doesn't give them another chance. After taking a deep breath, Schwa's defense was ready to take Denver to task, and they hounded the Molly Brown offense until the mistakes materialized. The straw that broke the camel's back was an elevator pass that Chastain threw from the end zone line into a host of Schwa defenders. She had plenty of time to find a safe option, but opted to throw an unconventional pass, and Schwa was altogether too happy to deny it. It was a difference-maker, as that turn became a break when Schwa earned another block on Molly Brown's endzone line, quickly converting after Hammond found Angelica Chambers on a short pass. Just like that, Schwa tied the game at 12-12, and that allowed doubt to seep in for Molly Brown.
With everything suddenly on the line for Denver, they started to lose the looseness that had defined their game. Instead, they appeared to shorten their throws, sit deep on their defenders, and overthink their reset passes. This reared its ugly head at the worst possible time, too. With the game tied at 13-13, Molly Brown's handlers completely misread each other, and lofted a pass to a Schwa defender. It took almost no time at all for Schwa to punch that in, and take their first lead since Denver's miraculous run.
From that point on, Molly Brown went onto the field without fear, and actually put together their best offensive point of the game. Alika Johnston cut deep from the handler space, roasting her defender, and caught a Cardenas huck for an easy goal, tying the game at 14-14. The sideline erupted, but in the back of everyone's mind was the same thought: it's now double game point.
Both teams sent out kill lines. Both teams took the field expecting the win.
After the pull, Molly Brown's line had a hefty advantage, pinning Schwa in the backfield and forcing close shots. It was on one of these shots that Schwa misfired, and Molly Brown got the disc with everything on the line. They immediately passed it off to Cardenas, who had been lights out all game. With one fluid motion, she passed the disc off to Pitcaithley and struck off deep. Despite being on the sideline, Pitcaithley wasted no time in firing off a huck to Cardenas, which had all the distance it needed, but trailed out of bounds and never returned. Being given a second chance at life was enough for Schwa, and they patiently worked it right to the end zone, in no small part due to easy short gains that were fed to them by Molly Brown's sagging defenders. Right on the goal line, Sherwood sent a low hopeful backhand to Coles, praying it would stay inbounds. Coles, perhaps motivated by the gravity of the moment, laid out at such an angle that she could snag the disc while remaining in bounds, saving possession and keeping Schwa's season alive.
Both teams took to the fields; one to celebrate, and the other to console. The emotion on the field was heavy, especially so for Schwa's coaches, who had just witnessed their players pull off the biggest Schwa in the modern era. It was one for the record books, and a well deserved victory for Schwa, who managed to overcome the no. 2 seed at the tournament, and did so after dropping six straight points in the second half. They've done more than nearly anyone expected of them, and Schwa will have a chance to keep defying expectations Saturday morning.