Two very different narratives going into the season's penultimate day.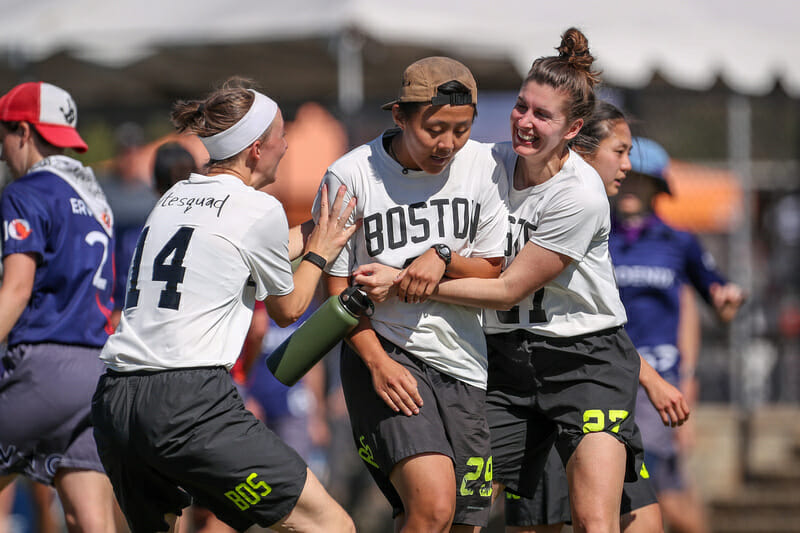 Our coverage of the women's division at the Club Championships is presented by Breakside Strength and Conditioning. Check out Breakside to find out how you can unlock your athletic potential for just $10 a month.
After a lot of the expected through the first day of the Club Championships, Friday's two rounds brought plenty of surprises. No. 6 seed and trendy championship contender Scandal was dispatched in the prequarterfinal round, while 6ixers upset Riot in quarters and Schwa edged Molly Brown. The upsets set us up with two semifinals, with one very familiar pairing and another with a duo of disruptors.
No. 4 Toronto 6ixers vs. No. 9 Portland Schwa
6ixers
Record: 17-5
Record vs. Schwa: 2-0 (13-9 at PEC, 15-11 at Nationals in pool play)
Statistical Leaders: Lauren Kimura (4G, 10A, 1D), Cat Phillips (4G, 7A, 5D), Anouchka Beaudry (6G, 8A)
Path to Semis: 2-1 in Pool D (defeated Schwa, Pop) –> 15-9 over Nemesis in prequarters –> 14-12 over Riot in quarters
Schwa
Record: 22-13
Record vs. 6ixers: 0-2
Statistical Leaders: Kimber Coles (11G, 3A), Eva Popp (1G, 8A, 3D), Julia Sherwood (1G, 11A, 2D)
Path to Semis: 1-2 in Pool D (defeated Pop) –> 15-9 over Traffic in prequaters –> 15-14 over Molly Brown in quarters
Two days ago, this pair of teams lined up across from one another on a sunny San Diego morning. It was doubtful they, nor anyone else, expected them to rematch just 49 hours later, with a shot at a championship as the victor's spoils. After Thursday's pool play events, in which Fury, Molly Brown, Riot, and Brute Squad crushed the competition on the way to winning their pools, it seemed like the usual cadre of clubs would fill out the semifinal roster. And then 6ixers and Schwa sent that train careening off the tracks.
Both teams are wholly unfamiliar with this territory. While Schwa had deep bracket runs in the late 90's, the majority of their team was less than 10 years old at the time of Portland's most recent semifinals appearance. 6ixers trip to the semifinals is their maiden voyage. That should actually level the playing field. Both teams are at their best running smooth and efficient offenses, with 6ixers preferring to attack the break side, while Schwa likes to eat up isolation yardage. But each has enough balance to create other paths to victory. In this type of environment, the mental game may be the deciding factor.
No. 1 San Francisco vs. No. 5 Boston Brute Squad
Fury
Record: 23-3
Record vs. Brute Squad: 1-0 (12-11 at Pro Championships)
Statistical Leaders: Cree Howard (6G, 3A, 4D), Carolyn Finney (8A, 1D), Kaela Helton (5G, 2A, 2D)
Path to Semis: 3-0 in Pool A (defeated Traffic, Ozone, Nemesis) –> Bye –> 15-8 over Nightlock
Brute Squad
Record: 16-4
Record vs. Fury: 0-1
Statistical Leaders: Kami Groom (7G, 5A, 4D), Angela Zhu (3G, 8A, 2D), Amber Sinicrope (2G, 11A, 3D)
Path to Semis: 3-0 in Pool D (defeated 6ixers, Schwa, Pop) –> Bye –> 15-8 over Phoenix
The second women's semifinal hosts a rematch of the previous two national championship games; both of those games ended 14-13, on double game point. The same is true of their lone matchup in 2019, back as the opener to the Pro Championships. Many of the same individuals that played key roles in those matchups still lead these teams in their pursuit of this year's title, and they certainly haven't forgotten their history of intense battles on the big stage.
While many expected both of these teams to reach this point, the confidence levels varied by a far greater degree for Boston than they did for the top seed Fury. After kicking off their elite season with a win at the US Open, Brute Squad went 3-3 at the Pro Championships and then suffered a surprising defeat to Toronto 6ixers at Northeast Regionals. But they seem to be back in fine form, compiling a +26 point differential in San Diego. Fury, the division's most balanced club, has outperformed even that, with a sterling +29. While the Bay Area giants intimidate many opponents, Boston won't back down after multiple years of coming within a stone's throw of title victories against Fury.