Self-belief and young stars key Toronto victory.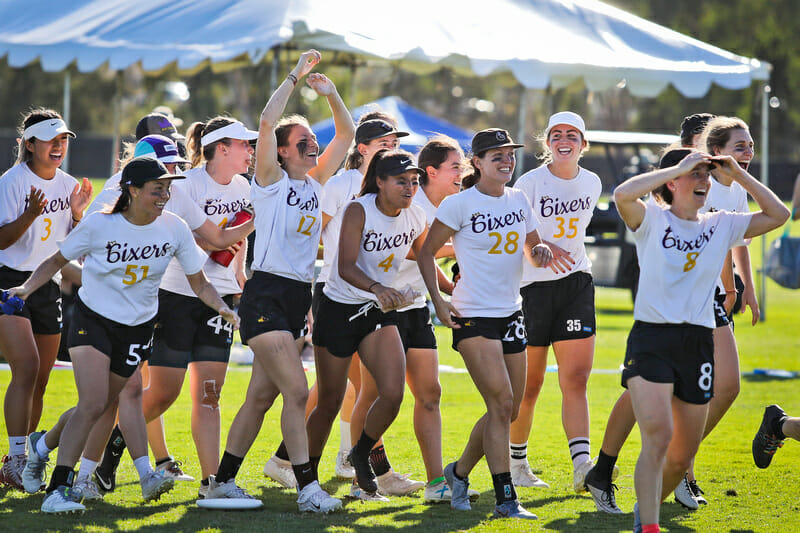 Our coverage of the women's division at the Club Championships is presented by Breakside Strength and Conditioning. Check out Breakside to find out how you can unlock your athletic potential for just $10 a month.
SAN DIEGO – The #4 Toronto 6ixers reached new heights as a program, pulling off a late comeback against #3 Seattle Riot in quarterfinals to earn their first-ever semifinal berth. In a chaotic round that sent shockwaves across Surf Cup Sports Park, Toronto overcame an 8-5 halftime deficit and stormed past Seattle down the stretch to add to Riot's long list of Nationals heartbreaks, and etch their name into the nameplate of the division's elite.
Through the entire first half of the game, Riot seemed destined for a relatively easy cruise to semifinals. They broke on their first D point of the game, again on their third D point of the game, were mostly untroubled by 6ixers defensive efforts, and they simply looked like a superior team. Toronto appeared slightly outmatched and like they weren't yet at the level to compete with the division's elite.
That trend continued into the first handful of points of the second half. 6ixers were getting holds, but so were Riot, as the game seemed to be headed towards a comfortable finish for the Seattle club. But midway through the second half, two pivotal points changed the complexion of the contest. At 10-7, 6ixers turned the disc over twice, but Riot could not convert either of those opportunities into a lead-extending break. A wasted opportunity to put a nail in the coffin, allowing Toronto to stay within two. On the ensuing point, 6ixers were given four chances to break Riot, and finally converted the last one to draw to within 10-9.
Two points that could have easily both gone Riot's way, effectively ending any chance of a Toronto come back. Instead, both went the way of 6ixers. The swing was pivotal not only because it kept 6ixers within striking distance on the scoreboard, but because it gave the young Toronto squad a reason to believe in their chances, while providing some genuine stress to Riot's offensive points for the rest of the game.
"We're a second half team. If you look at our big games, we almost never take half. We find a way to rally in the second half," said 6ixers captain Jordan Meron. "As long as we can give ourselves a chance, there's this belief on the team that we can overcome any deficit. We're gonna make mistakes. On our team, we know that's okay, as long as we give ourselves enough of a chance that if we push hard in the second half, we can close the gap."
Toronto didn't change the game simply with belief, though. They also made a defensive adjustment by switching Cat Phillips onto the Jack Verzuh matchup, who had been a consistent option for Riot through the first 17 points of the game, registering a goal and a pair of assists for a joint-team high three points. 6ixers also did a better job of locking down defensively elsewhere, and Riot looked to Verzuh for bailout hucks with more frequency down the stretch. But Phillips was up to the task.
Many of the deep throws to Verzuh were too underthrown for the POTY shortlister to maximize their advantages in the deep space, but Phillips did a tremendous job of putting herself in positions to make plays defensively — and then making them against the most fearsome deep threat in the division. It was a Phillips deep interception that led to the 6ixers break to tie it up at 11-11, and Verzuh didn't tally another goal or assist for the rest of the game.
Riot did respond to that break with a hold to make it 12-11 as the cap went on, though it wasn't clean. Toronto added a one-turn hold of their own to bring it to 12-12. The 6ixers had been growing throughout the second half and reached a full boiling point when they broke to go up 13-12 — their first lead of the game. Lockdown defense forced a high-stall punt from Riot's Cassie Swafford in the vague area of a pack of players downfield. Toronto's Alyssa Mason held position well and got the block, then 6ixers marched down the field for the break, completely unphased by the weight of the moment.
On the ensuing point, Riot forced another huck downfield, this time for Bailey Zahniser. It was well beyond her reach, and all of a sudden, 6ixers had a chance to break for the win. They worked the disc for a few throws until Phillips found herself in power position. She wound up for a big backhand and launched it downfield for 18-year-old Sara Jacobsohn, who had just started cutting back underneath. Jacobsohn, who'd already shined with a few highlight-reel plays earlier in the game, chugged after the disc, which seemed to be beyond her realistic reach. But somehow she chased it down and snagged full extension to send her team to an improbable maiden semifinals appearance.
It was Jacobsohn's fourth goal of the game, more than double the tally of any other player on the field. If that weren't impressive enough, those goals accounted for each of 6ixers' four second-half breaks. It was an astronomical impact in the program's biggest ever game from a young player that hasn't garnered a ton of attention this season. But the 6ixers weren't shocked to see Jacobsohn insert herself into the game the way she did.
"When we beat Brute Squad, she was huge — a huge grab over Malinowski, like good players. And no one knows her," said coach Carla DiFilippo. "But 6ixers always has one breakout player of the year." Meron added that it's not out of the usual for the team's young players to play their best in the team's biggest games either. "When we're in games like this, the young players always find a way to show out for these games," she said. "To do that at like 19 and 21 is amazing."
Young, impact players have been a pillar 6ixers' identity as they've worked their way to being a semifinals-caliber team. For Meron, one of the founding members of the four-year-old club, the team's win over Riot was the culmination of years of work and foresight, even if it came a little bit quicker than she could have expected.
"When we built this team, we could never hope that we would get to this point this fast. But we've been progressing so fast every year. Every year we seem to be substantially better than the last," Meron said. "For us this year, we had our eyes on this moment. We really wanted to make it to semis. To put together a game like this against a team like Riot means everything to us. It really shows everything we've done in the last four years has been so worthwhile."
Riot on the otherhand were left with an all-too-familiar feeling after once again wasting a position of strength in a bracket game at Nationals. But Riot coach Rohre Titcomb didn't express much in the way of regret, and instead gave credit to a 6ixers team that went out and beat them down the stretch.
"I think that they're a great team, not because they're fancy in any certain way; they're just all-around very solid. They had a plan and they stuck to it, and they kept applying effort and they've got great players," said Titcomb. "They came in and surprised a lot of people at Worlds last year in 2018, and we were fully expecting them to show up and play big just from having scouted them at Worlds because they have great players. I absolutely think they belong in the top tier. So I'm not surprised, I think maybe people that don't pay attention or just focus on the narrative of the names maybe are surprised. But anyone who is actually watching the ultimate should not be surprised, they're a great team."
As a result of their dramatic comeback, 6ixers get another chance to prove exactly how good they are. They have a matchup with Schwa in semifinals, where they will enter as strong favorites to advance to the final and play either Fury or Brute Squad. But even before those games take place, 6ixers launched themselves into a new status as one of the true power programs of the division with their win over Riot. By earning that win through their unwavering self-belief and the program's ability to produce impactful young talent, they claimed their first program-defining win in the most 6ixers way possible.