The semifinals may no longer feel like a foregone conclusion.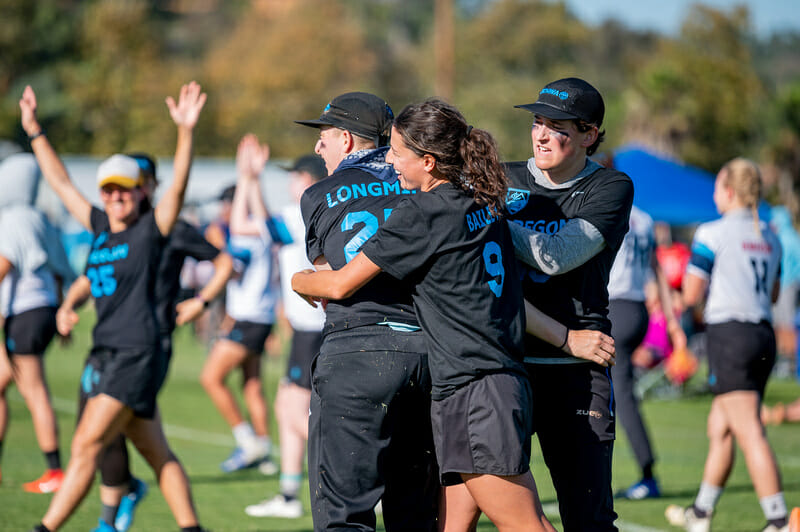 Our coverage of the women's division at the Club Championships is presented by Breakside Strength and Conditioning. Check out Breakside to find out how you can unlock your athletic potential for just $10 a month.
On Day 1 of Nationals, the Big Four reasserted themselves as the unquestioned rulers of the division. San Francisco Fury cruised through their pool, Denver Molly Brown looked as good as they ever have, Seattle Riot swatted away the chosen challenger to the game's hierarchy in Washington DC Scandal, and Boston Brute Squad saw Toronto 6ixers wilt in their chance to win the pool. After a season of expecting — or hoping for, depending on your perspective — a new order of power to sit atop of the division, the same old teams who've dominated the semifinals places since 2015 seemed poised to maintain the status quo.
That all changed on Friday afternoon.
When Fury and Brute Squad cruised through the earlier quarterfinals round and Scandal didn't even make it beyond prequarters, it still looked as though we'd get the inevitable Fury, Brute, Molly, Riot lineup in the weekend's penultimate round. But 6ixers, and the even more shockingly, Portland Schwa had other ideas.
First, Schwa pulled off the most stunning Nationals upset since, at least, Atlanta Ozone beat Riot in quarterfinals at the 2017 championships. Rocketing out to a 6-2 lead and then rallying late after falling behind 10-8, Schwa swiped away Molly Brown's best chance of winning a national title to date. Then, seconds later, 6ixers scored their final of three straight goals to topple Riot and set up the most improbable semifinals matchup the division has seen in years, maybe ever.
Beyond happening simultaneously, the two bracket-busting results felt connected. The felt like a seismic shift in the entire division.
For 6ixers, the win was the breakthrough moment of a process that started four years ago. After earning a bid but missing Nationals in their first season in 2016, winning a Canadian championship and making Nationals for the first time in 2017, finishing fifth at WUCC and making quarterfinals at Nationals for the first time in 2018, 6ixers quickly proved that they're ready to join the division's proven elite.
Schwa hasn't had the same recent trajectory as Toronto. For starters, they've been a program for 24 years. They made three finals appearances between 1997 and 2000, but haven't been near that level for two decades, finishing last at Nationals as recently as 2016. But Schwa's win is emblematic of a division that has strengthened in depth over the last few years. They've had the look of a top eight team for most of the season, even if they didn't notch any wins against the top seven seeds before Nationals.
In recent seasons, similar such teams haven't had a prayer of knocking off any of the top four. Ozone is the obvious notable exception, but even in that game, Ozone had to hold on for a hard cap victory in which Riot scored the final goal of the game. Even with the Ozone win, the top four haven't felt susceptible to a Nationals loss to anyone other than each other for years. Molly Brown, specifically, has won all of their quarters games by an average of 3.5 goals since they made their first semis appearance in 2015 — and that average is dragged down by a one-goal win over the back-to-back defending national champ Scandal in 2015.
Schwa has gotten legitimate star performances from Kimber Coles, Mariel Hammond, Eva Popp, and Julia Sherwood this weekend. It's hard to imagine a team of Schwa's general status within the division having so many such star performers even just a few seasons ago. But Schwa's win over Molly Brown today, along with other results like Phoenix's win against Scandal, indicate a landmark moment of increasing parity within the division.
Toronto's victory went a step further than Schwa's. With their first marquee victory as a program, they officially announced themselves as one of the game's best teams. "For us this year, we had our eyes on this moment. We really wanted to make it to semis," said captain Jordan Meron. "To put together a game like this against a team like Riot means everything to us. It really shows everything we've done in the last four years has been so worthwhile and that we've been doing the right things."
6ixers turned their future-semis contender potential into a present reality on Friday, by outplaying one of the sport's bluebloods down the stretch. There was nothing flukey about their performance or win — they simply made the plays they needed to win a big game against an elite team. That's something we haven't seen from a new team on the scene since Molly Brown got that 2015 win over Scandal.
Together, 6ixers and Schwa changed the way we will think about the division for the foreseeable future. The four national semifinals teams will no longer be a foregone conclusion before the season starts.1 A new team has joined the cream of the crop while the teams just below them represent a bigger challenge than ever.
Before this season, we felt this would be the year when it no longer felt like the women's club season didn't start in earnest until the semifinal round. We just didn't see exactly how that would come to fruition.
---
Or even after an impressive showing from four teams on the first day of Nationals. ↩