Our biggest observations from women's pool play.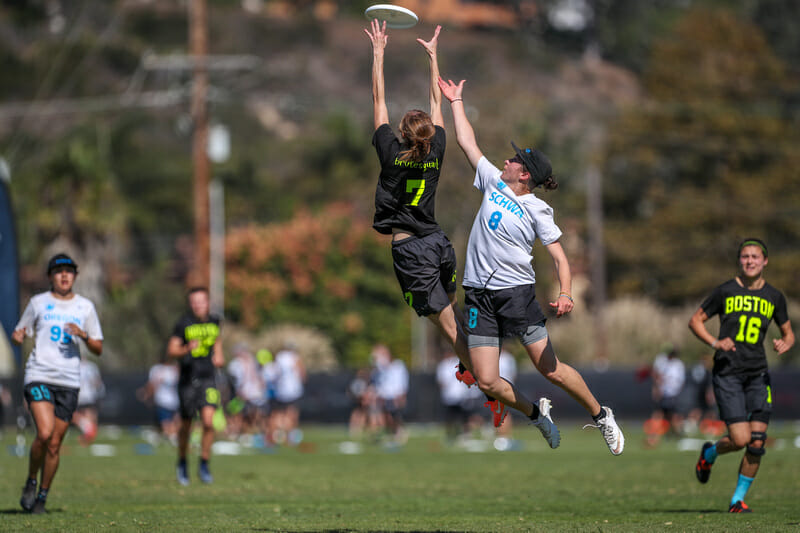 Our coverage of the women's division at the Club Championships is presented by Breakside Strength and Conditioning. All opinions are those of the authors. Check out Breakside to find out how you can unlock your athletic potential for just $10 a month.
Catch up on our full Thursday coverage on the Day 1 Liveblog.
SAN DIEGO — While the men's and mixed divisions were rife with upsets, much of the action in the women's division went to seed on Thursday. With so many scores landing near projections, we dug a bit deeper than the scoreboard to pull out the best bits to share.
Back Where We Started
After we spoke all season about the top of the women's division becoming broader and the dissolution of the 'Big Four' as we knew it, day one of the Club Championships proved us completely wrong. The classic quartet — San Francisco Fury, Denver Molly Brown, Seattle Riot, and Boston Brute Squad — each went undefeated today, and none of them even had a game that ended closer than four points.
Brute Squad came into this weekend shrouded in uncertainty. Thanks to an unexpectedly poor performance at Pro Championships, followed by losing the Northeast Regional final, the Boston club came into this weekend not at the top of their pool for the first time in years — they were ranked no. 5 behind Toronto 6ixers. At the start of the day when they lined up against No. 16 seed Minneapolis Pop, Brute Squad still wasn't quite looking like the elite team we've grown to revere. But as the day wore on, Boston hit their stride and, by the last round, we finally saw the Brute Squad we've been waiting for. In the Northeast Regional final rematch against Toronto, Boston completely pummeled the Canadian crew, going up 9-1 to start. Though Toronto did manage to win the second half, Boston looked in control the entire game and effectively put to rest any doubt that they had fallen from the top tier.
So what does this mean for the rest of the weekend? It means that every team who wins their prequarter has a monster waiting for them around the corner in their quarters matchup. Though one day of dominating play from the familiar four doesn't mean they are unstoppable, knowing they are peaking now doesn't bode well for upset hopefuls. Perhaps hearing all season that the Big Four was now the Big Six was just the fuel Fury, Molly, Riot, and Brute needed to reassert themselves as the dominant foursome the division has come to fear.
Fearsome Four Seeds
One of the most surprising stories of the day is the accomplishments of the pool no. 4 seeds. Aside from Quebec Iris, who couldn't quite keep up with any of their competition, all the bottom seeds performed well, especially considering their unfavorable starting position. Chicago Nemesis were slow out of the gates against Atlanta Ozone and went down 8-5 at half, but then they mounted the biggest comeback of the day in the division, ultimately winning 15-10 and knocking Ozone out of contention.
Hometown heroes San Diego Wildfire, who were bottom in Pool B, knocked down both Phoenix and Siege to earn themselves second place in the pool, relegating the young Bostonians to the consolation bracket. And it should be noted that not only did Wildfire defeat Phoenix, they trampled them 14-9, led in large part by Kelli Iwamoto's standout performance.
Finally, although Minneapolis Pop did not win any games, they had a respectable day. They came in as the no. 16 seed and many people doubted whether they belonged in the tournament at all, but they put up 25 points against three strong teams in Pool D. Of those 25 points, nine were against Brute Squad, which means they performed better than Scwha and about the same as 6ixers against the Boston powerhouse.
Status Quo Challengers Fall Short
Toronto 6ixers came into the tournament as the no. 4 seed, their highest starting position to date. The Canadian team had a phenomenal season, winning Canadian Nationals, coming third at Pro-Elite Challenge and Pro Championships, and winning Northeast Regionals. But today things did not go their way, and against Boston Squad — who they had bested twice in recent weeks — they lost 15-10 after going down 9-1 to start.
Toronto's collapse cannot be summarized with a single issue. The entire team seemed to lose focus on fundamentals and countless execution errors dug them deep into a hole from which they could not escape. Lauren Kimura, normally the most reliable person on any field, was riddled with drops; Brit Dos Santos, normally a powerhouse for the 6ixers on both ends, could not rise to the challenge against their Northeastern foes. The only positive thing that can be said about the match on behalf of 6ixers is that they kept their energy high and never became unspirited despite the frustrating result. That positivity fueled their improvement in the latter part of the game, and although it was too late for a comeback, they will head into day two knowing they at least won the second half.
Raleigh Phoenix, too, had a disappointing opening day. Phoenix has been perceived as one of the top eight teams since at least their fifth-place finish at Pro-Elite Challenge. The obvious talent on their roster made it easy to look past a perplexing loss to Wildfire at Elite-Select Challenge, and their near upset of Brute Squad — along with a win over 6ixers — made it easy to ignore their defeats at the Pro Championships.
Phoenix had the opportunity to affirm their status as a top eight club on Thursday and leave all of those regular season results behind as mere notes of their growth from missing Nationals in 2017 to becoming one of the challengers to the top four teams this year. Instead, they fell flat immediately. Raleigh got thumped by Wildfire Thursday morning — they were never in the game. They were fully against the ropes in round two when they were broken to fall behind Siege 10-9 in a must-win game. They did rebound to win, but then offered little challenge to Molly Brown in the final game of the day. Phoenix should have had hopes of giving Molly Brown a real challenge for the pool, and putting a real scare into a team in quarters. Instead, they barely made it out of pool play and will have to play like a different team if they are to have a chance at knocking off Scandal in prequarters.
Traffic's Ceiling Still Unclear
One team we didn't get a great read on is Vancouver Traffic. They dispatched both Nemesis and Ozone without too much trouble despite giving up second-half runs to both teams. But they also didn't put up too much resistance to Fury, despite some highlight-reel plays.
Traffic came into the weekend as arguably the greatest question mark in the tournament to anyone who hadn't played them at Northwest Regionals. Are they a true quarters team, or were they merely benefactors of a soft schedule, with only their win over Schwa at Regionals as a truly impressive result on their ledger? Day one didn't give us a concrete answer to those questions.
Catherine Hui tied for the division lead in goals, but scored none against Fury. Though she did have some poster-worthy grabs, she finished with just a single assist to four turnovers. But she also dominated against Nemesis and Ozone, Traffic's day in a microcosm.
We won't know exactly how good Traffic is until the bracket, when they'll rematch with Schwa in prequarters, and then Molly Brown if they survive another round. It's not often that we feel like we don't have a complete idea of what a team really is at this point in the season. But due to their regular season and disparity in competition they faced in pool play, we still just aren't certain how good this Traffic team is. By the end of day two, we should know exactly.
Tenured Vets Outshine Flashy Acquisitions
Many high profile first-year players have stolen the main narratives of the regular season: Robyn Fennig and Carolyn Normile (along with a few others) on Scandal; Kaede Yoshida on Riot; Claire Trop on Brute Squad; and so on and so forth. But the first day of Nationals was one for the program stalwarts.
Log-tenured veterans Hana Kawai, Kelly Johnson, and Qxhna Titcomb were the top players for Riot on the day, especially against the aforementioned Scandal, with big play contributions from Jack Verzuh. Kami Groom shined brightest on Brute Squad, with Angela Zhu and Amber Sinicrope not far behind her. Even on teams further down in the pool standings exhibited the same story; Nemesis were carried more by big performances from Jacqueline Jarik rather take-over games from the likes of Sarah Davis or Clare Frantz.
There were some notable exceptions, like Stephanie Pritchard's four goal, one assist, zero turn day for Molly Brown, but even the Denver club saw some muted performances from Ronnie Eder and Bert Abbott.
The big additions and offseason roster moves often steal the headlines and get us excited for a new season. They give the hope of power shifts and new personnel and strategy decisions. But, at least through the first day of Nationals, it has been the old guard that has defined the play in San Diego.