They wore down a shorthanded 6ixers club with their signature tenacious defense.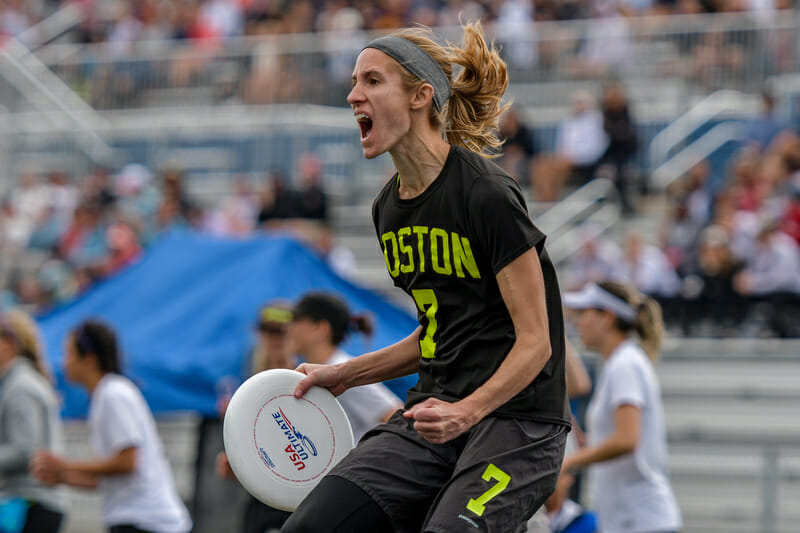 Our coverage of the women's division at the Club Championships is presented by Breakside Strength and Conditioning. Check out Breakside to find out how you can unlock your athletic potential for just $10 a month.
Boston Brute Squad surged past a short-handed Toronto 6ixers in the second half to win 15-7 for their third national championship in five seasons. 6ixers were without star handler Lauren Kimura, who was a gametime decision with a knee injury she suffered in their semifinal matchup with Portland Schwa. The Toronto O-line did a nice job of coping without their leader through the game's first dozen points, but Brute Squad's relentless defensive pressure eventually wore them down, and Brute Squad put the game away with a stretch of seven straight breaks starting at the end of the first half.
Before the overwhelming run from Brute Squad, both teams fought to an evenly played opening 12 points. It was the Brute Squad offense who struggled more in those first points, not getting their first clean hold until the goal to make it 7-6. Brute had just two more turnovers than 6ixers through those points, but the Canadians had three clean holds before Brute Squad had one.
The two sides had one break each through the first portion of the game, but it was clear that 6ixers' offense was beginning to wear down from the consistent defensive pressure. After holding despite three turnovers on their score to make it 6-6, they had another three-turnover point at 7-6. This time, Brute Squad took advantage of the third 6ixers' error when Kami Groom hit Claire Trop for the break to take half up 8-6.
If the Toronto offense had shown cracks in their final two points of the half, the dam fully burst early in the second. A pair of turfed forehands on the first point after the intermission from Brit Dos Santos set the tone for the whole second half. The 6ixers forced throws that weren't there and missed the ones that were. On the other side, Brute Squad greatly improved their efficiency with the disc and punished nearly every 6ixers mistake.
As Brute Squad tallied each of their six breaks to start the second half, it became more and more clear that 6ixers simply no longer had enough in the tank to weather the Brute Squad defense. Boston were ruthless with their opportunities through the decisive stretch of the game, led largely by takeover performances from Angela Zhu and Kami Groom. Zhu finished with a game-high 345 yards gained, 267 of which were with her throws, while Groom racked up 243, with 191 coming as a receiver.
The 6ixers finally put up a second-half goal at 14-6 and got a D-line possession on the next point, but Brute Squad finished off the game when Tulsa Douglas hit Zhu on an upline to the end zone.
The smooth redzone offense between the team's two young handlers capped off the win, but it was fittingly Brute Squad's oppressive defense that earned their dynasty-cementing result. 6ixers admirably withstood Brute's defense through the first stretch of the game, but without Kimura they were overwhelmed playing an entire game against the division's most dominant defensive unit of the last five years.
"As a cutter on the O-line, the biggest thing that I noticed is not the lack of talent, but the lack of calmness on the field that Lauren brings. She's really like our general out there and she commands the back of the field, which makes everybody else's job easier," said 6ixers captain Jordan Meron. "Just missing that person that we all know that we can kind gravitate around and depend on, it was really hard for us, especially once we got broken. The confidence wasn't there that we could then get it back. We really, really missed her."
Toronto has built much of their identity and found much of their success on the play of young players, and a pair of their youngest squad members took on increased roles in Kimura's absence. Brit Dos Santos and Anouchka Beaudry have both had key roles for the team all season and the two were statistical leaders for the Canadians in this one; Dos Santos posted a team-high 125 yards gained receiving and Beaudry led the way with 161 yards throwing. But having to play a full game against a team like Brute Squad without Kimura proved to be asking a little bit too much.
"We were playing well and they were a little rattled for some reason, I don't know why. I think they just came out of the half wanting it more. They're perhaps the more experienced team in these types of situations. They knew that the game wasn't over," said 6ixers coach Carla DiFilippo. "I think the experience from Brute showed in that second half. This is not excuses, but we were down two key players coming into this. We relied a lot on our bench. I think it was just too short — our bench — for a team like Brute, they're just too good."
6ixers were always going to need a couple of players to step up with big games, even if Kimura had been able to play. But a team like Brute Squad doesn't often allow their opponents to have all-time performances against them. It's long been their philosophy to take everything easy away from offenses no matter who they're playing, and it has stifled teams with fuller rosters and more experience than 6ixers many times before.
"Kimura's a great player. We wanted her out there. We wanted to match up on her. We wanted to beat 6ixers with her out there. But that didn't really change the game plan," said Groom. "Our game plan is to generate pressure across the board and know that if we do that to the best of our ability, that we don't think teams on offense can keep up with us."
As for the offensive struggles from Brute that kept 6ixers in the game through the first half, Boston coach Ariel Jackson credited that to 6ixers attacking defensively similarly to his own team. "You have to give a ton of credit to 6ixers. They played defense against us that we don't see from many teams. There's a select handful that play that level of defense. We try to create that pressure for ourselves at practice. But I think they did to us what we try to do to other teams," said Jackson. "When we're really close, really tight, the throw has to be that much more perfect and when as the thrower, you know that the throw has to be that much more perfect, it's even harder to make a good throw, so I think they were doing that to us, and we were falling into that and taking harder throwers because we were unsure and slowing down."
Toronto weren't able to sustain that pressure through their own turnovers in the second half, and Brute Squad did a better job of playing through what the 6ixers were giving them. Those things compounded to make for the lopsided final scoreline.
With the emphatic victory over their regional rival, Brute Squad locked up their position as the dominant team of the last five seasons. Five straight finals appearances, two points away from five straight titles, is a run the division hasn't had since Fury's famous streak of titles.
This wasn't as dominant a season as Brute has had in the past, or indeed, as many probably expected of them. But they were as dominant as they've ever been at Nationals, and put up their biggest margin of victory in a final ever. There's plenty of players on this year's team that haven't won a title with Brute Squad before, so this year's victory will certainly stand on its own. But it's also another chapter in Brute's continued success that now places them as one of the seminal programs in the game's history.
"It's just so hard to get to Sunday. It's just absolute pride in the program and in our teammates for being able to do that and we absolutely do not take that for granted every year," said Groom of the team's five year stretch. "I wouldn't say it's something we think about a lot, because we are just striving to be our best each season. And that's all we care about, is just leaning into that season and seeing what the result is. We've just been so blessed that it's been what it has been and we hope we can continue with that."
The result for this season, at least, was clear. Brute Squad is the best team in the division once again.