Diving into darkness.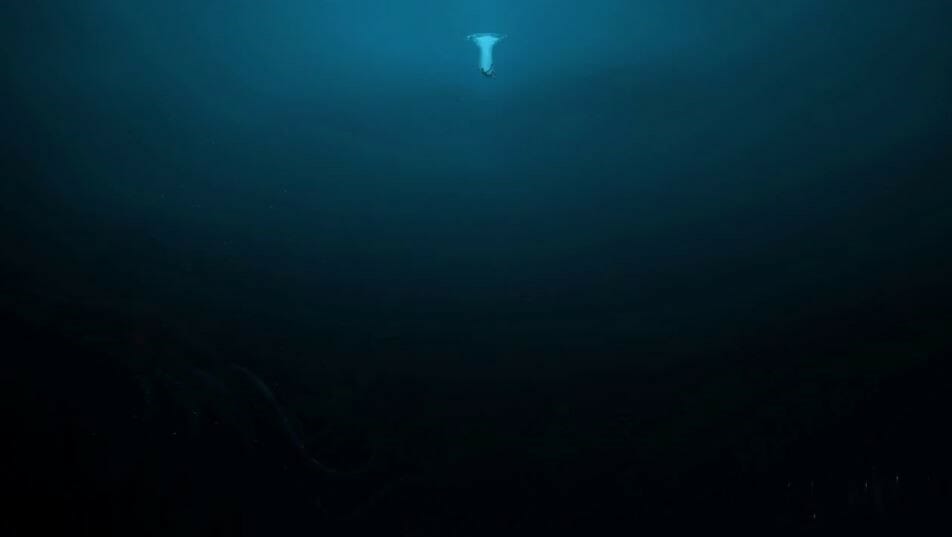 Ultiworld's club men's postseason coverage is presented by Spin Ultimate; all opinions are those of the author. Gear up for your big games, your tournament parties, and everything in between at Spin Ultimate!
The presentation from Sockeye's 2019 pre-season team meeting included a striking series of three slides. The first features a silhouetted school of the team's namesake fish, visible as shadows in the undersea light. The following text, cribbed from a University of Washington Fisheries report, is superimposed on the image in white: "Sockeye salmon spend most of their life in the abyss of the open ocean. Very little is known about this part of the life cycle."
The next slide is almost entirely black — not the color, not Sharpie black, but an actual, natural absence of light. At top-center, a small brighter area fading quickly to blue indicates the surface of the water. You can just make out the tiny figure of a human. But the camera's perspective is from a point underwater, and the visible light is quickly overwhelmed by intense darkness.
The third slide has only a simple image: the club's leaping salmon logo against a black background. Beneath the logo is a single phrase: 2019 National Champions. That's it. That's the slide.


Why It Came To Be
Now that Sockeye have actually made good on the promise of that final slide, these relics of April seem equal parts prescient, ambitious, and cocky. And weird. Win or lose, drawing on the abyss of the ocean to frame a season of club ultimate is definitely weird.
The weirdness was by design, chosen to destabilize the players' former image of themselves. Sockeye were close to a championship several times this decade without actually managing to deliver. 2013 and 2015 saw losses to Revolver. The shimmering heights of the 2017 regular season were rendered irrelevant by a winless first day of Nationals. In the 2018 semifinal, they came up just short of knocking off eventual champions PoNY.
"One of the struggles with Sockeye is that historically there is this expectation in terms of the history of the program and the high profile-ness of it," said Chris Kosednar, one of the 2019 captains and the architect of the team's unorthodox 'abyss' theme. "You've got to find a way to find a way to help people not feel restricted or weighed down by some of that stuff."
The way the team's working braintrust1 saw it, talent was never what held them back. They had all the pieces they needed to compete seriously for a title. Dylan Freechild, Trent Dillon, Matt Rehder, Simon Montague — men's division blue chips, all of them — were always going to be a dangerous core, and the off-season saw them continue to pack top-level depth around that nucleus. No question about it, Sockeye came into 2019 ready to tangle with New York PoNY, San Francisco Revolver, Raleigh Ring of Fire, Chicago Machine, or anybody else who might separate themselves from the pack.
But to compete for a title and to win one are two different beasts. To win, it takes a team capable not only of throwing punches with the best of them, but of persevering through whatever punishment the other side throws back, time after time. It takes indifference in the face of adversity; it takes conviction at the moment of crisis; it takes an indefinable something more than talent, experience, and ambition.
And whatever winning takes, Seattle Sockeye hadn't had it for a long time.
So the leadership got to work crafting a message that could become the seed of a better mentality.


What It Meant
Kosednar began to toy with the idea of using the life cycle of his team's namesake fish as a theme for the season late last winter. At first glance, the metaphor is almost too tidy. Of course, the club would rally around the image of the salmon run: an unrelenting charge from low to high, the journey fraught with obstacles of all kinds, the sockeye themselves actuated in a terrifying red tide as they push toward their ultimate goal. The famous run to the spawning ground is the perfect marriage of obvious and apt.
Kosednar, however, was attracted to a different, far less inspiration-ready part of a salmon's life: its years in the enormous, dark open sea.
The choice was driven in part by what Kosednar learned when he defected from Sockeye to suit up with Revolver from 2014 to 2016.2
"When I first showed up there after playing Sockeye, I was like, 'Man, I cannot believe how simple everything is here,'" he said.
Sockeye, by contrast, had long been a team that emphasized tactical sophistication on offense and defense. Kosednar was looking for a way for the team to grow through simplification. "Trying to find ways to focus people and not get them overthinking was a big piece of our communication," he said. So he brought up the concept of the abyss.
The initial pitch was received well, and the other team leaders encouraged Kosednar to run with it. The result of his efforts was a genuine top-to-bottom philosophy of ultimate that was at once primordially resonant and utterly new for his teammates.
The central tenets can be roughly summarized:
Prepare.

Create and accept chaos.

The only certainty is uncertainty.

Once the game begins, you have no control over the outcome.
It may read like fatalist nonsense — it might even ring a little false at first glance. But for all the artificial intensity present in the language, the change in perspective it encourages is both real and essential. It has become a cliche in sports to emphasize "controllables". You control the pace of the offense. You dictate on defense. You put the proper edge on your throw. You play help defense when the deep shot goes up. But to focus on those controllables too much is to set rigid expectations at every moment of the game, and you run the risk of shattering, of losing your confidence when you fail in one of your responsibilities.
Sockeye, recognizing that most teams and players underestimate the effect of random events in games (that is, "uncontrollables"), strove to make their team more comfortable in the inevitable discomfort. And in simplifying offensive and defensive schemes, they reduced the number of predictable game events, thereby amplifying the effect of uncontrollables on the opposition.
"Every game, none of us know what is going to happen. We have no idea. And it's okay to feel that and embrace that," said coach Dave Hogan about the shift in the team's philosophy. "We're nervous. We're uncertain…You don't want to push that down and deny it's there."
Or, as Kosednar has it, "The abyss doesn't give a fuck who you are when you're down there. It's just this notion of survival. The abyss is not about thinking. It's about reacting."
By accepting the uncertainty, Sockeye were able to train themselves to cope with it and, eventually, to react to stress with a healthy, rehearsed indifference. "If you try to over-prepare for everything and then something happens that you don't expect, that can crack you. There are things that are going to happen that we have no control over. We have no idea what it might be, and we're still going to react the same way," said Hogan.


How It Looked
It's one thing to decide on a season theme, and another to package it. The words had to be more than just words if they were going to hit the team with maximum impact. Realizing this, Sockeye developed a team communication style that would correspond with and underscore the ideas.
The slideshow at the beginning of the season was the first step in an all-out overhaul. The trick was to keep hitting on the theme in various ways at the same time, so that all the aspects of any given message mutually reinforced each other. To that end, Sockeye team emails this season were radically distinct. They were presented in angular white letters set against a black background. Sentence fragments served as introductions. Spacing between lines was generous. The effect is almost monolithic: Sockeye e-mails announced themselves in deliberately bold, disconcerting fashion.
The information in these messages was equally strange. A pre-tournament e-mail would contain round times and game locations — and it would include facts about how many world diving competitors died or were permanently incapacitated after reaching depths greater than 500 feet. Players were urged to think of themselves as cinder blocks. All of them were full of cold, murky, deep sea imagery.
If you can keep from seeing the jarring communications makeover as overly contrived, the team e-mails have an almost hypnotic effect. Like an airy siren's song, they draw you first under, then deeper. You reach a kind of unconscious calm.
That feeling is just what Kosednar was going for: simple, unthinking survival.
That quality exemplified the team at its best, especially on offense. "We were in my opinion sort of unscoutable offensively because all season long it was like, 'We'll find a way to score, but it's not going to be the same every time, and it's not ever going to look perfect,'" he said. "And that's what the abyss is. It's not about perfection. It's not about doing it exactly the way we drew it up. It's just about surviving and finding a way to score."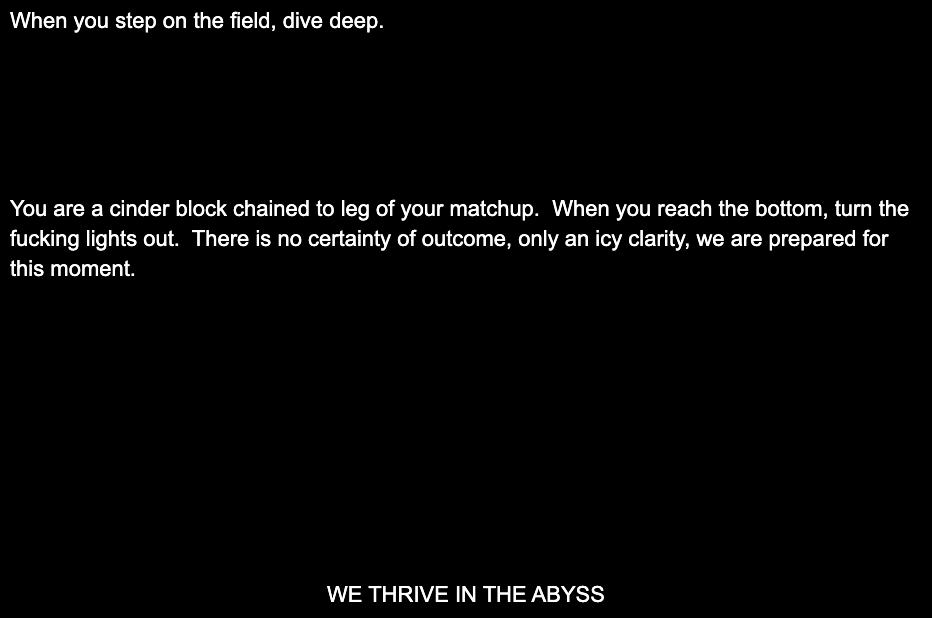 Up from Below
The last Sockeye practice weekend before Nationals was a disaster. Even by a Seattle October's standards, the weather was an exceptionally poor approximation of conditions in southern California.
"The practices were just a rainfest with no relevance to what would happen here. Tactically, it was useless," said Dave Hogan a few minutes before the team's final against Machine. "You just couldn't play in that situation, and none of that was going to matter here. To be successful in those conditions, you would have had to play in a way that is completely different. And it didn't really matter."
Rather than brood over the setback, the team shrugged it off, playing mixed lines and running a lot of three-on-three. That is to say, they did not even attempt to reproduce a Nationals-type playing experience. They got their touches and spent time together with the overarching sense that they were going to be ready for, well, anything.
The messaging must have hit its mark. It reverberated in the words of their stars after Club Championships, and it shone in the way they responded to the constantly changing fortunes of the field.
Sockeye endured their fair share of pressure in 2019, but they seldom looked out of sorts, and they rarely pressed. The hardships they managed to weather during the regular season included an air assault from Washington D.C. Truck Stop in the final of the Pro-Elite Challenge and a near-perfect offensive effort from PoNY at the US Open. Nothing shook them.
Championship weekend constituted its own unpredictable minefield. Sockeye encountered a Boston DiG zone look that rendered Freechild, Montague, and Rehder essentially harmless until double-game point, an indomitable Jack Williams-led dominator set and a multi-break halftime deficit against Ring of Fire in their semifinal, and an uncanny defensive effort from Machine to pull even late in the final. Nothing upset them.
Throughout 2019, the team played the same game no matter what was going on. Sockeye never buckled when they were up, and they never faded when they were down. They didn't know how they would get there; they just kept diving until they reached the top.
---
Captains Kosednar and Simon Montague; coaches Mike Caldwell and Dave Hogan. ↩

An interval that included a win over his former club in the national final in 2015 ↩