Ozone's Quincy Booth just had her sixteenth birthday before playing at Club Nationals.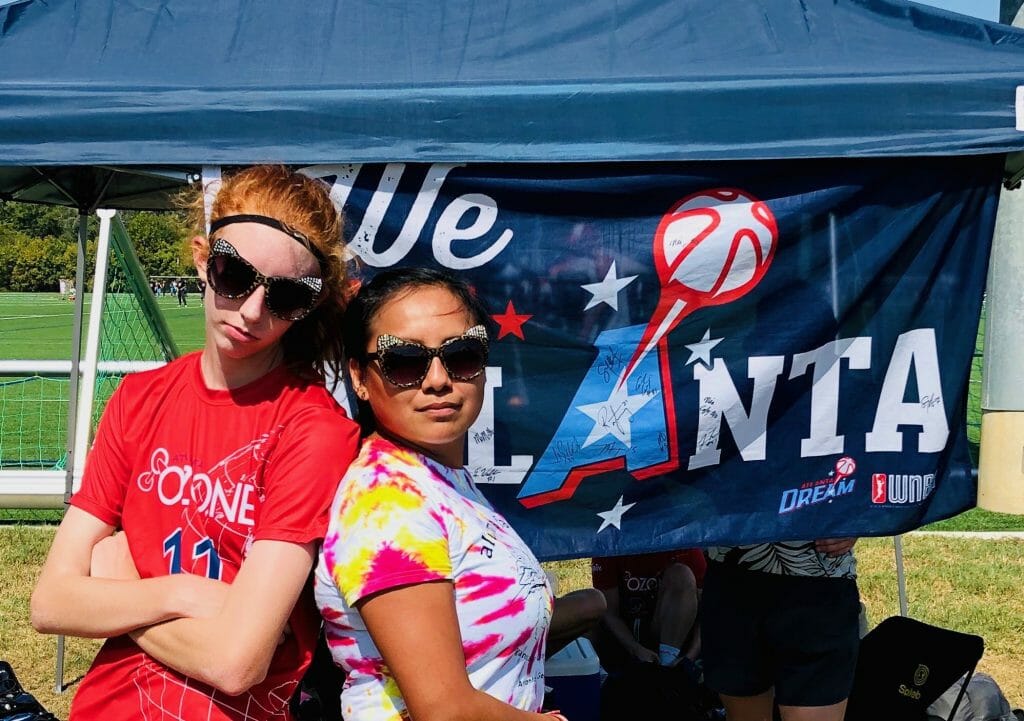 Our coverage of the women's division at the Club Championships is presented by Breakside Strength and Conditioning. Check out Breakside to find out how you can unlock your athletic potential for just $10 a month.
Most players at Nationals have to take time off from work or miss college classes to attend Nationals. But Atlanta Ozone's Quincy Booth found herself with a rare dilemma among the hundreds of competitors in San Diego: missing time from her sophomore classes at Decatur High School in the Atlanta area. At 16 years old, Booth was the youngest player across all three divisions at the Club Championships.
She's just barely 16, at that. Having celebrated her 16th birthday just a week before Nationals started, she was still listed as 15-years old in the tournament information guide. There are plenty of ways to frame Booth's age. For starters, preferred methods of communication are Snapchat and GroupMe, though she did inform me she's reachable on TikTok as well.1 Perhaps most jarring is simply to state the year in which she was born: 2003. With teammates more than 20 years older, you'd expect for Booth to have had a starkly unique Nationals experience.
For Booth, though, the weekend was nothing out of the ordinary, at least through the first couple of days. This was her first club Nationals, but she's been playing well above her age group since she was 12, playing with the Atlanta U20 girls team at the Youth Club Championships in 2015.
"It's just felt like a normal tournament," said Booth prior to Ozone's final game of consolation play on Saturday morning. Exceedingly humble for someone in her position at her age, Booth seemed mostly unaware of how rare it is for someone so young to be playing at her level. Or maybe she's just used to it by now thanks to her previous experiences at U20 and throughout the regular season.
But it's not due to naïveté as to who she's playing against. "I follow the women's division," she said. "It was crazy [playing Fury in pool play]. I'm a huge fan of Opi Payne. And I went to CUT Camp so it was cool to play against [CUT Camp coach] Kaela Helton." However, Booth didn't fangirl over the famous players she went up against; she had a healthy appreciation for getting to share the field with some of the game's biggest stars.
Then again, being around the best players isn't new to Booth. She has been coached by her Ozone teammates, or played against teams coached by her teammates, for years. And she's already had run-ins with some of the game's bright young stars. And she was mostly unfazed by them, too. At YCC in 2016, when the 12-year-old Booth was second on the team in assists, her Atlanta U20 team played against Claire Trop's Seattle Nimbus. "Everyone else on the team was freaking out," said Booth. "I didn't know who she was."
Booth did know who Dena Elimelech was when Ozone played San Diego Wildfire at Elite-Select Challenge earlier this year, though, and Booth didn't shy away from the 2019 college champion. Booth wanted to cover the explosive young star but decided against continuing the matchup after a point of covering Elimelech. "Never again," she said.
But this weekend was certainly a step up from anywhere Booth had played before and she didn't seem rattled at all. "It's been pretty chill. I mean, we're about to go play for not last, so…" she said with a smile.
Beyond her age and fledgling relationship with elite club ultimate, Booth said she felt just like one of the team. Booth spoke highly of the team's AirBnB, which she described as a "game house" decked out with everything from shuffleboard to foosball, and she made sure to point out that she slept in a bunk bed. "They don't feel like they're–" Booth stopped, catching herself before referring to her teammates as old. "They feel like they're young like me."
But Booth also showed a profound appreciation for her teammates once the tournament was all over. "It was a once in a lifetime opportunity, not going to Nationals itself, but going with the team I went with. The 2019 Ozone team will be one I'll always remember," she said. "My teammates made this experience 100 times better. Not only were they supportive of me, but they took time out of their games and time they could be using to rest to talk to me and help coach me through different scenarios and give me their wise advice to help me become a better player in every aspect. Every single one of them was looking out for me and making sure I was okay and not too overwhelmed. It can be difficult integrating yourself with players who are older than you and who you've never played with before but all of Ozone was so accepting and it never felt awkward for me to play with them."
And once Ozone's games were finished, Booth was able to let the gravity of the weekend sink in a little bit more. "I absolutely loved watching the semis," she said. "I only got to see one because of my game schedule and my early flight on Sunday, but the experience was incredible. I'd watched a few high stakes games like those at the U.S. Open a couple times, but at Nationals it's just a whole other level. My team watched the Ring vs. Sockeye game, and the intensity at which all players played was a level I'd never witnessed in real life. The hype that the stadium brings to a game is immeasurable. I know the section our team was sitting in was definitely into the game and everyone was up and cheering, which is something I'd only ever seen once, during the PUL playoffs."
Booth got a taste of the Nationals experience far earlier in her career than most, which meant an extra level of sacrifice. Booth did all of the homework she would miss during Nationals a week early, and she had to stay after school on the Tuesday before Nationals to make up a 1.5 hour in-class essay assignment on "The Crucible" that she would be missing on Thursday. She also had to take part one of an algebra exam in half the time as everyone else so she could complete it before leaving for the airport, and go into school early on the following Monday to complete the second half.
That's unlike the preparation most responsible adult Nationals attendees have to manage as a result of playing at the game's most competitive tournament. But Booth makes it work as though it were normal. "I always do a lot of my missing work in the airport because my mom always makes me get to the gate super early when I'm flying alone, so I usually don't have to do too much work during the tournament," said Booth. "But school is something that comes first, so I make it a priority to do a majority of my work before the tournament begins so I have nothing to cram the night before."
There's really nothing about Booth that doesn't feel impressive. She's calm and grounded, and has a sense of priority and appreciation at 16 that some people never develop.  That's why she's been able to play at this level at such a young age. It takes no time at all, really, to realize that she's simply well beyond her years. Except, of course, when it comes to her social media preferences.
---
You can follow her at quincy_booth, for those of you young enough to know what TikTok is. ↩