See who won gold!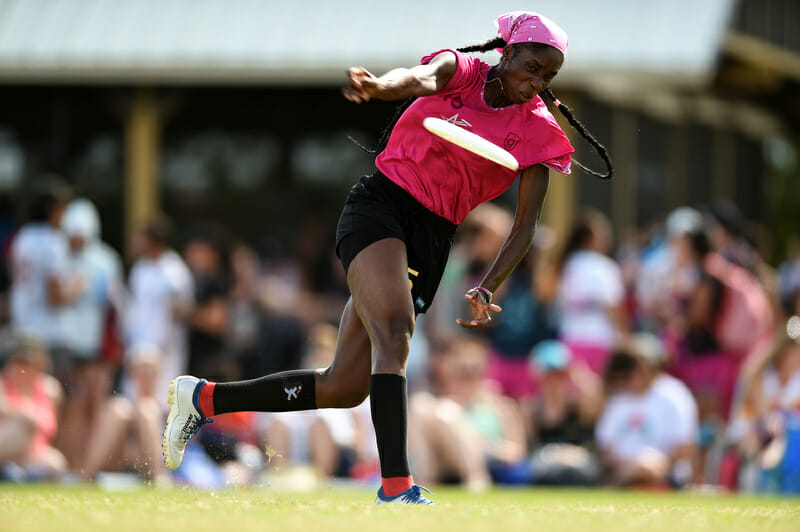 SARASOTA — Another day of beautiful Florida sunshine greeted players on Finals Friday. Here's a look at what happened in the finals and which teams took home medals!
Watch the Men's, Women's, and Mixed Division finals with an Ultiworld Full or Plus subscription!
Men's Final: Bogotá Comunidad El Oso v. Venezuela Warao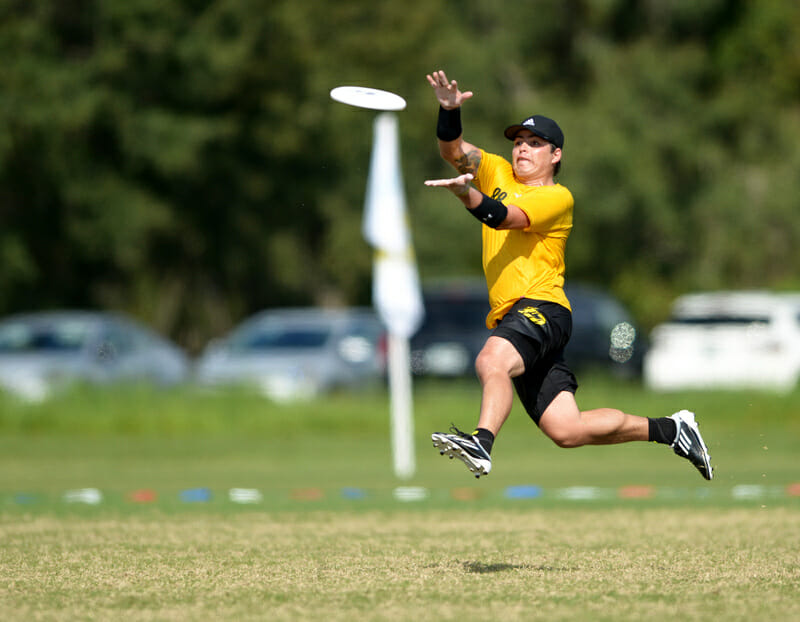 Bogotá's Comunidad El Oso outlasted Venezuela's Warao to claim a 13-12 double game point win in the men's division final of the 2019 Pan-American Ultimate Championships. Neither team led by more than two points and there were seven lead changes throughout the match.
Warao — led by American superstar Rowan McDonnell, who finished with five assists and three goals (but also three throwaways that each led to an Oso break) — was the better team in the first half, tallying three breaks to Oso's two to take an 8-6 lead at halftime. Jamie Perez had two goals and an assist to lead the offense in the first half, and Daren Ruiz, who later left the game with a shoulder injury, got two big blocks on the third point of the game to set up Warao's first break.
Both defenses struggled to generate much pressure, though — most of the games turnovers came as a result of throwing imprecision and execution mistakes rather than pressure.
Comunidad El Oso was the sharper side, especially in the second half. Jasin Sepulveda finished with four goals and the game-winning assist, while Efrain Herrera added three assists and a goal.
El Oso needed at least two second half breaks to get the win and got both within the first five points of the half. After a McDonnell throwaway, Herrera hit Dave Wiseman with a hammer to tie the game at 8-8, and then Bogotá took the lead with a brilliant sequence: Estaban Zuluaga reeled in a big huck, threw a cross field pass to Kevin Nariño who laid out past his defender for the catch before sending the disc zipping back across the field with a perfectly weighted backhand to Ian Castañeda for the break and 10-9 advantage.
Although Warao broke back two points later, El Oso responded with a break of their own, setting up their clean hold on double game point for the PAUC title.
In the bronze medal match, Alberta Flatball Club defeated Medellín Evolution 15-14.
Women's Final: Medellín Revolution v. Ottawa Stella
Medellín Revolution continued to set the pace for international women's ultimate with a dominant 15-7 win over Ottawa Stella to claim the 2019 Pan American Ultimate Championship title.
Playing without the Cardenas twins, Revolution still easily outclassed the competition in Sarasota. Immense defensive pressure, led by Elizabeth Mosquera, forced consistent turnovers from every team they played.
In the final, Stella hung around early, posting some early holds and a go-ahead break at 4-3 when Samantha Green picked up and launched a transition huck to Kristie Ellis, who also had two assists, after a Revolution miscommunication turnover.
But Revolution's suffocating defense was too much for Stella. They rattled off three straight breaks to take command of the game and cruised out to a lopsided win.
Yina Cartagena played exceptionally well, tossing a game-high eight assists. Ximena Montaña chipped in six goals and an assist. Ana Maria Rojas had four assists.
But it was Mosquera, despite a handful of turnovers, that truly stood out. With towering pulls, including one that almost single-handedly earned a break for Revolution late in the second half, tremendous deep defense, and elite athleticism, Mosquera set the pace for Revolution. She had four goals, two assists, and numerous blocks, but it was her almost complete dominion in the air that may have been her biggest impact on the game.
Fresh off of a 2019 Premier Ultimate League MVP season, Mosquera's star is rising.
In the bronze medal match, Bogotá Aerosoul defeated Kansas City Wicked 15-10.
Mixed Final: Dallas Public Enemy v. New Jersey Jughandle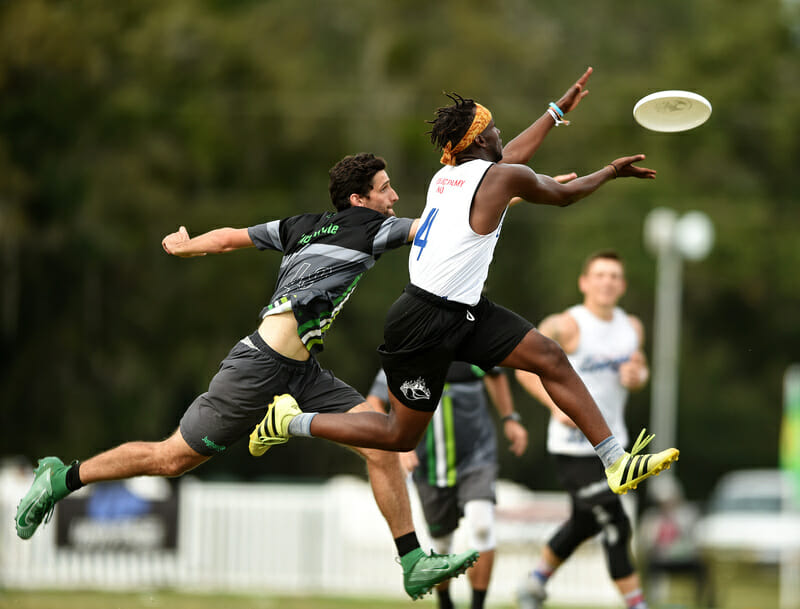 Dallas Public Enemy used consistent defensive pressure to run away with the 2019 Pan American Ultimate Championships gold medal, defeating New Jersey Jughandle 15-8 in the tournament final.
Dani Runzo had three goals and two assists, and Kevin Christian had four assists and some excellent defensive stops to lead the way for Public Enemy.
Dallas broke first after a Cody Holloway block led to him getting the assist to Lindsey Mazur to put Enemy up 3-1. A 3-0 run that started two points later, punctuated by a string of great handler motion from Chris Mazur and an assist to Allie Long, effectively put the game away.
Jughandle had some good moments of offense — Mason Compton stood out with two goals and a beautiful flick huck to Karoline Hart in the second half — but couldn't generate much pressure and never broke the Dallas offense.
Early in the second half, New Jersey had a chance to cut the lead down to two after a short field turnover from Public Enemy, but Christian made a great endzone block to take back possession, sparking another 3-0 run.
Carley Garrett and Veronica Coombs each had a goal and an assist in the second half as the athleticism of Public Enemy's women overwhelmed Jughandle in the cutting lanes.
In the bronze medal match, San Francisco Mischief defeated Minneapolis No Touching 15-9.
Masters Men's Final: Albany All Bashed Out v. Montréal NSOM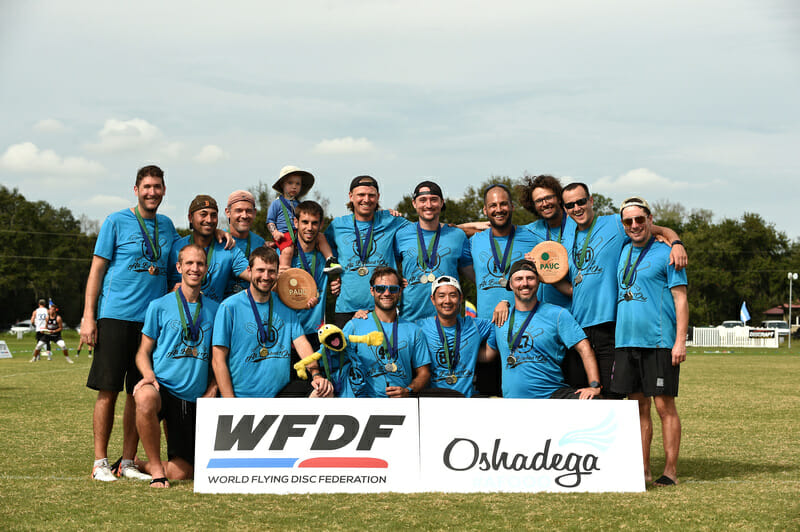 In the final game of masters men's power pool competition and the effective gold medal match, All Bashed Out overwhelmed NSOM 15-5 to win PAUC 2019.
It was their second win over NSOM at the tournament and one of their biggest wins of the week. They never allowed an opponent to score double digits against them.
California Beyondors finished 2-2 in the power pool to take home the bronze medal.
Masters Mixed Final: Austin 512 v. Washington DC Unambiguously Grey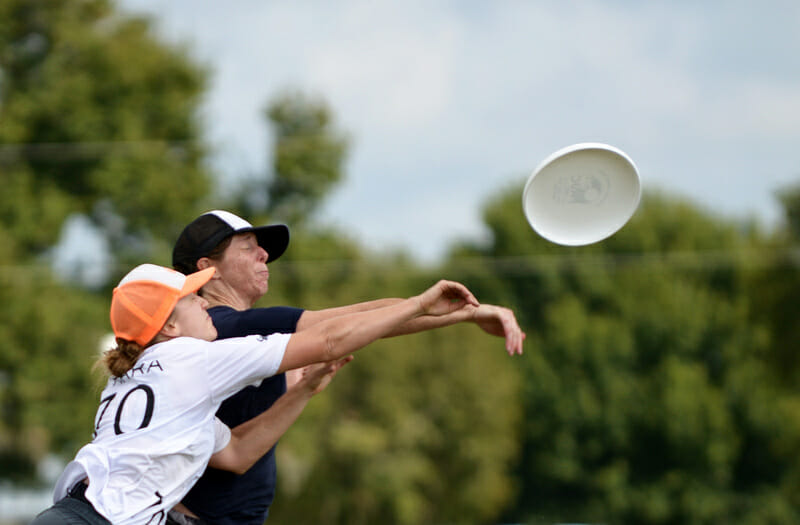 512 took down Unambiguously Grey 15-12 in the masters mixed final to win gold at the 2019 Pan American Ultimate Championships, avenging a 15-13 loss in pool play.
Austin had a much tighter game in semifinals — a 15-13 win over Boston Molasses Disaster — but were the better team in the final on Friday.
Molasses Disaster defeated San Francisco Bridge Club 15-8 to claim the bronze medal.
Grand Masters Men's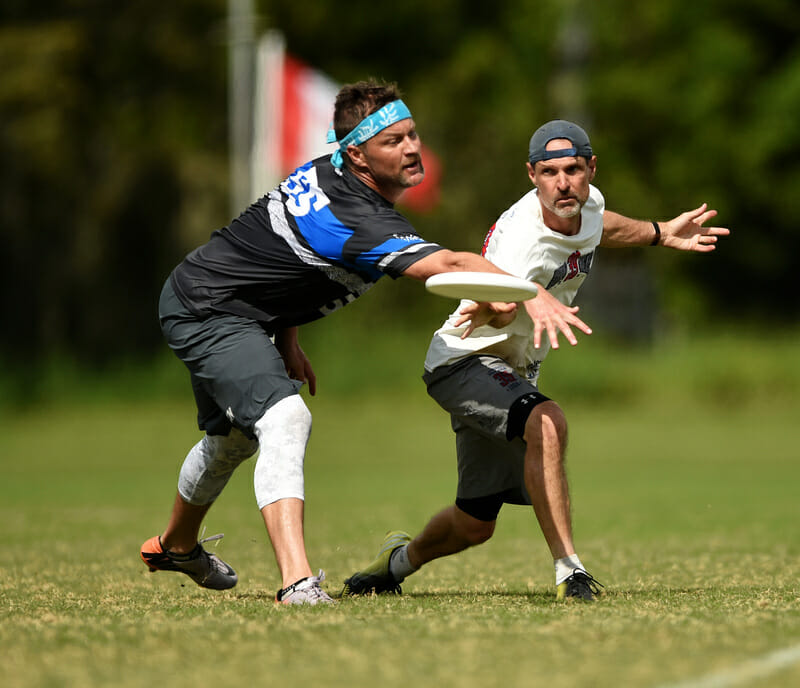 Denver Johnny Walker's 15-14 double game point day one victory over Toronto Tombstone proved to be the decisive victory that carried them to a gold medal in round robin play in the grand master men's division. Johnny Walker didn't have another competitive game, which made the division's finish a bit anticlimactic.
Tombstone comfortably won their other five games to claim the silver medal, and Washington DC Shutdown won bronze.