Our picks for the top men's division performers of the year across Asia and Oceania.
As Ultiworld continues to expand our coverage around the globe, we are learning more and more about the top players from regions we haven't covered much in the past. For the first time, Ultiworld has put together awards honoring the top performers from Asia and Oceania (AO). The main goal of this project is to recognize the achievements of some of the top players in the region and showcase them to the rest of the world.
A wide range of opinions was sought from across the AO region, but most of the input for this article comes from Ultiworld roving reporter Liam Grant, who worked on the broadcast team for both the grass and beach AO championships this year. As such, it was mostly performances at large international events that were taken into account when putting together this team. With several players switching between divisions from event to event, in most cases, AOUGC was the determinating factor on which division to consider a player.
Without further ado, here are our votes on the best AO Men's players in 2019. The profiles are presented alphabetically by last name, rather than reflecting any ranked order of skill or performance.
2019 Asia-Oceanic Men's Team Of The Year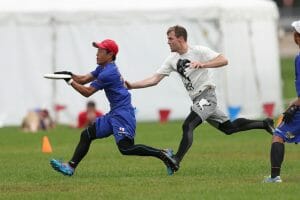 Taiyo Arakawa – Tokyo Buzz Bullets (Japan)
Arakawa in the one and only player to be featured on these AO teams of the year that did not compete at a major WFDF international competition this year. It's clear that he decided to take a break from international duty to focus on club ultimate with Buzz Bullets, along with several other top players from the club. However, Arakawa did compete internationally at the U.S. Open this summer, where he was a clear standout at the tournament. He was the highest overall goal scorer at the event accumulating 26 goals in total — eight more than anyone else. He scored six goals and assisted one against the now U.S. national champions Seattle Sockeye during Buzz Bullet's 16-14 loss to the eventual champions.
Arakawa resembles Super Mario during his invincible star mode as he runs riot in the endzone sporting his usual trademark cap. His breathtaking speed makes him one of the best goal poachers in ultimate and he tends to get goals when it matters most. He scored the winning goal at Japanese nationals this year on double game point against Nomadic Tribe, ensuring that Buzz Bullets remain undefeated at Japanese nationals this millennium. While Buzz did lose to Nomadic Tribe at a recent club event called the "Champions League," Arakawa still managed to score 26 goals at the event, twice as much as anyone else at the tournament. The 2018 Japanese nationals MVP might just be the best endzone assassin in the game right now.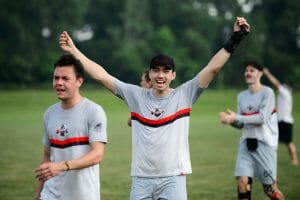 Mark Evans – Sydney Colony (Australia)
Mark Evans was the captain of the Dingos team that picked up a silver medal at AOUGC 2019. He was the team leader on the field and on the stats sheet earning 21 assists and six goals, the second-best total in the division. Evans is a shooter and the Aussies granted him a license to fire at will. He wants to score points quickly and isn't afraid to go deep either. He totaled three assists and one goal in the final against Japan.
Evans has been at the very top of the game for years. In 2017, he was on the most prestigious Aussie team, the Crocs, which is what they call their World Games team — expect him to be on that roster sheet in two years' time, presuming Australia can qualify again. In 2018, he was one of the key pieces driving Colony to the final at WUCC. He even spent a year playing for Raleigh Ring of Fire in the U.S. back in 2014.
This year, Evans also won the Australian Ultimate League, scoring the winning goal for his home team Sydney Suns against Brisbane Breakers. He had 14 assists this season in the AUL but that's just half of what teammate Tom Rogacki accumulated, the true assist king of Australia.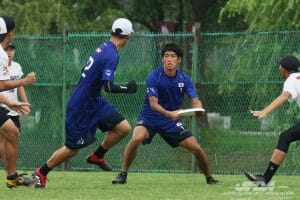 Yutaro Jinya – Osaka Spirits (Japan)
Japan won the gold medal at the AOUGC in Shanghai and Yutaro Jinya contributed to more scores than anyone else on the team. He picked up 16 goals and 10 assists, showcasing his versatility as a player. Yutaro often stayed downfield for Japan and acted as a finisher for the team using either his throwing prowess or his legs to get points on the scoreboard. He cuts through defenses like a well-balanced samurai sword.
Yutaro honed his skills at Keio University with the college team Huskies, where they published a Callahan-esque highlight reel of him. During his college years, he was changing his hair color from tournament to tournament, trying everything from a tangy orange to electric green. He has also been known to enjoy a few unusual celebrations like bringing out the pretend binoculars or the very trendy index finger and thumb cupping the chin. His exuberant personality matches his playing style. At the recent Club Ultimate Champions League event, he finished third on the statistics leaderboard just behind two other men on this list, Taiyo Arakawa and Andy Kunieda.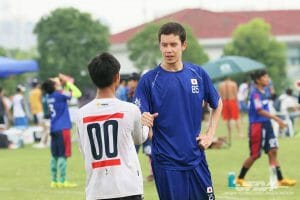 Tatsunari "Andrew" Kunieda – Osaka Spirits (Japan)
Tatsunari Kunieda was born in California and found ultimate during his fourth year at North Park University in Chicago, hence he also has a western name, Andy. His father is Japanese and his mother is Irish American and is also one of Kunieda's greatest heros. Not only does he have a blend of Japanese and American heritage, he combines both styles of ultimate in a terrifying fashion. The man is much taller than most of his teammates but still harnesses the explosive pace you would associate with top players from the region, which is one of the reasons why he was picked for Japan's 2017 World Games team.
Kunieda is probably the only athlete in Japan that could sky a pack of lanky Australians, and that is exactly what he did during the AOUGC men's final. At 7-7, or what many Europeans would call galaxy point, he threw the goal to break for half, which was a pivotal moment in the game. Kunieda has a key role on the defensive line often shutting down the opposition's big deep threats and poaching off to intercept any floaty hucks.
Kunieda also played on the mixed national team who picked up a silver medal at AOBUC this year. He injured his foot early in the tournament but still managed to get a foot block with the injured limb in the final. His incredible pace was evident in the semifinal against India when he managed to shut down the famously fast Sivaramen Venkatesan.1 Kunieda now works in Kyoto as a translator and plays for club team Osaka Spirits.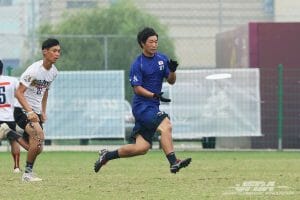 Masatsune Miyazaki – Tokyo Buzz Bullets (Japan)
Masatsune Miyazaki started off his playing career with the Boushears out of Osaka Sports University. He now plays his club ultimate with the world-famous Bunka Shutter Buzz Bullets out of Tokyo. The Buzz Bullets won their 20th national title this year 11-10 over their rivals Nomadic Tribe, thanks in large part to the work of their big receiver.
Miyazaki played for both the men's grass and beach senior national teams in 2019, picking up a gold and silver medal at AOUGC and AOBUC, respectively. He was on fire in China scoring 18 goals, the most on the team and the third most at the tournament. If you add his five assists, he had the second largest score contribution on the team. In a hotly contested final against Australia in Shanghai, Miyazaki scored four goals, which was more than anyone else on the field. One of those goals happened to be the winning goal, capping off a great tournament for the talented player.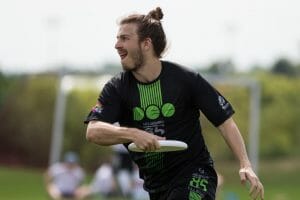 Tom Tullett – Melbourne Ellipsis (Australia)
Thanks to years of solid performances with the national team and his Ultiworld BPOTY-worthy year playing with Denver Johnny Bravo, Tom Tulett, better known as Cupcake, is perhaps Australia's most famous male player at the moment, and deservedly so. In 2018, he was a man possessed at WUCC with Colony. This year Tulett was the focal point of the Dingos (the Australian men's national team) at the AOUGC in Shanghai. They couldn't upset the Japanese in a fantastic final, but Tulett was the standout player for Australia assisting three goals and scoring one. He kept the offense flowing and is capable of playing a more dynamic style of ultimate that a lot of Aussies seem to struggle with. He had 19 assists and five goals, ranking him fifth on the overall stats leaderboard for the men's division.
Tullett can play both ways, getting plenty of blocks when he helped out the D-line. The man is all muscle, has been a trendsetter in wearing chalk on your hands for grip, and was sporting a top bun long before it was cool.2
In addition to his exploits in the Men's division, Tulett also plays well in mixed, getting some good reps in with his new club side Ellipsis, who won Aussie mixed nationals. They also competed at the U.S. Open in 2019 where Tulett had a team-high plus/minus contribution of +21.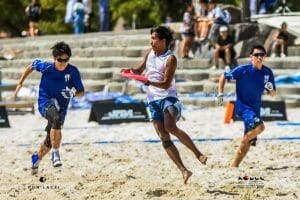 Quinjune Villanueva – Boracay Dragons (Philippines)
Quinjune Villanueva grew up in the small town of Kabankalan, Negros Occidental where he would have to hitch a ride with trucks to attend trainings and tournaments. Villanueva started practicing with Boracay Dragons and before long he was playing with the Philippines national team at 2017 WCBU in France.
At AOUGC in China this summer, Villanueva was top of the statistics leaderboard for the whole tournament with a whopping 28 assists and six goals. He was the quarterback of this team and often looked for his favorite receiver Junie Dela Cruz, who did some damage in the endzone scoring 24 goals, more than anyone else in the division. Villanueva also scored the winning goal on double game point of the quarterfinals against Hong Kong to secure a semifinal spot. The only mistake he made all week was dropping a perfectly good chicken wing from Derek Ramsey. Villanueva also won a gold medal with the very impressive Philippines men's team at AOBUC who went undefeated at the event. He and Andre Vibar were the only two players to play on the men's team at both events.
When he's not competing internationally, Villanueva coaches the Woodrose and Southridge high school teams.
---
Newly minted on the AO Mixed Team of the Year! ↩

And long after it was cool. ↩