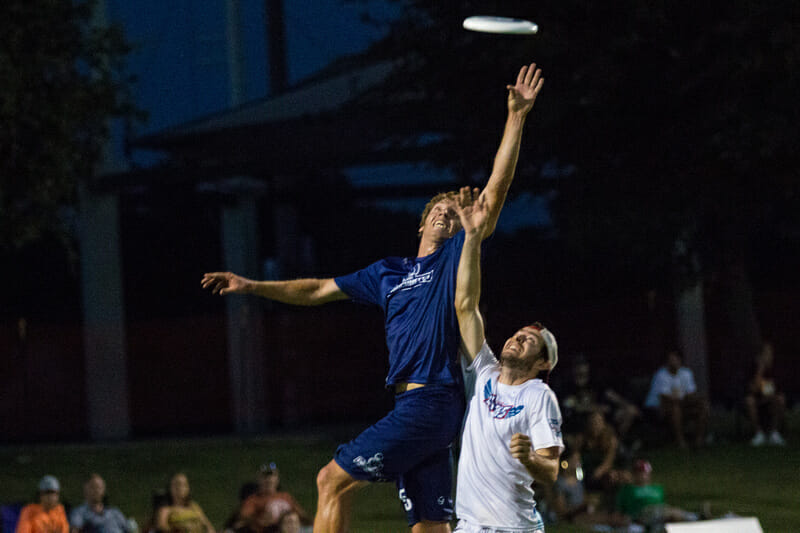 Alongside the announcement of a new franchise in Boston for the 2020 season, the American Ultimate Disc League is changing its division structure for next year.
The South Division is going away and in its place will be the new Atlantic Division, featuring East Coast teams from Pennsylvania south. Additionally, the Texas teams, Austin and Dallas, are moving to the West Division.
Here are the new divisions for the 2020 season:
| East Division | Atlantic Division | Central Division | West Division |
| --- | --- | --- | --- |
| Boston Glory | Pittsburgh Thunderbirds | Madison Radicals | Seattle Cascades |
| New York Empire | Philadelphia Phoenix | Minnesota Wind Chill | San Jose Spiders |
| Toronto Rush | DC Breeze | Detroit Mechanix | Los Angeles Aviators |
| Montreal Royal | Raleigh Flyers | Chicago Wildfire | San Diego Growlers |
| Ottawa Outlaws | Atlanta Hustle | Indianapolis Alleycats | Austin Sol |
| - | Tampa Bay Cannons | - | Dallas Roughnecks |
"We're looking at the long term," said AUDL Marketing Manager and Madison Radicals owner Tim DeByl. "It never felt quite right to have four teams in the West. Moving Dallas and Austin over gave us a lot more flexibility in the future in the West."
The other major changes — moving Pittsburgh from the Midwest (now Central) to the Atlantic — were driven by desire to minimize driving times and distances. Pittsburgh is closer to Philadelphia and Washington DC than to any of its former Midwest rivals.
The new Atlantic Division stretches far down the East Coast — it's a 16 hour drive from Philadelphia to Tampa Bay — but "it's almost like there are two mini divisions," said DeByl, with Raleigh, Atlanta, and Tampa in the south and Pittsburgh, Philly, and DC in the mid-atlantic.
Disbanding the South Division will split up two of the league's best teams — Dallas and Raleigh — that consistently met in the divisional playoffs and left Raleigh sitting at home during Championship Weekend. It could make for a stronger field in the postseason, but DeByl said that wasn't on the league's mind when making the decision to move the teams into different divisions.
"If anything, we're sad to see one of the best games of the season go away," he said. "Dallas-Raleigh was one of the best rivalries in the league the last couple of years."