Could Greatest's new 30L option be your new tourney bag?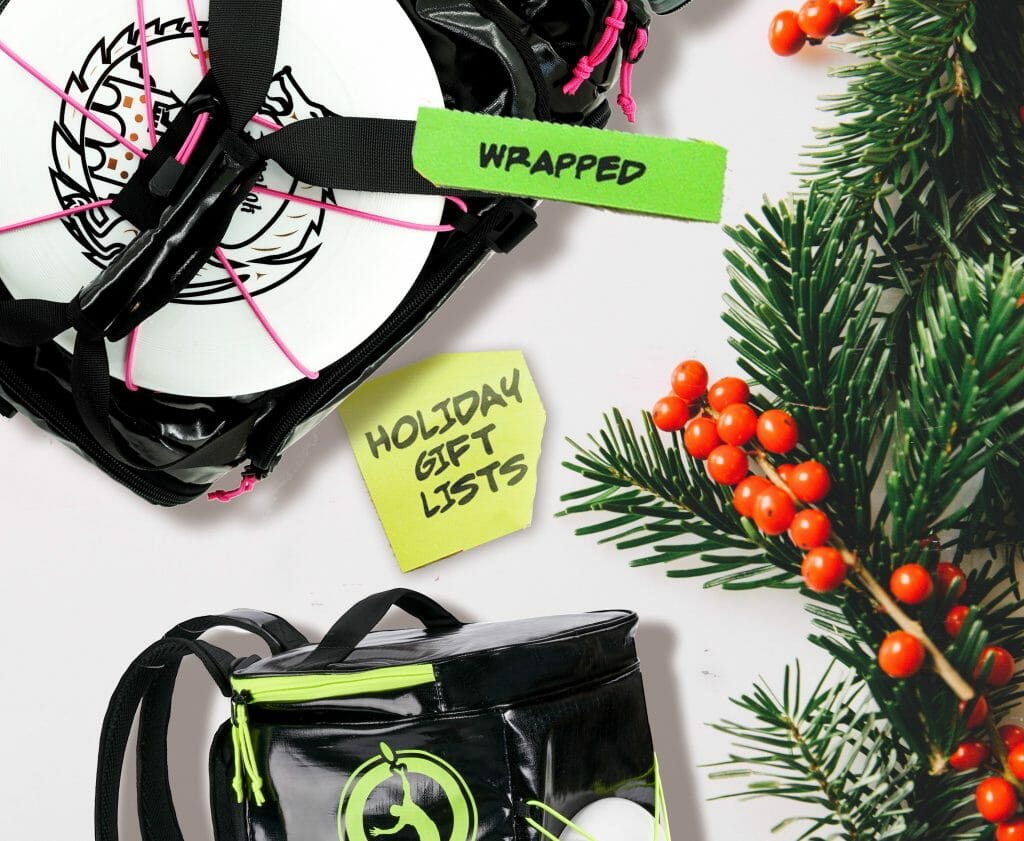 Ultiworld was compensated for this review by Greatest Bag. Opinions are solely those of the reviewer. 
Stall 1: Background Information
Let's lay the groundwork here. In order to understand my review, I think it's important to understand a little bit about me.
First of all, my packing preferences: I am a very strategic packer. I never pack 'just in case' things; I always have exactly what I need and nothing more, and I love using packing cubes to keep things organized. It's also worth noting that I have a big, clunky ACL brace that is an awkward shape to pack, but is an all-too-common accessory for ultimate players.
Second, I am frugal when it comes to any purchase over about $20. I tend to have no problem throwing money away for fast food, but I think about medium-sized purchases a lot. Before I bought my current bag1 I thought about it for months, even though I knew I wanted it. So I would never recommend anything that I don't think is really worth my dollars.
Third, I play on Salty, Halifax's women's club team, who actually made the first ever custom team bag purchase from Greatest. This was before I was on the team, so I don't have one, but a lot of my teammates do and so I'm quite familiar with the older model.
Stall 2: First Impression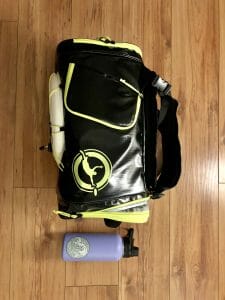 I received the new 30L Greatest bag with the optional detachable shoulder strap in black and green (though the green is more of a neon green-yellow in person). The dimensions are 17.7 x 12.5 x 9.5 inches (45 x 32 x 24cm for us Canadians). I was immediately struck by how much smaller and lighter the new bag is compared to the original model. I was also really impressed by how sleek the bag looks; The lines are clean, the material has a nice sheen to it, and the bag appears to be well-made. I prefer a bag that is simple and functional; I don't like excess pockets or straps or design elements that make it look busy, and this bag fits that bill.
The main compartment has a zipper that opens on three sides, giving you full, easy access to the inside. The two compartments on either end are spacious, and one has an added zipper and mesh that allows you to have ventilation. There is a small front pocket and a water bottle holder on either side. On the bottom (or the back, if you were wearing the bag on your back) there is bungee cord disc holder, and there is a rain cover that is stored in a small pocket at the base on the bag.
Stall 3: Packing the Bag
The bag is constructed to hold its shape, which it does pretty well even when it's empty. This makes packing a breeze, because you can tell exactly how much space you have and the sides aren't constantly falling in on themselves during the process.
I used this bag for two tournaments recently: one where I could pack for each day separately because I was staying at my own house and the other where I needed to pack for the whole weekend as I was staying overnight in a different city. In both instances, I had more than enough space to fit everything I needed without feeling like I was pushing the bag to it's limit. For my weekend trip, I easily fit my cleats, knee brace, gloves, water bottle, ultimate clothes, non-ultimate clothes, pajamas, a disc, and toiletries in the bag. As I said, I always use packing cubes and so, with everything packed neatly, I still had room to spare.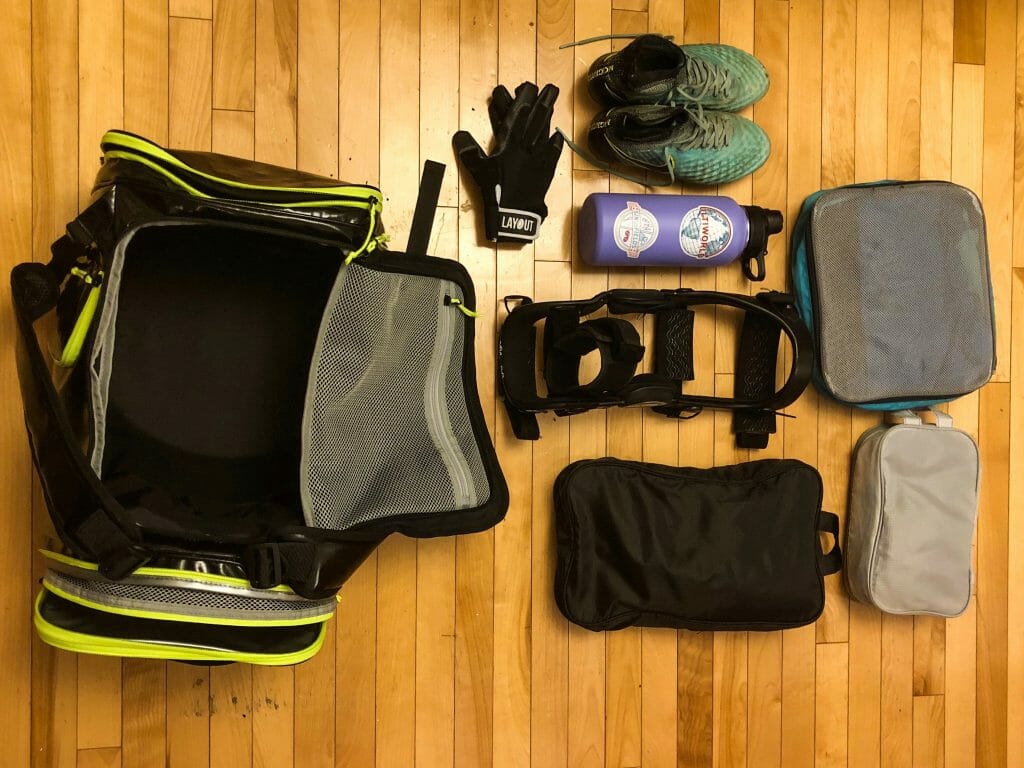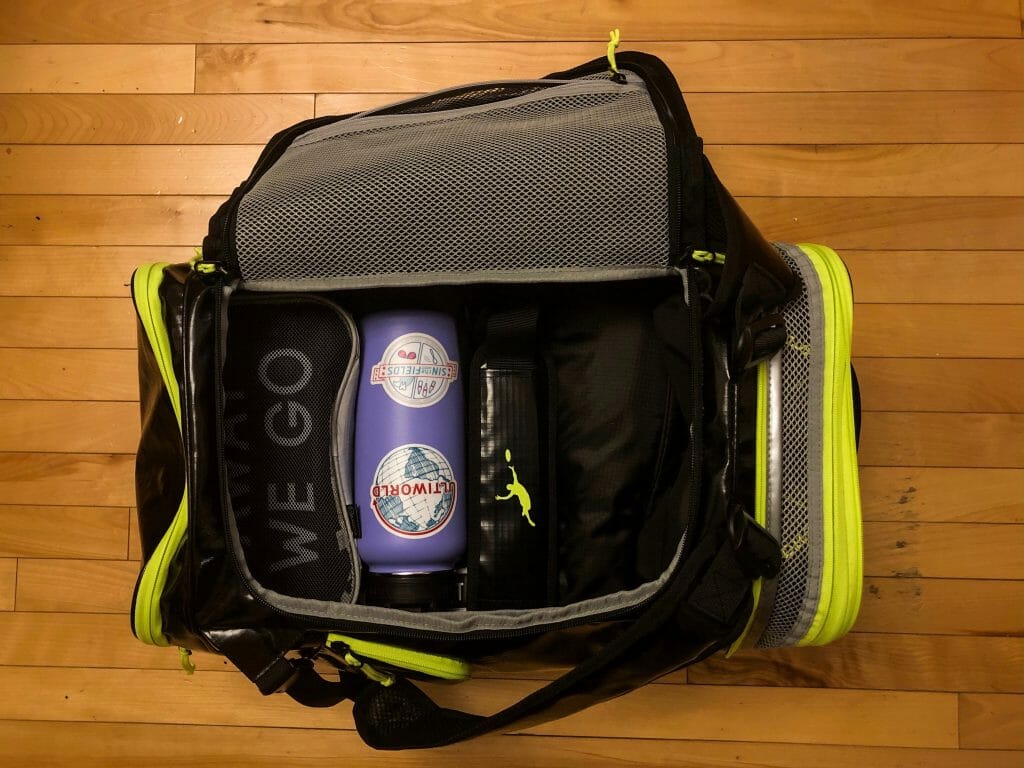 Even though the Greatest bag is more compact than my Patagonia duffel (40 L compared to 30 L), I didn't feel like it was significantly smaller thanks to the design of the bag. With the compartments on the ends specifically made for cleats/smelly clothes, and a water bottle holder on the outside, I felt like I could comfortably fit everything, and that everything had a proper place. With my current bag everything (even the smelly stuff) goes in one big compartment.
Stall 4: Carrying the Bag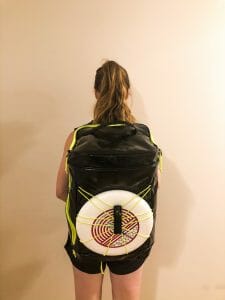 There are essentially three ways to carry this bag, unless you include cradling it like a baby and using no straps at all, which I'd have to question. There are backpack straps, a shoulder strap (an optional add-on), and a carrying handle on one end.
I immediately attached the backpack straps because I always prefer carrying things that way. The straps are quite comfortable, adjustable in length and padded. There isn't a hip strap like the older model, but since this bag is much smaller, it's not needed anyway. Having a handle on the end is really convenient for when you're just grabbing the bag for a moment; I wouldn't use it to trudge across multiple fields between games, but it's nice if you're moving it just a short distance.
One inconvenience is that you can't have both the shoulder strap and the backpack straps attached at the same time. They attach in the same place, so you have to choose which you'll use and pack the other away if you want both for a trip. It would be nice to have the flexibility to go back and forth easily, without having to reconfigure the straps entirely.
Stall 5: Using the Bag For a Weekend
This bag was great for a weekend. The weather wasn't great and so I had to carry the bag through some rain and snow (#JustCanadaThings) and it was perfectly weather resistant and kept my things dry thanks to the handy rain cover. The insulated water bottle holder, which is a bit unconventional in design (it's a diagonal pocket that unzips and expands) actually works really well; I intentionally tossed the bag around more than I usually would to test it and my bottle didn't budge.
The bright zippers made it easy to find on the sideline while not being outrageous, and several people at the tournament commented on how great it looked. I particularly like that the disc holder is on the bottom (when the bag is on the ground) so the disc isn't on display for the world to see, and for someone to swipe for warmup, only for it never to return. I also liked having a pocket to stash my smelly shoes just as I finished playing, and despite them residing in the bag for about 12 hours between the two tournament days, nothing else in my bag smelled.
Finally, the front pocket is perfect for small things you don't want to lose. Between games I stashed my phone in there, as well as my earrings that I forgot to take out before arriving at the venue. Normally I find that sports bags lack a small, shallow pocket for the little things you want to keep safe, but this one accommodates for those items perfectly.
Stall 6: Comparing to an Older Model
My teammates who have the older model of Greatest bag are pretty big fans, but they consistently have the same complaint: it's just too big and heavy. It may fit a lot, but as most people are not chronic under-packers like me, they tend to bring too much stuff simply because they have the space, and the bag itself adds so much weight that it's difficult to travel with. On several occasions, they have even been denied taking the bag as a carry on and have been forced to check the bag when flying to a tournament. This new model of the bag completely eliminates that problem.
In addition, the features that my teammates love about their older bags have remained the same: the bag still has compartments with specific functions in mind (cleats, insulated, etc), it's still made of a soft but durable material, and it's still simple in design.
Stall 7: Features I Would Change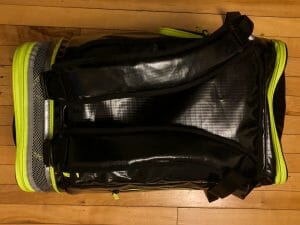 There is not a lot I would change about this bag; they really have thought about almost everything.
As I mentioned, you can't have the shoulder strap attached at the same time as the backpack straps. Though not a huge inconvenience, I prefer when bags allow me to carry them either way, whenever I want.
I would also like if both side pockets had the option to be vented. While in some cases I want to seal in my smelly cleats and clothes so as to not stink up the car on the drive home, but having more vented space would be helpful in scenarios where I could be airing everything out.
Stall 8: Features I Love
The bag has so many good features. My favorites are:
Vented pocket
Front shallow pocket (for the small stuff)
Insulated water bottle holder
Overall size and weight
There's nothing about this bag that is completely revolutionary, but it's clear that each feature was thoughtfully designed with an ultimate players needs in mind and when you add all the subtle enhancements together, you've got a really functional bag.
Stall 9: The Price
The Greatest 30L comes in at $64.99, and $74.99 with the optional shoulder strap. In Canadian that makes it around the $100 mark, perfectly in the territory of a purchase I would overthink, and so I can assure you that I've been assessing its value for money constantly while using it.
The ultimate question is do I think it's worth it- and the answer is yes. In comparison to the Patagonia Blackhole 40L duffel which is $129.99, you're getting a similar amount of space and a ton more features, for a significantly smaller price tag. I can't comment on the durability of the bag in the long term yet, but if it holds up as well as I expect it would based on the quality, then this is a great investment.
The other question I've been mulling over is whether it's even worth it to buy an ultimate-specific bag at all. If you already have a bag you love that works for tournaments as well as other things in your life, I probably wouldn't recommend purchasing this bag. It's great, but why fix what's not broken?
But if you are in the market for a new weekend bag — for tournaments or otherwise — I think this could be a great purchase. Yes, it's designed for ultimate, but it's also just a high-quality bag that would be useful for any weekend traveling plans you may have. And if you aren't going for a tournament and therefore don't need to pack your cleats and ultimate clothes, then you'd definitely have room for 4-5 days worth of stuff (at least if you're a strategic packer like me).
Stall 10: The Final Grade
Given that the bag has a ton of features I love and I only have a couple of minor complaints, I'd rate this bag 8.5/10 and I would definitely recommend it to a friend.
---
the Patagonia Blackhole Duffel 40L ↩