Vote for the best block of 2019!
Ultiworld's 2019 Block of the Year bracket is presented by BE Ultimate; all opinions are those of the author. Please support the brands that make Ultiworld possible and shop at BE!
One of our most popular series to begin each year, it's time to look back at last year and let our readers decide some of the top plays of the year.
First up this year is our Block of the Year bracket. We watched many hours of game footage and highlight reels to hunt down the best defensive plays we could find; believe us, there were more than enough options to fill up this bracket, so even some worthy nominees were left on the cutting room floor. Over the next week, we're inviting you, the Ultiworld readers, to vote for your favorite of the finalists selected.
Check out all of the nominees and vote below, then check back to see which clips advance for another opportunity to participate. The first round of voting starts now and closes on Thursday, February 13 at 12 PM Eastern.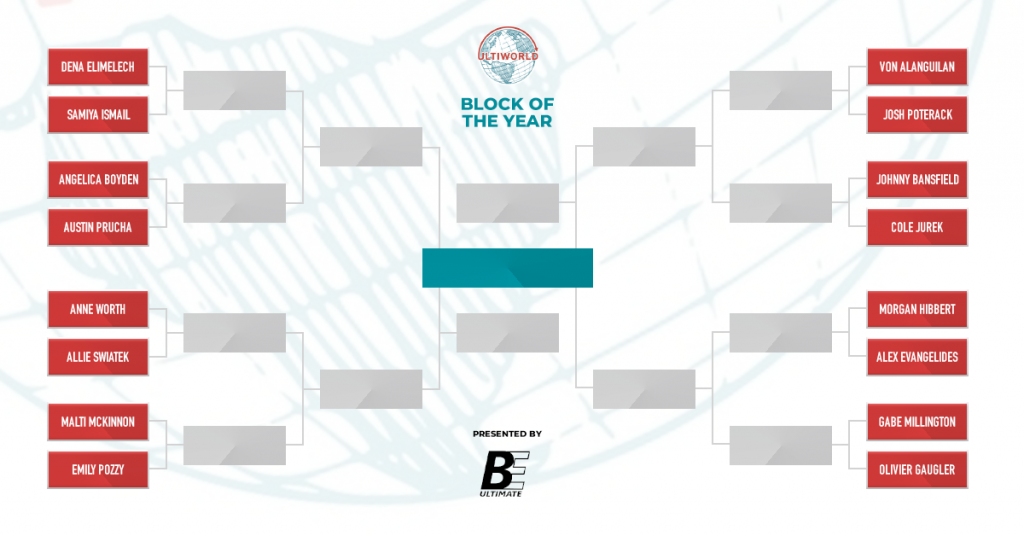 Women's
Just For Kicks: Elimelech vs. Ismail
Hope you like your plastic with some boot on it.
Dena Elimelech – UC San Diego Psychos (D-I Women's)
2019 was the year of Dena Elimelech and this block is just one of the several amazing plays she made during an epic performance in Austin. In the national championship game, matched up with one of the most accomplished opponents imaginable, Elimelech stepped up for an emphatic footblock. It was a huge moment that set the tone for the type of back-and-forth affair the championship would be, and was the type of block on the mark that has become one of Elimelech's signatures.
Samiya Ismail – U.S. U24 Women's National Team (U24 Worlds)
This play exceeded 12,000 likes on our Instagram, so let's just let those lovely folks tell you about it.
"Never seen that before. Best block ever." – gordonkelman07
"come on and SLAM" – 2laurapyane
"Damn that's THE textbook foot-block I can only dream of making ???" – wickednewsies
I'll Take That: Boyden vs. Prucha
Elite women's high-flying interceptions that took both our breath and the possession away.
Angelica Boyden – Portland Schwa (Club Women's)
Boyden's return to elite women's play went quite well with Schwa, capped off by this game-changing play during one of the biggest upsets of 2019. On what was just a routine swing after the centering throw, Boyden preternaturally predicted the trajectory and captured the disc with a fully committed bid.
W: Jaw-dropping layout grab from Boyden to snatch a swing pass that would have gone around most players. Phenomenal play.

Hammond easily corrals a floaty pass and Schwa breaks to go up 7-4

— Ultiworld Live (@Ultiworldlive) October 25, 2019
Austin Prucha – Indy Red (PUL)
Prucha won the first-ever Premier Ultimate League Defensive Player of the Year Award, and plays like this were one of the reasons why. The throw requires just a couple of inches of adjustment from the offense, but that small error cracked open the door and Prucha delivered a swift firm kick that blasted it off the hinges. Prucha cleared for takeoff! And she makes the catch, the surest way that there won't be a second effort for the offense.
Top Floor, Please: Worth vs. Swiatek
Warning: we will be very high up for this one, so if you can't handle heights, back out now.
Anne Worth – Raleigh Radiance (PUL)
When you're up against one of the most respected players in the world, who is sizing up a huck from one of the other most respected players in the world, who are both on one of the most respected teams in the world, why not go right at them? Anne Worth made Manuela Cardenas a fan during their duel in Raleigh in the Premier Ultimate League's first season. Worth got the better of Cardenas with this impeccable sky, an emphatic interception that showed the young star can play without fear.
Allie Swiatek – Neuqua Valley eNVy (High School Girls)
Swiatek was a star for eNVy at the High School National Invite, playing a fearless and dominating style befitting of her talents. Not a lot of players would spy this huck coming in time to turn and sprint to make up the yardage, and even fewer could go up with the ferocity Swiatek displayed for the sky. And of those that would, nearly none are her size. But the plays are huge!
Looking For This?: McKinnon vs. Pozzy
Throwers tested these small windows, and these defenders made them pay. Spectacularly.
Malti McKinnon – Philadelphia AMP (Club Mixed)
There might not have been a more clutch block this season than Malti McKinnon's takeaway for Philadelphia AMP against Fort Collins shame. in the Club Mixed Championship semifinals. On double game point, facing potential elimination by the underdog, McKinnon lined up a seismic layout swat to deny the upline completion. This year was a great chance for McKinnon to step up and she delivered on the biggest stage.
Emily Pozzy – Forest City (High School Girls)
Maine Riptide was one of the hidden gem success stories of 2019. Who was talking about Maine ultimate coming into YCCs? While teammate Kennedy McCarthy has become a household name, she was not the only potential future star helping Maine achieve YCC heights. Emily Pozzy threw herself with power and grace to get this full extension block.
Men's
He Had No Right: Alanguilan vs. Poterack
Turning sure-completions into game-changing blocks since 2019.
Von Alanguilan – Chicago Machine (Men's Club)
This was one of the plays that truly shook the stadium. It's the triumphant scene from a sports movie: when all seems lost, an inhuman effort creates an improbable and spectacular play with everything on the line. Alanguilan, one of the most respected defenders in the men's division, turned a wide-open score into an interception that gave Machine a chance at a championship comeback. That effort fell short, but this play was one nobody will forget.
Josh Poterack – Minnesota Wind Chill (AUDL)
In another classic Midwest melee between the Madison Radicals and Minnesota Wind Chill, Josh Poterack came up with the defensive play of the AUDL season with this tremendous trailing edge layout block. Typically, this setup leads to a helpless defender with no play on the disc. But Poterack flipped the script on the back-shoulder fade with a well-timed and explosive swat, coming up clutch against a rival.
Run-Down Specials: Bansfield vs. Jurek
What was open is no more, thanks to hustle, speed, and the extra burst at the end.
Johnny Bansfield – Chicago Machine (Men's Club)
A known playmaker, seeing Bansfield grace the list isn't a huge surprise, especially given his performance at this year's Club Nationals. While the drone angle ads something fun, this block would be special from any viewpoint — aside from the offense. The throw was wide open! Can you even blame the thrower? Bansfield makes up acres of ground to shut this play down just in the nick of time.
Cole Jurek – Minneapolis Sub Zero (Men's Club)
Jurek's reputation as a club defender really took off in 2019, not unlike him on the front half of this bookends he pulled off over the summer. The hard-nosed defender has tremendous ultimate IQ, but something tells me they don't call him "Beef" because of it. He showed a lot more than a good head on his shoulders with this chase down layout block in the end zone to deny a goal and soon led to one for him on the other end.
Showing The Kids A Thing Or Two: Hibbert vs. Evangelides
These veterans lasted this long because they know how to make huge plays.
Morgan Hibbert – Vancouver Furious George (Canadian Men's Club)
The veteran Morgan Hibbert turned back the clock for a huge block in the Canadian Men's Club championship game between Furious George and Toronto GOAT. Surely, there was no way he could do it again on the same point, right? That must be what the GOAT thrower thought as he wound up a second deep shot. Obviously, it didn't work out that way, as Hibbert soared for a nearly identical block. Saving two goals in one point? Not bad for an old guy.
Alex Evangelides – Chicago Mixed (TEP)
Is this the third Machine player to make it in here? Yes, but at least with another team! Also a great veteran to match up with Hibbert. Evangelides may be more known for his offensive exploits these days, but he showed plenty of gas in the tank when he peeled off to go and help defender this huck. Evangelides evades the contact with an admirable defensive play both on its merit and its textbook execution of safe, effective, and highlight-worthy play.
Never Seen This Before: Millington vs. Gaugler
Two plays that make the impossible possible.
Gabe Millington – Middle Tennessee (D-I Men's)
Call it wizardry, call it special effects, call it legendary — there's simply no questioning this block by Gabe Millington of Middle Tennessee. Equal parts handblock, interception, and Callahan, this play prompts the cameraperson to exclaim, "My man Gabe is like Spider-Man!" Truly, it is superheroic. Rumor has it Gabe retired after this. Will he finish his career on top?
Olivier Gaugler – UCL University Silverbacks (UK University Mixed)
We love a good footblock, or even a bootblock, if you prefer. A well-timed kick can surprise an opponent and thwart an otherwise difficult-to-reach release point. So why wouldn't a double footblock earn a spot on our list? Few players can claim to have recorded two such defensive plays in the same game, let alone on the same point, let alone on the same thrower, let alone on the same player possession. Olivier Gaugler's achievement might be the type of block we never see again.