We're on to the elite eight!
Ultiworld's 2019 Block of the Year bracket is presented by BE Ultimate; all opinions are those of the author. Please support the brands that make Ultiworld possible and shop at BE!
One of our most popular series each year, it's time to look back at last year and let our readers decide some of the top plays of the year.
First up this year is our Block of the Year bracket. We watched many hours of game footage and highlight reels to hunt down the best defensive plays we could find; believe us, there were more than enough options to fill up this bracket, so even some worthy nominees were left on the cutting room floor. Now we're inviting you, the Ultiworld readers, to vote for your favorite of the finalists selected.
Check out all of the nominees and vote below, then check back to see which clips advance for another opportunity to participate. The quarterfinal round of voting starts now and closes on Tuesday, February 18 at 12 PM Eastern.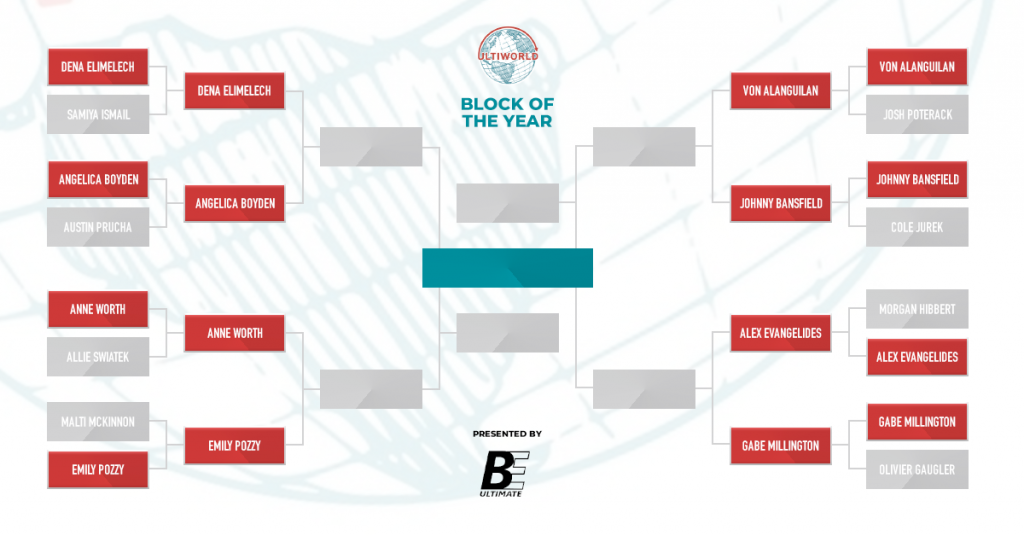 Women's
Going Nuclear at Nationals: Elimelech vs. Boyden
Players, teams, fans, and media get the true show at Nationals, the pot of gold at the end of the season's rainbow. With all the stakes, the pomp, and the intense competition, the environment can make or break even the top talent. Elimelech and Boyden — early in tense brackets games and what became their biggest wins of their respective postseasons — showed the clutch gene with these blocks.
Dena Elimelech – UC San Diego Psychos (D-I Women's)
Angelica Boyden – Portland Schwa (Club Women's)
Catch Your D's: Worth vs. Pozzy
From summer to semi-pro leagues, chances are you've heard the classic advisory heckle: "catch your D's!" We've all seen the brutal look of defeat after a defender makes an incredible block, only for the deflected disc to be caught for a completion. Anne Worth and Emily Pozzy made sure no offensive player would benefit from their hard work, snagging interceptions where weaker defenders might have opened the door for another chance at a completion.
Anne Worth – Raleigh Radiance (PUL)
Emily Pozzy – Forest City (High School Girls)
Men's
He's Not A Man, He's A Machine: Alanguilan vs. Bansfield
Chicago, represent. Every Machine player1 made it to round two. Well, not all of them will make it the semifinals. The Machine defense earned a lot of plaudits this past season on their way to the final. Which Chicago defender will get a chance to reach this bracket's final…or even win it?
Von Alanguilan – Chicago Machine (Men's Club)
Johnny Bansfield – Chicago Machine (Men's Club)
The Ones That Beat Twos: Evangelides vs. Millington
The first math equation many of us probably learn is "1 + 1 = 2" and even before that, we learn to want more than less. Why have one when you can have two? Our voters, however, decided quality won out over quantity in round one. Alex Evangelides and Gabe Millington went up against the only double blocks in our bracket, and still found their way to the quarterfinals.
Alex Evangelides – Chicago Mixed (TEP)
Gabe Millington – Middle Tennessee (D-I Men's)
---
Alex Evangelides advanced through round one, as well. ↩