The college player of the year provided an epic performance in Texas that helped define ultimate in 2019 -- and likely far into the future.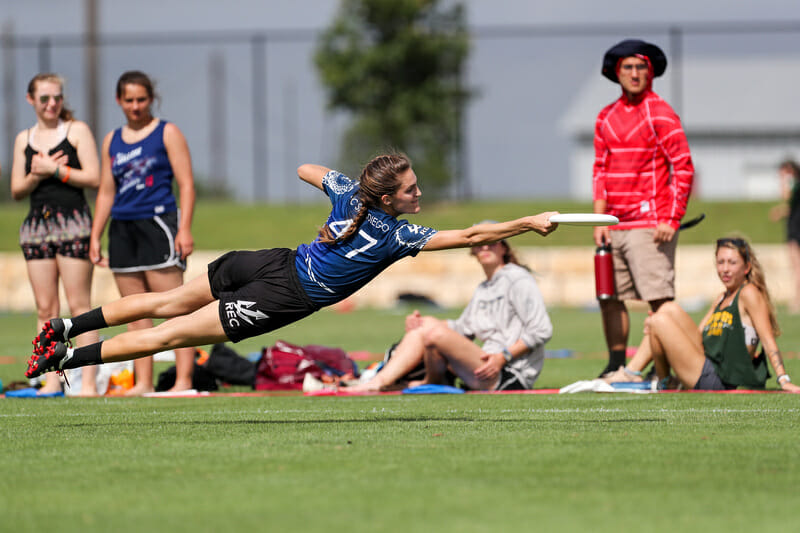 We're only a couple weeks into 2020, so I'm still reflecting on the previous year of ultimate. And Dena Elimelech gave us all a tremendous gift in 2019. Well, really she gave us three. Consider this my thank you letter.
It's easy to forget how young ultimate still is. The broadcast era of our sport, in particular, is still in its infancy. As such, we lag behind many more mainstream sports in our lore. We don't have that library of defining memories we all visualize when thinking about ultimate. College football has "The Play" from Stanford-Cal. Soccer has Brandi Chastain's penalty kick to win the 1999 World Cup. Basketball has Michael Jordan's "The Shot." Of course, those three are joined by many, many other iconic sports moments.
With such a relatively small number of filmed games to this point, ultimate doesn't really have a commonly shared bank of historic images. There's Beau jumping over a guy. There's the Dylan Freechild layout block against Doublewide, but that's almost remembered as much for the commentary1 as anything else. Despite several amazing individual plays, there isn't really a consensus answer on the single most iconic highlight of a women in ultimate at this point. For the most part, the sport's fabled feats are shared by word of mouth, never to be seen or heard by those who weren't there in person.
But in 2019, Elimelech went on a solo mission to fill ultimate's library of filmed iconic moments. She ruled the final year of the 2010s, and in a mere two-day span at D-I College Nationals, gave us a series of plays that will live on in the community's collective memory.
---
Is "Dylan Freechild saves the game," the only true moment in ultimate commentary thus far? ↩
An Ode To Dena Elimelech is only available to Ultiworld Subscribers
Already have a subscription? Log in
Whether you visit Ultiworld for our reporting, our podcasts, or our video coverage, you can help us continue to provide high quality content with a subscription. By becoming a subscriber, not only do you receive benefits like exclusive articles and full article RSS feeds, you also help fund all of Ultiworld's coverage in general. We appreciate your support!