Just four catches remain!
Ultiworld's 2019 Catch of the Year bracket is presented by Friction Gloves; all opinions are those of the author. Want to make highlights of your own? Try Friction Gloves!
One of our most popular series to begin each year, it's time to look back at last year and let our readers decide some of the top plays of the year.
Now it's time to decide the champion of our Catch of the Year bracket. We watched many hours of game footage and highlight reels to hunt down the catches, completions, grabs, snags, and everything else; believe us, there were more than enough options to fill up this bracket, so even some worthy nominees were left on the cutting room floor. Over the next week, we're inviting you, the Ultiworld readers, to vote for your favorite of the finalists selected.
Check out all of the nominees and vote below, then check back to see which clips advance for another opportunity to participate. The third round of voting starts now and closes on Wednesday, March 18 at 12 PM Eastern.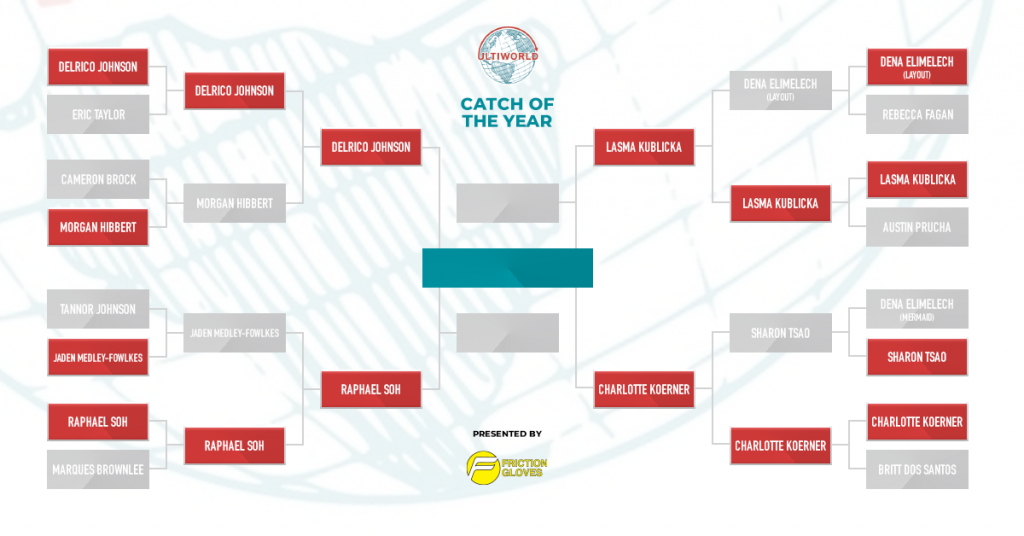 Men's
Something Extra For Something Special: D. Johnson vs. Soh
A round-leading dominant performance from Delrico Johnson's acrobatic catch has brought him to the semifinals. Raphael Soh got into a slugfest with Jaden Medley-Fowlkes, winning 56% of the vote in their matchup. Both of these catches are excellent in their own right, but perhaps what makes them so special are their circumstances. Johnson's catch came during the celebratory night of the Color of Ultimate broadcast; Soh's came in a tremendous effort for an upset bid by one of the U24 World Championships' brightest underdog.
Delrico Johnson – Team Tuba (Color of Ultimate Showcase)
Raphael Soh – Singapore Mixed (U24 Mixed)
Women's
Giant Slayers: Koerner vs. Kublicka
Dena Elimelech and Britt Dos Santos are stars of the club women's division, and just two of such players eliminated by Charlotte Koerner and Lasma Kublicka on their way to this semifinal matchup. Koerner's powerful playmaking has activated more than Pittsburgh voting bloc, delivering her a crushing 75% vote total in her quarterfinal. Meanwhile, Kublicka comfortably defeated Elimelech's ballyhooed layout catch, which had some passionate defenders on social media.
Charlotte Koerner – Pittsburgh Alloy (Club Mixed)
Lasma Kublicka – Latvia Salaspils (EUCF Mixed)