A new Southeast powerhouse?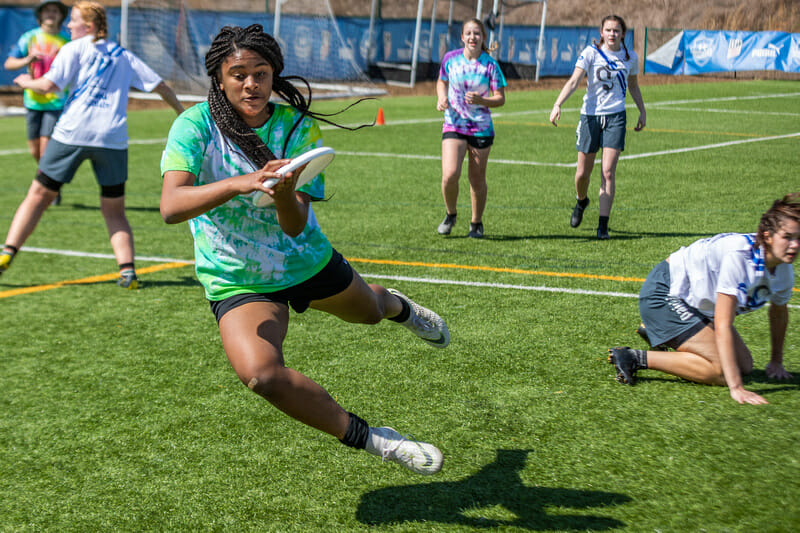 Our 2020 high school coverage is presented by CUT Camps. Please support the brands that make Ultiworld possible and check out CUT Camps!
Before the coronavirus pandemic brought the entire ultimate world to a halt, the 2020 youth season started under clear skies at the Queen City Tune Up in Charlotte, North Carolina. For the past four years, girls ultimate in the Southeast has been dominated by a few teams: Atlanta's Paideia School, the Triangle's youth club team, a homeschool team from Western NC, and DC's HB Woodlawn. This year's field, though, brought a host of new names and faces. In fact, half of the 14 teams were first-time attendees. When the dust settled, there was a new sheriff in town.
In a first for the annual QCTU tournament, two teams from Minnesota flew down to test themselves against the Southeast. #2 seed Edina is the state's largest and most successful girls' program, and the only school at the tournament other than Paideia with a JV team. Their main in-state rival—#6 seed Hopkins—joined them for the weekend in Charlotte.
The #1 overall seed was last year's finalist Paideia. Accompanying them from the Peach State were their JV team (#14), Grady (#5) traveling to their first away tournament, and a new team from Decatur (#7). This last team was a club team rather than a high school team, the result of a new Triangle Ultimate policy that its girls' tournaments would now all be youth club tournaments, rather than use HS eligibility rules. Decatur featured an all-star lineup of players from around Atlanta and the region. Early Saturday morning, no one knew how big of a shift that might cause.
From the Washington DC area, the familiar names of HB Woodlawn and Yorktown-Lee failed to appear. After a run of success that supplied players for the YCC team Rogue, both schools are in rebuilding years and decided not to travel. Instead, the region was represented by Wilson (#4) and a new team from James Madison (#11). From Tennessee, University School Nashville (#8) was making their first appearance at the tournament as well.
Even the home state brought new blood. Barefoot (#9) was joined by a second Western NC team, this one from Asheville (#13). Three teams came from the Triangle: this year's NC state champions Chapel Hill (#3), East Chapel Hill (#10), and Durham School of the Arts (DSA, #12).1
Saturday Pool Play
While the temperatures were mild on Saturday, a strong wind made the conditions ideal for zone defense. The teams from Georgia came out strong with aggressive cups, loading up the space around the disc with defenders. All three schools won their pools, including upset victories by Grady (Pool D) and Decatur (Pool B).
The wind added an extra layer of difficulty for the two Minnesota teams. While their players had been getting plenty of reps over the winter, they were all indoors with no wind. In spite of that, Hopkins managed to hold seed with wins over James Madison and Paideia JV. On the other hand, Edina—led by Abbi Shilts–had the misfortune to share a pool with the Decatur club team.
Simply put, Decatur dominated play on Saturday. They won their three games by a total of 36-3. Not even top seeded Paideia managed to score more than a single point on them. Paideia's strategy of stacking the cup worked against teams in Pool A that couldn't throw over it, but in the crossover game, Decatur's U20 pick Quincy Booth used her height and throwing skill to throw lifts over the cup again and again, breaking it down each time. Once beyond the cup, superstar addition Ellie Stanfield from the absent Knoxville Hornets easily picked apart the remaining defenders with her pinpoint throws.
Chapel Hill, led by U20 picks Clil Phillips and Harper Baer, won Pool C. DSA, with U20 selection Emma Williamson, upset Pool D top seed Wilson, only to fall to Grady on double game point immediately after. The other NC teams finished at the bottom of their pools, although Barefoot and Asheville did pick up wins in the crossover round. It was a tough day for the two DC teams as well, with both finishing third in their pool.
Sunday Bracket Play
Sunday dawned warm and still. With the redbuds and cherries just beginning to bloom, it was a classic Southern spring day. With no wind to speak of, the day's play featured less zone and more matchup defense.
Unfortunately, that wasn't enough for the two Minnesota teams. Both lost tight games in prequarters on double game point. In the subsequent DII bracket, Edina pulled out a win over its in-state rival. While neither team did as well as they would have liked, they got valuable early season experience against quality Southeast teams, something sure to serve them well when play (hopefully) resumes outdoors back in Minnesota.2
The prequarter victors' celebrations were short-lived, though. The two Georgia teams on the top half of the bracket sent them packing, with Paideia scoring a decisive win over Wilson, and Grady beating Barefoot on DGP after a see-saw game that saw the lead switch several times. In the all-Georgia semifinal, Paideia continued its streak of in-state success with a win over Grady. Still, Grady can't be unhappy for breaking seed and making semis at its first away tournament.
There was more drama on the other side of the bracket, as two North Carolina teams were playing in quarters. For several years, DSA has been one of the only Triangle teams to play as an actual high school team. While they've had good numbers, they have never had much success. Chapel Hill, on the other hand, has always been a collection of players from around the area, and has won HS states the past two years. On Sunday, though, they got their comeuppance as DSA eliminated them from the bracket. The underdogs' play was highlighted by multiple layout catches deep from their standout receiver Blair Garrett. Unfortunately for DSA, they had to face Decatur in the semifinal, with (by now) predictable results.
To their credit, Paideia did manage to score four points on Decatur in the finals—nearly as many as all of Decatur's other games put together–but that game, too, was a forgone conclusion. When play finished Sunday afternoon, Decatur had convincingly demonstrated that it was the best team at the tournament.
Closing Thoughts
Decatur may have won Queen City Tune-up, but don't crown it ruler of the Southeast region just yet. If we get back on the field this season, the Knoxville Hornets will challenge for the top spot, with Stanfield back in the lineup. The Hornets have been making waves, beating NC HS teams at an unsanctioned tournament in the fall and dominating a local college tournament this spring. With Stanfield throwing to a stable of athletic receivers, they're going to be a tough team to beat.
---
North Carolina holds its girls' state championships in the Fall. ↩

Ironically, on Sunday it was actually warmer in Minneapolis than it was in Charlotte. ↩