Which player would you most want leading your team?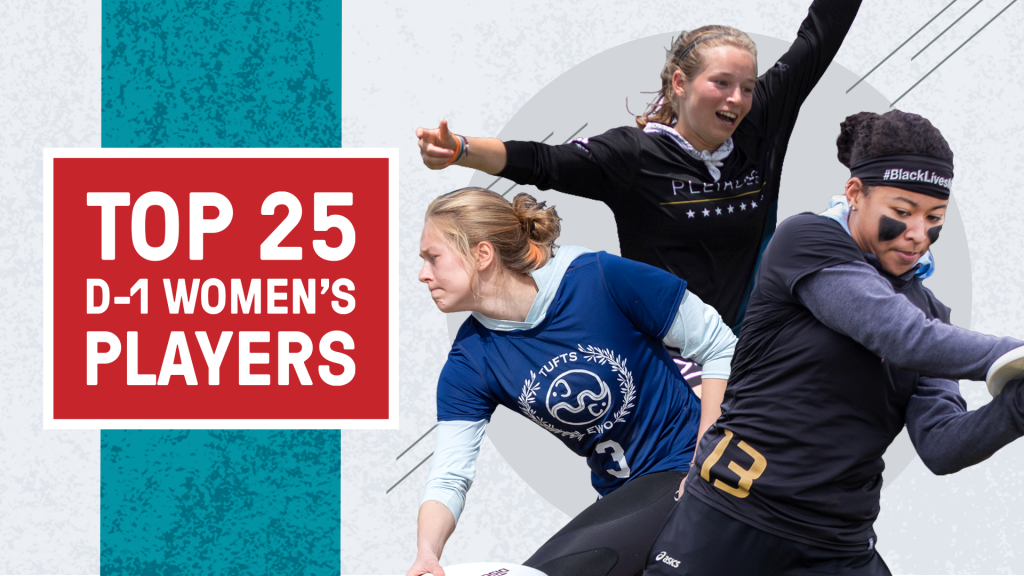 College ultimate is filled with stars. Some play in high profile environments, get reps for elite club teams, or play in international competition. Others compete with deep squads that don't always make them the headliner for their team. Still others ply their trade for off-the-radar programs that dim their limelight. But our coverage team tries to see them all.
So who are the best players in college ultimate right now? To try to clear away as much of the white noise created by circumstance as possible and get to the heart of each individual's value and contribution, we asked a diverse group of ten members of our coverage team to weigh in on the following prompt:
If you were starting a college team right after the end of the regular season, with the express goal of winning a hypothetical 2020 College Championships still scheduled for Memorial Day weekend, how would you rank the players within the division? You aren't building a team of all your selections, so don't worry about how the players complement each other. Consider each pick the first pick of a team, drafting in order, only you can't pick the players you've already ranked above. All current D-I players are eligible to be drafted, but with their current injury status. Because it's a hypothetical tournament this spring, don't worry about any eligibility concerns that could come into play with a delayed College Series.
We each listed out our top 25 players, then combined our lists to create a composite ranking. Any player who fell outside of a voter's Top 25 was assigned a value of 30 when calculating average rankings.
Here's how the Top 10 shook out (the rest of the top 25 will be available for our subscribers).
| RANK | PLAYER | Ben Murphy | Keith Raynor | Graham Gerhart | Lindsay Soo | Sadie Jezierski | Daniel Prentice | Scott Dunham | Kelly Rusin | Steve Sullivan | Charlie Eisenhood | AVERAGE |
| --- | --- | --- | --- | --- | --- | --- | --- | --- | --- | --- | --- | --- |
| 1 | Claire Trop (Dartmouth) | 1 | 1 | 1 | 1 | 1 | 1 | 1 | 3 | 1 | 1 | 1.2 |
| 2 | Margo Urheim (Tufts) | 2 | 3 | 2 | 3 | 2 | 3 | 3 | 1 | 3 | 3 | 2.5 |
| 3 | Anne Worth (North Carolina) | 3 | 2 | 3 | 2 | 3 | 2 | 13 | 4 | 2 | 2 | 3.6 |
| 4 | Nariah Sims (Carleton) | 4 | 9 | 5 | 4 | 8 | 11 | 7 | 2 | 12 | 4 | 6.6 |
| 4 | Bridget Mizener (North Carolina) | 7 | 5 | 9 | 5 | 11 | 4 | 5 | 7 | 9 | 5 | 6.7 |
| 6 | Hallie Dunham (Stanford) | 5 | 7 | 8 | 7 | 15 | 7 | 2 | 6 | 6 | 9 | 7.2 |
| 7 | Carly Campana (Carleton) | 6 | 6 | 18 | 6 | 4 | 6 | 4 | 15 | 4 | 7 | 7.6 |
| 8 | Cara Sieber (Ohio State) | 8 | 4 | 10 | 9 | 5 | 5 | 16 | 11 | 7 | 8 | 8.3 |
| 9 | Ari Nelson (Northeastern) | 9 | 8 | 4 | 15 | 6 | 18 | 15 | 10 | 5 | 15 | 10.5 |
| 10 | Jasmine Childress (UC Santa Barbara) | 10 | 24 | 7 | 10 | 9 | 20 | 6 | 5 | 18 | 11 | 12.0 |
With the composite list in place, we discussed our selections, our snubs, and our pet favorite players. But first, a bit more on how we each approached this thought experiment.
What criteria felt most important to you when ranking players?
Daniel Prentice (Senior Staff Writer): The asset I valued most was versatility. I wanted players that I knew I could plug into a high volume role no matter who their hypothetical teammates may have ended up being. Then I looked for players that I think have the most valuable and rare skillset: disc dominant handlers. There just aren't that many elite handlers in college ultimate and if you have one, you're probably going to be pretty competitive. There were some players whose pure talent level's transcended those criteria — Nariah Sims rose higher and higher with every draft of my rankings — but for the most part I have players who I feel have very well rounded skillsets or are quarterback types that can lead an offense from behind the disc.
Beyond player types, I valued players that have proven their abilities across numerous elite levels. I think players can still be elite college players without having played elite club or for the US national team, and there are a few of those on my list that I feel very confident about. But I did find myself leaning towards players that had extra evidence of being able to succeed in the most competitive situations against the toughest competition.
Graham Gerhart (Senior Staff Writer): For me, versatility, experience, and health mattered. I probably had the fewest rookies in my list and there was a reason for it. I know many of them have proven themselves on the U20 and even U24 stage, but oftentimes they had exemplary teammates there, too, that helped them rise. I valued players that were also able to prove themselves without as much help.
Also, if players were good but injured, that often weighed against them. I think health is a super underrated facet of success. Having a wunderkind on your team doesn't matter if they're never on the field.
Great throwers certainly were valued more highly for me too, as I think there are fewer of those this year, and as a result, are more valuable.
Keith Raynor (Senior Editor): The number one thing I looked for was takeover ability, those players who could dominate a game in multiple contexts with their abilities. Proven ability to compete at an elite level, whether that be through club, international, or just high-level college play, really informed how I evaluated players.
Scott Dunham (Women's Division Contributor): As described in our charge, I favored players with the "ability to take over and lead a team," emphasizing demonstrated effectiveness at the college level. Of particular importance for my selections, for cutters as well as handlers, is downfield throwing skill, as analyses I have done of how teams improve or take a step back from year to year indicate that is by far the most important predictor of a players' contribution to team success.
For handlers, the most important criterion (beyond reliability on routine throws) were the ability to maximize the 'live' areas of the field, so effective break throws and hucks were of primary importance along with consistently getting open for easy completions despite tough defense. Primary factors for cutters were being dangerous both as a thrower as well as receiver and the ability to turn teammates' imperfect throws into big gains.
Lindsay Soo (Women's Division Contributor): Players who are high volume on good teams. Typical ultimate stats are important, but plus/minus isn't the only thing that matters. What kind of touches do these players get? How easy is it for them to get open? Do they hit break windows? Are they smart defenders? Do they make good switches to slow offensive flow? Can they shut down a high-level player?
Steve Sullivan (Executive Editor): It should go without saying that the players on my list are the ones I believe are most capable of taking over a game. Spectacular skill, athleticism, and composure earned through experience are critical. As is durability, as I expect that in order to win a title, a superstar needs to be able to handle high-usage game after game against the best an opponent can throw at them.
Beyond that, I believe that the most important piece to have for a championship-winning college team is a player who dominates with the disc in their hand. Obviously I prefer versatility to be able to dominate as a cutter and/or defender as well — and in some cases, dominance in these skills is enough to outweigh a less developed throwing skillset — but when push comes to shove, playmaking ability as a thrower is my tiebreaker.
Unlike on the men's side, there was much more parity in terms of who landed inside voters' Top 10 lists. Only two players — Claire Trop (Dartmouth) and Margo Urheim (Tufts) — were consensus Top 10 picks. How can that be?
Gerhart: There were far fewer dominant seniors this year, for a start. Fewer proven stars. We mostly agree that seniors remained the best players, but we aren't really as sure who those seniors are.
Raynor: There's also a lack of established players with a track record of elite club and international success. That lack of extra data makes it harder to separate the top players.
Prentice: First, I have to say that Anne Worth (North Carolina) not being a consensus Top 10 pick along with Trop and Urheim is mind-blowing. I know she missed virtually all of this season, but in my opinion she is obviously one of the two most talented players in the division.
Beyond that, I have to agree with Keith. So many of the game's biggest stars left after last season that the division as a whole just feels really unproven. This is a more minor factor in this, but I also think it was difficult to parse the true best players on the two clear top teams in Carleton and North Carolina. If players like Bridget Mizener (North Carolina) and Carly Campana (Carleton) — just as a couple of examples — had larger roles on less deep teams, they'd have been more likely to be consensus Top 10 choices as well.
As Daniel noted, Anne Worth was a near-unanimous Top 3 pick, save Scott Dunham. Why is she so low for you?
Dunham: I originally had Anne Worth penciled in near the top of my rankings based on what I had heard from others, but I didn't have my own strong image of her play to place her on this list, so I went to the film. She didn't play during 2020 college season, and thus I went first to her most recent college game: the 2019 semifinal vs. Dartmouth. In the most important game of UNC's season, she did not seem to make a large impact. In contrast, Bridget Mizener's outstanding play caused me to move her up a couple of slots on my list.
Next, I checked out her 2019 club play. I picked Phoenix's game vs. Nightlock from Pro Champs, as I was familiar with the players she would be matching up with. My conclusions were the same — more of an effective role player than a 'take over' player that demanded a Top 10 rating. I tried UNC vs. Western Washington, a close game I was recommended. Sure enough, she was more involved in the play, but unfortunately at the cost of six turnovers, mostly throwing.
I can see what others get excited about (such beautiful cuts!), but she comes up a bit short on two of my primary considerations. First, she was successful getting good separation, but when a throw floated a bit, she mostly lost out when trying to catch (or defend) in traffic. Second, she didn't stand out to me as a dangerous thrower. I understand that others view her play differently, but that's why we are getting multiple opinions.
Prentice:
Sullivan: Even as someone whose self-professed criteria weighs throwing ability heavily, Worth's athleticism is simply too much to overlook. As evidenced in her Callahan video, she has the speed, quickness, and agility to make even world-class defenders look slow and downright silly. Here's a partial list of defenders who she embarrassed with her cutting in that Callahan video: Elizabeth Mosquera, Julia Kwasnick, Claire Trop, Emily Barrett, Carolyn Normile, Jasmine Childress, Carly Campana, Ximena Montaña. Nevermind the list of players she skied or run-through blocked. Yikes. Simply put, Anne Worth is going to get open on anyone. A lot.
Plus, it's not like she's a bad thrower; she may not be a game-breaker in that dimension, but she's more than competent and has enough skill to attack the break side, especially against college marks. If her throwing is good enough for Matty Tsang to take her onto the WUGC squad, it's good enough for me!
For all the talk of the young talent in the division, only one underclassman1 made the Top 10. Then again, eight made the Top 25 compared to just two on the men's side. Do upperclassman still just rule at the very top?
Raynor: Well, those underclassmen simply haven't had the chance to make the same impact. Not getting a postseason this year took away a lot of big stage opportunities for them — especially rookies — and chances to be in tighter late-season rotations and systems that are more designed for success rather than development.
Eight underclassmen received Top 15 votes. To me, that just speaks to how powerful these young players are. The one with the highest ranking, Carleton's Carly Campana (say that five times fast), didn't even make the ROTY podium last year.
Gerhart: Frankly, I'm surprised that we even had that one underclassman. Campana is phenomenal, but so is her entire team. You can rank the order of importance on that Carleton line a million different ways and make a compelling case. Upperclassmen just have the experience and steeliness to compete at their peak. They also have developed physically more and are able to handle the demands of a season better.
Charlie Eisenhood (Editor-in-Chief): Top 10 is a high bar! There are multiple WUGC players in the top 10. This is not a slight to the tremendous freshman and sophomore talent in the division right now. There is ample representation of them in the Top 25, and plenty more just outside it (freshmen Stacy Gaskill (Colorado) and Kennedy McCarthy (Vermont) were the first two out).
It doesn't seem like such a stretch to say that the most talented, deeply experienced seniors and fifth years are the best players in the division right now, and the ones you want leading your team. Raw talent matters, for sure, but there's something to be said about knowing the college game and having played in a high-volume role for multiple years.
---
Freshman or sophomore ↩