The Oberlin star is just getting started.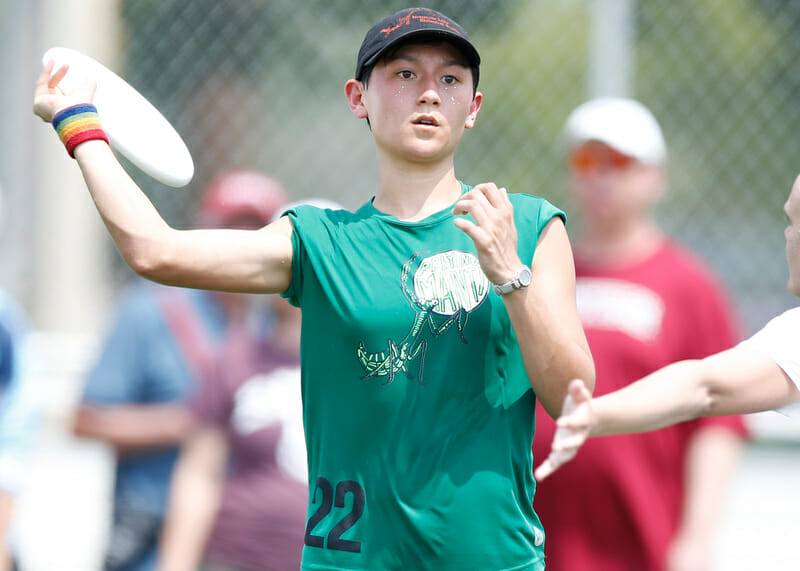 The 2020 Donovan Award in the Women's Division goes to Oberlin College fifth year senior Abby Cheng.
Cheng embodies the key criteria of the Donovan Award in both her on-field excellence and off-field leadership. She is a long time steward of the Oberlin Preying Manti who has helped transform the program on both accounts; her high level play is matched with an infectious determination to bring together a team that plays for one another, together.
Arriving in college with only a year of ultimate under her belt, a taste of the D-III Championships in 2016 helped cement in Cheng a goal to play ultimate at the highest level. Cheng's work ethic–in track workouts, in learning the elements of the game, and in encouraging and teaching younger players–helped earn her captainships with both Oberlin and her club team, New York Bent. Putting in the work to always play her best and bring out the best in others culminated in a selection for the 2019 USA U24 Mixed National Team — and a gold medal in Heidelberg, Germany.
Before the summer international tournament, Cheng was one of the many puzzle pieces in a team that fit together perfectly in Oberlin's run to capture the D-III Championship title, as well as a personal claim to 1st Runner up for 2019 Player of the Year–Cheng contributed 10 blocks, 13 assists and 20 goals over the course of the weekend. In the championship game, Cheng was everywhere–making defensive blocks in the deep space, providing open hands with quick feet for her handlers to hit, and putting the disc right where it needed to go. Just as importantly, Cheng was among the first to rush the sideline, give high fives to teammates, and speak to the chemistry and success the Preying Manti built together.
But more than her ability to read a disc and be in the right space at the right time is Cheng's relentless work to lead by example and inspire the best in she plays with and against. As she said in a 2019 U24 profile, "an amazing gift coming from D-III is that I have to fight for everything. The only way to get as far as I can is to work really hard." Cheng's hard work doesn't dissuade others from working hard or getting discouraged but lifts her teammates to work hard as well. One way to characterize Cheng's laser focus is on working towards growth–on and adjacent to the field, but also on personal, program, and community levels.
As the Oberlin team wrote in Cheng's Donovan nomination: "There's never a moment where she's not thinking about what she can do next to make things better. She has worked tirelessly to provide a platform for diverse voices in ultimate. She's been an incredible advocate for the trans community. She's organized and run workshops and clinics and meetings and more, learning and teaching and learning and teaching us about everything from how to optimize practice time to how to best support ourselves and each other. The Manti grew when Abby grew."
As we've learned more about Cheng–from the LA Throwback Color of Ultimate showcase game to watching the 2019 D-III Championship title game to reading her team's Donovan nomination–it's clear that her impact on the ultimate community is just beginning.
Here is the awards show from last night if you missed it: