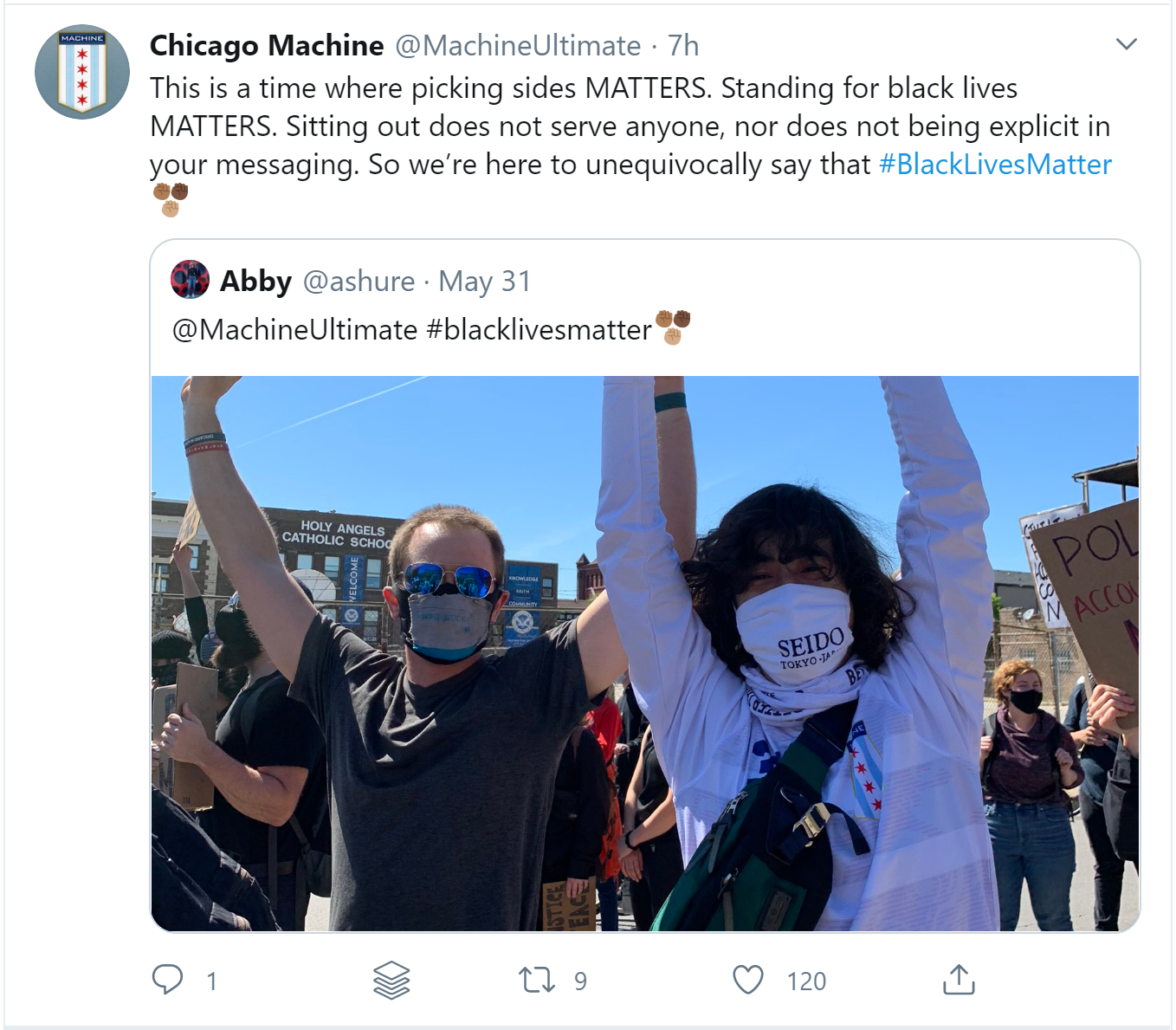 Sparking nationwide protests opposing police brutality and racism, outrage over the death of George Floyd has galvanized action across the ultimate community. Players, teams, and organizations have released public statements, marched in protests, and donated money to groups supporting justice reform and bail funds.
New York PoNY announced a matching donation program and raised $1500 over the weekend for Black Visions Collective, a black advocacy organization that has helped organize protests in Minneapolis, the site of Floyd's death, and works on police reform in Minnesota, before announcing a second $1500 campaign last night:
NYC stands with Minneapolis. PoNY is matching all donations up to $1,500 made to @BlackVisionsMN, a grassroots Minnesota organization. DM us your donation and we'll match it. Link to donate here #BlackLivesMatter https://t.co/msATIKLH0p

— PoNY Ultimate (@PrideofNY) May 30, 2020
Thrilled to announce we've hit our $1,500 goal and have matched donations to @BlackVisionsMN totaling $3,000. We're upping the ante here in NYC: We're matching another $1,500 to @nonewjails_nyc DM with your donation we'll match! https://t.co/GxIFEwvoO9 https://t.co/82HMLSdu5D

— PoNY Ultimate (@PrideofNY) May 31, 2020
Minneapolis' men's club team Sub Zero duplicated PoNY's $1500 fundraiser after releasing a statement on Twitter.
"This weekend is more important than any tournament," wrote the team. "Our community is hurting, our city is burning, and we fully support everyone involved in the initiative. We are going to be vocal. We are not going to be sorry for shoving this in your face. We only wish we had done it sooner."
Other Minnesota-based teams have also released statements, including the University of Minnesota club teams, Minneapolis Drag'N Thrust, Carleton College's club teams, the Premier Ultimate League's Minnesota Strike, and the AUDL's Minnesota Wind Chill:
The UMN Womxn's Ultimate program is outraged & grief-stricken by the recent actions of the MPD against George Floyd. We condemn the injustice & violence shown towards the black community in our city. Our program does not tolerate racism. George Floyd should still be alive today. pic.twitter.com/vzk9dTTLiK

— UMN Ninja Ultimate (@NinjaUltimate) May 30, 2020
As members of our diverse Minneapolis ultimate community, Grey Duck Ultimate condemns the actions of the MPD and stands with our community in calling for #JusticeForGeorge and an end to the racism that has plagued our justice system for so long

— Minnesota Grey Duck (@1Duck1Love) May 31, 2020
Art by @seriouslypaige

We condemn the racism and anti-Black violence that continues to take place in Minneapolis by the Minneapolis Police Department against the city's grieving Black community. George Floyd should still be alive today.#JUSTICEFORGEORGEFLOYD #BLACKLIVESMATTER pic.twitter.com/zkS0req0hx

— dragNthrust (@dragNthrust) May 29, 2020
If you would have attended a Strike game this season, please donate the cost of a ticket ($10) to @blackvisionsMN or @reclaimtheblock.

We stand in solidarity with the Black community of Minnesota in the fight against systemic racism and the demand for justice for #GeorgeFloyd.

— Minnesota Strike (@MinnesotaStrike) May 30, 2020
— Minnesota Wind Chill (@mnwindchill) June 1, 2020
Syzygy stands in solidarity with those fighting against the ongoing anti-black violence within our nation. White silence around the murder of George Floyd, Breonna Taylor, Ahmaud Arbery, and countless other acts of police brutality is unacceptable and actively harmful.

— Syzygy (@SyzygyUltimate) May 31, 2020
#BLM pic.twitter.com/2hZUOnkyWU

— the cut (@cutrules) May 30, 2020
Followers of @goprocks,

The Gods of Plastic stand with our Minneapolis neighbors. We acknowledge that white silence around the murder of George Floyd is actively harmful. We denounce the ongoing anti-Black violence, police brutality, lack of accountability, and white silence…

— Gods Of Plastic (@goprocks) May 30, 2020
Other teams from around the country have also released statements of support or shared resources for further education, including (but not limited to) Columbus Cocktails, Seattle Riot, the PUL's Milwaukee Monarchs, Chicago Machine, and Oregon Fugue.
Since this morning, a tweet from the Sin The Fields podcast has helped raise over $5000 for bail funds:
Reply or email us with a screenshot of a donation to a bail fund and we'll pick someone at random to send some STF gear. You weren't going to be able to spend that money on the usual two or three or ??? drinks after summer league anyway https://t.co/599c31dfrQ

— SinTheFields (@SinTheFields) June 1, 2020
USA Ultimate tweeted out a statement on Monday night:
— USA Ultimate (@USAUltimate) June 2, 2020
The AUDL released a statement on their website and announced plans for Gabe Hernandez, the 2018 Callahan winner and Dallas Roughnecks player, to take over the league's Instagram account.
"The American Ultimate Disc League stands firmly opposed to racism and oppression, and the systemic inequities and powers that perpetuate them," the league wrote. "In alignment with the mission of the AUDL Inclusion Initiative we will take actions to support the necessary changes needed in our sport and community."
Beginning at 9 PM/ET @GambitoHdez will be taking over our Instagram to discuss systemic racism, share resources on how to help in local communities, teach allies how to be actively anti-racist, and more. pic.twitter.com/5Vf6u5qDCY

— AUDL (@theAUDL) June 1, 2020
Hernandez is one of many ultimate players that has been vocal online about combating racism. He's written about ultimate's predominantly white player base and tweeted yesterday about some of the reactions about his decision to kneel while singing the national anthem before the AUDL Championship game last summer:
"We will always support peaceful protests" pic.twitter.com/LBoWXiung9

— Gabriel Hernández (@GambitoHdez) May 31, 2020
Many other individual ultimate players have been advocating for systemic change or supporting protestors.
Atlanta Ozone's Kayla Emrick is starting an anti-racist book club:
White frisbee folks: who wants to join me in an anti-racist book club? It's past time we worked together to educate ourselves and get comfortable with uncomfortable conversations.

I'm going to make this happen!

— Kayla Emrick (@kemrick19) May 28, 2020
Denver Molly Brown's Megan Ives, who works as a legislative aide for Colorado state representative Leslie Herod, wrote an article about her experience helping organize a peaceful protest that was interrupted by gunfire.
"Peaceful protests have been going on for centuries," wrote Ives. "Black people have been begging for their lives and for justice for as long as anyone can remember. No one is listening.
"The protests escalate because it is not enough. The status quo is disgusting. The status quo is black lives lost. And we cannot wait another day for change. Why should we? How can we?"
Ives' teammates Hannah Leathers and Claire Chastain were at the protests:
Someone fired 6-7 shots into our crowd of protestors last night in front of the Capitol. A bullet went about 5-10 feet to our right, and we ran. They don't have the person. Feeling more pro riot than ever. Fuck white supremacy. #BlackLivesMatter #GeorgeFloyd https://t.co/G4NjVf6Cit

— Hannah Leathers (@hLeath) May 29, 2020
Atlanta Bucket's Shanye Crawford, a founding member of the Atlanta Flying Disc Club's Project Diversity, started a new organization, Disc Diversity, that just hosted its first discussion panel related to white supremacism in ultimate:
Dozens of other players have publicly shared that they've donated money to bail funds, justice reform causes, or other non-profit organizations.
Although protests around the country have generally been peaceful, this weekend saw some increasingly violent conflict between police and protestors, especially overnight. Cities across the United States have begun instituting curfews due to unrest and looting. Protests are expected to continue tonight after a private autopsy of Floyd found that he was killed by asphyxiation due to compression on his neck and back by police officers, which differed from the local government's autopsy that said his underlying health conditions and potential intoxicants in his system contributed to his death.