Under the plan, the 2020 season would be replaced by a week-long tournament in a bubble-like environment similar to what other sports leagues have planned.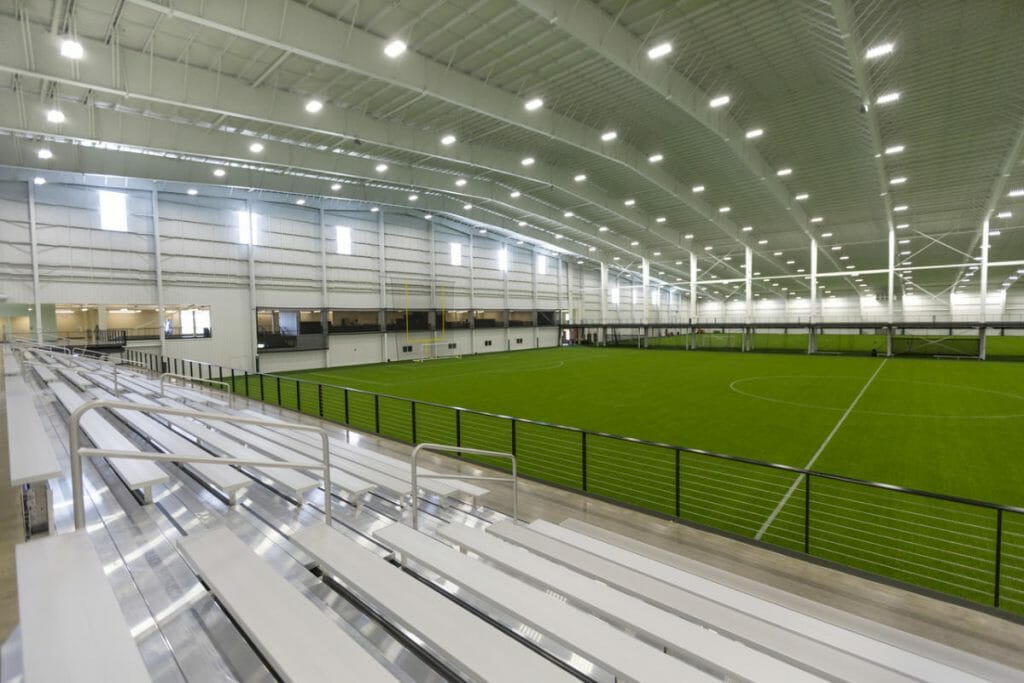 On Friday, June 19, the AUDL released a season update describing a potential plan to hold a week long tournament in place of a full season amidst the ongoing COVID-19 pandemic. The tournament would take place from August 8-16 at the home of the Indianapolis Alleycats: the Grand Park sports complex in Westfield, Indiana, a northern suburb of Indianapolis.
AUDL Vice President of Marketing Tim DeByl made it clear that this latest plan for a season start is not a done deal, just a proposal being sent to teams and players for feedback. "This is something we are thinking about trying," he said. "We're trying to get some feedback on it. We don't feel there's any need to play; there's a need to explore what the opportunity is for this season."
The plan was created by the AUDL COVID Task Force (ACTF), a body made of epidemiologists, team physicians (of AUDL, MLB, and NBA teams), team owners (many of whom are medical professionals and players), and league officials; it is led by Dr. Christina Chung, a dermatologist and Philadelphia Phoenix owner.
Teams were asked to consult with their players over the weekend to provide feedback about the plan and gauge interest in playing.
"It seems reasonable based on the sport and how its played and the other characteristics of it," said Dr. Perry Halkitis, the School of Public Health dean at Rutgers University.
"Where I think plan falls short," Halkitis said, "including the NBA plan and other plans for sports is that they fail to recognize that human beings are not always rational operators. While they might want to do what's in the best interest of all, are often directed in their decision making by motives that are not necessarily altruistic and there's no way to really control people's behavior outside the confines of the sport structure." Essentially, this plan will only work if every single person involved commits to it wholeheartedly and with their actions.
This announcement comes on the heels of a return to play plan that published guidelines detailing the steps teams will take to return to practice, including several administrative tasks and medical checkpoints, as well as permission from local government authorities. At this point, no team has been cleared to return to practice, even if local guidance would allow it, and no team will be until the AUDL board votes to approve it. Some teams have prepared plans to work in pods or groups of ten players in the event that they are given clearance, but no teams are holding official workouts at this point. To continue preparing for the possibility of playing this season, many players are working out on their own to stay in shape.
The league's statement says that "no player, official or staff member will be pressured to participate, and there will be no negative sentiment towards those who face higher risk for personal or family situations, or are not otherwise comfortable attending." Some players have spoken out and declared that they will not play. Others have privately told Ultiworld that they will choose not to play for a variety of reasons, including work-related logistics and personal feelings of safety around the pandemic.
"I fully anticipate that there will be very good players–there will be all stars–that decide 'this is not for me,'" said 2019 Chicago Wildfire all-star Pawel Janas. "They'll decide not to play for one reason or another, and I think that's completely fine." Janas, for his part, expects to play should the Wildfire be able to field a team. "It seems like a safe thing to do," he said, "I definitely will participate if it actually happens."
The bubble tournament plan includes mandatory testing both before players depart their home cities and upon arrival onsite. Players would be in a strict quarantine in a designated hotel with no more than two people per room. Compared to previous return-to-play plans such as the pod system released nearly a month ago, the inclusion of testing was quite popular among players.
It "shows that the league put a lot of thought and care into this plan," said Janas, a Wildfire captain. "It goes into detail about testing and quarantining yourself and how things are going to be safe."
"From a safety standpoint, I think they've done everything they possibly can," said Sean McDougall, a Los Angeles Aviators all-star. "Having multiple testings, having facilities, doctors, all of that ready is the responsible thing to do if we were to proceed to play."
.
"The league took a big step forward with this latest plan," the DC Breeze's Jacques Nissen wrote in a text message. "The biggest change between this one and previous return to play plans is that this is the first to require mandatory testing, which in my opinion is the first step towards making this event safe."
Nissen said he would like to play and expects that the Breeze will be able to field a team, but he "would have to know that this is safe before committing," and is looking forward to hearing more about how the league will enforce the bubble environment.
The location at Grand Park near Indianapolis was chosen specifically because it could provide a closed environment suitable for professional athletes. Normally during that week, it is home to the NFL's Indianapolis Colts training camp. But, with the NFL requiring its teams to stay at their home training facilities during their offseason, a window was open for the AUDL to potentially reserve the fields and hotel rooms that the Colts had planned to use during those dates. The complex includes many necessary amenities, including a full size food service area, and is across the street from the Cambria Hotel. It is also just two miles from the nearest hospital. Grand Park has already been used as a COVID-19 group testing site and would be able to handle the quantity of tests required by the AUDL.
Indiana has seen its number of new COVID-19 cases per day decrease on average since a high point on April 25 and is set to move to Phase 5 of its Back On Track plan starting July 4. Phase 5 includes gatherings of up to 250 people including at sporting events as well as malls, restaurants, bars, and nightclubs operating at full capacity. "Creating a bubble in a less infected environment or an environment where the infections are not rising is a better condition than playing sports in an environment where the infections are rising, and this is why the NBA is rethinking its plans right now," Dr. Haliktis said, "Indiana is probably a safer bet than Florida."
From a logistics standpoint, the site is within driving distance for most of the league, allaying some pandemic-related travel concerns. Of the teams that realistically could drive, Boston, Austin, and Tampa Bay are the farthest and would face about a fifteen hour drive. Other teams, like Chicago or Pittsburgh, would be able to reach the site in about half a day. The west coast would likely need to fly to this event rather than take on a 30+ hour drive. The ACTF does not think that flying is any less safe than driving given appropriate precautions but expects that most teams would choose to drive if it is possible.
Dr. Halkitis cautions against using air travel at this time. "In the best of circumstances, human beings became ill on planes without covid-19," he said. "Any confined space where people are in close proximity to each other creates a hot bed. From a decisional balance or harm reduction perspective, I'd use busses and cars before I use planes."
The AUDL's press release indicates that a player who tests positive will be isolated immediately and provided medical care from the league's partner hospital. Given that much can change between now and mid-August, members of the ACTF said that the league would not necessarily shut down the tournament in the event of a positive test, but that they will have a plan in place should the tournament begin based on information that will be available then.
Players will be required to be tested for COVID-19 before they travel to Indianapolis, and ACTF members believe that the pre-screening will provide a helpful buffer and limit the possibility of a positive test on-site.Anyone who tests positive will not be allowed to travel to Indianapolis.
ACTF members are also monitoring players' physical readiness to return. Dr. Chung recognized that there are potential cardiac issues with returning to play after a months-long layoff, and the potential for injury is heightened in a scenario that would see teams play games every day after spending the previous few months training alone.
Janas has been training since the league went on hiatus in March but has only done conditioning or distanced throwing in a group of three. He has not been able to play any defense and has been mindful not to create any opportunities to come in close contact with others. While his individual conditioning makes his perceived injury risk small, a player who has not been training as diligently might compete with the added risk of injury if they rush back to the field.
One of the positives to emerge from the COVID-19 shutdown of the league is the creation of Athletic Care Networks (ACN) for each team. An ACN includes a team's Athletic Trainer and/or Team Physician, as well as a Health and Safety Manager, an administrative position. "The entire league has a better understanding of and will focus more on ACN in the future," said DeByl. "Even if we don't end up playing this year, this is a huge step forward in understanding what we need to do for our players in the future."
The ACTF would not have started or been as connected without the expertise of Dr Chung and Dr Sommer Hammoud, the team physician of the Philadelphia Phoenix, who is connected to team physicians from MLB's Philadelphia Phillies and NBA's Philadelphia 76ers through her network. The ACTF was formed two months ago when Dr Chung and Dr Hammoud made it clear to the league that players needed to be monitored closely, especially if they could be exposed to COVID-19. Dr. Chung was put in charge of creating a task force and tapped into her and Dr Hammoud's network to pull together the diverse professionals that make up the ACTF today.
The ACTF communicates daily by email and biweekly by video conference. The group has been in charge of developing return to play guidelines and incorporating feedback from owners.
As part of the Bubble Tournament plan, and to accommodate players and staff who need to continue to work during the week of gameplay, the new game schedule would only play games outside of working hours (the press release specifies 9am-5pm eastern time). Some players then would not have to use vacation days if they are able to work remotely.
Canadian teams will not be invited to this tournament because of border restrictions. They are in the process of organizing a small tournament of their own. Given concerns about air travel at this time, it is possible that the California teams will operate a similar tournament on the west coast, though no plans for that have been initiated.
"I'd have to think long and hard about it," San Diego Growlers coach Kevin Stuart said. "Players in general want to get back to [practice]. There are some that are overly cautious…basically we told everybody: this is your personal choice, we're not going to hold you or ostracize you if you do not want to play." Many Growlers players are concerned about air travel during the pandemic, putting their participation in the bubble tournament in question.
Growlers player Sam Fontaine has been vocal on Twitter in insisting he will not play and questioning why the league wants to play at all. Fontaine cited studies that indicate the league's testing protocol might not be sufficient to limit the virus transmission as testing too soon after travel could produce false negative tests (and therefore let potentially infected players into the bubble).
"They need to wait 48-72 hours," said Dr. Halkitis, "24 hours is too short." At that time, the viral load a person is carrying might not be sufficient to detect. "Generally 48 hours is a reasonable wait period for most things around this disease."
"For me, if there is any chance that playing would put myself or others at unnecessary risk," Fontaine wrote, "then ultimate is not worth it this year."
"It is hard to justify playing when other members of the community cannot," said McDougall, who is unsure if he will choose to play or not. "It does not matter what the other players do for my own convictions. It depends on how we can represent the sport in a good light…we are generally leaders in the community, we are more well known, we are recognizable. So we have an obligation to be more in tune with those around us…to use that platform to a better extent than what we have done previously."
As to why the league is continuing to create plans and possibly play a season despite significant health, safety, and logistical concerns, "the board had decided from day one that we need to explore all of the opportunities [to play] out there and listen to the experts," said DeByl. "We knew that we were hopelessly out of our depth when it came to the medical side, so we listened to the medical side of it, then we want to listen to the players, and then we need to look at our partners, basically media and sponsors, and make a good decision. The idea that we've made a decision to play–ever–is not true. There has not yet been a decision to say: 'let's move forward.' Every decision has been 'let's look at what the opportunity to play is, can we do it safely?' and once we look at that, then we still need to decide whether we want to do it, whether it makes sense."
DeByl admitted that there are some considerations external to the league that may affect the decision to play. He gave the example that if the league was offered a television timeslot on Fox Sports 1, the possibility to play becomes more interesting. Currently, past AUDL games are airing on the smaller Fox Sports 2 as a part of the league's new TV contract.
"One of the reasons we want to explore all of the options is to show that we're able to take a situation like this and take it seriously and be able to put together a comprehensive and safe plan and work through them," DeByl said. Any plan will move forward only if it is safe and if the players consent, but part of the league's cost/benefit analysis will include sponsors and media.
Aside from the opportunity to safely play ultimate, the league would like to use its platform to promote social justice initiatives that had been planned for the 2020 regular season. The league wrote a guarantee that during the bubble tournament, "all participants will be afforded several opportunities during the event to educate themselves on the issues of systemic racism in our society." Additionally, the prize money that the winning team usually collects will be allocated to organizations that address social injustice instead.
Late last year, the league announced the AUDL Inclusive Initiative (AII). The group leading that mission had established plans for this season, such as sharing highlights of players of color in the league and people within the league who have been working on diversity and inclusion issues throughout the past few years. The league is also in talks with national organizations to sponsor programs and panels that would highlight people of color who play ultimate and who support ultimate, such as team physicians. Dr Chung is also on the AII and has worked to ensure that the AUDL's inclusion and racial equity plans do not get lost in the shuffle as the league drastically alters its schedule.
"Everything we had planned for a twelve game season and all star weekend was out the window," she said. "So we were still meeting during February, March, and April, every few weeks or so. We were asking: 'How is everything that is happening right now affecting what we were planning to do for the season?' A lot of those things we can execute in the compartmentalized bubble."
"The ownership group in the AUDL is not billionaires trying to make money," said Dr. Young Byun, a Dallas Roughnecks owner and a member of the ACTF. "We're mostly current or former players who have been trying to grow the sport of ultimate for decades. We're active in our communities so we are aware of the social issues and the issues that ultimate players are passionate about because we're in it. This is our community."
While this initiative is certainly connected to the recent Black Lives Matter protests and serve as a way for the league to use its platform to support meaningful change in the United States, these efforts were put in place before the recent protests that brought issues of racial injustice to the forefront of American consciousness. Even if this tournament does end up happening, the AII's programming and partnerships will continue.
The AUDL's bubble tournament plan follows on the heels of a similar proposal in the National Basketball Association. Select NBA teams will resume the 2019-2020 season in a bubble-like environment in Orlando, Florida, in early July. The NBA plan includes multiple COVID-19 tests per week and strict limitations on player activity in and out of practice and games.
NBA players will be quarantined upon arrival in the bubble for up to 48 hours or until a player produces two negative COVID-19 tests. They are not allowed to visit each other's hotel rooms and have policies as specific as single-use decks of cards and a moratorium on doubles table tennis matches in recreational areas. NBA personnel in the bubble will be required to wear a mask when indoors at all times except when on the floor at practice or a game and when eating or in one's own room.
Players are only allowed to leave the bubble with prior approval (for example, the birth of a child) and are faced with a ten day quarantine upon return. A player returning from an excused absence would only need to quarantine for four days provided he tested negative for COVID-19 each day he was outside the bubble.
While the idea of keeping everyone inside a bubble is likely the best way to prevent players from contracting COVID-19, it is not perfect. Hotel and arena support staff will not be required to stay in the bubble and despite precautions taking place, it will be possible for them to spread the virus. Additionally, there is widespread sentiment, including from some NBA players, that returning to play could distract players and fans from the important nationwide movement for racial justice.
The AUDL does not have the resources that a behemoth like the NBA possesses, but is able to plan a scaled down tournament along similar lines of thinking. This is likely to be the last plan that the league releases. Given widespread fears of a second wave of COVID-19 and the oncoming conventional flu season, the window to play is getting smaller with each passing day.
"If we don't go with this plan," DeByl said, "we probably are not going to go with anything."