Celebrating the international players who defined the decade.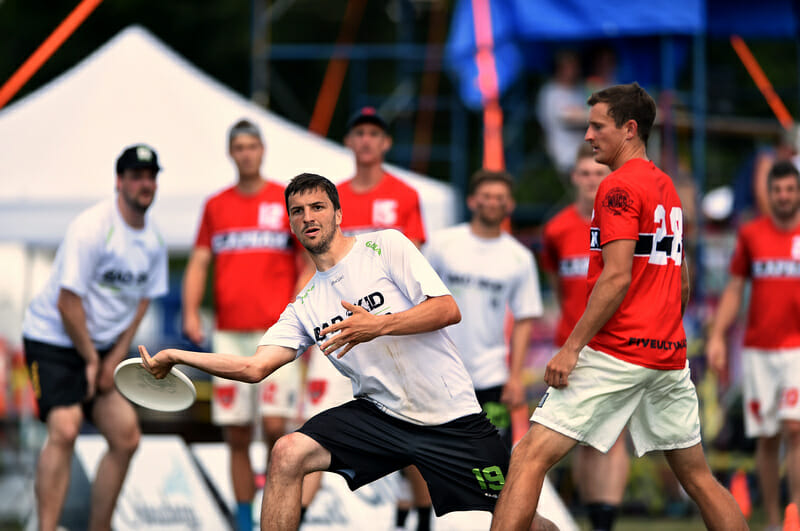 Ultiworld's "Decade's Greatest" series is presented by Greatest Bag. Get the greatest bag in ultimate at GreatestBag.com!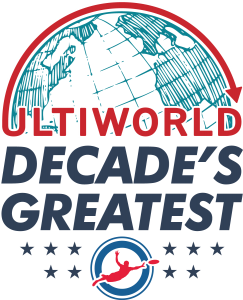 "Who are the best players in the game?" is perhaps the most fundamental argument in the coverage of any sport. It is often fiercely debated and is as much a conversation about the definition of "best" as it is about who should be in consideration.
As part of our Decade's Greatest series, we set out to figure out who were the 10 "best" players of the 2010s — who had the biggest impact and success within the sport over the course of a decade. After first building our list of American and Canadian stars, we also decided to tackle a Top 10 from outside North America.
With most of these players absent from the club and semi-pro competitions in the US, contributions at world events like WUCC, WUGC, and WCBU were the most important considerations, but contributions to continental and national tournaments were also taken into account. We eschewed hard metrics or point systems and instead tried to holistically debate each player's overall resume. Earning a spot on this list required a combination of both lofty peaks and impressive longevity.
Narrowing this list down to just ten names was hard enough without then parsing the particular ranked order. After plenty of internal debate, we landed on our final list1 then asked long-time teammates or opponents to help tell the stories of what makes these players so good.
Taiyo Arakawa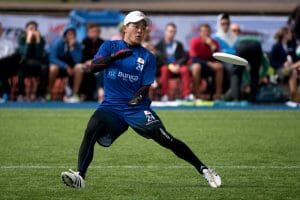 Taiyo Arakawa first exploded onto the international scene in 2013 when he represented Japan at the World U23 Ultimate Championships in Toronto. The young man had been given the nickname "The Jet" due to his remarkable speed. He was the top goal-scorer for his nation, averaging five goals per game.
At WUGC 2016 in London, Arakawa once again demonstrated his incredible ability to get free in the end zone. During the final against the USA, which was arguably the best game of the decade, he reeled in six of Japan's 11 points in that game. Arakawa is one of the greatest end zone assassins. Seeing a baseball cap and the number 24 jersey flash by you in a blur is a familiar sight if you've ever watched his Buzz Bullets play.
"Arakawa, incredible foot speed, he's such a threat deep," says US coach and commentator Bryan Jones. "You can see the trust his teammates have in him because they will simply put it deep even when he doesn't have a step. Combined with the quick releases from his teammates, there is no better quick-strike offense."
Arakawa has also been very impressive on US soil. At the US Open last year, he made a lot of world-class defenders look silly. He was the highest overall goal scorer at the event, accumulating 26 goals in total — eight more than anyone else. He scored six goals and assisted one against the 2019 US national champions, Seattle Sockeye, during Buzz Bullet's 16-14 loss to the eventual champions. His trademark diagonal deep cut is one that often catches out many an elite defender, especially with the likes of Matsuno and Kurono feeding him break-side blades.
The Jet's reputation as a goal poach is even more prominent in his home nation. At last year's "Champions League" tournament, he racked up 26 goals, twice the total of anyone else at the event. He was the MVP of Japanese Nationals in 2018 and scored the winning goal on double game point for Buzz Bullets at 2019 Nationals to end the decade on a high. Is he a well-rounded player? Who cares. He's the best finisher in our sport.
Holger Beuttenmüller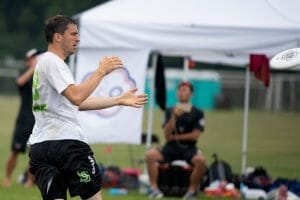 Holger Beuttenmüller is your quintessential downfield big man. He has the frame of a nightclub bouncer and the agility of a South American soccer player. He spent most of the decade terrorizing the cutting lanes of Europe, winning nine national titles with his home club, Bad Skid, from Heilbronn. At the 2012 WUGC in Japan, Germany sent a very young squad that made it to the quarterfinals with Beuttenmüller leading the charge. He finished the tournament as the top scorer for his nation, a trend he would continue throughout the decade. In 2015, he topped the stats sheet again for a German development squad that attended the US Open, picking up wins against PoNY and Johnny Bravo.2
Sadly for Beuttenmüller, he could never turn his downfield dominance into major European gold for Bad Skid or Germany. He picked up a handful of silver and bronze medals over the years, but Justin Foord and Clapham kept them at bay. He did, however, get the better of the Brits in 2018 at the WUCC, where he put on an astonishing show to knock the European champions out in prequarters. It was this performance that won him the European Men's Player of the Year award in 2018. Belgian big man Pieterjan de Muelenaere was recently quoted saying that Holger Beuttenmüller was "the toughest player to guard in Europe" and that his combination of size and speed make him the most difficult match-up for any defender.
German national team head coach Stefan Rekitt spoke even more glowingly: "Holger is not just a talented player. What distinguishes him the most from other players is his ability to lead. Holger doesn't only think for himself. He thinks for the team and he plans not only for a game. He plans for a series of seasons ahead. If you, as a coach, have to pick players from your roster for a scrimmage and you pick Holger, you mostly pick the winning team at the same time. Holger wants to win every battle. He makes his teammates around him better. That's why you would also pick him for every universe point line, regardless of offense or defense."
Peter Blakeley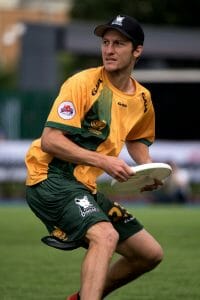 If you've played in or against Australia in the past 12 years, you've almost certainly been scored on by Peter "Tex" Blakeley. Known for his incredible footwork, Tex is virtually impossible to stop in small spaces while his speed and aerial abilities also make him a strong deep threat.
At WUGC 2012, Blakeley accumulated thirty goals and nine assists, double the stats of any of his teammates. The Aussies came about as close as you can to beating team USA losing 17-16 after a hammer catch was dropped to win the game. Blakeley has represented Australia at the World Games during both opportunities in this decade, following a trend he began in 2009. He has been scoring goals consistently for Australia throughout the decade.
After 2012, he collected many medals for Australia on the world level. In 2013, he helped the Aussies take silver and the World Games and was a top player on the 2016 WUGC Dingoes squad that took bronze. On that squad, Dingoes captain Mike Neild described Tex as the best player on the team. He captained the 2017 World Games team and in 2018 he won the "Damiani Medal" for male player of the year in the Australian Ultimate League.
Blakeley can be described as Mr. Reliable; during the 2018 season, he had a completion rate of over 98% — the highest of anyone in the AUL. "Pete Blakeley is one of the most consistent players I have seen. Calm and collected with the disc, explosive cutting downfield," says Rueben Berg, a former Australian WUGC and World Games assistant coach.
Justin Foord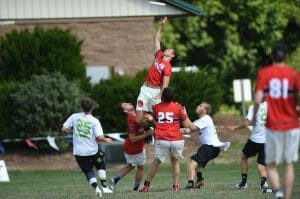 Justin Foord has easily been the best male player in Europe this decade. While Holger Beuttenmüller has matched up with him on the field many times, Foord has one thing Beuttenmüller does not: a massive cabinet filled with European gold medals (and a few world silver medals). Foord won seven straight EUCF titles with Clapham from 2012 to 2018 and was the most valuable player every year. He won two EUC titles over Germany, in 2015 and 2019.
"What makes Justin Foord one of the best players in the game is his versatility," recalls Germany's Nico Muller, who has played against him in back-to-back EUC finals. "He may be most popular due to his athleticism, as his speed and jumping ability are hard to match. However, there may be other players that can make athletic plays of his level on both sides of the disc. What really makes him stand out so much is his throwing ability and field sense added to his incredible athleticism."
Foord gets a lot of credit for his athleticism and offensive play but he is also a great leader. For much of the decade, he took on the role of being player, captain, and coach for club and country. A lot of weight to put on one man's shoulders, but the golden boy of Europe carries it well. In 2012, he won his first silver medal at a World Championship event after Great Britain found a smooth road to the final of WUGC in Japan. He later added two more silver medals to the collection at Beach Worlds in Dubai and Royan.
Foord has dabbled in ultimate in North America, playing a couple of seasons with Toronto Rush and Toronto GOAT. He also played for the all-star team at Japan's Dream Cup. Foord will look to grow his legacy heading into the next decade as Clapham go searching for their tenth European club title and 20th national title.
RELATED: Hear an in-depth interview from Foord about his playing career on Sideline Talk
Kristian Guerrero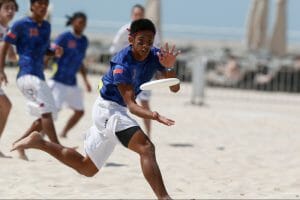 Kristian "Xtian" Guerrero has been at the epicenter of all things great when it comes to Filipino Ultimate. In 2007 and 2011, the Philippines took home silver medals from WCBU and much of that was due to Guerrero. He was the MVP of the seven-person squad back in 2007. The Philippines quickly became a fan favorite across the globe for their exciting and athletic style of play, and Guerrero himself personifies this. Xtian was once a national athlete for wall climbing and competed in the X Games for five years. His athleticism and all-around skill make him an elite player.
"He is Chastain-level dynamic with his all-around skill set," says US beach national team member Mario O'Brien. "He is Freechild-level quick — fast and explosive anywhere on the field/sand. He is the Phillipines' version of Alex Snyder in terms of having won at seemingly everything."
Unlike many of the other players on this list, he plays a lot of his ultimate in the mixed division. He captained the Philippines Mixed squad to three Asia-Oceanic Ultimate and Guts Championship (AOUGC) titles in 2015, 2017, and 2019. He was also the stats leader for 2012 mixed team at WUGC 2012. However, he is probably most noted for his performances on sand with the open team, picking up an AOBUC title last year. While there are plenty of players from his home country that can run like lightning on sand, Guerrero has stood out from the rest when it comes to throwing prowess. He had a brief cameo with the San Jose Spiders in 2015, becoming the first homegrown Filipino player to play in the AUDL. The 37-year old still lives by his mantra, "Discipline over skills."
Yohei Kichikawa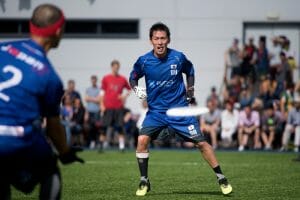 While Matsuno is the name most people think of when they think of Japanese men's ultimate, the Buzz Bullets and Japan Open would not see the successes they had this decade without Yohei "The King" Kichikawa. While Arakawa and Matsuno score the lion's share of Japanese goals in big games, Kichikawa is usually the one throwing them. He was the key centerpiece to the Japanese offenses throughout their best run. He has everything you would want as an elite handler: incredible vision to see spaces on the field that many would look off and the throwing skill to get the disc to those spots no matter what the defense throws at him. Combine that with the explosiveness necessary to get open on the best handler defenders in the game and you can see why Kichikawa makes this list.
"He is known for his beautifully precise flicks, but also has great athletic ability — in his 40s, he is still one of the best athletes on Buzz Bullets. Most importantly, he has the best game IQ in the world in my opinion," says Kichikawa's former teammate Satoru Ishii. "He has an incredibly wide field of view, his anticipation is incredibly accurate, and his decision-making ability is amazing. Then, he has the capability to put them into action. I was lucky enough to play with many top players, and I've never met a player of this type like him."
By now, Kichikawa has been playing for over 20 years. In this decade, he led Japan in assists at WUGC 2012 and their silver medal run in 2016. He was also the Buzz Bullets leader in assists at the 2019 US Open. Kichikawa is now well into his 40s, so only time will tell if his throwing mastery will continue to shine at the highest levels of the sport or if he will have to settle for going out as an all-time great this decade.
Masashi Kurono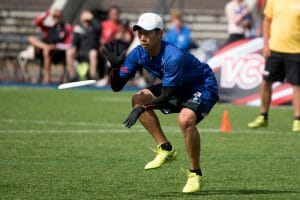 Kurono has been the hard-working hero of Japan over the best decade. While Matsuno and others often sat out games to rest, Kurono carried the offensive line when needed. At WUGC 2012 in Japan, it was Kurono who built the best stat line for the host nation, picking up 18 goals and 13 assists. Kurono can both throw scores and catch them. He has a great connection with Matsuno, who loves cutting deep for him. Kurono is excellent at making quick decisions and delivering accurate passes. He made the World Games team for Japan in 2013 and was part of the stellar 2016 silver-medal winning team at WUGC.
Kurono was named on the All-Tournament line for the US Open 2019 by Ultiworld reporter Edward Stephens, who described him as "the Daredevil thrower that helps the team convert breaks." Kurono registered ten assists, ten goals, and four blocks at the event, showing his versatility as a player.
Masahiro Matsuno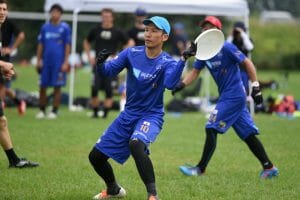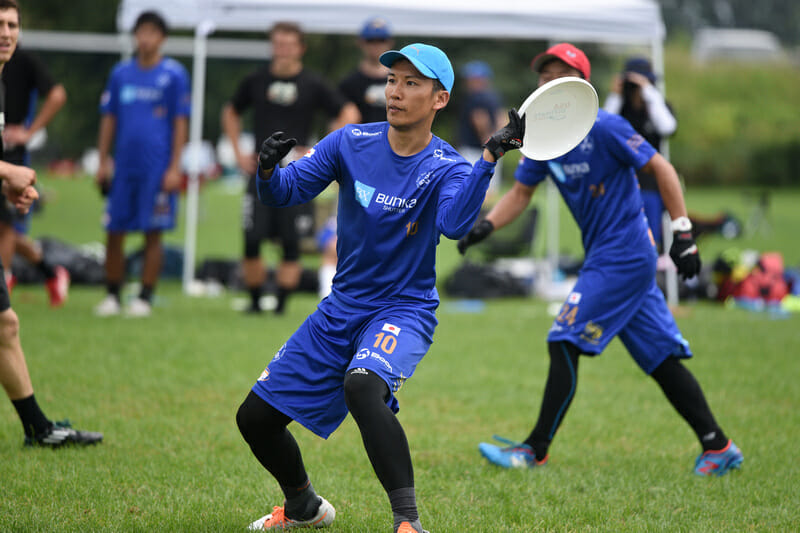 When ultimate players talk about the GOAT, Masahiro Matsuno has to be in the conversation. Although many will pick Kurt Gibson or Beau Kittredge, there's a strong argument to be made for the legendary number 10 from Japan. He was an easy pick for this list of the Decade's Greatest, and the same could have been said about him ten years ago too. He was part of the Buzz Bullets team that won a WUCC title in 2006, leading the tournament in assists and goals. The left handed player is famed for his ability to throw a cross-field blade huck to the break side almost instantaneously after catching the disc. He rarely holds the disc for more than two seconds, but still delivers the most deadly throws. His career coincides with the Buzz Bullet's undefeated streak at Japanese Nationals this millennium.
In 2010, he picked up a bronze medal at the WUCC in Prague, where he was the top scoring and assisting player at the tournament. His goal and assist tally reached a combined total 0f 81 over 11 games — the next closest player was 30 points adrift from him. If you're wondering why he hasn't topped many scoring leaderboards since then, well that's because he tends to sit out games during pool play before dominating later in the tournament.
At WUGC 2016, Matsuno was as spectacular as always, throwing break hucks and dominating play throughout the final. Standing at just 5'7″, the elastic Matsuno still manages to be dominant in the air.
"His over-the-shoulder lefty blade flick huck — released before you can even adjust your mark — is a thing of beauty. And by height, he's probably one of the best jump-ball players in the world," says US World Games captain, George Stubbs, famously a victim of Matsuno's leaping abilities when going up against him with Ironside in the prequarters of WUCC 2014. Matsuno repeated the feat against George's younger brother, John, during that incredible WUGC 2016 final. It's believed that most of the Stubbs family still have nightmares about the Japanese legend to this day.
"One thing that always struck me about Matsuno in my interactions with him is that he's very respectful and always has a smile on his face. And … he's a cold-blooded killer," says the elder Stubbs. "It's easy to see just how competitive he is, even in truly friendly interactions."
Tom Rogacki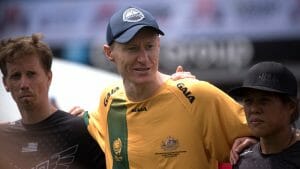 The man, the myth, the gigantic Australian legend. Tom "Gak" Rogacki is one of the all-time heroes of the sport. Standing at 6'5, the Aussie is half man, half giraffe, and half octopus. Yes, he has been playing ultimate since before the sport existed, but Rogacki has aged like a fine wine. He actually played in the masters division at WUGC 2012 in Japan, but returned to the pinnacle of our sport in 2013, the World Games. The Australian Crocs picked up a silver medal at the tournament in Colombia and Rogacki was as dominant as ever. His range of throwing opens up the field to the whole team and he has a particular knack for throwing deep to women in the mixed game.
For WUGC 2016, Rogacki made the move to the mixed division and helped Australia secure a silver medal at the prestigious tournament. While many will say Rogacki's best years were in the previous decade, the man has still performed at the highest level when asked. Last year, at the ripe old age of 42, Rogacki led the Australian Ultimate League in assists and won a championship with the Sydney Suns.
Well-known Australian coach Rueben Berg was qouted saying that "Gak is the most dominant player I have ever seen. He can throw anywhere on the field and in his prime was unstoppable in the air."
Tom Tulett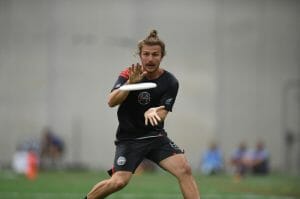 Tom Tulett is Australia's most well-known male player these days and this is largely due to his Ultiworld BPOTY-worthy year playing with Denver Johnny Bravo in the States. However, the man better known as "Cupcake" has been killing it on the international stage for quite some time. He first appeared as a young whippersnapper on the Australian mixed team at WUGC 2012, picking up a silver medal for his troubles. In 2013, he was given the title of Australian Male Player of the Year after gaining a reputation for being a vicious defender and a key handler after the turn. Tulett has also played his fair share of mixed ultimate, most notably winning the US Open in 2015 with Melbourne Ellipsis.
In 2018, Tulett captained Colony at WUCC in Cincinnati. He was joined by his old mate Jimmy Mickle and Chris Kocher on the stellar squad. While the American all-stars stole some of the limelight, Tulett was arguably their most important player. He often played the most points and touched the disc more than anyone. He was an inspiration to all those around him as Mickle pointed out: "I remember, from day one with Colony in 2018, Tom believed we were going to win Worlds. He was careful not to make the whole experience about that outcome, but he made sure that everyone on the team knew we could win, and reminded us of our capabilities often." Beating Ring of Fire in the quarterfinal, Doublewide in the semifinal, and giving San Francisco Revolver a good game in the gold medal match was an incredible achievement for the Australian outfit.
It's likely we will continue to see Tulett, and his famous top bun, hunt for more international glory in the years to come.
---
Presented below alphabetically. ↩

A previous version of this article incorrectly stated that the German team had beaten Furious George ↩