Ultimate players are flocking to the disc golf course, and some are getting really good.
With most competitive ultimate shut down for the year, many ultimate players have taken up disc golf as an alternative outlet. If you spend any time on ultimate Twitter, I'm sure you've noticed. Some have delved a little deeper into ultimate's cousin sport than others, while a handful of high profile players have taken the opportunity to log more competitive time with a sport they've already been playing for years.
Without any major American ultimate to watch in the foreseeable future, perhaps following these players' endeavors on the course can provide a fun way to get our disc-watching kick. So here is a non-definitive list of some high profile ultimate disc golfers, what they've been up to on the course so far this year, and what tournaments they have coming up.1
Leah Tsinajinnie (Atlanta Ozone)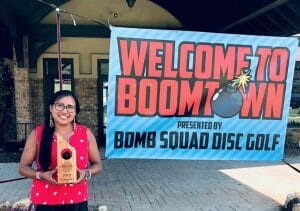 No ultimate player has thrust themselves into the disc golf scene as emphatically as Tsinajinnie. She's played in Disc Golf Pro Tour events in each of the last two weekends, finishing 29th at the Idlewild Open and 38th at the Ledgestone Insurance Open.
It didn't take long for Tsinajinnie to settle into the competitive disc golf scene, either. "There's so much to love about both experiences at Idlewild and Ledgestone. Honestly, my favorite part was learning from the ladies that I competed against. I had bigger names like Kona Panis, Hannah McBeth, and Hailey King on my cards and that was amazing to see firsthand!," she says. "It was also just as great to watch and make connections with all of the other FPO ladies. Everyone attacked the courses in their own way, using their skillsets and playing to their strengths. It's very important to know your own game, stick to your game plan, and not let others' good or bad plays affect your decisions."
She doesn't have any more DGPT events on the schedule, but she is slated to participate in tournaments in each of the next three weekends. Tsinajinnie will be at Buzzard Roost Ruckus this weekend alongside then at the Doubles Championship at Hobbs Farm Park on August 30 and the 22nd Annual Lake Russell Open September 12-13.
Listen to her interview on The Upshot podcast prior to her Idlewild performance and follow her on Instagram for a lot of fun updates from the course.
Jack Hatchett (New York PoNY)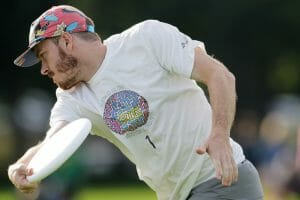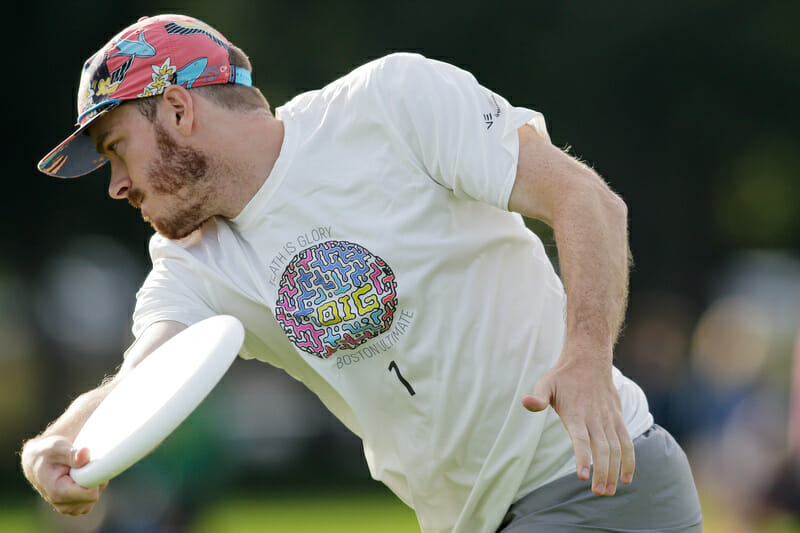 Hatchett has been a PDGA member since 2018 and is currently 947 rated. He finished fifth at the Clement Classic on August 2, where his first round score was just one shot behind sixth highest rated player in the world Simon Lizotte. He followed that up with a fourth place finish the following weekend at The Hollows Ironman Singles Match.
While Hatchett isn't new to disc golf, he's appreciative of the chance to focus more on the sport. "I've enjoyed having the time to work on my putting, which (like every ultimate player) is the weakest part of my game. At league last year, a guy I was playing with told me I had a 1000 rated backhand and a 900 rated putt, which was a pretty fair characterization of my game at the time," he says. "All the extra time to work on my game has also given me the confidence and consistency to move up to MPO and register for an event like MVP with the belief that I can actually cash."
He has three tournaments coming up, the biggest of which is the aforementioned MVP Open at Maple Hill, a Disc Golf Pro Tour event. He'll be competing against many of the game's biggest stars, as well as a couple of former ultimate teammates…
Jay Clark (Boston DiG) and Christian Foster (Seattle Sockeye)
Clark and Foster will both be at the MVP Open as well. Clark took 8th place at the Clement Classic, but is rated higher than Hatchett at 966. Foster is the highest rated of the former Boston Ironside teammates at a very impressive 994.2
Foster already has a win under his belt this year, winning the NADGT Premier Event by nine strokes thanks largely to a 1028 rated second round. Before the MVP Open, Clark will also be competing at the Showdown at Muldoon this weekend (along with Hatchett) as well as the Green Mountain Championship, another DGPT event that will feature many of the biggest names in the sport.
Jordan Meron and Sarah Innes (Toronto 6ixers)
The two Toronto O-liners played in the advanced division at the Christie Lake Spring Fling, a B-tier tournament in Dundas, Ontario, on the first weekend of August. Meron took second place, with Innes two strokes behind her in a tie for third.
Since then, both players have become official PDGA members and they'll be taking their talents to the Ontario Provincial Disc Golf Championship this weekend. They'll be competing for the title against a five player field as they put together their first officially rated rounds.
Andrew Fish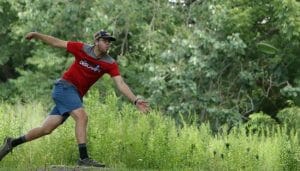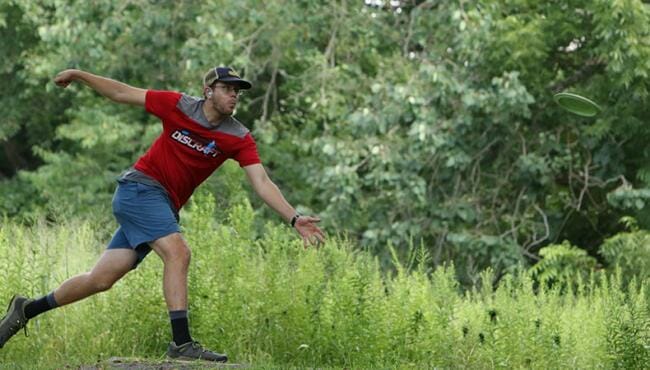 Fish has been a bigger name in the disc golf world for a while now and is easily the best disc golfer on this list, but he does have roots in the ultimate community. Fish has been a PDGA member since 2013 and has 48 career wins and nearly $54,000 in career earnings to his name. He's also not shocked to see the massive influx of ultimate players into disc golf. "It's not super surprising to see some ultimate players getting into disc golf–it isolates the specifics of throwing but requires some different skills and mechanics. When those are unlocked and the notion of 'flat' is relearned, there's a lot of creativity in shapes and distances that you don't necessarily get with an Ultrastar. I've kinda been saying for a while that when a crop of elite ultimate throwers retire, they could enter disc golf with a really high floor, and it's pretty apparent," he says.
Fish has several big events on his schedule, but perhaps most excitingly, he'll also be at the MVP Open. Could an all-ultimate card of Fish, Hatchett, Clark, and Foster be in the cards? "I'd be on board with it as a novelty. The card wouldn't insult anyone's 'ultimate flick' or be amazed at a routine airbounce and that's a relief unto itself," says Fish.
Chris O'Cleary
The USAU Hall of Famer is also a two time disc golf world champion, winning the biggest tournament in the world in 1988 and 1989. She doesn't play as many tournaments as she once did, but the two-sport legend is still a threat when she does. She took second place in the FPO division at the Hilton Head Invitational back in February and won the one event she played in last year, the 9th Annual Iron Leaf Classic.
The 10th annual rendition of the same tournament is the lone event she's currently scheduled to play for the rest of this year. She'll be competing in the Pro Masters division.
Andrew Brown (Coach – Wisconsin Hodags)
Madison, Wisconsin, ultimate legend Andrew Brown is also one of the sport's best disc golfers. He's 999 rated and just won the Tower Ridge Open a couple weekends ago, good for an $849 payout. Brown was most recently a player for the AUDL's Madison Radicals and has been a coach of the Wisconsin Hodags college team for years. Catch him next at the Northwoods Open in early September
John Hirschberger (Boston Snake Country)
Boston is clearly a strong pipeline in the ultimate to disc golf connection. Hirschberger is yet another who will be at the MVP Open, though it will be his first sanctioned event of the year. It will also be the first time Hirschberger competes in the open division in his career.
He's currently 947 rated, and he topped the advanced division at the 2019 Borderland Summer Bonanza, so he's certainly no slouch. But the jump up to the open division for one of the biggest events of the annual pro calendar will be a sizable leap for the Snake Country handler.
James Bress
Bress stopped playing ultimate back in 2015, but not before a 15 year career. He penned the "From Ultimate to Disc Golf" series that ran on Ultiworld starting in February and is currently a 978 rated player. You can hear about his switch from ultimate to disc golf in his appearance on the Hyzer Flip podcast, and he just wrote an article about preparing for this weekend's Greater Hartford Disc Golf Open, where he will play alongside three top professionals (Simon Lizotte, Steve Brinster, and Cam Messerschmidt) on a feature card.
He will also compete at Welcome to the Jungle on September 6 and the Cross Farms Open on October 3.
Markham Shofner (Washington DC Truck Stop)
With throws like this, it's no surprise that Shofner has transitioned well to disc golf. He's already played in seven sanctioned events this year, including two back in March before COVID-19 shut ultimate down for the year. He's currently 934 rated but has yet to finish in the cash at an event.
He has three chances to change that in the coming months with the Donner Ski Ranch Open and the 2020 Music City Open on his schedule in September and the Annual Shark Tooth Open at the end of October. The Music City Open will be the marquee event of those three for Shofner, with the likes of Calvin Heimburg and Chris Dickerson highlighting the list of MPO stars slated to be in attendance.
Alyssa Weatherford (Seattle Riot)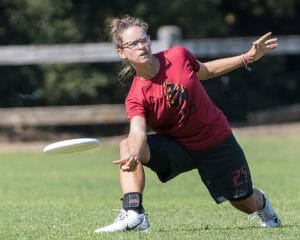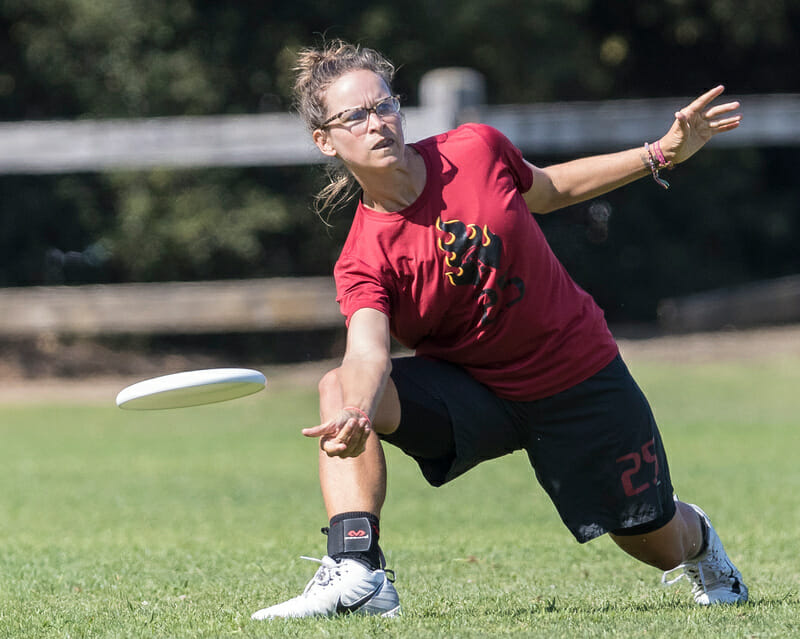 After cashing out in her first career tournament, Weatherford now has her first tournament as a PDGA member on the horizon. She'll compete in the advanced division at the Kayak Kickoff, a B-tier event in Stanwood, Washington, this weekend. With her only two competitors being rated at 750 and 774, a debut win could be in play for the Riot cornerstone.
In order to do that, Weatherford will try her best not to get ahead of herself on the course.
"I think since this is my first real disc golf tournament, I am really focused on taking one throw at a time. Every pin is a new chance to have the throw of your life or a huge mistake, which I have really liked, lots of practice attempting to stay in the moment," she says. "I'm really excited to compete since it's been a while. I've missed competition a lot."
Mark Fedorenko (Pittsburgh Temper)
Fedorenko hadn't competed in a PDGA event until June of this year, but he's already 972 rated. He also boasts a pair of tournament victories already, winning both the Grand Vie Park Championship and Hoppy Hyzer by one stroke. He's scheduled for three more events this year, including the Seth Burton Memorial and Music City Open in back to back weekends in mid September.
Jordan Rhyne (Philadelphia AMP)
The defending mixed club national champion has been a PDGA member since 2017 and boasts five career top 20 finishes in the open division. He's currently 954 rated.
Rhyne will be competing at the Music City Open with Shofner and Fedorenko and at the Stafford Open with Fish. He'll also be at the Tyler Tee Times C-tier event this weekend.
Delrico Johnson (Washington DC Truck Stop)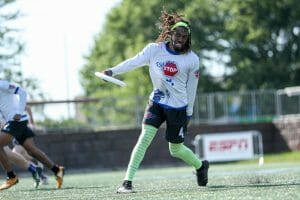 Johnson is another player that has caught the disc golf bug during the ultimate shut down: he's played in three tournaments since June 28. His best finish came just this past weekend, a tie for fifth in the intermediate division at the In A Pinch Classic.
He has three more events on the calendar between now and mid October: Kinder Krusher, the Spotsy Amateur Championship, and the 2020 White Rose Open. All three tournaments should provide further opportunities for Johnson to wrestle with the tough mental transition from ultimate to disc golf.
Tad Wissel
The Sin The Fields co-host made his tournament debut with a six stroke victory in the recreational division at the Grand Vue Park Championship on August 8. Uh, sandbagging, much?
Wissel says that he won't consider becoming a PDGA member until next year, but he is slated to be back out on the course for the Seth Burton Memorial in Fairmont, WV, September 19-20. Good news, though, folks, he is registered for the intermediate division this time around.
Brodie Smith
Disc golf's most high profile ultimate transplant and Wissel's self-proclaimed greatest rival, Smith has been one of the biggest storylines of the 2020 disc golf season. He's tight with world #1 Paul McBeth and has been showcased on multiple livestreamed rounds at Disc Golf Pro Tour events. However, he recently announced that he won't be attending any more big tournaments this year after a couple of frustrating outings at the two most recent DGPT events.
---
For major tournaments — namely the ones listed as a Disc Golf Pro Tour event — UDisclive.com should have live, shot by shot updates. If some of these players play well enough in those events, there's a chance they could make it onto the video coverage as well. ↩

1000 rated is considered to be the round number starting point of a touring caliber player for MPO. ↩