A transcript of a wide-ranging interview where Evan Lepler spoke to Matsuno about his career arc, Japanese ultimate, and his long-time rivalry with and connections to Canada.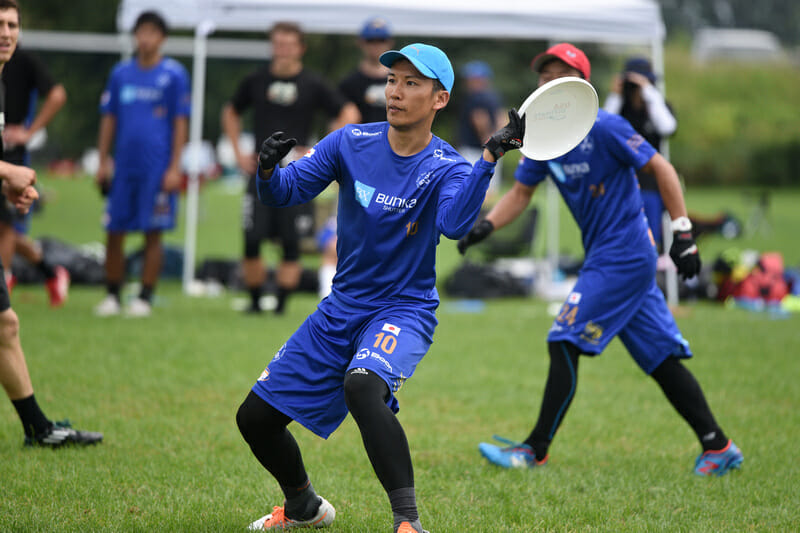 Last Sunday, the Voice of Ultimate Evan Lepler spoke for two hours with Japanese legend Masahiro Matsuno in an interview on Facebook, with translation from Satoru Ishii of Club Jr. USA. The wide-ranging interview covered a number of topics including Matsuno's career arc, Japanese ultimate, and his long-time rivalry with and connections to Canada. This transcript has been reproduced here with their permission and lightly edited for clarity.
—
Evan Lepler: Welcome! How are you, what is life like in Japan right now? It's crazy right now in the United States, so what's life like in Japan?
Masahiro Matsuno: I'm doing well. In Japan, we're re-opening slowly, but not everything. Tournaments aren't happening yet. I'm practicing step-by-step.
Masahiro Matusuno, for those of you who aren't aware, will turn 37, I believe, next week. You've been playing ultimate since your college days. We're gonna go real general tonight to start, then we'll also delve into real specifics about games and moments [from your career]. But let's start with the most basic of questions: when did Masahiro Matsuno discover ultimate, learn about ultimate, and start to become pretty darn good at ultimate?
I first found ultimate in high school. Most Japanese players start playing ultimate in college, but I found it in high school when I went to a sports club after school, which is known for physical education. I kinda had to keep in shape after I retired from baseball. I used to play baseball in high school, but I retired before entering college and to keep in shape I went to the sports club and found ultimate frisbee.
I played around, but not varsity. Then after I entered college, my university had an ultimate frisbee team. There was a friend who was one year older than me from my same high school, who played with the college team. That friend introduced me to the team and the friend said, "You should start soon and then you could become a national team player." It's kind of a common introduction into ultimate in Japan, for freshmen. At the same time, I wanted to play new sports, so it was kind of a good match. I started playing for the [college] team.
The biggest turning point was to sign up for Worlds. When I was in my third year of college, I was selected to Team Japan and went to Worlds [WUC 2004] in Finland. The team finished fifth, which was not what we wanted. Also, individually, I remember I played against Team Canada, which was mostly just Furious George those days. I was a D-line player and I was confident with my athleticism at 21 years old — I thought I was very athletic and that I could stop anybody. But I couldn't stop anybody in that game — or even that whole tournament. So that was a big turning point for me. After that, I practiced more and harder to try to become number one.
Great stuff. Alright, so you're 21 years old, and you've been exposed to the game for a few years and you just got back from Worlds. You thought you were all that and then you got humbled pretty good on that world stage. What happened next? What did you do to refine your game to try to will yourself to become one of the best players in the world?
After I experienced the world stage, when I came back to Japan, I thought I should win all the games in college. I practiced hard — I was always thinking about playing on the world stage against the top-level players. The next year, 2005, there was a World Games, and I was selected to Team Japan. It was mixed, so it was a bit harder. It's a different game so it was harder for me because it was my first time playing mixed at the top level — my college team was men's and the 2004 national team was men's.
Practicing with the other Japanese National Team players helped me a lot. On the weekends, I practiced with Team Japan with top players — everybody was older than me — and then on weekdays, I came back to college and practiced with my college team. I brought lots of things from Team Japan practice to my college team practice and that helped a lot.
Team Japan, the World Games team, lost to Canada in the 2005 third-place game. That was another kind of frustrating moment, but it motivated me to practice harder, and practice more, and train harder.
Sounds like the Canada vs. Japan rivalry had begun to percolate. We'll get to where we're gonna go — those who know ultimate history, we'll delve into that topic in a bit, talking about 2012.
But before we get there, for the 2005 World Games, you're 22 years old, you're going to Germany. What was that experience like? This is one step below the Olympics; the World Games, even today, is kinda the pinnacle of ultimate competition. So what do you remember most about that whole experience? Not necessarily the Canada game, but that whole opportunity to compete at the World Games for the first time, for the first of many times?
After 2004, I started practicing five days a week, including the practices in Tokyo, which required me to take a red-eye bus back and forth, almost every week. I just wanted to become better and better.
Then, in 2005, I went to the World Games. 2005 was different than 2004, because in 2004 I was just a piece — kind of a small piece — on the team because I was one of the youngest players. But the World Games roster is just 14 players, so my role was much bigger and my responsibility was much bigger. I didn't feel pressure, maybe because I was so young and the team was fun, so that helped me to play with joy. But I didn't play well until the last game, the third-place game against Canada. I was the youngest member of the team, so I was maybe a little bit hesitant to say something to other teammates until the last game, but in the last game, I finally told the team how I wanted my teammates to play. I was finally able to create good chemistry with my teammates, so that was my best game in the World Games 2005. But again, my team lost. So that made me think about the importance of team chemistry, not only just my athleticism and skills.
Let's take a step back from the specific timeline — we'll get back into it. But before we go further onto your maturation as a player, let's talk about the culture of Japanese ultimate and preparing to compete against other countries around the world.
I think there's a level of mysteriousness that exists between the ultimate community in Japan and the rest of the world just because of A) the language barrier, B) the lack of familiarity, and C) the unique style that Japan has created to compete on the international stage. I'm wondering, that unique style, was that something you were aware of when you first started, to the extent that, "we knew that we had certain limitations so we had to do certain things on the field," or did that unique style develop over the course of your career as you determined how you could best compete on the world stage against the United States, Canada, Great Britain, everywhere else in the world?
I don't think the unique Japanese style nowadays was there when I started playing ultimate. I think since 2004, it's changed a lot. Team Japan — or Buzz Bullets — went to the World Championships back then and learned from the USA and Canada and brought lots of plays or practice back to Japan. Then we arranged them and practiced them in kind of Japanese ways. So that's the start. And then two years later, we went to the World Championships again and we played against the top teams like the USA and Canada, and again, we learned from them and brought back the same thing, arranging our play in our ways and practicing by ourselves. I think that's the base of the Team Japan style you see nowadays.
Real simple, how would you characterize Team Japan's style today, especially in contrast to the styles of ultimate that other countries most often play? What makes Japanese ultimate different on the field?
Quickness and speed.
What about throwing style? From my vantage point, I observe that Japanese throwers at the national team level will throw more blades trying to have less float on throws. There's the stereotype that Japanese players are not as tall as some of their international opponents. What specific things do you think about as a thrower to allow you to be as successful as you've been?
As you said, Japanese players are smaller than most American players or European players in general. So we practice less floaty throws, always. We aim to make receivers layout for the catch instead of jumping up. The theory is when throwers throw the disc, the receivers are always ahead of their defender going deep, so if receivers layout forward for the deep space and then catch, there will be no chance for the defender to touch the disc. That's the basic idea. Everybody always keeps that in mind when they practice throwing.
In regards to Japanese ultimate, there is Team Japan and there's the Buzz Bullets. Sometimes they are the same, it seems like, and sometimes they are different, with the national team being separate from the Buzz Bullets. Tell me about the Buzz Bullets. When did you first learn about them, what is their general history, and what was it like making that team, being a part of the Buzz Bullets for the first time? Obviously, they have dominated Japanese ultimate for a long time. Most people know who they are, but what is the personality of the Buzz Bullets that we may not know?
I first heard about Buzz Bullets when I was a freshman, but at that time, it was just kind of an abstract knowledge: "there is a very good team in Japan and they won Nationals multiple times." Those days, there was no YouTube or livestreams, so I just heard of them [but never saw them]. Then my second year, a player from my college was playing for Buzz Bullets and he connected me with them and I started practicing with them sometimes. That was my actual connection with Buzz Bullets.
As for the history of Buzz Bullets, I heard the team was established around when I was born, so they're an old team. Then they became dominant around 1999 or 2000 when I joined them. Since then, Buzz Bullets have been dominant in Japanese ultimate.
The unique aspect of Buzz Bullets is that it's a company-owned team — the only one company-owned ultimate frisbee team in Japan.
Something people might not know about Buzz Bullets: the players on the team are actually very funny.
You can sense the friendly, humorous personalities just walking by a huddle; you may not know what they're saying, but you wish you did.
The fact that it's a company-owned team — Bunka Shutter owns the Buzz Bullets, sponsors them, the jerseys say Bunka Shutter Buzz Bullets — how did that begin? I'm assuming that Bunka Shutter did not own the team in the 1980s, so when did the relationship between Bunka Shutter and the Buzz Bullets begin and what is that relationship like? Because it's obviously something that doesn't really exist anywhere else in the world.
An original member of Buzz Bullets launched the team when they started working at Bunka Shutter in the 1980s. At that time, it was a small circle, almost like a club but not really a club — just a group of people playing ultimate. And then, step-by-step, after a few years, more players joined and it grew into a club. Then the company decided to take ownership of the team.
Am I right that about half of the players on the team work for Bunka Shutter full-time and half don't?
Yes, that's correct.
The geography of it, do you have to live in a certain place to play for the Buzz Bullets, or do a lot of players commute to be a part of the team?
Most of the players live near or around Tokyo, including myself. I'm from Osaka, which is on the West side of Japan, but I moved to Tokyo because of the Buzz Bullets. There are a few players who don't live near Tokyo; those players commute for practice every time.
Obviously the Buzz Bullets have been dominant over the course of the past several decades in Japan. I think, and you can correct me, that you had 18 or 19 straight national championships, a streak that only ended when the team didn't compete a few years ago. Is that a good thing for Japanese ultimate, for one team to win every year? And how have other clubs like Nomadic Tribe or others tried to build up their programs to compete with the Buzz Bullets, who are still the kings?
When I'm thinking about the Japanese ultimate community, ideally there is not just one dominant team, but two, three, or four — or even more like in the United States. When I look at the United States, I don't know which team will win every year. I find new great players every year, which doesn't happen in Japan very often. I think it'd be better if Japan were to have more rival teams that compete with each other and try to get better and better [to improve] the Japanese ultimate scene.
You mentioned the United States, and I'm curious how closely you follow what's going on with the United States, both in club ultimate and semi-professional ultimate, the AUDL. I know you played a game against the Madison Radicals [in 2015] and the Minnesota Windchill [in 2017] before the US Open. Just how closely are you kind of monitoring? Are you an ultimate fan? Is ultimate your life, whether you're on the field or not? Or are you just a great player that's also doing other things, which is perfectly cool too?
Frankly, I'm not an ultimate freak off the field. Sometimes I check YouTube when something pops up, but I don't do Twitter, so I don't follow any teams there. I'm not like a big fan of semi-pro ultimate or any other ultimate, but I do collect information on very good teams and very good games in the AUDL or USA Ultimate. If there's a video, I'll check it out.
Let's go back to 2006. You're 22, 23 years old, you'd just played in the World Games for the first time in 2005, and in 2006 you went to Australia for the World Ultimate Club Championships and Buzz Bullets won. Now, to be fair and not to take anything away from the Buzz Bullets, many of the top teams in North America didn't go [to that WUCC] because of the distance and time of year that it happened. But with that aside, what was that like, ascending to the top of the ultimate world in 2006 for the very first time? I imagine it had to be a very satisfying time for you and your team.
Yeah, it was very satisfying. Because in 2004 and 2005, my experience on the world stage was not satisfying at all. Even though the top North American teams were not there, winning a world championship was purely incredible. So winning the world championship in Australia proved that Buzz Bullets was number one, at least except for the top North American teams. That was satisfying. At the same time, I knew with the top North American teams not being there, we were not really number one in the world. It was satisfying, but at the same time, I was looking at the next step, which was beating the North American teams.
So at that point, you were still very young, just 22, 23. Let's fast forward a bit, and I'm curious to ask, at what point in your life, how old were you or in what year did you feel like you were playing as good as you had ever played? When did you peak — or have you peaked? I'm curious, over the last 15 years, when did you feel like you were playing your absolute best, and why?
I think my peak was 2010 at the World Club Championships in Prague. That tournament, I think I played the best in my career, in terms of physicality and athleticism and the combination of skills. I think 2010, at that time, I had been playing with Buzz Bullets for four or five years, my skills developed a lot, and my chemistry was developed with my teammates, so that's why I think my peak moment was 2010.
Now, I think keeping my abilities is very hard, but I'm trying to remain at the same level. I know [my athleticism] is going down, but I'm trying to keep it the same. I think, skills-wise, I'm still getting better, so I'm still trying to get better.
That's perfect that you mentioned 2010. Buzz Bullets in Prague in 2010 won the bronze medal. Two American teams, Revolver and Sockeye were first and second and Buzz Bullets took third. Fourth and fifth were Chain Lightning and Ironside, so four of the top five were US teams. Buzz Bullets won the bronze medal, which was a great achievement.
You went from that July playing with the Buzz Bullets in Prague to joining Vancouver's Furious George for that fall's USA Ultimate club series. How did that happen? Who recruited you to Furious and what was that North American experience like for you, competing in USAU Club Nationals for the first and only time in your life?
First, Andrew Lugsdin from Team Canada and also Furious George talked with me in 2005 after the third-place game [at the World Games] and asked me if I was interested in playing with Furious George or not. At that time, I didn't say yes. I was young and after I lost to Team Canada, I was just kind of [reluctant gesture]. But I appreciated that conversation.
Then, at the Emerald City Classic in Seattle, Buzz Bullets went and competed there in 2007 and 2009. There, again, Andrew talked to me. In 2008 at WUGC in Vancouver, Andrew again talked to me. But it was hard to participate in the USA Ultimate Championship because that means a lot of vacation time to leave work, which is hard, especially for young workers. So until 2010, I wasn't comfortable taking vacation to go overseas to the United States and play at the USA Ultimate championship.
In 2010, I was able to take vacation time away from work when I wanted. In Prague, I played my best and I acquired lots of confidence. I wanted to play at a higher level for my next step, which meant the USA Ultimate Championship against the North American teams. Up to that point, it was always Andrew who reached out to me [about playing for Furious]. But that year, I actually contacted Furious George through Satori Ishii and they accepted me joining the team for the USA Ultimate Championships.
What do you remember most about 2010 Nationals, competing with Furious?
I remember most that there were about 50 fields on the one surface at the polo field [in Sarasota] and in the morning, they played the national anthems, the Americans and the Canadians. That gave me goosebumps.
The experience of playing with Furious George was amazing. The result was not what we wanted — I think the reason was that Furious at that time was going through a generational change. But I learned how to incorporate myself into the team with a limited amount of time. It was a very good experience.
So you have this great relationship now with all these members of Team Canada who play for Furious. And the natural segue here takes us to 2012 in Sakai and a game that will live in infamy in ultimate lore. There's footage out there, there have been many apologies made. For those that aren't aware, it's considered one of the least spirited games ever — physical, dangerous plays all over the place. I'm sure you've talked about it a lot with your teammates and in the local community. What do you remember most about that experience and do you have regrets about what happened with your team and Team Canada in 2012?
First of all, I was very surprised at how Team Canada played in that game — I have never seen them like that. I think that part of the reason [for the physical play] is that it was a very important game before entering the bracket — it was a power pool game and a very important game. Another reason was that Team Canada had always beat Team Japan until that game. Team Japan was playing on our home turf in Sakai, so both teams really wanted to win. Japan obviously wanted to win because it was our home turf, and Team Canada wanted to win because they had never been beaten by Japan. I think those were the reasons.
What Team Japan should have done was be better about the communication, which we didn't do very well. Until that game, Team Japan practiced hard to beat the North American teams, but we didn't think the communication [with those teams] was important. Our first priority was to practice hard in order to play better against better teams, not communication or spirit of the game.
For myself, at that tournament I was struggling with an injury, so I was focused on myself and I didn't have enough capacity to control Team Japan. Both Team Japan and Team Canada couldn't control their teams during that game, and that's something I regret. I regret that game ended up being the most notorious game.
Has there been any other game in your career that at all resembled that 2012 game against Canada?
No. [laughs]
I didn't think so. Just wanted to check.
Let's fast forward four years ahead and let's go to the semifinals of WUGC 2016 in London. That's the first World Ultimate Guts Championships that I had the privilege of being at and broadcasting, and I had the opportunity to call Canada vs Japan in the semifinals — a game that obviously went well for you and your team. What do you remember most about that and was there any worry going into that game that there could be a reprisal of what had happened four years earlier, or was this just ultimate and there was genuine respect and improved communication between the two countries and two teams in 2016?
Team Japan in 2016 had a player who could speak English very well, so if a discussion happened, that player would translate between the players. We tried to have a spirited game against Canada because we knew people would watch and some people still remembered 2012. We thought that we could play a very spirited game.
The championship in 2016 in London, United States vs Japan, one of the greatest games I've had the privilege to broadcast, with an unbelievable atmosphere. It's available on YouTube if you have not seen it. I've watched it many times. Matsuno, you did not play in the game against the United States earlier in the tournament, which created some extra mystery and intrigue heading into the final. Obviously, it was a remarkable game, but what do you remember most from that game against the United States?
Regarding the power pool game against the United States, yes I did not play. That game was just for the seeding of bracket play, and both teams were already confirmed that we were going to the bracket. Another reason, some of the young Japanese players had not played against Team USA, so we gave the younger players an opportunity to play against them. Also, thinking about my age, I wanted to save energy to play my best game in the bracket when we faced Team USA again.
In the final, individually I think I played well. I had been practicing to play against and beat top teams like the USA, and I played well, so that was good. But at the same time, Team Japan lost, so that reminded me it was not enough and there was still a gap between Team Japan and Team USA.
Let's try lightning round, quick questions, quick answers.
You're 37 next week. How much longer do you want to keep playing at the highest level?
I will stop playing when I lose my passion. But I still have it.
Also, Yohei Kichikawa, who is older than me — like seven years older — is still playing, so why not keep playing? If my performance didn't match what I want or what I think it should be [I'll stop], but it hasn't happened yet, so I think I'll keep playing for a while — unless I get injured badly.
I'm glad you mentioned Kichikawa, because my next question was, "Do you make fun of Kichikawa for being old?"
Yes, I make fun of him. I couldn't when I was younger, but nowadays I can.
What is your favorite thing to eat after having played ultimate all day long?
Steamed white rice. A lot… A lot.
A few years ago, the Buzz Bullets did not compete because of a suspension, and no one really knows what happened. I imagine you're not gonna want to go into too much detail, but what can you enlighten us about what happened then and what you have learned from that experience, going through that unfortunate incident or whatever it was?
So that six months was the first time I didn't play ultimate since I started. That time gave me lots of time to reflect on my playing style and the team's strategy, etc.
Of all the places you've traveled, since Finland in 2004 and London and everywhere else in between, what's been your favorite place you've traveled for an ultimate tournament?
Seattle in the United States when I went to Emerald City Classic 2007.
Last question, who has been the player that has guarded you in a world championship competition that gave you the most trouble?
First of all, everyone who covered me was impressive. But if I have to choose, I would pick Josh Ziperstein from Chain Lightning at the 2010 World Championship. Ziperstein is not tall, he's like me. He knows how to play as a small player, so he knows what I'm thinking. His positioning as a defender was very effective and that was actually the first time I played against that kind of player. Usually, I am guarded by a really athletic and tall player, so Josh was the most impressive.
Zip was amazing. He was a contemporary of mine when I played in college at the same he did, and I never played against him, thank goodness. But I remember watching him play in person for the first time — I'm 5'9" and I had seen him on video, he had played so big, and I stood next to him on the sideline and he was smaller than me and I couldn't believe it.
Anyway, I'll let you go, as I know it's a holiday in Japan today. I googled it and learned that it's National Respect Your Elders Day. How will you be celebrating National Respect Your Elders Day? Having a party with Kichikawa, maybe?
[laughs] I always respect Kichikawa, so I don't have to do it special today. But I do always email my parents to talk about our stuff so that's our National Respect Your Elders Day.
Matsuno, thank you very much. Hopefully we'll see each other in 2021 in the Netherlands but who the heck knows.
Thank you. I'm doing my best to make the national team.