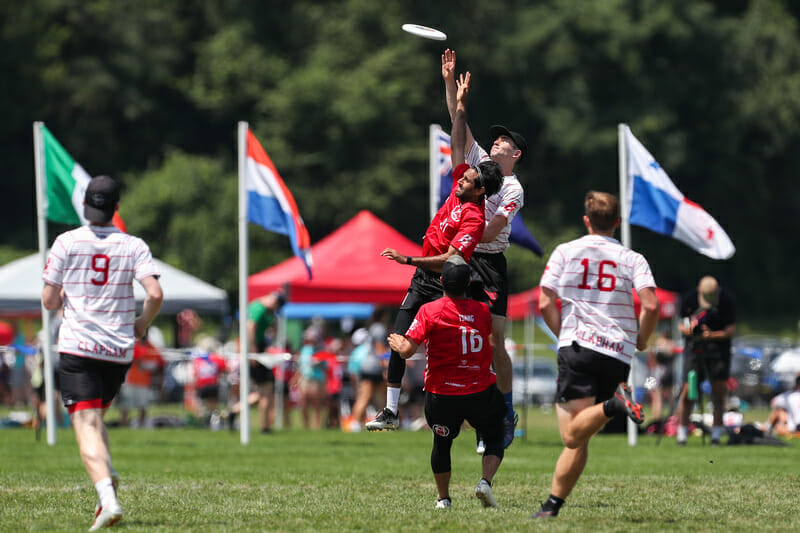 LEBANON, OH— By Thursday, we are deep into the knockout rounds, though not as deep as was planned due to the weather delays on Wednesday. Let's go through the action of the day from the end of the Round of 16 to previewing our semifinals matchups.
Round of 16, Part 2
On Thursday morning we played the second quartet of games for the Round of 16 after weather delays shifted around the schedule.
Raleigh Ring of Fire (USA) 15-6 Copenhagen KFK (DEN)
This was the clearest result of the Round of 16 by far. KFK stayed with Ring for exactly five points and then once Ring got going they were light years gone. Ring went on a four break run to balloon their lead from 3-2 to 7-2 before taking half 8-3 and the second half was more of the same. Ring went on a three break run to make it 13-4, and the game finished quickly after that.
For KFK, almost everything good that happened for them ran through Bastian Gram who finished with two assists and three goals in this game, contributing toward his impressive tournament tally of 17 assists and 19 goals so far. By contrast, Ring's depth was on full display in this game with no person contributing more than four score involvements. At the top of the list was Henry Fisher with three assists and one goal but below him, 20 players on Ring had either a goal or an assist in this game. Of these 20 players, Suraj Madiraju impressed (one assist in this game; seven assists, two goals for the tournament), an often unsung hero for Ring. He consistently takes tough matchups and is doing the dirty work for Ring both on defense and on offense when they get the turn, though he sometimes goes unnoticed because he doesn't show up on the stats sheet too often. He deserves the hype with his performance.
Bologna CUSB Open (ITA) 15-14 Pornichet Tchac (FRA)
This was a game between two European heavyweights with everything on the line. Tchac got out to an early lead and everything seemed to be going their way. After turning the disc, CUSB played excellent defense to force a stall nine huck from Laurent Faye but it was perfectly (or luckily?) placed and Sullivan Roblet came down with the grab to make the game 4-1 with Tchac's second break in a row. That margin kept through the end of the first half with each team holding which meant Tchach comfortably took half 8-5.
CUSB came out flying in the second half, holding and then putting out a tactical zone look to disrupt Tchac's rhythm. It worked, causing the French team to overthrow a cutter. With a short field, CUSB was able to punch in a break, putting the score at 8-7. The momentum stayed with CUSB, as Tchac turned the disc again with a simple throwing error, and just like that the game was tied. For the next two points it looked as if Tchac might regain control, holding and then breaking with Paul Benvegnen throwing to Alexandre Fall to make it 10-8. But CUSB were able to come back again, getting a reward for defensive pressure with a layout block in the backfield and converting through a lefty backhand break for the score from Riccardo Zanni.
At 11-11, Tchac missed a swing pass and Sebastian Rossi calmly threw a hammer to Giovanni Santucci for an all-important CUSB break that gave the Italians the lead at 12-11. From there on out, it was all holds to finish the game. On universe, Tchac pulled to CUSB, but were called offside. CUSB took the disc from the brick mark and after simple offensive movement, Orion Cable got free and shot it deep to Sebastian Rossi who read the disc well and was able to come down with it for the win.
Furious George (CAN) 15-13 Sydney Sunder (AUS)
A matchup that many people probably had in their pre-tournament bracket picks, it is doubtful anyone expected to see them play so early in the tournament. Delays on Day 4 meant that teams had to arrive at the fields before the sun had fully risen, some as early as 6:30 AM. Knowing how difficult it can be to get the legs moving for a pre-dawn game, it was a wonder that both teams came out of the gate as hot as they did. Offensively, both teams looked calm and composed. Cutters were working in the lanes, handlers were patient and precise, and hucks were coming out with pinpoint accuracy. The matchup between Furious legend Hibbert and Sunder's Sam McGuckin matchup was a great one to watch, and Hibbert proved that – despite his age1 – he is more than capable of hanging with the next generation. He had five goals and one assist in the game.
The story of this game was defense earning the disc, and almost every single turnover was the result of a defender getting a hand on it. Whether in the air, via layout, or pressuring on the mark, players were flying all over the place from beginning to end. With a heroic effort from Fred Lam and Sam But, Furious managed to earn several breaks, and took half with loads of momentum. But Sunder was never going to let them run away with it, and captain Alex Ladomatos led his troops from the front. He ended the game with three goals and five assists, and Sunder got two breaks back in the second half. With Furious on game point, one errant throw from Sunder -/led to Furious breaking for the win. When all was said and done, the first round of the day ended with two semifinal contenders leaving it all on the pitch. It's an early exit for Sunder, but we have no doubt that they'll be back four years from now, stronger than ever.
London Clapham (GBR) 15-14 Portland Rhino Slam! (USA)
The game between Clapham and Rhino was truly fantastic ultimate. The easiest way to describe the quality of both teams' performance is that there were five turnovers before universe and four of them were converted. It was an absolute clinic of both offensive and defensive efficiency.
Clapham were the first to slip up with a simple miscommunication between thrower and cutter and Rhino were able to get a break giving them a 5-3 lead. Another break came early in the second half to make it 10-7 and both were converted by a Rhino defensive line led by first and second year players. "They were phenomenal, their energy was terrific and that's how they won those points… We're really proud of that," said Rhino captain Sam Franer of his team's young defensive stalwarts. Clapham offensive captain Josh Briggs felt the pressure. "It was a game where I felt that if we turned it, we were not going to get it back," said Briggs.
Rhino's offense itself didn't get broken until Clapham shortened their lines as the Portlanders inched toward 15, with Clapham breaking to cut the lead to 13-12. After holding to get to 14-12, it looked as if Rhino were just going to be able to hold all the way through the end. Clapham held to put it at 14-13. It was do or die but Clapham were hopeful. "When we play our top seven for that D-line, they are some of the best seven players in the world and there's a good chance we might have a sniff at it," said Briggs. They indeed did get their opportunities, and were able to convert twice in a row to win the game, doing it against a Rhino offense that had been on fire the whole game.
The game was incredibly emotional for both teams. "Universe point was a grind, you know a couple of hucks back and forth and a heartbreaker at the end for us," said Franer. But even with their disappointment, there are substantial positive takeaways for Rhino: "We had a bunch of players that play a lot of minutes for us not here… for us to play that game with that crew means a lot for our season. We're really excited that this group got those minutes and is now ready to play at that level on another stage."
From Clapham's point of view, it was reminiscent of when they had been knocked out in the Round of 16 against Bad Skid in 2018. "[It was a] really emotional ending because we were so close to it feeling like four years ago. That came to the front for a lot of us who were there last time… but the last two points were a little bit of a miracle unfolding before our eyes," said Briggs. A fitting end to a phenomenal game of ultimate.
Quarterfinals
After the Round of 16 games were played, we had two straight rounds of quarterfinals and saw some instant classics.
Ring of Fire 15-10 CUSB
These two teams came into the round after entirely different Round of 16 experiences. Ring were coming off of their easy 15-6 game with KFK, while CUSB were riding high on a 14-13 universe point over Tchac. Calm confidence against passion-fueled drive.
The first point was the perfect start for CUSB: a break. CUSB threw a zone to put off Ring at the start of the game, just like they had at the beginning of the second half against Tchac. Again, the strategy which was a bit of a gamble in the low wind conditions paid off, and Ring turned the disc on an execution error. Eventually, Luca Tognetti was able to find Riccardo Venturoli streaking deep for the score. But CUSB's momentum was short-lived and the game was Ring's from that moment on. "We started a little slow, they broke us to start but after that our offense was just rock solid the whole game," said Suraj Madiraju. "And then for our D-line it felt like we had pressure every single point and they crumbled a lot of those points because it's hard to deal with a game's worth of our pressure." For the entire first half there was a scoring pattern: CUSB hold, Ring hold, Ring break, CUSB hold. Rinse and repeat two more times until we got to Ring breaking to take half 8-4.
CUSB did their best to put pressure on Ring, and succeeded in doing so at times. When the game was at 6-4, Ring were on offense and CUSB put the Ring offensive line in some really tough situations. They were made to work hard with small unders and keep the disc moving around to just keep possession without making a ton of progress upfield. However, Ring's offense is incredibly cohesive and comfortable working in those small-ball situations to prod a defense until they see an opening. That was just what happened. Jack Williams (one assist, five goals) scampered free of his defender, which opened up the field for Ring. Terrence Mitchell was able to find Henry Fisher in the end zone for Ring to escape with a hold.
Ring made some defensive adjustments which led to their success. "[CUSB] were really good at driving arounds past us, especially in the middle of the field… and our adjustment to that was taking a step back off the mark," said Madiraju. That switch helped slow down CUSB's upfield momentum and helped Ring keep their sustained pressure on the CUSB offensive players. The pressure worked. "Their defensive pressure was constant… it was always there… and we just cracked too many times," said CUSB coach John Terninko.
With a sizeable lead already racked up for Ring, most of the second half was holds from both teams. Ring broke once to make it 12-6 and had game point at 14-8. There was a bit of a rough patch for Ring right at the end of the game as CUSB were able to hold, break to get the game to 14-10, and then get multiple turns on the following point. However, Ring's quality showed in these tough moments. Jack Williams had a layout block on his own goal line to save the point and then Ryan Osgar was able to find Williams who elevated with characteristic grace to come down with the winning score. An exemplary way to top off another impressive performance from Ring.
Mooncatchers 15-14 Sockeye
Mooncatchers have been the Cinderella of the open division so far, and the question coming into this quarterfinal matchup is: how would they fare against an American team with elimination on the line? In their Power Pool match against PoNY, it looked like they were simply outclassed by the squad from New York. However, winning that game didn't matter nearly as much as this game, so its difficult to gauge how much heart they put into winning it.
Coming out of the gate, Mooncatchers were prepared to rise to the occasion. "I don't think we started out with the mentality of 'we're going to crush them'," says Reph Jonkers. "We knew it was going to be a tight game … so we came out just to have fun and give a good show." And a good show they put on. As expected, Mooncatchers were putting up big shots and coming down with them throughout the entire match.
It's rare that a team is able to contain Sockeye defensively, but in this game, it felt like Mooncatchers had Sockeye trapped in their own third for several throws before they could make any upfield progress. With so much pressure, the Belgians were able to take advantage of some sloppy Sockeye turnovers, and punched in a few breaks early on.
Going down in the first half, Sockeye realized that they needed to take this game more seriously. "We were subbing pretty openly, offensively and defensively, for a lot of the game," says Sockeye coach Mike Caldwell. "But we tightened it up a little bit towards the end."
Coming into the second half, Sockeye were losing and becoming outwardly frustrated. To this effect, shortly after half, Freechild caught a huck, and his defender made a bid on the disc. There was some light contact, so naturally, Freechild turned around and spiked the disc at his defender, picked the disc back up, and spiked it again. The boos from the crowd drowned out any cheers that might have been coming from the Sockeye sideline. On the following point, Matthieu Muller scored on a deep shot in the same end zone. In response to Freechild's celebration, he jumped in the air, feigned as though he was about to spike it, but instead shook his finger at the crowd and gently laid the disc on the ground instead.
Regardless of Sockeye's questionable spirit down the stretch, the game was endlessly entertaining. The Jonkers brothers were calm and collected with the disc, and came down with some big skies to keep the game alive. Paul Arters was a menace on the turn, and had two goals and one assist in the contest.
But the most important player in this game was Arvids Orlovskis. He didn't score the most points, but his presence was felt every time he stepped on the pitch. On the last point of the game, the Sockeye players were wary of him, backing Orlovskis and allowing Mooncatchers the churn up unders. After working the disc up, the Latvian saw his chance when Nathan Kwon got switched onto him. "I just saw the mismatch, and I thought I could offer myself to one of my guys, Paul [Arters]. Yesterday, we had the same situation on universe point. Again, he put up a perfect [throw] right into the corner and it wasn't contested. I just had to catch it and that's that," said Orlovskis.
It was a great end to the game. On DGP, tied 14-14, Mooncatchers never shied away from the playstyle that got them into that position. The huck from Arters was on a platter, and the Sockeye defenders, caught trying to switch on a bigger defender in triage, weren't even close enough to make a play Orlovskis casually caught the disc, and the entire Mooncatchers team rushed the field to celebrate. Everyone watching the game – there were spectators lining the field on three sides – joined in to cheer.
Clapham 14-11 Furious George
All in all, both Vancouver Furious George (CAN) and Clapham (GBR) looked a little tired from their morning games. Both had hard fought victories over Sunder and Rhino Slam! respectively, but of the two teams, Clapham looked like they had just a little more life in them. "I feel like when we came into the first half, both teams were kind of gassed, and it whatever team was able to accelerate was gonna be the team that would win," said Furious captain Kevin Underhill.
Down the stretch, Clapham made life really difficult for the Furious O-line. They generated several point blocks through suffocating handler defense, and contested the deep space with equal fervor. Every time a huck went up it felt like there was a Clapham defender peeling off to help out. On offense, Justin Foord led the game with five assists and three goals, and the rest of the load was spread out among the rest of the team. Thomas Abrams and Joshua Briggs were all over the place, with three points a piece. For Furious, Malcolm Bryson and Morgan Hibbert did their best to churn up yards in the deep space, but it wasn't enough to get the job done.
The most notable part of this game was a collision that happened late in the match. Up 12-9, Clapham was on defense, and Phillip Garner attempted to make a defensive bid against Morgan Hibbert. Unfortunately, Garner had no real play on the disc, and the Canadian was blindsided and knocked to the ground. After taking a few moments to gather himself – and in obvious physical pain – Hibbert tried to play for a few more throws, but was ultimately forced to take an injury sub.
"Mostly, it was just pain. It really, really hurt. And I also think it was a mistake, and not malicious. I've played against a guy for a long time, and he's not a malicious player," said Hibbert. "But it sucks because I was very physically affected for the rest of the game. It was very difficult for me to run and actually play frisbee." A major contributor to Furious' O-line, the loss of Hibbert was a blow to the Furious squad, but already down by three, it's hard to say how much it affected the outcome. Thankfully, there were no hard feelings between the players. "It's sports. We're all running around, we're tired, it's hot, everyone's going in different directions. You're gonna have a collision sometimes," added Hibbert.
It was one of a number of late game stops and starts as the match was mired by some suspect calls and numerous deliberations.
At the end of it, Furious looked like they might claw their way back, earning a break and chance for another at 13-11. Unfortunately, they couldn't capitalize, and Clapham won the contest 14-11.
Going into the semis, Clapham is going to need to clean up some of their unforced turnovers. They had a number of miscues and unforced drops, especially on their D-line. Several times, they would earn a sensational block, only to give the disc right back to their opponents on the next throw. In their semifinal heat, those kind of mistakes could cost them big time, so we'll see if they improve their execution. Regardless, whatever opponent has to face Clapham next is in for a very difficult game.
PoNY 15-8 Buzz Bullets
A dominant PoNY squad made this a one-sided affair from very early on. At 3-2, Buzz Bullets turned the disc and Grant Lindsley (one assist) was able to get the better read on a deep shot, pulling in the looping deep shot with a Buzz Bullets player in close proximity. He then quickly threw a simple forehand into the exuberant arms of Jibran Mieser (two assists, one goal), a first break to make the score 4-2. Once Mieser caught that goal, the team from New York never looked back. They immediately followed up their first break with another one, this time featuring Solomon Reuschemeyer-Bailey finding Shashank Alladi after PoNY had called a timeout to make sure they converted the possession. PoNY added one more break before holding to take half 8-4, a sizable lead which accurately represented the distance between the two sides in that frame.
"We had a game plan against them which was to protect the break side. They pretty quickly took advantage of the open side, worked it up the field, and scored pretty easily on us for the first couple O points they had. So early in the game we abandoned the plan and played just a more familiar, honest person defense and slowly but surely we started to chip away," said Lindsley.
Coming out of half, Buzz Bullets were able to get on the board through their grizzled veterans, with Masahiro Matsuno (four assists, two goals) finding Yohei Kichikawa (two assists, one goal) in the end zone. PoNY, however, went on a four-point run once they got their hands on the disc. After that, the damage was done. Jack Hatchett showed just how elite a defender he is when he was able to close down a Japanese cutter to get a block on one of Buzz Bullets' trademarked sharp-angle hucks. Later on in the point, he proceeded to throw a big forehand to Marques Brownlee which floated in the air to a point where it usually would have been a 50-50. However, Hatchett was not just throwing to a random cutter; Brownlee caught the disc with an emphatic jump over the Buzz Bullets defenders, which landed him at #2 on the evening's SportsCenter Top 10 plays.
A microcosm of the game happened on the last point. PoNY's offense had turned the disc over and Buzz Bullets took a shot to a seemingly open cutter. With a 14-8 lead, PoNY defender John Randolph could well have decided to not make the high-effort play and let Buzz Bullets get the score, but of course he went and got the disc. Just like Hatchett earlier in the game, Randolph turned on the jets to show that extra gear of speed only a few in the world have. With Randolph getting possession back for New York, the offense wasted little time and punched in the final goal to Ben Jagt (five goals).
PoNY is looking forward to their semifinal, and to the final that they feel positive they can reach. "[I'm] excited… I know the coaches are going to have a good plan for us… the level of pressure we're able to bring on defense right now and the level of execution our offense is playing with, I am extremely confident in our ability," said Hatchett.
For his final thoughts, Hatchett relayed how much fun he and the team are having. And, if we're being honest, that makes sense. In the eight games they have played at WUCC so far, only two teams have scored ten or more. It's been a truly authoritative performance against the rest of the field thus far; they will be rolling into Friday.
Coming up on Semifinal Friday
The last time that we had a European team in the semifinals of WUCC was also the last (and only) time that we had two European teams in the semifinals. That year was, and I kid you not… in the last millennia. Okay, okay, it was only 1999 but it has still been 23 years! In '99 it was Liquidisc from Finland and Skogshyddan from Sweden representing the European teams, while this year we have the duo of Mooncatchers and Clapham. There are many people playing in this tournament that were not even born the last time that this happened so to get ready let's see what matchups are set for Friday midday.
Mooncatchers vs. Ring of Fire
Ring have had a similar tournament to the one that Sockeye had had coming into their quarterfinal with Mooncatchers: dominant. With Mooncatchers riding a high off of their historic win and playing with nothing to lose, can they slay another giant? Ryan Osgar, Henry Fisher, and Jack Williams are the stat leaders for the Ring team and it truly is difficult to imagine a team being able to stop all three of those players. Ring has utilized a side stack with Williams and Osgar isolated in the lane to great effect this tournament, and Fisher is one of the deadliest deep cutters in the game right now.
For Mooncatchers, Reph Jonkers is unquestionably the standout player, and the supporting cast of his brother Benjamin, Muller, Daan De Marrée, Orlovskis, and the two Americans Johnny Bansfield and Arters, will have to have big games to challenge Ring's faceless army.
PoNY vs. Clapham
These two teams played a warm-up match against one another last week and it ended with PoNY winning 15-13. While the intensity level will certainly be higher in this semifinal game, it will be no surprise to anyone if it is a nail-biter. Clapham will need to find an answer for Jimmy Mickle and Ben Jagt. Mickle has racked up 31 assists and five goals at the tournament so far and Jagt is second on the team in offensive contributions with six Assists and 21 goals. PoNY themselves will need to find a way to deal with the slew of dynamic top players that Clapham has on their roster, including Justin Foord (16 assists, 14 goals), Conrad Wilson (11 assists, 15 goals), Ashley Yeo (7 assists, 17 goals), Connor McHale (13 assists, 6 goals), and Josh Briggs (13 assists, 5 goals).
---
Hibbert played his first WUCC in 2002, when the event was hosted in Honolulu. ↩