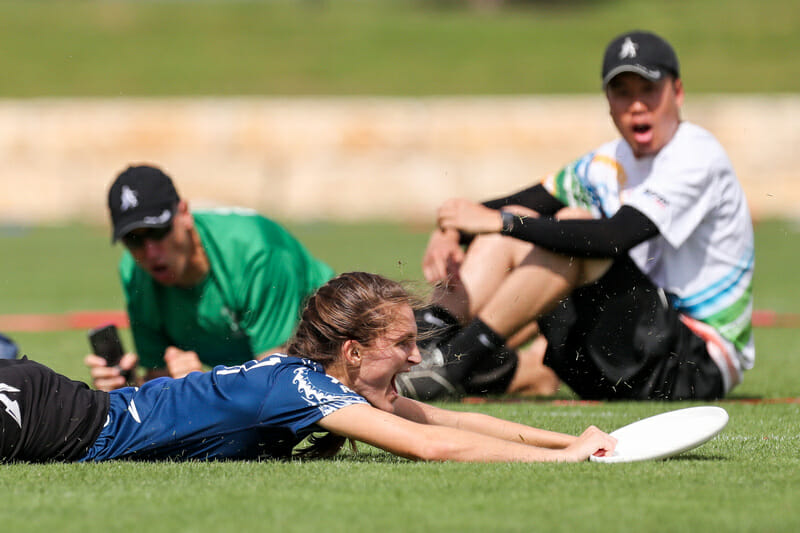 In a time without ultimate, it's a great opportunity to go back into the film archives and relive some of the legendary games of the past. Of course, there are countless National semifinals and finals available on USA Ultimate's YouTube channel, alongside dozens of games on Ultiworld's YouTube channel and other past producers like NexGen and Skyd Magazine.
But if you're an Ultiworld subscriber, you also have access to a massive library of games dating back to 2012 in our subscription package. Here is a selection of gems from our video subscription that you can enjoy any time!
College Division
Men's
UNC Darkside v Oregon Ego, 2018 Stanford Invite Semifinal
The best men's game of the 2018 college season came down to double game point between UNC and Oregon in a semifinal game that would go on to be replicated at Nationals a few months later. Daring offense from both UNC and Oregon and some pretty heroic defense all the way down to the final possessions make this game a must watch.
Pittsburgh En Sabah Nur v UNC Wilmington Seamen, 2015 Easterns Final
You didn't think we'd leave a game from one of the greatest college rivalries off this list, did ya? Pittsburgh and UNC Wilmington have played in many memorable nail biting high stakes games, and in the 2015 Easterns Final, Pittsburgh had plenty of reasons to carry a grudge or two against the team that had knocked them out at Nationals the previous May.
For Wilmington, it was the peak of a pretty amazing run during the regular season and a resounding demonstration of the kind of team they had become with Jack Williams and Xavier Maxstadt helming the offense. When Pittsburgh and Wilmington meet, anything can happen.
UNC Wilmington Seamen v UMass Zoodisc, 2016 Queen City Final
The men's final at Queen City in 2016 may be the best early college season game Ultiworld has ever filmed. A legendary showdown between Jeff Babbitt and Jack Williams as well as some incredibly aggressive throws from Xavier Maxstadt and Ben Sadok provide all the excitement you could possibly ask as two of the greatest college players of a generation go bell to bell against each other.
If 2016 was one of the greatest college seasons ever, this game ranks close to the top of the best from that season, even if it came in early February.
Pittsburgh En Sabah Nur v Wisconsin Hodags, 2016 Stanford Invite Final
Most people may remember this game for Trent Dillon's faux pas, calling a timeout when his team had none after a ridiculous sky. But the game itself was a show of physical defense and exciting offense as two distinctly different college programs played out of their minds. It was one of the best games of a very memorable 2016 season…and this was still two months before Nationals! It's a great testament to the strength of the Pittsburgh's great class of 5th years and a now not so faceless army of Hodags.
Stanford Bloodthirsty v Cal Poly SLOCORE, 2018 Southwest Regional Final
College Regionals is the kind of event that will make you believe in miracles whether you're a player or a parent on the sideline. When Gabe Hernandez went down in one of the more bizarre ways I've seen someone tear their ACL, things were starting to look grim for Stanford.
And then Hernandez went back into the game. 
Women's
Oregon Fugue v Stanford Superfly, 2015 Stanford Invite Final
Entering the Finals as #1 and #2 in the country, Oregon and Stanford were a combined a 38-1 before the 2015 Stanford Invite final. The names in this game read like a who's who of some of the best young players at that time. Jesse Shofner, Beth Kaylor, Hayley Wahlroos and co. faced off with Michaela Meister, Steph Lim, and an athletic Stanford team in a classic matchup between two legacy west coast college programs. 
Stanford Superfly v Dartmouth Princess Layout, 2018 NWC Semifinal
A truly must watch game from the college women's division. Stanford threw everything in their defensive playbook at Dartmouth when they finally played a rematch of their 2017 quarterfinals game. Stanford's smart zone looks challenged Dartmouth in a way no one would quite see in any other game for two seasons. The steadiness of Julianna Werffeli, Jack Verzuh, and Caitlyn Lee kept Dartmouth's offense alive and dangerous as the game crept closer and closer to double game point. 
Pittsburgh Danger v Oregon Fugue, 2018 Stanford Invite Pool Play
A signature game in Pittsburgh's 2018 run that would ultimately take them to the semifinals of college nationals.
Danger and Fugue played a tight game that saw big contributions out of Carolyn Normile and Ella Hansen, demonstrating why they were among the top players in the women's division. Big contributions came from the depth of both rosters as the lead swung back and forth across the course of the game.
Ohio State Fever v UCSB Burning Skirts, 2019 College Championships Pool Play
There were some incredible games at the 2019 College Championships and probably the biggest headline game in pool play came on day one between Ohio State and UCSB. Sadie Jezierski and Cara Sieber led Ohio State's attack while Julia Kwasnick and Audrey Brown made some of the biggest highlight plays of the tournament.
The nail-biting final point of the game was punctuated by incredible layouts and oh-so-close moments that characterized the entire game.
UCSD D-Co v Carleton Syzygy, 2019 College Championships Quarterfinals
This game is well known for its jaw dropping final point, but the entire game was a gritty back and forth matchup. Karen Ehrhardt, Kate Lanier, and Dena Elimelich were incredible, and the game showcased their individual talents as well as the depth of both squads.
The strong upwind/downwind conditions make every hold and every break feel significant and the huge crowd that gathered at the end of the game added to the high stakes atmosphere of one of the most memorable games at Nationals last year.
Club Division
Men's
Seattle Sockeye v San Francisco Revolver, 2016 Club Championships Pool Play
It was 14-12 Seattle with nineteen minutes left to play. It was a lead that belied a four point edge that Sockeye held over Revolver for most of the second half. They were one point away from taking Pool B and getting very good shot at the semifinals. But as any team that has had a lead against Revolver, you can never count them out.
Whereas in previous seasons losing your pool didn't have tremendous implications, the new Nationals format of rewarding pool winners with a bye into quarterfinals gave this game so much more weight in stark contrast to the previous year. Nick Stuart was absolutely tremendous for Seattle, making several memorable plays for the Fish. 
Raleigh Ring of Fire v Chicago Machine, 2015 Club Championships Quarterfinals
Every year since pre-quarters at the 2014 club championships, Ring of Fire has played Chicago Machine at Nationals. The set up for the 2015 meeting was perfect. You had a strong triumvirate of Bob Liu, Brett Matzuka, and Jonathan Helton alongside a great Machine squad playing a Ring of Fire team that was just beginning to integrate the young talent emerging from the college division.
And you had a tweet from Justin Allen from a game between these two teams earlier in the season: "Ring of Fire doesn't lose to Machine."
San Francisco Revolver v DC Truck Stop, 2016 Pro Flight Finale Final
Defending national champion Revolver came from behind in the final game of the weekend, beating a Washington D.C. Truck Stop team that was powered by a turbocharged offense and a near-perfect first half. Fighting through the nearly 100 degree temperatures, the star-studded rosters fought a battle typically reserved for elimination play at Nationals. Lucky for us, we have it all on film.
Portland Rhino v Vancouver Furious George, 2012 Club Championships Pool Play
You came all the way to Nationals to play your regional rivals. It's a situation teams routinely find themselves in. During the 2012 Club Championships in Sarasota Florida, Rhino and Furious George squared off against each other in a pool play game that became a game to 17 in the characteristic Sarasota wind. Both teams showed incredible resilience despite the conditions. Oscar Pottinger played an incredible game for Furious and Rhino got huge contributions out of their young roster, including Dylan Freechild.
Toronto GOAT v New York PoNY, 2014 Northeast Regionals Game to Go
An exciting game to go in Devens! In 2014, PoNY was more of a potential regional upstart than title contender, but they pushed GOAT to the limit in this exciting Northeast backdoor game to go.
It's a nail biter of a game as both teams go wire to wire trying to qualify for Nationals with some amazing offensive plays.
Mixed
Philadelphia AMP v Seattle Mixtape, 2018 Pro Championships Semifinal
Excellent high flying offense from Seattle Mixtape and Philly AMP kept this rematch of the 2017 National Championship game at full tilt. Excellent defense by AMP gave them a vital edge but Mixtape rallied quickly and turned the game into a great showcase of two of the most talented squads in this era of mixed ultimate. 
Minnesota Superior v Seattle Bankroll, 2018 U20 YCC Mixed Semifinal
Minnesota Superior forced Seattle Bankroll to fight hard to stave off a memorable comeback on the back of some incredible plays by Leo Sovell-Fernandez, Benjamin Fjetland-Souza, and Leona DeRango. 12-5 quickly became 13-12, and Superior found some life in a great display of youthful tenacity and heart. 
San Francisco Polar Bears v Seattle Mixtape, 2015 Nationals Semis
When Mixtape stormed their way to a finals appearance in 2014, there were still plenty of questions swirling about whether they would be able to replicate their title dreams in the coming years. The following year, Mixtape faced a 10-6 deficit against the top Bay Area club, Polar Bears. A dynasty in the making was on the line. 
Minneapolis Drag'n Thrust v Seattle BFG, 2018 Pro Champs
Seattle BFG had a great 2018 season, winning WUCC and getting to the final of the US Open. At the Pro Championships, they went up against a Drag'N Thrust team that was hungry to prove they still belonged in the conversation as one of the top clubs in the world. Drag'N tested BFG's defense, and the fast paced game featured big highlight moments as both teams aggressively attacked deep. 
Connecticut Metro North v New York XIST, NE Regionals 2017 Semis
2017 Northeast Regionals was madness. With three bids to nationals on the line, there were plenty of exciting games in one of the more interesting mixed regions that season. XIST and Metro North met in an excellent first place semis game that featured quite a few superb highlight level plays, especially on offense. 
Asheville Superlame v Columbus Cocktails, 2019 Club Championships Pre-Quarters
In a game filled with impressive athletic plays, Superlame and Cocktails played hard to keep their seasons alive. Cocktails held a narrow edge the entire way, but Superlame never seemed out of the game and Cocktails had to push hard if they wanted to keep their narrow lead.
Connecticut Metro North v San Francisco Mischief, 2016 Nationals Semifinals.
Metro North had an incredible 2016 run that took them to their first semis appearance in Rockford. Facing a 6-3 deficit, Metro North fought back hard and took the game over with Chris Mazur leading the charge on Metro North's offense in one of the best individual performance of that season. The game featured a wealth of great plays, including a huge layout callahan by John Geraghty. 
Fort Collins Shame v Seattle Mixtape, 2016 Nationals Pool Play
Shame was an unknown entity coming into the 2016 Club Championships. Nobody told them, though, as they went bell to bell with Mixtape in the first round of the tournament. Mixtape and Shame put on a showcase of excellent athleticism. Nothing too tricky or fancy was at play in this great opening game: just great blue collar person defense and fast paced aggressive offense all the way to double game point. The matchup between Khalif El Salaam and Nicholas Snuszka was a delight to watch in this one. 
Philadelphia AMP v Boston Slow White, 2018 Nationals Pre-quarters
To be the best you have to beat the best. AMP and Slow White's pre-quarter match up saw Philly pushed to the limit against a Slow White team that had been in semis for three straight seasons. Both teams pushed each other hard in a winner take all pre-quarter that wouldn't be decided until double game point. 
Women's
San Francisco Fury v Seattle Riot, 2016 Nationals Semifinals [Free on YouTube!]
Of all the games that made the list, this one was the biggest no brainer. Riot and Fury have faced each other in many great games, and this one easily ranks at the top as one of the greatest games played within the rivalry. This game of runs and nail biting plays between two of the greatest women's programs in the world sets it in a league of its own.
Russia Brilliance vs. Japan HUCK, 2018 WUCC Prequarter
This round of 16 matchup had it all. Layout blocks, huge throws, controversy, and a never-ending universe point make this one of the craziest games of recent memory. With their Worlds lives on the line, both teams left everything they had on the field and, at times, let their emotions bubble over, making for a spectacle for every type of ultimate fan. Truly, an instant classic.
Boston Brute Squad v Raleigh Phoenix, 2019 Pro Champs Pool Play
There were some great women's games that headlined 2019 Pro Championships. Raleigh Phoenix was infused with great young talent from the North Carolina college scene, while Brute Squad was also integrating a younger offensive unit and trying to figure out a winning formula with the team at hand. The game swung back and forth between the two teams as young players like Anne Worth, Bridget Mizener, Caitlyn Lee, and Claire Trop rose to the moment and delivered one of the best regular season games of the year.
Seattle Riot v Toronto 6ixers, 2019 Club Championships Quarterfinals
Friday at the 2019 Club Championships shattered the narrative of the existence of a top tier of women's club teams. Upsets ruled the day and one of the biggest came in the last quarterfinals round between Seattle Riot and Toronto 6ixers. While there was certainly some optimism about Toronto's capacity to beat Seattle, it was not until late into the second half that a run of Toronto breaks opened the door for the upset on double game point. The game showcases elite defense from both teams and some great backfield action by Riot's handlers.
Boston Brute Squad v Medellin Revolution, 2017 US Open Pool Play
The line most of us took heading into the 2017 US Open was that the international teams would not stand up to the top US club teams, and boy were we wrong. Colombia put the entire world on notice, starting with a great performance against Brute Squad in Pool Play. Yina Cartagena and the Cardenas twins played excellent in the wind and picked apart Brute Squad before they could get a real foothold in the game.
This game subverted whatever pre-existing ideas anyone had about the superiority of US teams on the international stage and announced the arrival of Revolution as a challenger to the best US clubs.