The site has been rebuilt with new players in mind.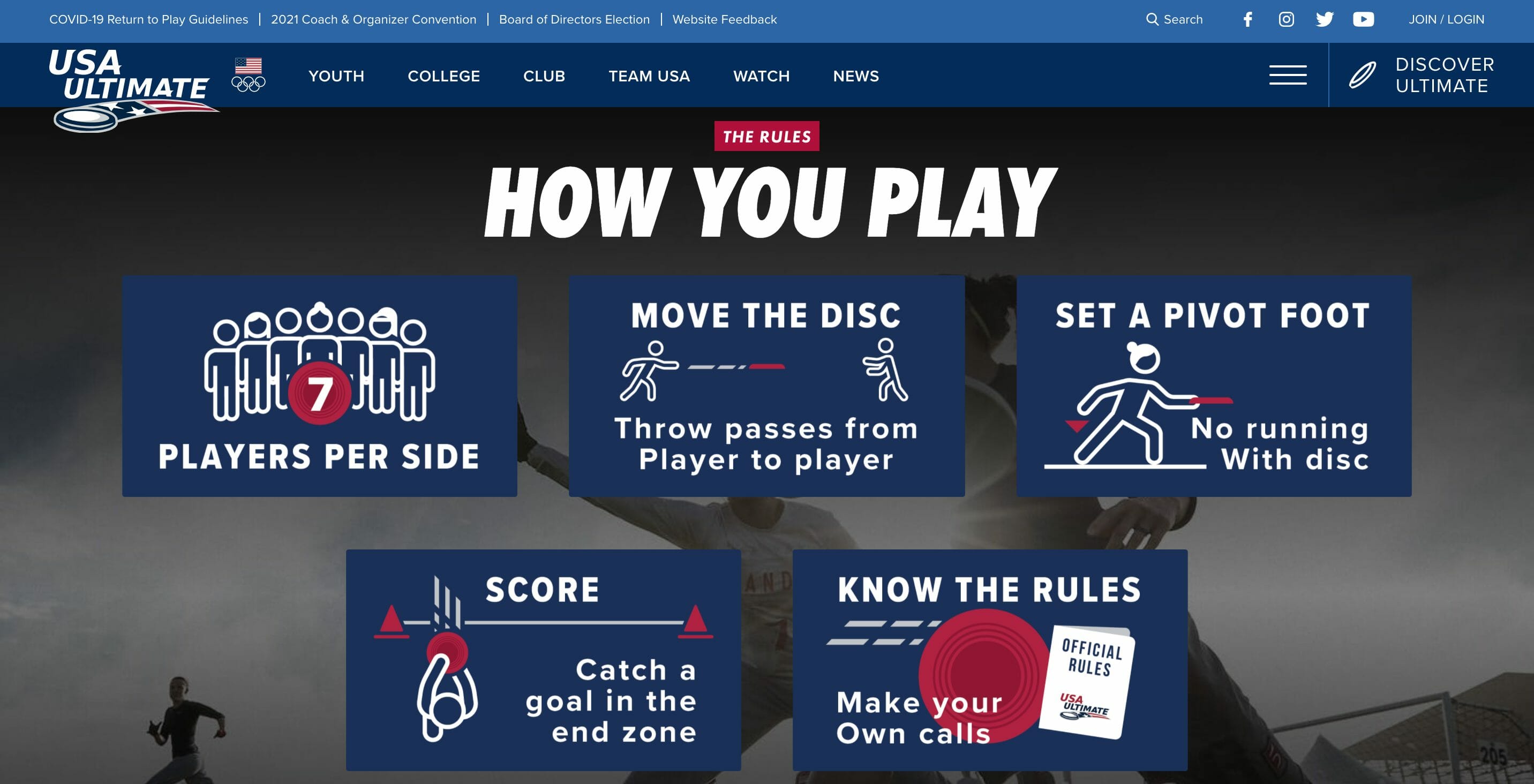 After 10 years, USA Ultimate's website has a brand new look that offers a mobile-friendly and modern design that marks a striking improvement over the previous iteration. The website is noticeably brighter, with easier access to materials that would be important to someone who is venturing onto the site for the first time. 
At first glance, the new site is more dynamic. Instead of static pictures next to news stories, the new site presents a five minute Nathan Kolakovic hype video front and center, showing ultimate at various levels and highlighting teamwork, Spirit of the Game, and the camaraderie between teams. 
After scrolling through COVID-19 and tournament updates, there is a portion of the front page dedicated to the three Cs — Character, Community, and Competition — in USAU's mission statement. What is clearly noticeable in the redesign is how USAU is prioritizing initiatives outside of ultimate in addition to basic guidance on how to play.
There is a lot more information on the front page as well. Scrolling down, you'll find an interactive map where readers can find ultimate in their state, which is further broken down by city or region. This information was difficult to find on the old site and relegated to a large PDF file. If ultimate is about finding your own community in the sport, USAU is doing a better job making it accessible for people to find theirs. 
News follows at the bottom of the page, a good change of pace from the previous site where it was heavily emphasized. Previously, if someone new to the sport wanted to learn more about the game, it would take some digging to learn more about ultimate, the rules, policies, or Spirit of the Game. Now, the site is built with them in mind. 
"Analytics showed that 76% percent of visitors to usaultimate.org were visiting the page for the first time, and a remarkably high 60% bounce rate meant they were not engaging with the site for very long," USAU wrote in a press release. It's clear that they've worked to serve this population better.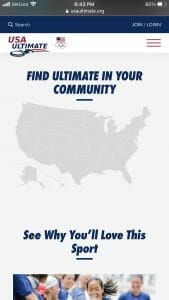 As you venture further into the site, finding information about teams is far easier and more informative. For example, looking at the 2019 College Championships teams, USAU has the logo, when the team was established, any former Callahan Award winners, and contact information. The same goes for the Club Division, where they made the additions of notable players and National Championship wins. Each division gets its own special area of the site where things were very meticulously planned out. There is even a section for parents to learn about safety regarding their children.  
There is even a big button on the right side of the page to help people "discover ultimate," which gives basic information about the sport with corresponding photos and videos. Readers can get an idea of the simplest rules and get definitions for common ultimate jargon. 
The site has also been rebuilt to be responsive and mobile-friendly — it looks great on phones and tablets.
It's important to note that this is not a full, top-to-bottom redesign. The entire backend member login and event management side of the website — the frequently visited play.usaultimate.org — remains unchanged. Eventually, USAU plans to make some design upgrades to that side of the site as well, but a bigger overhaul would be even better. Another downside is that a number of older website links are broken, and the deep database of past event data is, for now, unavailable.
Overall, though, USAU's front-end website makeover is a big success, and not just because it is more visually appealing. It is simply much easier for someone to find materials about teams, guidelines, or off-the-field initiatives. If someone wants to learn more about USAU's Equity, Diversity, and Inclusion policies, they do not have to spend minutes to find it. It is just two clicks away, seriously. With the new website, members should not have any trouble finding information important to them, and prospective players are far more welcomed to get involved in the sport.