The sport's profile is rising fast in China

The Rescue, a new $100 million film opened last Friday in China and North America, was meant to feature a beach ultimate scene, where Taiwanese megastar Eddie Peng1 and co-stars plays ultimate on the beach to pass the time between rescue missions. The ultimate scene was eventually cut from the film, but the filming experience still brought ultimate to a major movie studio in China.
Peng has a history of competing in sports in film. He played a professional cyclist in To The Fore and trained so hard in preparation for that film that he qualified in competitive races and even became a goodwill ambassador for the Tour de France. Director Dante Lam — whose previous film, Operation Red Sea, raised $498 million at the box office after its first 17 days of release — knew that he wanted a beach sports scene in The Rescue but was looking for something a little less cliché than volleyball or soccer. Lam found out about ultimate and contacted the Chinese company Yikun Discs and Disc Culture that produces flying disc products and promotes flying disc sports in China. Lam asked for a representative to pitch ultimate to them for inclusion in the film. Yikun spokesperson and founder Zhixing Xue flew in for the meeting with the studio.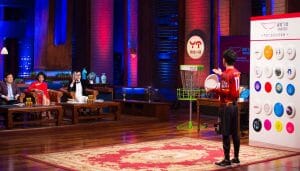 When asked if he was nervous pitching to a major movie studio, Xue told Ultiworld, "Oh no, I have a lot of experience in pitching. I was on an entrepreneurial television show in China, like Shark Tank, where I had to pitch my disc company. I eventually won $600,000 from an investor there. However, we had to turn it down because the investor wanted to focus on production but we really needed more money for promotion of the sport."
Xue said that the pitch for the movie went really well. The movie studio agreed to put ultimate in the film. To do this, they flew in Zhuang Liang, who is the current Chinese national team coach, to train the actors for two weeks.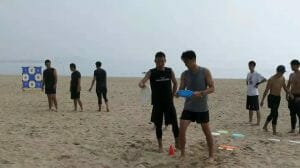 Peng takes sport in his films very seriously. Xue said that Peng and the actors spent from dawn till dusk for two weeks straight learning the sport for the film. The actors were all athletic but still needed some time to perfect their throwing skills. When it came time to film, Xue and another ultimate player actually joined the film shoot to play in the game that was to be featured in the film. There was also another match going on in the background where ultimate players of the local club were invited to play. They shot one day game and one night game. In the end, the ultimate scene cost $200,000, but it was cut from the final edit of the film.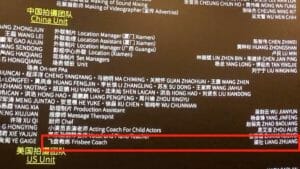 "Even though the scene isn't in the final film, this will definitely increase the popularity and awareness in China," said Xue about how this could impact the sport. "The film was supposed to open in Chinese New Year in 2020 but had to be delayed because of COVID. There was a lot of social media exposure, including Eddie Peng posting ultimate shots on his Weibo account. I think the awareness of ultimate will sharply increase."
Xue is very busy promoting ultimate not only through his company but also as Deputy Secretary General of the Chinese Flying Disc Administrative Committee. The Federation has been a WFDF member for several years now but was just recognized in 2019 by the Chinese Leisure Sports Administrative Centre of the General Administration of Sport of China. With this recognition has come a lot of opportunities for growth in the country. Now, with exposure in a major blockbuster film, Xue hopes that Chinese ultimate will continue to grow.
Though it is still impossible to play nationally in China due to the COVID-19 pandemic, there are some provincial ultimate tournaments, and local play has been going on since July. Xue and his team are working hard with the organizing committee of the Asian Games, a huge continental multi-sport event, for ultimate inclusion into Asian Games 2022. Later this month, officials from the Asian Games will attend a provincial tournament to learn more about the sport.
Here is the trailer for the film, The Rescue:
---
Peng has over 30 million followers on Weibo, the Chinese social media platform. Compare this to Michael B. Jordan who has 15.6 million followers on Instagram. ↩