Who's in and who's out?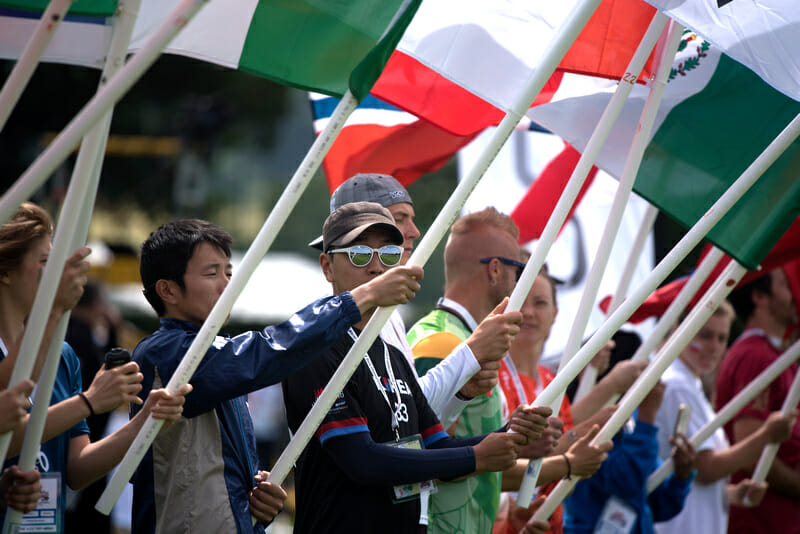 Today is the deadline for national federations to confirm their plans for this summer's event. Outstanding payments — including an additional €165 ($202) per player — are due before January 15th, and WFDF will make a decision about whether or not to move forward with the event on January 16th. Ultiworld is compiling the decisions from the various national teams throughout the world. In the following table, teams marked with a strikethrough have confirmed that they are backing out of the tournament, teams in bold have confirmed that they are committing to the tournament if it happens, and teams in italics have actively told us that they are undecided. This tracker will be updated as we receive more information from teams.
If you have more confirmed information to update this tracker, please send it to [email protected].
Counters:
Committed – 31 Teams
Out – 48 Teams
Undecided/We Don't Know – 19 Teams1
| Mixed | Open | Women's |
| --- | --- | --- |
| Australia | Australia | Australia |
| Austria | Austria | Austria |
| Belgium | Belgium | Belgium |
| Brazil | | |
| Canada | Canada | Canada |
| Chile | | |
| China | | China |
| Colombia | Colombia | Colombia |
| Czech Republic | Czech Republic | Czech Republic |
| | Denmark | Denmark |
| Dominican Republic | | |
| Egypt | | |
| Estonia | | |
| Finland | Finland | |
| France | France | France |
| Germany | Germany | Germany |
| Great Britain | Great Britain | Great Britain |
| Guam | | |
| | Hong Kong | Hong Kong |
| Hungary | | |
| India | | |
| Ireland | Ireland | Ireland |
| | Israel | |
| Italy | Italy | Italy |
| Japan | Japan | Japan |
| Kenya | | |
| | Lebanon | |
| Latvia | | |
| Lithuania | | |
| | Mexico | Mexico |
| Netherlands | Netherlands | Netherlands |
| New Zealand | New Zealand | New Zealand |
| Panama | | |
| Philippines | | Philippines |
| Poland | | |
| Portugal | | |
| Republic of Korea | | |
| Russia | Russia | Russia |
| | Slovakia | |
| Singapore | | Singapore |
| South Africa | South Africa | |
| Spain | Spain | Spain |
| Sweden | Sweden | Sweden |
| Switzerland | Switzerland | Switzerland |
| | Chinese Taipei | Chinese Taipei |
| United Arab Emirates | | |
| United States of America | United States of America | United States of America |
| | Ukraine | Ukraine |
| | Venezuela | Venezuela |
News
---
There may be more undecided teams. This tracker only looks at the teams who were committed for WUGC 2020. WFDF may have reached out to more teams. ↩