Teams have to commit to attend with full payment of fees before next decision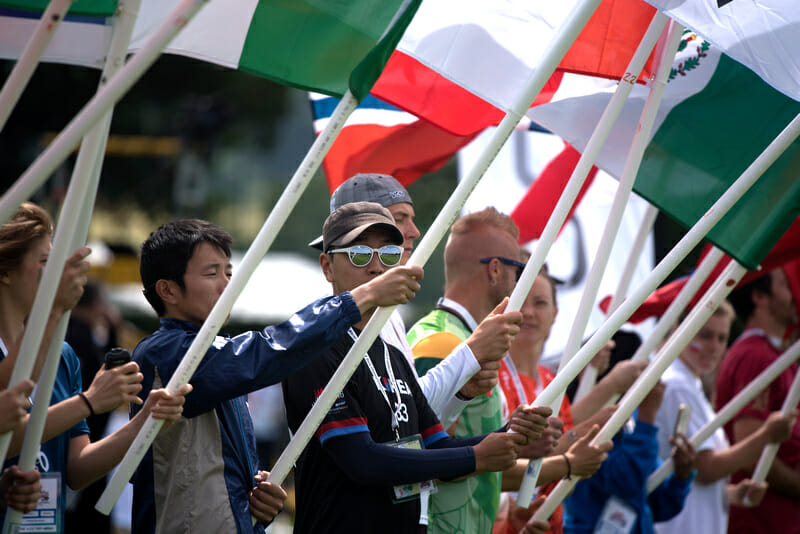 On December 23rd, the World Flying Disc Federation (WFDF) sent an official communication email to 2021 World Ultimate and Guts Championships (WUGC) team managers laying out a new decision-making timeline for the event, which was postponed from July 2020 due to the COVID-19 pandemic. WFDF will announce on January 16th if the event will move forward.
The email, posted to the Ultimate Players in Europe Facebook group (main PDF attachment available here), asks teams to commit to attending the 2021 event by paying the balance of team fees and players' fees, including the additional payment required following the event's postponement. In a surprise to some, teams are being asked to make payments prior to the decision about whether or not to move forward with the tournament. "WFDF will consult with the TOC after a review of health and safety recommendations of international authorities such as the [World Health Organization], and taking into consideration the rules and regulations of the relevant governmental authorities," reads the email. "WFDF will also reconcile the amount of players fees received. WFDF will then make a determination as to whether it will move forward with the intent to hold WUGC 2021."
"As we have previously communicated, the [Tournament Organizing Committee] has required that the full fees of no fewer than 1,740 players are fully paid prior to the 15th January 2021 for the event to proceed," reads the email. "WFDF will continue to assess the logistical and health aspects of hosting the event, however we also need teams to decide if you are still coming to WUGC and to pay the fees for the players you are sending."
Teams are asked to express interest in the tournament by January 8. The players' fees are now set at €480 ($587), which is €165 ($202) more than the initial players' fees for WUGC 2020. Any fees already paid roll forward for the 2021 event.
WFDF also discusses their refund policy in the e-mail in case of an event cancellation. There are already losses from the funds collected for the 2020 event, so those funds will only be partially refunded. All new funds collected for 2021 will be held and fully refunded if WFDF decides to cancel the event on January 15. However, if the event goes forward but has to be cancelled later in the year, WFDF will only guarantee to refund unspent funds. There is currently a spending freeze on the tournament that has been in place since April. The freeze will only be lifted on January 15 if WFDF decides to move forward with the event.
Even if enough teams commit to attending if the event takes place in July in the Netherlands, WUGC could still be cancelled due to COVID-19 regulations, a lack of vaccine availability, or other COVID-related issues.
The upcoming decision timeline is outlined below: