It's not AUDL field but it's close.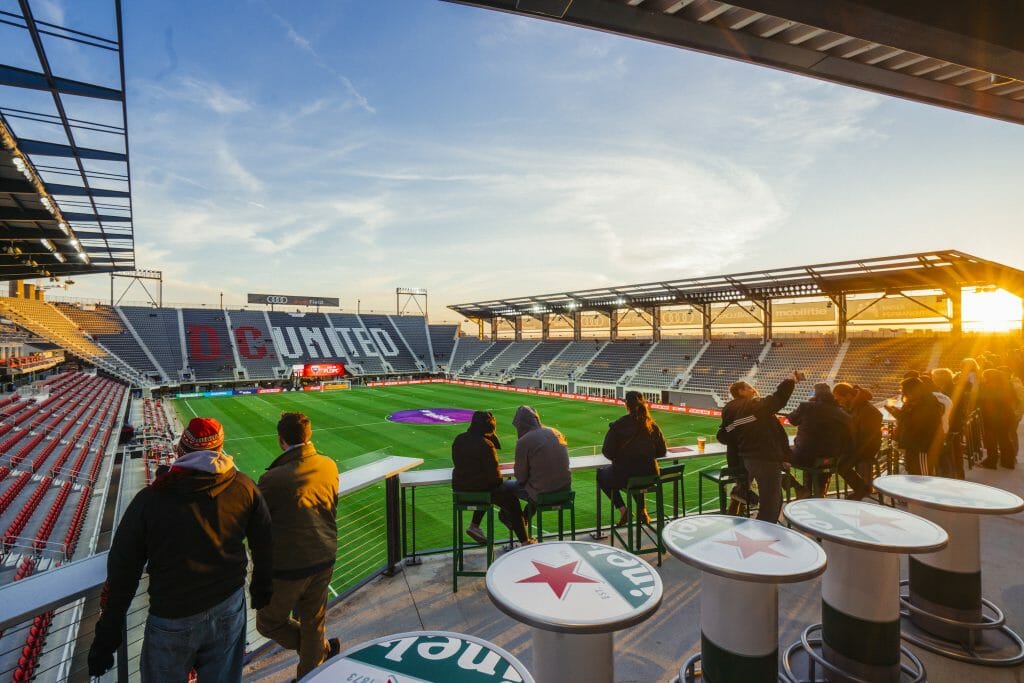 The 2021 American Ultimate Disc League Championship Weekend is set to take place at Audi Field in Washington D.C. on September 10th and 11th, the league announced yesterday.
Although the city and dates have been set for some time, the stadium announcement is news. Audi Field is a 20,000 seat soccer stadium that typically plays host to Major League Soccer's DC United and the National Women's Soccer League's Washington Spirit.
The stadium opened in 2018 and is serviced by the Navy Yard–Ballpark station of the DC Metro, about a ten minute walk from the field.
"We couldn't be more excited about the venue. Events DC and everyone associated with Audi Field have been terrific partners," said AUDL CEO and Commissioner Steve Hall in a statement. "We think this stadium will create an incredible experience for our fans and players."
Past AUDL Championship events have been held everywhere from large professional stadiums like the Pontiac Silverdome and Avaya Stadium (now Paypal Park) to smaller venues like Lane Tech High School and Foothill College. Audi Field will be the second-largest stadium the AUDL has used for its Championship Weekend. The league will hope to improve on its single-game attendance record of just over 3,000 people.
With the championship game airing on Fox Sports 1, the third-biggest sports cable channel behind ESPN and NBC Sports Network, having a stadium that will look good on television was a major consideration. "Championship Weekend is the crown jewel event for the AUDL and using such an incredible stadium will really make the event special for everyone involved," said Tim DeByl, AUDL President of Media and Marketing. "Also with the championship game on FS1 for the first time, we really wanted to make sure the game looked as professional and as exciting as possible. We think Audi Field helps us accomplish that."
Audi Field is also set to open a sportsbook this year in partnership with FanDuel. Like other sports leagues, the AUDL has embraced sports betting and recently signed an exclusive data sharing agreement with LSports, a technology company that delivers betting products to sportsbooks and casinos.
The AUDL is partnering with Events DC, the official convention and sports authority for the District of Columbia, to host its showcase games. Championship Weekend tickets and group packages — including field-level VIP suites and patio cabanas — will go on sale in June.
The weekend after the AUDL Championship Weekend, the Premier Lacrosse League will host its Championships at Audi Field as well.