Three-team tournaments will take place in New York; Milwaukee; and Portland, ME.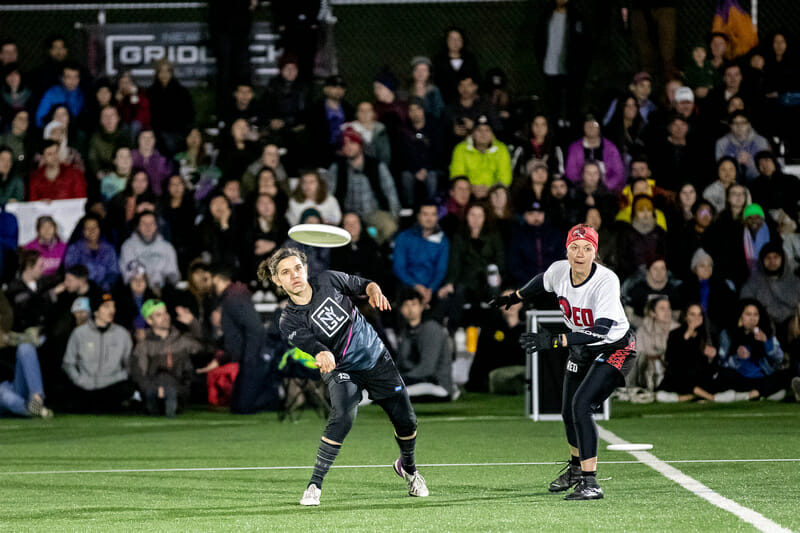 The Premier Ultimate League (PUL) has announced dates and locations for the regional tournaments that will make up the 2021 PUL Championship Series. Two teams from the PUL's first season and one 2020 expansion team have opted out, while the other nine teams will compete in three separate three-team events over two weekends in August.
The East tournament will host DC Shadow, Raleigh Radiance, and New York Gridlock in New York City on August 14-15. The International tournament will feature Medellín Revo Pro,1 Austin Torch, and Portland Rising in Portland, ME, from Friday to Sunday of the same weekend. A Midwest tournament will take place two weeks later on August 28-29, with Columbus Pride, Indy Red, and Milwaukee Monarchs competing in Milwaukee, WI.
"The plan is to stream everything," said PUL Executive Committee member Janel Venzant, who noted that the two overlapping weekends will work to avoid schedule conflicts.
In keeping with the league's statement earlier this year that teams would be free to opt out of 2021 competition without penalty, Atlanta Soul, Minnesota Strike, and Nashville Nightshade will not take the field. Per the tournament announcement, all three teams are expected to return in 2022. "The teams that have opted out have done so to focus on some internal restructuring in advance of next season," said Venzant.
The regional tournament structure for the PUL's 2021 season was announced in late April. Venue information has yet to be released, but the announcement specifies there will be "fans in the stands." The league recently filled a communications position, so "you can expect a lot more news in the run-up to the events," including roster releases and more details about each regional weekend.
The PUL has not yet decided if there will be a league-wide championship event after the regional weekends. "We're considering if that makes sense given the developments of the USAU women's club season," said Venzant.
---
The team that competes as Revolution in club, which also went by that name in the PUL before restructuring its program earlier this year. ↩