Medellín Revo Pro claim another PUL championship against tough competition.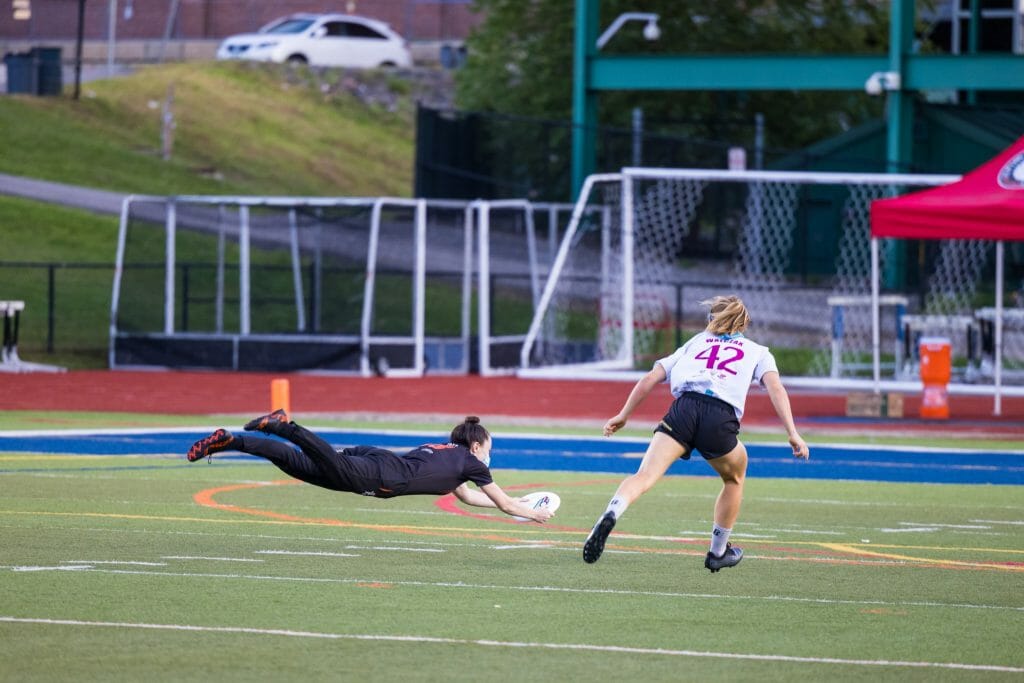 PORTLAND, ME – The Premier Ultimate League kicked off its 2021 event series in grand style Friday night as star-studded defending league champions Medellín Revo Pro took on the buzzy, brand-new Portland Rising. The tournament featured plenty of tight points and reel-worthy big moments across all four games. Despite strong showings from both Rising and Austin Torch, however, Revo Pro took the championship, finishing the weekend 3-0 on the strength of their talent and experience.
Defending Champions Face Challenges Seen and Unforeseen
It may seem inevitable in retrospect that a decorated and experienced Medellín Revo Pro squad should have continued to storm through Premier Ultimate League competition in 2021. But rather than destiny or dominance, their undefeated run this weekend reflects a combination of perseverance and adaptability in light of several adverse developments, not to mention a pair of very talented opponents who played them evenly for long stretches of each game.
Playing without Manuela Cardenas, Claire Chastain, and Kaela Helton — all of whom were instrumental in their 2019 championship campaign — Medellín spent much of the first half of their game against Rising adjusting to new roles and personnel. The results — outside of a few pretty assists from Yina Cartagena and Valeria Cardenas — were understandably sloppy. Revo Pro jumped out to a 6-1 lead in the first quarter largely because Rising outpaced them in making mistakes.
The night was calm, however, and both teams improved dramatically as they settled into the game. If Revo had some trouble squeezing turnovers out of the Rising offense after the initial period, they more than made up for it in the confident, almost serene, handling of Cartagena and Alejandra Torres. Their steadiness laid a foundation on which Cardenas could set up a few more dazzling throws, as well as provided consistent looks for newcomer Levke Walczak to find her footing downfield.
Portland kept the game close through the fourth quarter, but they weren't making any inroads into the lead. Revo looked comfortable with the idea of striding out the victory without incident. Then, on a back-and-forth point with just over seven minutes on the clock, Torres saw Elizabeth Mosquera behind the Rising defense with daylight and put up a deep backhand. Mosquera took a small jump to catch the disc squarely in the middle of her chest but landed awkwardly on the turf. She immediately went down clutching her left knee. The injury — unfortunately later confirmed as an ACL tear — knocked the 2019 league MVP out of the tournament, leaving Revo without their best defender and a key multi-dimensional offensive threat.
Torch Flash Potential; Walczak, Cardenas Unstoppable
Austin Torch, fresh off an afternoon victory over Rising that clinched their spot in Sunday's final and perhaps sensing an opportunity in a suddenly Mosquera-less Revo Pro, came out swinging in the final game of round-robin play. Megan Mendieta, Jaime Estes, and Julia Schmaltz played aggressively to exploit the defensive vacuum left by Mosquera's absence, with the result that for much of the first quarter, Revo Pro's D-line was on their heels.
The offense for Medellín, however, was every inch Austin's equal. Laura Ospina chewed up yardage downfield with top-of-the-line speed, and Walczak jumped back and forth like an enraged demon in the endzone sets. Cartagena, Torres, and Cardenas were only too happy to feed them. The end of the first quarter saw Revo Pro ramp up their defense, but Torch players hung on to the disc through several bids to end the opening set tied at 4-4 with the defending champions.
Then Walczak and Cardenas decided to turn up the intensity. Cardenas found Walczak with a picture-perfect huck on the first possession of the second quarter. The next point, Cardenas made the play of the game. Torch broke through a junky Revo Pro look out of a time-out, leaving Amy Broome free to huck to a streaking Ronnie Eder, who made a spectacular two-handed bid to secure the disc just outside of the end zone. Getting up, Eder saw teammate Emma Berrigan with plenty of green ahead of her in the endzone and flipped a high-release backhand over the mark and into the space. What should have been an easy catch to finish the Torch hold was nullified by a stunning flying bid from Cardenas, who had been trailing Berrigan by a significant margin. Walczak capped the point off a few possessions later taking a brilliant route in isolation to box her defender out of a Mangi Forero blade.
Medellín broke Austin again on the ensuing point to take a 7-4 lead from which they would not look back. Torch seemed to lose steam as the pressure stayed high, perhaps looking ahead to the Sunday rematch they had already guaranteed.
Eder's athleticism stood out for Torch even as they came up short. Walczak finished the game with eight goals for Revo Pro, a number of them on gorgeous puts from Cardenas.
Revo Pro Stars Take Control
It was Medellín who came out with an edge for Sunday's championship game, to the detriment of Torch. They opened in a matchup-y zone set to help them to an immediate break, then tacked on another after an early-point downwind misthrow. Austin scored their third time around as Sharon Tsao commanded the offense from the cutting space, but the damage had already been done. The last thing you want to do is spot the Revo Pro offense a two-point lead before they even take the field. On cue, Torres whipped a 60-yard flick that sat patiently until Walczak could run it down, easy as you like: 3-1.
Austin pulled themselves together for the remainder of the quarter, led by Tsao. She seemed always to hit the attacking space just as it emptied out, the upshot of which was a number of completely uncontested long receptions. But Revo Pro wouldn't give them an inch, scorewise. Just when it seemed their last possession of the quarter would fizzle out in a throwaway, Cardenas danced through two defenders along the goal line as she speared a hard, short forehand from Cartagena to maintain the two-goal advantage.
While Torch started to notch holds reliably — in no small part due to Tsao, who added a monster sky over two defenders on a short huck to her standard fare of wide-open cuts — another problem arose: what to do about the Medellín offense. Between Ospina and Walczak pacing the field at dead sprints, Torres and Cartagena picking apart the defense with a steady diet of crisp throws, and Cardenas doing pretty much whatever she damn well pleased with or without the disc, more than a few matchup problems cropped up. Austin's best defender, Eder, could only be so many places at once. Torch ended the first half down only two points, but without a break.
The gap grew larger to start the third. A Schmaltz forehand rode the pesky wind inches beyond a bidding Ivy Harrison to give Revo Pro the disc. Enter Walczak. She got the disc on the sideline ten yards from the defending end zone, surveyed the field for several moments, and then launched a stand-still huck sixty yards for Karen Rico. Somehow it was Walczak who collected the dump from Rico a few seconds later; she completed the possession with a score on a give-go move through tight defense. Just like in the first quarter, Medellín wasted no time adding another.
Those brief chinks at the start of the first and third quarters were all that Revo Pro would need to coast the rest of the way. With their stars in firm control of the offense, it was unlikely that they would let Torch anywhere near a comeback, and growing unlikelier with every hold they secured or minute that fell off the clock.
Which isn't to say Revo Pro were done setting off a chorus of gasps from the Portland crowd. A missile-like layout catch-block by Ximena Montaña on an in-cut was among the defensive highlights of the weekend, and a booming Cardenas hammer just behind the last defender a few seconds later put the exclamation point on another championship for Medellín.
Austin's offense acquitted themselves well enough in the final, albeit with a few too many unnecessary errors from their handlers. But they were never going to beat anybody, much less Revo Pro, without the aid of a few breaks: they finished the game without any. It is not an indictment of the Torch defense so much as a recognition of how far the Medellín offense is ahead of any serious challenge thus far in the Premier Ultimate League.
The last scene of the weekend was not the elation or discouragement of a win or a loss; it was not a dutiful congratulations or shaking of hands; it was the simple joy of the signature Revo Pro post-game line dance. With the full complement of Torch players dancing behind them, they deployed an arsenal of high-steps, toe-taps, and shoulder shimmies — not, as only a few minutes before, in the service of winning a game of ultimate, but in the service of friendship.
Impressive Rising Debut Spoiled by First Quarter Woes
Portland Rising outscored both Torch and Revo Pro in round-robin play, and they looked really good doing it — except for the first seven points of each game. A pair of 6-1 deficits took some of the shine off of an otherwise extremely impressive showing by the hometown squad in their first official PUL games.
Whether it was a case of nerves, bad luck, or — in the case of their Saturday afternoon game against Torch — some tricky wind, Rising filled each of the first quarters they played with mistakes. Their opponents were only too happy to capitalize for strong and, as it turned out, necessary head starts.
Both Lisi Lohre and Emily Baecher, leading Portland's backfield on the O- and D-lines, respectively, directed the Rising attack with the aplomb you would expect from a pair of US National Team veterans. Lohre, in particular, was a devastating presence around the disc, using a dizzying array of throws to fluster her marks into letting her have a free backhand huck. Outside of Revo Pro's Cardenas — who at present has no equal — no one at the tournament could match Lohre's combination of power and technique.
Lohre's rotating cast of targets included plenty of looks to Erin Rea and Hannah Baranes, but it was Yuge Xiao who shone brightest downfield for Portland. Relentless in the lane with her driving cuts, Xiao was a consummate playmaker in both games. She finished every tough catch required of her and sprinkled in a few accurate hucks of her own.
The abbreviated 2021 league format certainly favored the more experienced Medellín and Austin: typical early-season hiccoughs proved damaging enough to sink the entire 'season' for Portland. But the Rising showed off enough tough defense — shout-out to a wonderful weekend by Nicole Canning — and efficient offensive systems to prove that they can hang with the league's best, and maybe even compete for a title, given a full slate of games.
All-Tournament Line
Valeria Cardenas (Medellín Revo Pro)
Yina Cartagena (Medellín Revo Pro)
Ronnie Eder (Austin Torch)
Lisi Lohre (Portland Rising)
Laura Ospina (Medellín Revo Pro)
Levke Walczak (Medellín Revo Pro)
Yuge Xiao (Portland Rising)
All of the Series games can be watched — or rewatched! — on the Premier Ultimate League's YouTube channel.