Brilliant defense and evolving offense was on display in the US Open final.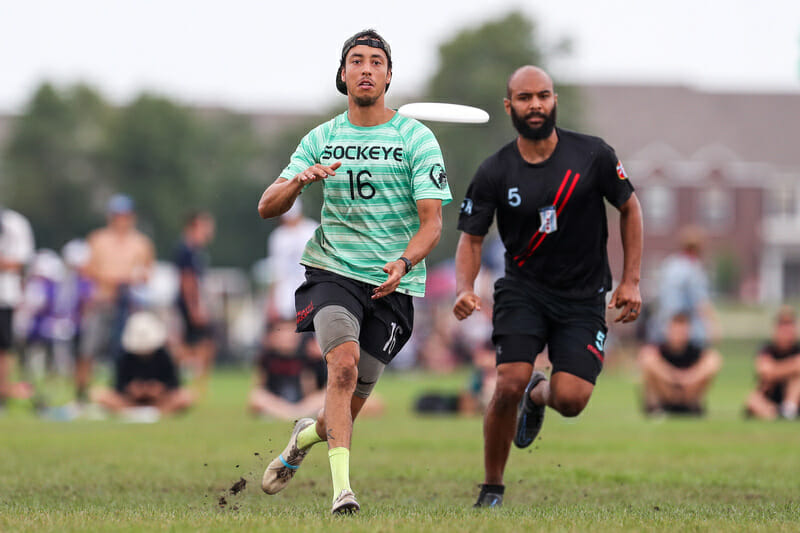 The US Open men's division final between Seattle Sockeye and Chicago Machine — a rematch of the 2019 National Championship game — was a mostly clean and strategically fascinating contest with few sloppy points. Whenever two elite teams meet, there are always dozens of things to review in their play, but here are some elements that really stood out in this match that could foreshadow a meeting in San Diego this October.
Triple H
Firstly, it was impossible not to notice how both teams used an isolated handler directly in front of the disc to generate movement to the break side. In the UK, we call this Triple H, or "3H" for short, because that player is acting as a third handler in a vertical stack. Most of the time, this featured one of the offense's top iso cutters or handlers starting on the open side running laterally across the field towards the break side. This forces the downfield defender into a difficult position; if they don't start guarding the open side, they get beaten there. If they deny it, they're vulnerable to this type of slashing cut. Effectively, there is an undefended channel which can be exploited by crafty movement.
Take this first example, with Sockeye's Mac Hecht standing in front of the disc towards the open side. A quick lateral move to the break space sets up an assist over a poach using a bladey throw (two things that are to become themes as you will see):
https://gfycat.com/SecondDefinitiveGraysquirrel
Key Takeaways from Sockeye v. Machine at the US Open is only available to Ultiworld Subscribers
Already have a subscription? Log in
Whether you visit Ultiworld for our reporting, our podcasts, or our video coverage, you can help us continue to provide high quality content with a subscription. By becoming a subscriber, not only do you receive benefits like exclusive articles and full article RSS feeds, you also help fund all of Ultiworld's coverage in general. We appreciate your support!