A wild finish encapsulated the excitement in Wisconsin as Milwaukee became the first PUL home team to win a game in 2021 and the first expansion team to win a PUL Championship Series tournament.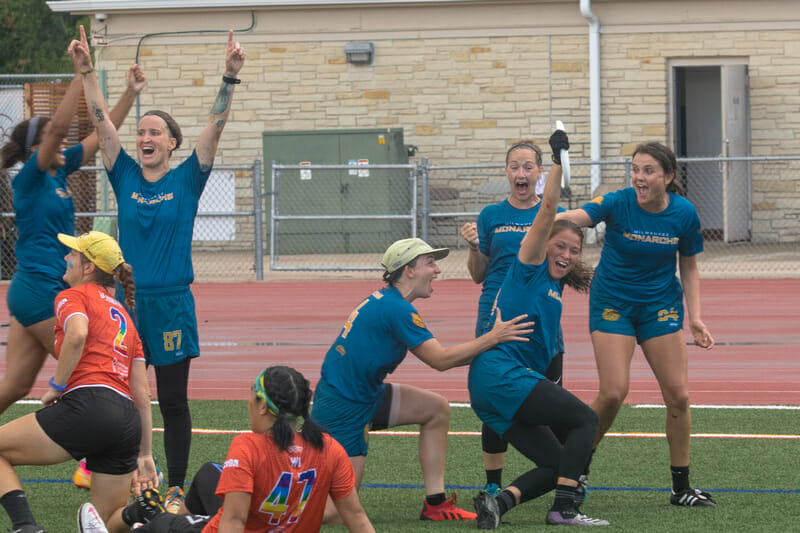 WAUWATOSA, WI – The Milwaukee Monarchs weathered a lightning delay and postponed game to finish the weekend undefeated, though their overtime victory over Columbus Pride had plenty of late drama. Pride crushed Indy Red in their other game, but all three games featured plenty of excitement as the Midwest tournament brought an end to an exciting 2021 PUL Championship Series.
Monarchs Reign
In a wild and windy game, the Milwaukee Monarchs defeated the Columbus Pride 12-11 in a Sunday morning game to claim the Midwest Championship. Originally scheduled as the second game on Saturday afternoon, repeated lightning delays saw the weekend's marquee matchup eventually postponed to the following day, eliminating a separate championship match, but effectively serving the same purpose based on Saturday's results.
The Monarchs dominated a testy opening quarter. Milwaukee held smoothly to open the game as Margaret Walker unloaded a smooth inside huck to Keila Strick. The Monarchs handlers confidently moved the disc through the Pride junk look before forcing the switch to person defense. Milwaukee also scored the first break of the game, grinding out a long D point that ended with a Madison Moore to Jackie Welsch connection. Columbus managed a hold, but soon after Katy Stanton boxed out on a huck to make it 3-1. Milwaukee found Anna Thorn upline to end the first quarter up 4-1.
Fancy footwork on an upline cut from Tiffany Lim opened the second quarter scoring to try and bring Pride back into it, but Jenni Corcoran threw a beautiful blading flick to JJ Jarik on the break side to open the score to 5-2 midway through the second quarter. Columbus made their move just before halftime. Pride scored when Libby Lehman dove for a grab at the front cone, and had a chance to break as time ran out in the first half. Just outside the end zone with an untimed possession, Sadie Jezierski's big around backhand fell just out of reach of her intended target in the back corner of the end zone. The Monarchs went into half up 5-3.
As a torrential downpour rolled in, each team adjusted to changing conditions. A back-and-forth point was settled when Strick boxed out a bigger defender to catch a tough huck. A daring inside-out backhand across the width of the field from Kayla Emrick to Emily Barrett brought Columbus within two. Pride crept within one when Penny Wu hucked to Charlotte Koerner just outside the end zone. Pride finished the play to bring the game to 6-5 with just over a minute left in the third frame. Eileen Duffner's hand block ended the third quarter emphatically as Pride could sense the comeback brewing.
Lehman tossed an open side flick across the end zone to tie the game at six and end a 3-0 run that brought Columbus even for the first time in the game. It was just the start of a fourth-quarter offensive onslaught that doubled the total game score from the end of the third.
After a Monarch's hold, Lehman hucked to Caitlin Duffner along the sideline and the Pride tied the game at seven. A Corcoran huck tailed too far for Jarik to track down, and Columbus called time out looking to notch a crucial break midway through the fourth quarter. Out of the timeout, Cara Sieber tracked down an away shot to give Pride their first lead at 8-7 with 7:34 left in the fourth. A Georgia Bosscher around flick tied the game back at eight. Barrett skied for an impressive catch between two Monarchs defenders on a trust throw to retake the lead, but Jarik caught a Bosscher huck, and continued to Moore as the teams found the spaces they could attack in the wind. Strick found Moore on an open-side continue past a bidding defender in the red zone set to give Milwaukee the lead back at 10-9. With just 1:14 left, Sieber hit Barrett on a tight backhand to tie the game at 10.
A back-and-forth game like this deserved a crazy ending. Jezierski laid out to catch a block with just over 40 seconds left about thirty yards outside her attacking end zone. Columbus worked the disc and Penny Wu squeezed a tight, no-pivot throw that found Jezierski with 1.6 seconds left to take a late lead.
"In that moment I was personally feeling, 'wow, we were down 4-1 in the first quarter and we were able to bring it back,'" Jezierski said. "The second half clearly was much cleaner on both sides of the disc and both teams were able to be much more efficient. We knew we had to just survive those 1.6 seconds or what have you."
Milwaukee wasn't letting their home fans who braved the rain go down without a fight. After an out-of-bounds pull allowed each team to set up, Bosscher let off a huge backhand to the forehand side against a loose mark.
"The message was: get the disc into Georgia Bosscher's hand," Strick said. "Everybody else is going deep and we're all going to be ready in the end zone. We only had a chance for one throw…We got really lucky that the pull went out of bounds. That was such a blessing for us to have the opportunity to get all of our cutters to the end zone and for Georgia to get to start in the middle of the field rather than on the sideline."
In a pile in the end zone, Strick somehow came down with the disc to send the game to overtime.
"None of us had a chance to overthink it," Strick continued. "This was a unique scenario–we had just fifty seconds to set up before, transitioning to that O point after Pride had scored, and a lot of us weren't extremely optimistic that we were going to pull through, but we were ready and prepared to give it our best shot. The fact that we didn't have time to overthink it helped and for me it was just once I saw that disc go up, I knew there would be an opportunity. I knew it was gonna be in the end zone and I knew if we had enough blue shirts under the disc, there's a chance one of us could grab it. I just happened to be in the right spot.
"The cool thing about that play for me was that I've had big moments in ultimate games where I've kind of blacked it out and I've blurred out the play and until I watch it back I don't even remember that happening," continued Strick. "But I just remember seeing the disc in flight and hearing the buzzer go off and just locking in with the disc. It felt like time was slowing down for a second. To see back some of the photos I didn't realize how heavily contested it was, but I felt a firm grasp on the frisbee and I felt confident that it would be in my hands. Seeing the reaction of my teammates' faces and hearing the crowd, you can imagine that that was a pretty exciting and dramatic moment."
"As anyone would assume," Jezierski said, "you want to have your defenders back, you want to have a somewhat tall line, a somewhat physical line that could try and sustain whatever might come our way. We sent one human down to try to put some deviation on the throw. We really wanted to force something of a flick if we could or a wonky backhand. And then that throw went up." Jezierski was on the far side away from the throw and came close to the pack, setting herself to catch a potential tip. "No Pride player knew what had happened until that whole pile of humans fell down and then Keila came up with that disc."
"That play was just incredible all around," Jarik wrote. "All credit to Columbus, who played great defense—it was certainly a battle for the disc in that pack as evidenced by the photo. From my vantage point on the sideline, it was really hard to tell who had come down with the catch because all I could really see was a mass of bodies, and I think I may have actually seen the excited reactions from my teammates before I saw Keila's hand pop up out of the tangle on the ground, holding the disc in the air."
But for all the excitement of the game-tying catch, there was still more to play. To start the four-minute extra frame, Milwaukee's Sara Gnolek got a layout block after Pride worked it close to the end zone. A Jarik huck found Moore to get the Monarchs closer to the red zone. Corcoran ran the end zone set and a Walker hammer to Stanton put Milwaukee on top. Pride had a chance to tie the game with just over one minute left on the clock, but Emrick threw an in cut just short and the disc hit the turf in front of her receiver. Milwaukee worked the disc to take some time off the clock and called a time out to reset their strategy and run out the rest of the clock.
The Monarchs finished 2-0 on the weekend to claim the Midwest crown in their first competitive event as a program.
After the game, Monarchs founder Ness Cannaday was overjoyed. "I'm so proud to see these women coming together," she said in an on-field interview. "Many of them have played against each other for the most part for the last, you know, however long, and so it's really amazing to come together in a team and to bring those different styles and experiences. We have some really veteran players teaching the younger players new things, and it's a beautiful way to play ultimate."
—
In the first game of the tournament, Milwaukee bested Indianapolis Red 21-17. Red showed their PUL experience and found their footing in the game first. Indy broke first, with their D-line offense looking incredibly patient against tough Monarchs pressure. Tori Smith hit Eliza Hutchings on a beautiful outside in strike shot to open the scoring. Julia Hill pressured Sara Gnolek into a backhand incompletion, setting up a short field, Red needed just a few throws before Hill found Anastasia Foster upline for an early 2-0 lead. The Monarchs crossed over Bosscher whose huck found Stanton for Milwaukee's first goal in franchise history.
Each team's offense then went to work, scoring against a variety of defensive looks. Kristin Dudley looked particularly effective as the hub handler for Red. A backfield drop by Indy gave Milwaukee their first break chance, and Gnolek found Anna Thorn on a smooth seven cut to tie the game at five. The Milwaukee junk look forced multiple turns and Strick read a helixing huck going the other way before continuing to Austin Prucha for the score to give Milwaukee their first lead at 6-5 with 32 seconds left in the first quarter. As time ran out, Bosscher intercepted a Red pass to end the first quarter.
After their slow start to the first, Milwaukee earned the first break of the second. Erika Watson laid out to block an under, and the Monarchs coaching staff called a time out to sub on the offense. Corcoran hit Walker on a quick handler cut to build a two-goal lead. Cannaday timed a block perfectly as the middle defender in the Monarchs zone and Jarik hit Gnolek on an elevator pass as Milwaukee pulled away with a 9-6 lead. Not going away easily, Indy's Shani Rosenthal made a highlight catch on a Dudley huck upwind. Then, Hutchings ran through an upline cut as the poaching downfield defender and kept going until she caught a huck for the goal. The Red broke to bring the score within one at 9-8. The Monarchs managed one more hold before half and they took a 10-8 lead into the break.
Milwaukee held and broke to start the second half and build a four-goal lead. The wind picked up and each team attacked the downwind end zone directly while working more patiently in the upwind direction. With just under three minutes left in the third quarter, the Monarchs D-line offense shifted from their typical spread look to a vertical stack, giving Gnolek plenty of space to work inside flicks to the break side; she hit Cannaday to give Mikwaukee a 15-10 lead. Rosenthal skied to hold the ensuing upwind point and after a short Bosscher huck, Hill laid out to score the Indy break that made this a three-goal game. Milwaukee held on a Thorn to Strick huck and Mila Flowerman blocked Red's last throw to end the third quarter with a 16-12 lead.
Bosscher hit Stanton upline to open the fourth quarter with a Milwaukee break to snuff out hopes of a Red comeback. With each offense now firmly established, both teams continued to hold downwind. Red managed an upwind break with 15 seconds left, but it was too little too late and Milwaukee rode their lead to a 21-17 victory.
"I think the word of the day would be adaptability," said Milwaukee's Melissa Gibbs after the game. "Also the word of two years of getting ready to be a team. Things are constantly thrown at us. We don't know what's gonna happen in the next day, it's just having to adapt to it…We really seemed to put it all together."
After the tournament, Monarchs players had a chance to reflect on the multi-year process of becoming a team. "As a player who has played the majority of her club and college career in the midwest, one of the most exciting things about the Monarchs roster for me was the player draw from the surrounding regions," Jarik wrote to Ultiworld after the weekend. "It was really exciting to have an opportunity to finally play alongside players I've competed against for a long time, and it was equally exciting to have the opportunity to meet and play with players who I hadn't had the privilege of crossing paths with before. I was extremely impressed with our ability to develop chemistry and onfield flow considering the effects of COVID-19 on our initially projected season, and I think it's a testament to the talent and drive of the players on this year's roster that we were able to pull together and compete alongside the Indy Red and Columbus Pride rosters."
Pride Crush Red in Season Opener
The Columbus Pride came inches away from a tournament victory. While the win would have been sweet, the team has a lot to be proud of this weekend.
In their Saturday night game against Indy Red, Pride made their season debut and left no doubt about their quality as a team on their way to a dominating victory. Red started on offense and moved the disc quickly, but Dudley couldn't catch a strike cut. Moving the other way, Wu hucked just outside the end zone and a few swings worth of patient offense later, Lucia Wei tossed a flick to Sharon Yee cutting upline in the endzone for the opening break. Pride forced three turns on the next point, but confusion in the reset space gave Red the disc back. Emily Schloneger scored with a bobbling catch to put Red on the board. Pride scored another break on a Wu huck to Corinn Pruitt. Just a few minutes later, Jezierski laid out to save possession and continued to Kaitlyn Derman for another break and a 4-1 lead as Columbus pulled away. Keeping the break train going, the Pride junk look made life hard on the Red handlers. On offense, Pride throwers looked comfortable completing resets and Yee's upline to Wu carried into the end zone giving Pride a 5-1 lead with 32 seconds left in the first. Pride blocked Red's huck with a few seconds left and had a chance to score themselves, but Dudley rose up and blocked the huck to Jezierski.
Hutchings snuck upline to open the scoring on a tight throw from Hill to open the second-quarter scoring. The Pride zone continued to flummox the Red offense and Pride defenders were adept at fast-breaking after blocks to score before the Red defense could set up. Wei in particular continually found open spaces in transition and her assist gave Pride an 8-2 lead. Once again, Pride breaks came in droves. A long, back-and-forth point ended with an Iris Javersak boxout and catch on a huck for a 9-2 lead with just over a minute left in the half. Indy finally scored on a wide-open continuation cut to Rosenthal after she adjusted to catch an underthrown huck and started a give-and-go move. They left time for Pride to have the last possession, but Lehman's huck went too far and Columbus took a 9-3 lead into halftime.
Kelley Kerker made a sliding catch to open the second-half scoring as Red pushed the pace in a comeback attempt. Indy came out in a zone look, but Pride worked through it and Emrick's huck found a bidding Duffner to maintain the lead. Each team continued to hold. Sieber had one of the highlight catches of the weekend laying out to catch a low Lehman huck halfway through the third quarter. Emmy Schroder then caught a run-through block and kept running until she caught the goal as Pride extended their lead to 13-5. They managed another break on a beautiful Yee inside backhand and went into the fourth quarter with a 15-6 lead.
Pride held to open the fourth quarter on a crispy Emrick seven cut to give Columbus a ten-goal lead. Barrett read a Lehmen trust throw huck perfectly to break again on the next point as Columbus showed no signs of slowing down in their first game. Indy managed just one more score as Pride continued to keep their foot on the gas on the way to a 21-7 win.
"For a team that hasn't played together much," Penny Wu said after the game, "I think when we move the disc really quickly we looked really good and it was very easy to score."
While Pride will be naturally disappointed to not come away with a tournament victory, the team knows its weekend was about more than the 1.6 seconds that doomed their game against Milwaukee. "No one really knew what to expect," Jezierski said. "This team that we brought — we were obviously one team, but a lot of us hadn't played together before. Our Pride team for the inaugural season had a lot more people who were familiar with each other and these people we really were trying to gel and make sure we could create one cohesive unit and overall we have a really positive outlook. It stinks that we lost, but in our final huddle, we were talking about how this was the most fun people have had in a really long time playing ultimate. People were talking how even though they felt like they didn't know anyone at first we did become one team. Going through the weather delays and the craziness of that game just brought us closer together."
Red Winless, but Building to 2022
While Indianapolis Red did not win either of their matchups on Saturday, the team performed better than either score might indicate. Windy conditions deteriorated some of the quality of play, and Red had plenty of execution errors that are understandable in a season without much practice time.
A few players stood out and should be key contributors if they return to the team in 2022. Eliza Hutchings is a bona fide all-star who can match up with players all over the field on defense and take on the most important roles on offense after a turn. Shani Rosenthal was really impressive as a PUL rookie, acting as a reset valve in the offense and coming down with more than her fair share of 50/50 throws. On defense, Anastasia Foster's anticipation was impressive, and she was a very reliable cutter after getting a turn as well. Red's varied zone looks were effective, especially in the timed game when they could force an opponent to use more of the clock than they might have expected to.
Kristin Dudley was very effective as a thrower and it was clear how much her teammates trusted her. If anything, the disc funneled to Dudley a bit too often as cutters looked to reset the disc first without looking to see if any downfield options were available. When Indy scored, their offense was able to time continuation cuts from cutter to cutter. When the Indy offense stagnated, it was often because the team was looking only at resets.
While Red may end the season winless, they had a good foundation to build from looking ahead to hopefully a fuller 2022 campaign.
All-Tournament Line
Libby Lehman (Columbus Pride)
Jenni Corcoran (Milwaukee Monarchs)
Emily Barrett (Columbus Pride)
Penny Wu (Columbus Pride)
Eliza Hutchings (Indianapolis Red)
Georgia Bosscher (Milwaukee Monarchs)
Keila Strick (Milwaukee Monarchs)
All of the Series games can be watched — or rewatched! — on the Premier Ultimate League's YouTube channel.