The pools are behind us, it's do or die time in the mixed division!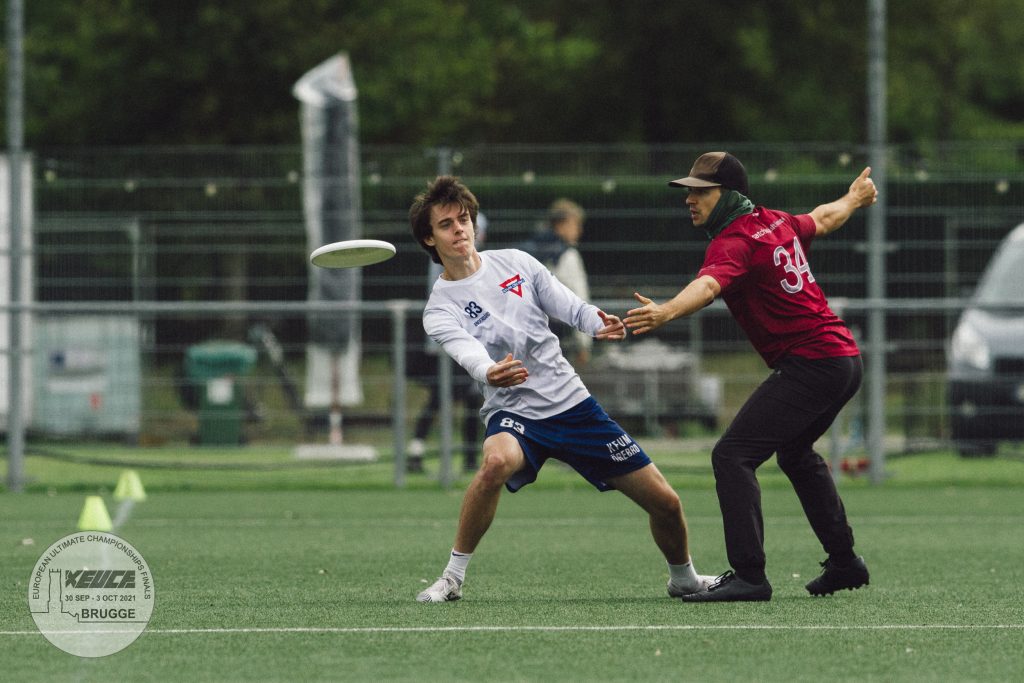 Day one saw the mixed division finishing the pool phase and set the brackets. Prequarters will be played tomorrow morning followed by quarterfinals throughout the day. Here is the championship bracket and how we got there.

XA Pool

Guayota (Tenerife) had a splendid day, beating FlyHigh (Lausanne) 15-11 and then winning against Colorado (Karlsruhe) in a dazzling universe showdown.
In their second game, Guayota and Colorado matched each other perfectly for a high-spirited and competitive game. Cutter Patricia González Navasa of Guayota, who has been praised as most valuable female player by coach Alberto Sánchez del Río Hamilton, kept the game going for them. Colorado led 14-11 at one point during the game. Due to her lightning speed, smart positioning, and attentive team playing behavior, she was able to get open at every single cut she made. For Colorado, she surely was the arrow that shot right through their dream of winning this captivating game. In her modest way, González Navasa stated, "it was the team that made me perform tonight. Our field communication is strong and as I am an emotional player, I am glad to be able to trust my team mates". They managed to close out the game 15-14.
It seems Guayota has finally arrived at Bruges, climbing up the pool at second place, making them meet Pool XD's third place, Mainzelrenner (Mainz, Germany) tomorrow.
For Colorado, this game was their second loss of the day after having going undefeated on day one. In the morning, they have played and lost 14-8 against GRUT (Amsterdam), which was the closest score GRUT has played all tournament.
The prestigious Dutch team's co-coach Reggi Hansen explained, "This was a good game for us. Of course, we want to win, but we are not busy with winning. We are busy with incorporating new players into GRUT for WUCC (Cincinnati 2022). Two months ago, we had tryouts with more than 50 applicants. We sent 20 of them away, leaving us with 30. By March, at least seven more will have to leave us. In every competition, we will focus on who is a good match to the team, who is able to conform, to keep up with our pace. We need committed people with good communication skills, like Morris Witkam. He is young, very curious and is eager give his all for a spot on the team."
GRUT is in desperate need for fitting players as they want to dominate at WUCC. By enlarging their roster, they hope to stand a chance to find themselves in WUCC finals and fighting against the top teams from around the world.
This weekend, all of GRUT's new players are longing to get noticed by their main coach Hans Lommen, as the xEUCF will be the only large tournament for the young tributes to prove themselves worthy of joining the elite team. Thus, it is no surprise that no mercy was shown to Glory Owls (Brussels), riding roughshod over them with a 15-1 score. GRUT thereby demonstrated once more their prevailing first place in the pool phase of XEUCF 2021.
The Glory Owls lost their last game versus FlyHigh 15-10 to finish out pool play.
Pool XB

Just like yesterday, Salaspils (Latvia) has been showing off their unquestionable superiority to their challengers, even though the young CUSB Red Shot (Bologna) played a comparatively eager game, resulting in a 15-5 for Salaspils. In their second game, Salaspils found no challenge in Monkey (Grenoble) with a 15-4 win.
PELT (Limerick) were able to secure a third place spot in the pool after losing to Salaspils and Monkey on day one. It appears they have found a way to gel as a mixed team with their players who usually play single-gendered ultimate. They made great use of their athletic female players they put up a strong zone against CUSB Red Shot as well as against Hässliche Erdferkel (Marburg), both times resulting in a 15-7 win. Their hard work has been rewarded by gaining their place in the prequarters.
Throwing many discs away and having made poor positioning decisions on the cutters' side, Hässliche Erdferkel ended up losing their game against Monkey as well (14-10). Monkey finished in second position, right after the dominant Latvians.
Pool XC

PuTi (Helsinki) managed to keep their lead of the pool, in a less challenging game against PUC (Paris), keeping it at 15-6 by putting up their stable offense and threatening defensive play. Their game against LeftOvers (Brno) was won in universe. After LeftOvers showed a strong game up to a 14-13 lead over PuTi, but thanks to their strong crunch line with crucial players Inka Wessman and Jason McKeen, the Finns were able to turn it around and win.
KFUM (Örebro) took second place in their pool with a win over PUC (14-12) in a match mostly dominated by wind and weather rather than either team. As a second game, KFUM won on universe against Catchup (Graz) (15-14). For most of the game, Catchup was in the lead as KFUM has already tired out their shining siblings, Jonatan and Alva Angergård.
KFUM's spirit captain, Anders Haroldson, summarized KFUM's struggles thus far in the tournament by saying: "We haven't really been handling the wind very well and had some turnovers close to our own zone. That is pretty devastating with this wind. During the timeout, we talked about how [Catchup] are just in our head. The coaches decided we would crunch the team. It's pretty sad to see that Jonatan, who I have been playing with for the longest time, really isn't playing his A-Game today." Jonatan Angergård did make a number of errors in the game but also made a lot of spectacular plays including a Callahan. Catchup's most steady male player, Sven Kleinhapl, was trapped in the end zone with a high stall count and Angergård  read the situation perfectly to make the play. From that forward, KFUM found back their fighting spirit.
However, Catchup will not end this day without hope, as they surprisingly have made it to prequarters after defeating LeftOvers intheir only win 15-9. The large point differential in this game was important as they found their way into a three-way tie with LeftOvers and PUC.
Pool XD

Flow (Wroclaw) solidly held their top seed in Pool XD, winning their first game against Flying Rabbits (Brussels) (12-8) with the spirit points being 8 for Flow and 12 for Flying Rabbits. In their second game, Flow won 15-3 against Mainzelrenner (Mainz), and Mainz gave Flow a spirit score of 6. They are currently speaking with the EUF and their opponents to better understand why they received this low score from Mainz.
Sesquidistus (Strasbourg) won against UFO (Utrecht) 15-5 and against Mainzelrenner 14-7, finishing the pool in second place. Mainzelrenner were able to secure the third place in the pool and will advance to prequarters.
—
As of tomorrow, prequarters, quarterfinals and semifinals will take place, with three out of four quarterfinals and both of semifinals being streamed on Ulti.TV.