And then there were 8!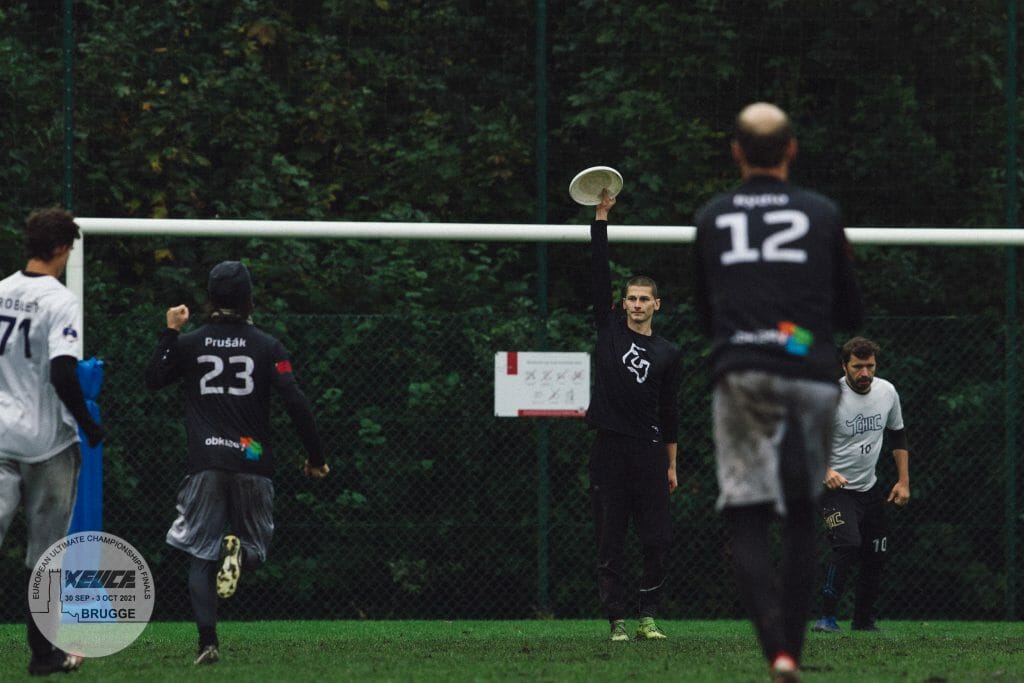 In windy and rainy conditions the power pools and prequarters took place. Friday saw CUSB restoring the pecking order, the promising Mooncatchers drop out, and Gentle stand in for the home country. Prequarters also played out and we are left with the top eight in bracket play.

Power Pool OM
Clapham (London) is still undefeated after two days of ultimate in Bruges. Yet the Red Bulls (Bologna) can credit themselves for the pressure they put on the Londoners. The young CUSB team used their zone and were able to get six breaks against Clapham's famously solid O line, however Clapham's D line cause even more pressure on the young Italians in their 15-12 loss. KFK (Denmark) lost their shot at challenging Clapham early on in the game. The wet disc slipped out of their hands too often and the British ran off to an 8-4 first half and 15-9 game. The Danish did have a dominant performance against Iznogood (Noisy-le-Sec, France) in the morning going allowing the Frenchmen to score 6 in the first half and 0 in the second to finish the win 15-6. The Parisians regrouped to tame the Red Bulls for the last ticket to prequarters.
Power Pool ON
It was on till the break of dawn in Power Pool ON. Mooncatchers (Brussels) were caught off guard by Tchac (Pornichet, France) after breakfast. Deep in the second half the French were up comfortably throwing scoobers that Moon would normally use to terrorize their opponent. Just in time the Belgians woke up to come back and force universe. Tchac's O line didn't turn and snatched the win.  In the late stages of the game, Vincent Lepagnol had a massive sky over a pack of Belgians to help secure the win for Tchac.
Next to the French-speaking duel La Fotta (Bologna) appeared to have everything under control against Wall City (Berlin). CUSB looked sharp the day after their universe loss to Mooncatchers and strong defense brought them to a 9-5 lead. For a moment CUSB faltered at 9-8, but they managed to bag the crucial win after all. This result meant all four squads would go in their last game of power pool on a 1-1 record. If your side lost that clash, you would rely on your head-to-head result against the other loser for prequarters. If your side won that clash…you can finish off the sentence.
It would have been handy if the final games of Power Pool ON were played on the livestream fields. A bicycle was critical to follow CUSB-Tchac and Moon-Wall City at the same time. At first, Moon were ahead in the first part of the game and CUSB had consolidated on a 3-0 start against Tchac. The French were virtually eliminated at that point because of their loss to Wall City on day one. Mooncatchers would have been number one in front of La Fotta and Wall City. About half an hour later both Moon-Wall City and CUSB-Tchac were tied, respectively at 10-10 and 11-11. La Fotta's Torben Hörschenmeyer made an important but physical sky D, immediately called a time-out and CUSB finished it off in front of the end zone for the double break. Tchac didn't score anymore and La Fotta had to wait for the result of the other match-up to know if they could already line up for the spaghetti dinner or if they had a prequarter on their plate. In the end Wall City had left Moon disillusioned defeating them 13-11. Moon showed Europe how you can go from hero to zero.
CUSB locked a quarters spot and will avoid Clapham on the road to the final after most of the tournament thought that impossible with their loss in the first round. Coach John Terninko said his troops needed a pep talk after the Mooncatchers disappointment on Thursday. "We talked about our intensity level and taking more responsibility as an individual. Some were saying maybe La Fotta is not that strong after all, but I think today we proved them wrong." About avoiding Clapham in quarters, "Of course we are happy. Although the tight games in the power pool showed that there are more than a couple teams to be reckoned with."
Power Pool OP
Ranelagh (Dublin) took it upon themselves to redefine their ambitions after a disappointing loss to MUC (Munich) 15-13 on Thursday. Spurred on from this performance they dismantled FAB (Bern) and handled FUJ (Prague) to secure themselves third seed. The strength of Ranelagh – clearly visible against the Czech – is in their initiation cutters. The disc skills of players like Sam Murphy, Steven Jones and Joost Peters lends extra dynamism to their offense and separating them from the pack. MUC continued their winning streak beating FAB by two points. Because FUJ convincingly prevailed over MUC and Ranelagh crushed FAB a 2-1 record triangle was born. The point differentials put Ranelagh at first, FUJ second, and MUC for third.
Power Pool OQ
Freespeed (Basel, Switzerland) started out fine with a close game against Bad Skid (Heilbronn, Germany), ending 14-12 in favor of the Germans. Basel then had to win over Cotarica (Rimin, Italy) for a prequarter ticket, but the fierce Italians were in charge until the 15-12 end. Freespeed mounted a late game comeback against the young Rimin squad, but Rimini put a stop to that as Alberto Girotto scored a layout Callahan goal to secure the win.
Gentle (Ghent, Belgium) trailed Cotarica before taking the game over to get to 9-7 and eventually 15-10. On the livestream Bad Skid and Gentle treated the fans with a universe point. The start was all Gentle's breaking the Germans multiple times and they made a statement taking half 8-5. Gentle youngster Tobe Decraene was all over the place making important D's and scoring a handful of points. The win was made more impressive because Gentle was actually sitting four key starting players like Joren Sanders. The team had decided to play loose lines as they did not consider the bracket placement to be a huge deal and wanted to be fresh in case they drew an evening prequarter. Bad Skid caught up, but the Belgians converted the second of their two universe points to remain the only non-Clapham undefeated team.
Prequarters
In prequarters all the suspense was concentrated in one game. KFK demolished Cotarica 15-3 and will find themselves against La Fotta in quarters. Wall City showed their strength destroying fellow Germans MUC 15-6 and will be rewarded with a Clapham quarterfinal.
The universe-point thriller that Iznogood and Bad Skid put on was more pleasing to the eye. Izno broke early on, but the game went back and forth until halftime. The French and Germans traded with the D-lines having trouble converting break opportunities. The denouement was simple. Bad Skid received on universe. The pull was bricked, Nico Müller picked up the disc and launched it deep successfully to send Bad Skid to the quarterfinals. Steffen Döscher put on a great performance along with Müller in this game and that victory puts the Germans against Ranelagh in quarters.