Nashville 'Shine outlasted Durham Toro in windy final to take their first Southeast Regional crown.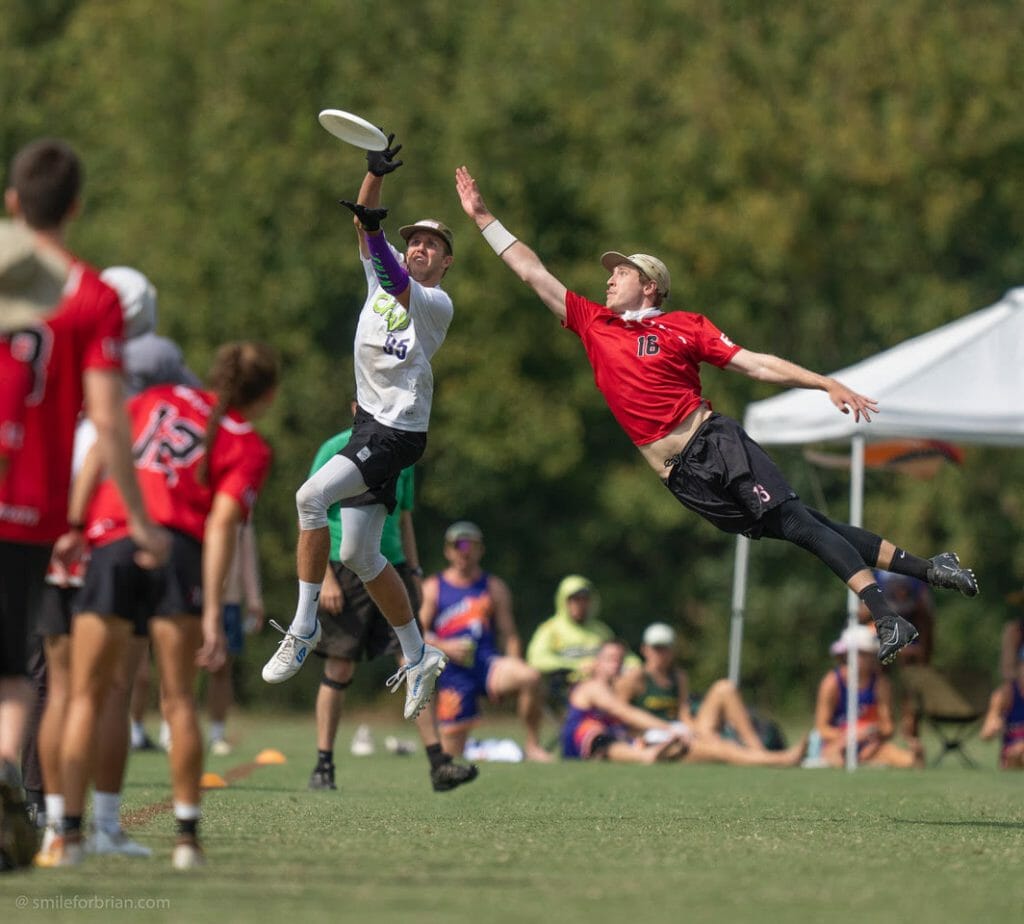 Ultiworld's 2021 coverage of the club mixed postseason is presented by Universe Point cleats; all opinions are those of the author(s). Check out Universe Point if you are looking for a comfortable, ultimate-specific cleat with a patented stud pattern that can give you an edge every time you're on the field.
The biggest story of the weekend at Southeast Regionals came in the mixed division, where #191 Nashville 'Shine, a team composed largely of long-time local players in Tennessee, upset the clear favorite #72 Durham Toro 9-8 in a windy and gritty final.
'Shine jumped out to an early 3-0 lead, as Toro's offense struggled to adjust to the conditions on the first few points. But Toro's D-line was able to make up the deficit over the course of the first half, with impressive playmaking from Georgia Tse and Grayson Sanner. The latter was impressive in the final, double shifting on O and D during the game and putting forth an incredible effort to generate turns and conversions for Toro's D-line.
"I've been playing a long time and I would definitely say this is easily a top-five season for me," said Sanner after the game. "I like playing in big moments because it helps me in my belief in myself and my own self confidence. Playing teams like AMP and Space Heater at Richmond Cup reinforced my belief that I am now at that tier of player who can run with the 'big boys.'"
Toro found success trying to mitigate resets and force 'Shine to huck in the wind, while Nashville used junk defense to force Toro's handlers to work in the wind. Toro's resilience paid off in an abbreviated second half when first year Toro defender Andrew Li got a huge handblock and, with a high stall count, Sydney Harris threw up a high OI backhand to the front corner of the end zone for Toni Gomes to go up 7-6.
But it was the only time Toro would have control of the lead. On the next Toro O point, John McDonnell overthrew Kiron Allen and 'Shine broke back to get on serve up 8-7. As Toro held to tie the game 8-8 on the ensuing point, soft cap sounded and the game went to universe point. 'Shine received the pull and came out in a shallow horizontal stack. Jesse Shofner threw a hard inside flick to a continuation cut at midfield that was dropped. After receiving the disc on an in cut, Sanner threw a high OI flick to Matt Wilson, who was cutting straight towards the back of the end zone. Wilson's jump was well timed but he did not get his back foot down to toe what would have been a game winning goal for Toro.
Before play resumed, 'Shine took two injury substitutions, to the incredulity of a largely pro-Toro North Carolina crowd. The two subs — Chris Peek and Mariana Rodriguez — were, by a simple twist of fate, responsible for the 'Shine win. As Andrew Li prevented a backfield reset, Philip Throckmorton threw a hopeful crossfield flick huck that landed perfectly in the hands of Peek. He spaced a backhand out Rodriguez as she slashed across the front line of the end zone with Tse closing in. Rodriguez secured the disc with two hands and 'Shine jubilantly rushed the field to celebrate the team's first-ever Regional title and berth to Nationals.
The game was not a showcase of pristine offense. Rather it was a game that came down purely to execution and the desire of both teams to work through their own mistakes and the adapt to the windy conditions.
"From the beginning of this season, we knew we had the talent and the determination to make Nationals," said Nashville captain Noel Holmes. "A lot of us have been on competitive teams and been just good enough to compete at Regionals for that game-to-go. There's quite a few of us going [to Nationals] for the first time."
For 'Shine, a Nationals appearance means fielding a Tennessee team for the first time since Nashville Desoto and Tanasi competed at the 2011 Club Championships ten years ago. 'Shine's personnel may not garner the same quantity of headlines as other longstanding mixed teams, but their players are hardly out of their depth going into San Diego. The team has brought together players with a full range of different experiences across all competitive divisions, including mixed. There are players who have competed for top tier D-I and D-III college programs, as well as players who have commuted to play for Ozone or the Atlanta Hustle in the past. Twelve of 'Shine's returners from the 2019 squad were competing on a team that featured Sadie Jezierski and Claire Bidigare-Curtis.
Finally, there's a common thread between 'Shine and older Tennessee teams that have competed at Nationals. Eli Motycka competed with that 2011 Tanasi squad while Jesse Shofner played for Guillermo y Compania in the mixed division in 2008. Thanks to the help of another Nashville local, Nicky Spiva, 'Shine was able to snag an invitation to the elite AMP Invite, chalking up close games with AMP and Boston Slow. 'Shine's postseason success came about in part because the team was able to build confidence and some experience before the Series. They have been flawless in the postseason and nothing could be more fitting than a hard-earned appearance in San Diego.
"Nashville has always had a tight-knit community with players that have grown up there," reflected Motycka after the game. "It's hard for people in smaller ultimate cities to put in the hard work year after year to be regionally competitive and not get to go to Nationals. And that's been the case for a lot of players on this team. They've committed time and money and energy and their lives playing frisbee. I think about how hard it is to keep going year after year when your season ends at regionals. I think it's right. I think it's right for you, when you work hard over a long time, to accomplish what you set out to do."
As for Toro, the loss marks the end of a promising season for one of the best rosters that they've fielded to date. Toro looked like a team that was a lock for Nationals before the regional final.
"Not making Nationals is tough," said Sanner after the game. "I would definitely say this was a top five season for me. I think this team was a lot better than the team in 2019. It was great to be a part of it and get back to the game-to-go. I'm happy for the work we've put in. I know 2022 is going to be a great season and I hope we run this team back."
The 2021 iteration of Toro brought in younger players that have excelled in the college division. The biggest question mark facing Toro is who of that younger core will choose to stick around and continue to compete regularly for the team. Players like Caitlin Gross, John McDonnell, and Dylan Hawkins made big contributions to the Toro's offense, but could find themselves with other attractive opportunities elsewhere in the future.
"I think in general my hope as a captain is that teammates have lots of good things to say about a season," said Toro captain Heather Zimmerman. "If that happens, a lot of players will want to come back wanting to improve. With this young group, you can't predict what they'll do. My hope is that when they look back at this year, they'll say it was a good year and that they had fun and want to play again."
Other News and Notes
The resilience of established programs and the migration of new players into the division didn't only affect Toro and 'Shine. There were sprinklings of new talent throughout the Southeast mixed division, and several teams had statement weekends. Huntsville Space Force proved to be a tough opponent for the North Carolina-based competitors. With fast-paced and aggressive O- and D-lines, the Alabamans handed reigning regional champs Asheville Superlame a 13-11 loss in quarterfinals before ultimately coming up short against Toro in the semis.
Huntsville's in-state compatriots, no. 15 seed Auburn HeyDay, won their pool on Saturday, but had their season end in quarters at the hands of Atlanta m'kay.
Despite a difficult Saturday that saw Malice in Wonderland go 1-2 in pool play, the Raleigh-based squad gritted out a hard fought win over Atlanta Flock in prequarters to make the quarterfinals for the first time ever.
The lack of a second bid sapped the tournament of some of the excitement that we could have seen watching these competitors battle in a backdoor bracket, but the prospect of a more normal club season in 2022 creates an intriguing future for clubs building toward challenging to earn a second bid for the Southeast next year.
---
Now up to #11. ↩

Now down to #12. ↩