Which squad of men's Nationals players would come out on top?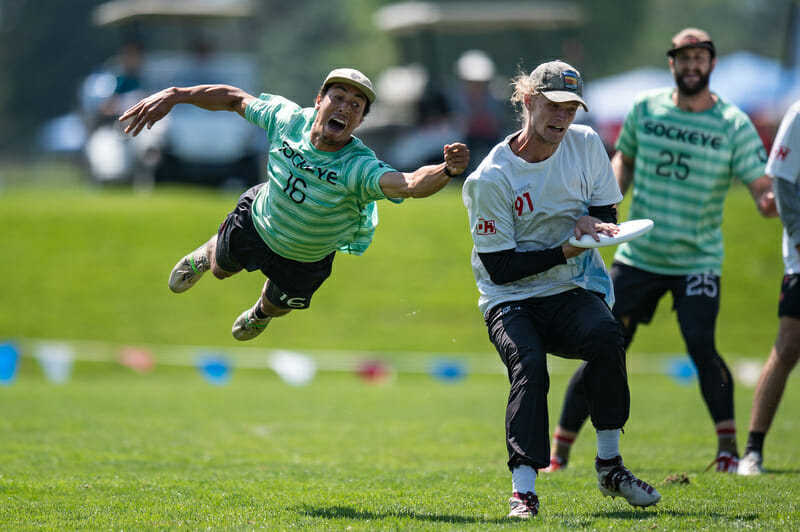 Ultiworld's 2021 coverage of the club men's division is presented by Spin Ultimate; all opinions are those of the author(s). Find out how Spin can get you, and your team, looking your best this season.
Ultimate isn't yet to a place where franchises are paying general managers to go out and draft or sign the best players to compete for their club. But that certainly won't stop us from pretending it is!
We're back for another one of our favorite annual exercises around the Club Championships — matching our wits against each other in trying to draft the best team of players to win a championship right now made up of those attending Nationals. This year, we're pitting a trio of Ultiworld staffers against one lucky Ultiworld subscriber who was selected in our Discord.1
Our participants as theoretical GMs for the men's division draft are Senior Editor Keith Raynor, Editor-in-Chief Charlie Eisenhood, and Staff Writer Alex Rubin of Ultiworld, along with subscriber Matt Graves. Matt graduated from the University of Richmond in 2012. He played on several club teams in the Richmond/Charlottesville area after graduating but never became more than a mediocre-at-best Regionals level player. He found his calling coaching the Richmond Spidermonkeys from 2014-2020 — they were D-III National Champions in 2017 and he won Ultiworld's DIII COTY in 2019.
We drafted seven players per team. Without further ado, let's get to the draft grid:
Round
Matt
Keith
Charlie
Alex
1
Jack Williams
(Ring)
Dylan Freechild (Sockeye)
John Stubbs
(Chain)
Joe White
(Machine)
2
Raphael Hayes
(Rhino)
Ryan Osgar
(Ring)
Matt Rehder
(Sockeye)
Ben Jagt
(PoNY)
3
Pawel Janas
(Machine)
Trent Dillon
(Sockeye)
Jimmy Mickle
(PoNY)
Eric Taylor
(Ring)
4
Antoine Davis
(Chain)
Simon Higgins
(Revolver)
Johnny Bansfield
(Machine)
Leandro Marx
(Rhino)
5
John Randolph
(PoNY)
Chris Kocher
(PoNY)
Michael Ing
(Revolver)
Simon Montague
(Sockeye)
6
Grant Lindsley
(PoNY)
Mac Hecht
(Sockeye)
Sol Yanuck
(Ring of Fire)
Ben Lohre
(Bravo)
7
Cole Jurek
(Sub Zero)
Rowan McDonnell
(Truck)
Nate Goff
(Machine)
Allen Laviolette
(Ring)
Here is what the drafters had to say about their picks:
---
Subscribe to Ultiworld today as part of our annual membership drive to gain access to our Discord community, as well as many other benefits of subscription! ↩
Club Championships 2021: Ultiworld Fantasy Draft (Men's) is only available to Ultiworld Subscribers
Already have a subscription? Log in
Whether you visit Ultiworld for our reporting, our podcasts, or our video coverage, you can help us continue to provide high quality content with a subscription. By becoming a subscriber, not only do you receive benefits like exclusive articles and full article RSS feeds, you also help fund all of Ultiworld's coverage in general. We appreciate your support!