They may be out of the bracket, but their work in San Diego isn't finished.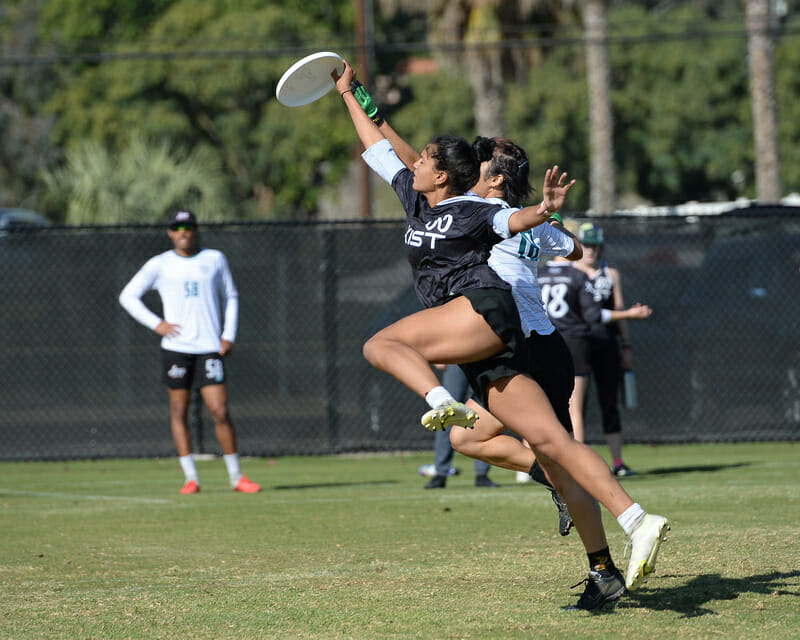 Ultiworld's 2021 coverage of the club mixed postseason is presented by Universe Point cleats; all opinions are those of the author(s). Check out Universe Point if you are looking for a comfortable, ultimate-specific cleat with a patented stud pattern that can give you an edge every time you're on the field.
No matter how much work, preparation, and team bonding go into the story of a season, its ending can hinge on the littlest of things: an off throw at the wrong time in the wrong round, a universe point finish as the wind picks up, a momentum shift you can't quite recover from, a point differential that keeps one team alive in the bracket and sends another to consolation. Among the last-place finishers in mixed pool play this year, some take pride in Day One scores that reflect closely-fought battles with well-matched opponents, others in keeping their programs strong another year or representing their city on a national stage. Read on for more about Boise Lochsa, Nashville 'Shine, San Francisco Polar Bears, and New York XIST's turns at the dance this year as they continue a weekend of reps against the division's best.
Day One and Done: What Could Have Been in Mixed Pool Play is only available to Ultiworld Subscribers
Already have a subscription? Log in
Whether you visit Ultiworld for our reporting, our podcasts, or our video coverage, you can help us continue to provide high quality content with a subscription. By becoming a subscriber, not only do you receive benefits like exclusive articles and full article RSS feeds, you also help fund all of Ultiworld's coverage in general. We appreciate your support!