Who's up and who's down after Day One in San Diego?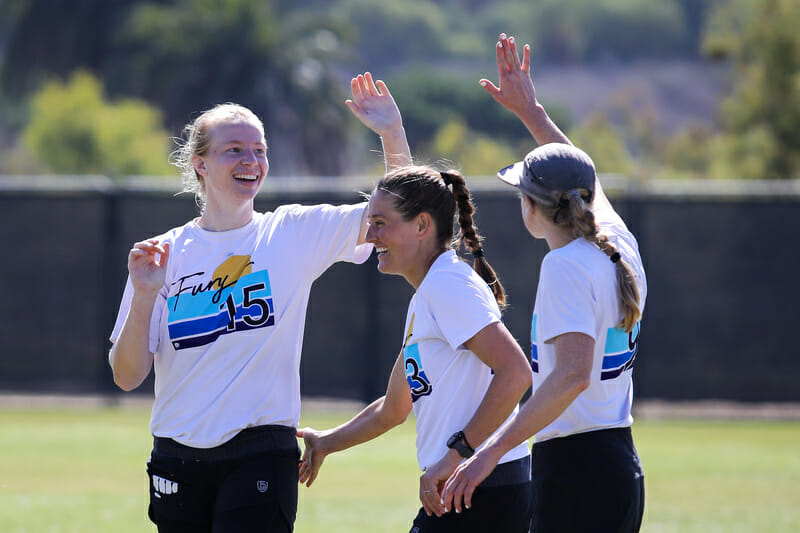 Ultiworld's 2021 coverage of the club women's postseason is presented by Spin Ultimate; all opinions are those of the author(s). Find out how Spin can get you, and your team, looking your best this season.
Day one of Nationals was quite the journey, especially in the women's division. While the weather was mostly calm, the games themselves created enough havoc to stir up a storm in pool play. So as the dust settles from Thursday and we have time to reflect, let's take a look at the Nationals Stock Watch to see what takeaways there are from the first few games of Nationals, including what's on the rise, what's holding steady, and what we've seen that's trending downward.
Buy
Florida Tabby Rosa
If #21 Florida Tabby Rosa's results are any indication, depth is overrated. The team with the smallest roster at the tournament had one of the largest impacts on the division in pool play, upsetting both #6 Seattle Riot and #14 San Diego Wildfire on their way to a second-place finish in Pool C. Sooooo, who saw this coming? This was a team that never practiced together in the regular season, has no more than four players living in the same city together, and had players meeting each other for the first time at Nationals. The team spoke clearly about how important it was that they all came from the Florida/UF system, and how important that was to building chemistry compared to teams that may have had a larger accumulation of talent, but fractured from different programs with dissimilar styles of play. Tabby came into the tournament as the no.15 seed, and there's a high chance they'll leave having halved their seeding expectations. Not bad for a roster that almost didn't have enough for two full lines.
San Francisco Fury
If you haven't already heard, #1 San Francisco Fury is a really good team. In fact, they're not just a good team, they might be a little too good for Nationals. In their three pool play games on Thursday, the Bay Area team didn't win a single game by fewer than eight points. Oh, no, wait, sorry. What we meant to say was that, collectively, their entire pool opposition couldn't score more than eight points against the Californians. Their three games today ended 15-4, 15-2, 15-2. At Club Nationals. Sheeeeeeeesh.
This tournament is meant to be a celebration of the best teams in the country coming together for the most competitive ultimate that the sport has to offer. Fury just embarrassed the competition. Is it too late to give this team a bye to semis? Or at least split them into X and Y squads? Either way, as high as the price of Fury stock might already be, this is as safe a bet as a Treasury bond.
Raleigh Phoenix
Coming into the tournament, Pool D was the source of a lot of speculation. While the odds were firmly in favor of Pools A through C being won by the top seed, there were some doubts that #4 Raleigh Phoenix had the same staying power as the other pool toppers. For all but a few minutes in their game against #5 Vancouver Traffic, those concerns seemed well-founded. Then Phoenix caught alight and burned through the lead that Traffic had built, earning two breaks in the last moments of their final pool play game, clinching the bye into quarters. Phoenix doesn't have the same pedigree as Fury, Molly Brown, or Brute Squad, but a dynasty has to start somewhere, and winning a pool on day one of Nationals is a good start. If you're looking for long-term investments, buy stock in Phoenix ASAP.
Ascendance of the Pool 4th Seed
With apologies to #11 Pittsburgh Parcha, almost every fourth seed outshone expectations, causing delightful chaos for the bracket. Two of the pool bottom seeds ended with 2-1 records and second-place finishes in their transition to bracket play, while #13 Boston Siege pulled off an equally impressive win over a team that had made semis in the last full season of ultimate that we saw. We already knew that USAU had a massive problem on their hands trying to seed teams without concrete regular season results to rely upon, but no Nationals in recent memory has had such a come-up from the bottom seeds at the tournament. Each of these teams earned a place in the bracket, and thanks to bracketology, either Tabby Rosa or Siege will go to quarters. It's a bull market for pool four seeds — everyone should be buying.
Hold
Pittsburgh Parcha
Ahead of Nationals, Pittsburgh Parcha was the buzz of ultimate social media, the darlings of the women's division that seemed to have almost every neutral fan behind them. They also came into the weekend as the bottom seed and that was used to great effect by the team and their fans to argue that Parcha was the most underrated team and that they would pull off some amazing upsets in San Diego. And then they lost all of their games today, failing to make the bracket.
With just that information then, maybe Parcha becomes a stock to sell, having not lived up to the massive hype that surrounded them before today. But when you look at their results, it becomes more muddied. In their first-ever Nationals game, Parcha lost by a mere two points to Traffic, the Northwest champions. They didn't suffer a major blowout loss to Phoenix, as we saw other top seeds do to other bottom seeds in the women's division. And while Parcha did eventually fall off against Nemesis, it was close through half. Overall, not quite the upset-city results that the hype suggested, but for a first-year team in the 4-5-9 Pool of Death, Pittsburgh did about as well as you might have hoped with the results that were expected for their seed.
San Diego Weather
Sure, San Diego is one of the few places in the country where there's not really such a thing as "seasons," but that's not to say it was perfect throughout the day. The temperature might have been ideal, but the gusting wind that blew through the fields definitely exceeded a "thrower's wind" conditions in the middle of the day, causing some very sloppy ultimate to be played when the sun was at its hottest, leading to longer points and less clinical offense. It did set up teams to test zone defenses and allowed other teams to prove their mettle against zone defenses, but was not exactly ideal ultimate conditions to show teams at their best.
Sell
"Semis Contenders" With Injured or Absent Stars
Ultimate is a team sport through and through. The game literally cannot be played with only one player. Barring a miraculous 15-0 Callahan run, the game requires at least two players on a team for anything to happen. For this reason, depth matters more than almost anything. However, that's not to say that stars can't take over a game where necessary. In fact, a lot of teams rely on specific players to show up in important situations. In the case of BENT and Schwa, when those players aren't present at Nationals, it presents a problem. Without Yina Cartagena, #10 New York BENT was missing a critical piece in their backfield, a calming presence that was necessary in the games that they needed to win. For #7 Portland Schwa, without Mariel Hammond, it was clear that they were missing an outlet player that they could look to when the stall count got high or when the play broke down. Those absences are not the only reason these teams ended 0-3 in pool play, but it certainly played a big enough role to stand out. Learn your lessons now, sell your stock on teams missing their best players.
The Pacific Northwest
This hasn't been the best postseason for the Northwest region. Three teams from the region came to Nationals, and while two remain in the bracket, it hasn't been the dominant showing we've come to expect from a historically dominant ultimate scene. Schwa's results are the most stark, as the team went through a gauntlet on day one and wasn't able to stay close against the teams seeded beneath them. Seattle Riot also disappointed, dropping a game to the 15th seed and finishing as the 3rd seed in their pool despite the program's history of success. Even Traffic, which managed to hold their seed, still has the cloud of their loss to the Northeast's Toronto 6ixers at UCI hanging over them, and weren't able to exorcise those demons with a pool win to take them to quarters, instead forcing them to fight through prequarters for a chance to play, *checks notes*, another Northeast powerhouse in Boston Brute Squad. Oof.