The slipper still fits.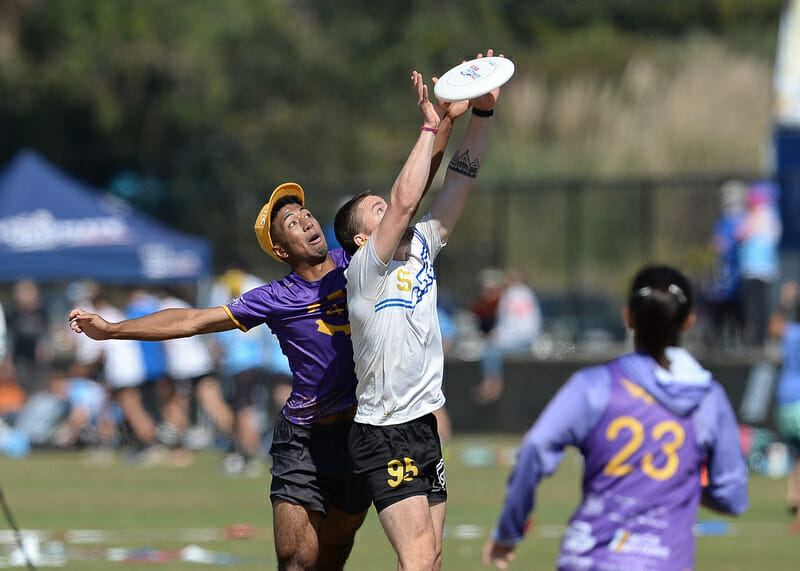 Ultiworld's 2021 coverage of the club mixed postseason is presented by Universe Point cleats; all opinions are those of the author(s). Check out Universe Point if you are looking for a comfortable, ultimate-specific cleat with a patented stud pattern that can give you an edge every time you're on the field.
#19 Madison NOISE continued their Cinderella story in the mixed division as they pulled away in the second half to knock out #9 Boston Sprocket 15-11 in a filmed quarterfinal.
The game started relatively slowly with each team feeling the other out through comfortable offensive holds. Sprocket earned the first break of the game when Margaret Walker threw a huck a touch too far, and Sprocket worked the disc up the break side for a 2-1 lead. NOISE got its break back soon after, capitalizing on a Sprocket miscue and finding Dylan DeClerck in the deep space before running a crisp end zone set. NOISE doubled their advantage when Clea Poklemba recorded the first of her many important blocks in the game. Rami Paust's huck found Kelsen Alexander for the 5-3 lead. Up 7-5, NOISE loaded up theirD-line, looking to break to take half. Margaret Walker intercepted a floaty centering pass setting up a short field, and Poklemba fired a laser backhand into the wind for DeClerck, sending NOISE into halftime up 8-5.
The beginning of the second half was a turning point in the game. As Sprocket was retooling to make a comeback, Rocco Essex-Linnehan hurt his hand after hitting his mark's face following through on a huck. Though the huck was completed and Sprocket scored (and actually broke the next point to bring the game within one), missing Essex-Linnehan the rest of the game hurt the Sprocket D-line's ability to convert breaks. Madison's lead fluctuated between one and two goals as the teams traded comfortable holds punctuated by a few classic Tannor Johnson skies. Sprocket tied the game at eleven when NOISE had a fluke mistake and turfed their first throw. Olivia Goss found Bretton Tan and the upstart team from Lexington suddenly looked like they had a chance.
Instead, it would be the last time Sprocket scored in the game, as the the NOISE D-line took over. Crossing over to play offense after NOISE ceded a break, Poklemba found DeClerck for a goal. Then Alexander came away with a massive block on a huck to Johnson. He hucked to Kevin Cannaday to get the disc out of the upwind coffin corner, and NOISE extended their lead to 13-11. As Sprocket realized the game was getting away from them, they started forcing the disc to Johnson. DeClerck got a run through block on him to set up the NOISE offense with a short field. Poklemba hit Emily Cohen to bring the lead to three. Then, with the chance to break to win, Poklemba footblocked the Sprocket initiation play and tossed an upwind hammer to DeClerck, who made a one-handed, falling-down catch to win the game.
Kelsen Alexander played perhaps the game of his life, shutting down Johnson multiple times in the second half. Not only were his blocks valuable, but they also allowed NOISE's other Johnson matchups–Jimmy Sykora and DeClerck–some points where they could poach off other marks and hunt for blocks.
"I was actually supposed to match up on [Essex-Linnehan]," Alexander said. "I was going to trade off with Grindy so we could wear him out. But I matched up with [Johnson] on one point and it felt good and so we just rolled with it. I wasn't really planning on it–that's not usually my game. I prefer to guard handlers, but I've been playing really well this series and we figured why not give it a shot."
While Alexander took on one of the hardest matchups in the division, it was Poklemba who stood out. She was absolutely clinical as a D-line disc mover, finishing with four assists in the game. They have a penchant for getting timely blocks late in games and were relied upon to cross over to important offensive points as well.
This loss marks the end of the road for Sprocket. The first year program filled with college-aged players is brimming with potential and excited to return to Nationals in the future. "We really want to come back here next year," Sprocket coach Colby Clarkson said after the game. "We're the youngest team here in mixed. It's a great experience here for the half of our players who have never been to Nationals. And a lot of our players are still in college, so it's a really good experience. They should come out of this as much stronger players."
"I think we played just about the best we played all season," Clara Stewart said. "NOISE played really well and a little bit better."
Making their first semifinal appearance, NOISE has a lot to look forward to in their matchup against Ann Arbor Hybrid.
"I think part of what really helped us is we played a lot of close games yesterday," Alexander said. "And we were down at half in all three of those games, so we knew we had energy to build and, even when the game is close, there's a subtle confidence that our games from yesterday helped us because we were able to come back in those games and find energy and find new ceilings. One of our cheers now is false summits, so we feel like we're going up and up and up."