BFG pulled away in the second half to win their first national championship.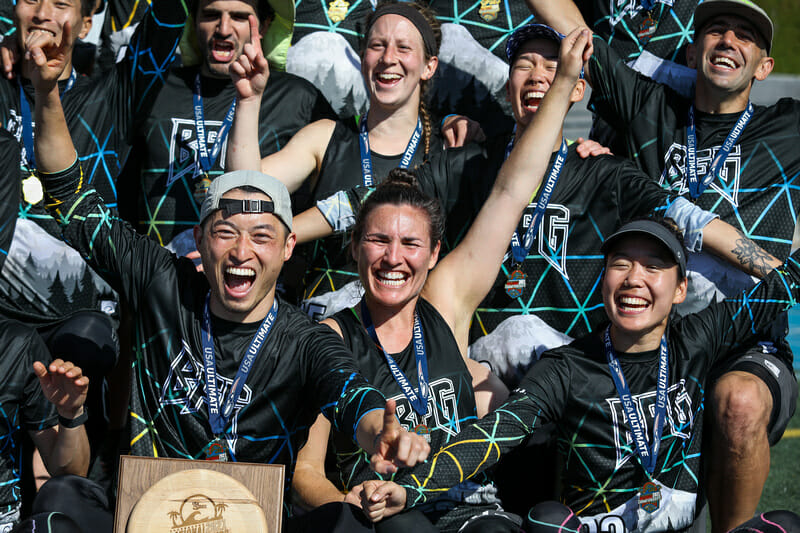 Ultiworld's 2021 coverage of the club mixed postseason is presented by Universe Point cleats; all opinions are those of the author(s). Check out Universe Point if you are looking for a comfortable, ultimate-specific cleat with a patented stud pattern that can give you an edge every time you're on the field.
In a matchup between two first-time finalists, Seattle BFG defeated Ann Arbor Hybrid 14-10 to win their first national championship.
Entering the game, BFG was known as the solid, system-driven team that liked to slow the game down and wouldn't be forced into many mistakes. Conversely, Hybrid had ridden momentum and a high variance style of play that featured more turnovers and plenty of highlights.
"It's been kind of crazy of a narrative we've had," star defender Nathan 'Skunk' Champoux said. "We had so many universe points — it's kind of been game by game really."
Hybrid started the game off on the right foot. A no-turns hold was followed by a back and forth point that concluded when Nathan Champoux shot deep for David Yu, tallying the game's first break. Hybrid pressured the BFG handlers from the start, forcing them to work in small spaces. Though BFG largely withstood the pressure, Hybrid was getting easier O points, hitting open deep looks and finishing their points in less than ten throws.
BFG got their break back when a miscommunication in the Hybrid backfield gave Seattle a short field. Kerry Chang's backhand to Jeff Pape tied the game. Following the yielded break, Hybrid's offense made a few mistakes but got the disc back to hold each time. Each team traded offensive holds until the game was tied at seven, with Cheryl Hsu's perfectly placed huck to Leah Bar-On Simmons highlighting an impressive offensive sequence. With the chance to break for half, BFG bracketed the back of the Hybrid vertical stack and forced a first throw throwaway. Tommy Lin took control of the end zone set and found Ellie Moskovitz to give BFG their first lead of the game, 8-7.
Coming out of halftime and looking to seize momentum, Hybrid played tight defense on the Seattle reset handlers and forced a high stall. Sara Nitz handblocked a throw and later laid out to save possession. After a time out, Charlotte Wilson found Mark Whitton and Hybrid was brimming with energy.
Remaining poised, BFG withstood more heavy pressure to hold and retake the lead. On the ensuing point, Connor Belfield boxed out his mark to block Perticone's low huck and BFG had a chance to cement their lead. After a time out, Jennifer Ricaurte made an impressive catch running down a Sam Pickel huck and BFG started pulling away. Two more breaks followed; Seattle had built a 12-8 lead that appeared to clinch their victory.
In the early stages of the second half, BFG started targeting their women-matching players downfield, moving Hybrid's imposing men-matching defenders out of the deep space and allowing key cutters like Cheryl Hsu, Lean Bar-On Simmons, Charlie Mercer, and Anna Maria Pape plenty of space to operate. While the offensive backfield of Mario O'Brien and Steve Gussin will get a lot of attention, along with Tommy Li's outstanding cutting, it was BFG's women-matching players that turned the tide in this game.
"I called our team out at halftime for not using our women," Anna Maria Pape said after the game. "I called out our stratcom (strategy committee) and was like 'let's go!' It worked in our favor."
Alex Pan's scoring scoober to Whitton got Hybrid back in the scoring column, but they needed to force breaks fast with the soft cap looming: the BFG offense simply would not give up the disc. Mario O'Brien's away shot to Anna Maria Pape provided the game winning score as BFG took it down 14-10.
Though obviously disappointed not to win, Hybrid players were in an optimistic mood after the game. They exceeded all expectations by making it to the final and are one of the youngest teams at the tournament. The experience they gained at nationals is sure to propel them to a bright future ahead.
"I think our team has worked incredibly hard the whole season," Madalyn Simko said after the game. "Everybody has worked incredibly hard the whole season, everyone has put in insane buy-in. That's really where our success comes from because we have so much depth on this team. It's truly a pleasure to play with all of these people."
After a semifinal in which the men-matching players had vastly more touches than the women-matching players1, the women-matching players on the Hybrid o line were given initiation cutting opportunities and played at a level that we hadn't seen yet this tournament.
"Hitting open hands is important and the equality of touches is important," Simko said, "but say last game, I personally felt like I wasn't getting touches because they were playing really good defense, but you also need to look the flip side of our ladies playing good defense and shutting them down."
Sara Nitz had two blocks in the final and enjoyed a breakout tournament. Simko herself was a standout cutter, and Mya Hernandez was an important release valve for the offense. Hernandez also won the spirit and equity award on Saturday, highlighting her importance to the team on and off the field.
"There is a lot of young talent on this team," Simko said, "as well as the pull we will be getting. Just seeing who really wants to be a part of the buy-in. It was so huge this year. Everybody was here for it and I think a lot of people are going to be like yeah that looks fun, I want to play for that team."
The title has been years in the making. Despite winning the 2018 World Ultimate Club Championships, BFG had never made a USA Ultimate final before this season.
"It was really exciting," Anna Maria Pape said after the game. "Especially because we weren't sure what this season was going to look like. There was a lot up in the air about who was going to come back, who was not going to come back…once the team was formed it was a different group. Winning Worlds was amazing but something about this victory is a little different. It seems like it's been a long time coming, which I think makes it even sweeter. Thinking back to all my previous teammates who weren't here today. We felt them here laying the groundwork for us to be here, and it feels like a wonderful celebration of current and former teammates and just all the hard work that everyone has put into it."
"We're just thankful for the opportunity," Tommy Lin said. "First of all, it's a national title game, what a treat. But it's also just one more game with this team. We're so thankful and appreciative of the fact that we were come out here and play this year after a long time away from the sport, and it's been a blast to be here with the team."
"This is actually Cheryl [Hsu's] and my first year on the team," Lin added, "and we could see it right away when we joined that everyone cares a lot and everyone puts in the work, buys into the team, and balls out. We all love each other and that's what this team is built off of. It's love, it's trust, it's hard work, it's grit, it's all of that, and it all came together for a championship."
---
118 to 22 ↩