A spotlight on the new faces taking on the Club Championships 2021 in the mixed division.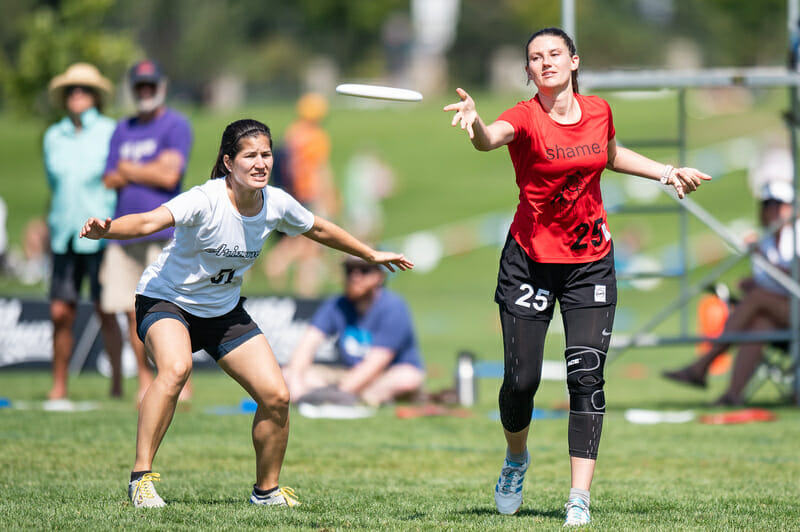 Ultiworld's 2021 coverage of the club mixed postseason is presented by Universe Point cleats; all opinions are those of the author(s). Check out Universe Point if you are looking for a comfortable, ultimate-specific cleat with a patented stud pattern that can give you an edge every time you're on the field.
Every year new players fight their way to Nationals. Some have spent years working toward a spot on a Nationals-level team, others have stayed with their team for multiple seasons working to get their program to Nationals, and others find themselves going after only a few seasons of playing ultimate. Each player's story is unique and sheds light on the various ways that people first find ultimate, get hooked on ultimate, and stay with ultimate.
Connor Lukas, Ann Arbor Hybrid, Age 26
Lukas grew up in Port Huron, Michigan, on the southern shore of the lake of the same name. He got into ultimate in high school the way so many other people have — but with an international twist. "There was no team at my school, but my cousin played summer league across the [Canadian] border in Sarnia." It was, as Lukas remembers, an eight-team league in 2010, and the team he played on with his cousin was called "Pants Party."1 It was a short trip across the bridge by car. He only had a bad time at the crossing once, when he was coming back from league around 10 PM and the Border Patrol agent on the US side had "a million questions" for a friend in his car who had recently traveled to Brazil, delaying their re-entry.
Lukas played college well out of the national spotlight at Grand Valley State, near Grand Rapids. The program made regionals for the first time in its history his sophomore year. He played club in Grand Rapids with Snow Day, the Dreamkillas, and Toast before he began to train with Michigan High Five in 2017. But between the finances, the time commitment, and the fact that he was traveling during the summer to sustain a long-distance relationship,2 he couldn't swing an elite club season that year. He joined Ann Arbor Hybrid in 2018 without a lot of results-based expectations, but the team made the game-to-go at Great Lakes Regionals, losing soundly to Columbus Cocktails.
He lives in Indianapolis now, but after having played a summer with James Highsmith and other players he looked up to, he knew he wanted to commit to another season. That meant an eight-hour round-trip commute for practices. That decision looks especially good now that, in his eighth club season, he's finally going to Nationals. "Countless hours of driving and workouts by myself — it was all worth it."
Liz Barnes, Nashville 'Shine, Age 26
Liz Barnes was a hostess at Aubrey's Restaurant in Cleveland, Tennessee during the summer of 2013 when one of her coworkers invited her to play a game called ultimate frisbee. "It was 10-on-10 chaos in a field behind a church. No one knew the rules. But it was beautiful. All kinds of ages were there, from middle-schoolers to people in their 50s," Barnes remembers She liked it enough that when she got to UT-Chattanooga that fall, she looked for a women's team at the activities fair. But there was no women's team at the time, so after playing a season with the open team, Swamp Donkeys, she started one herself. She gave it a fitting name — "Moxie" — and captained it until she graduated, becoming the team's Callahan nominee in 2018.
Barnes was beginning to fall down the rabbit hole of ultimate. In the summer of 2015, she joined the local mixed club Nooga By Nature. They had competed for a Nationals spot a few years before then, but had by then settled into a solidly middle-of-the-region outfit. The team disbanded after the season, so the following summer she went out for the Nashville women's team, Encore. They made the game-to-go in both of her seasons, but with Ozone and Phoenix locking down the bids in the Southeast, they didn't stand much of a chance. Still, she says, "Reflecting back, knowing what I know now, it's crazy how close we were [to qualifying]." It would be several years before Barnes got another opportunity.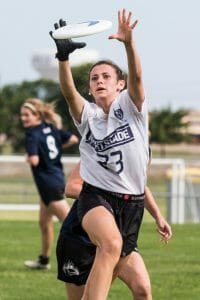 Like Nooga By Nature before them, Encore folded after 2017, leaving Barnes without a club team, though not entirely without a teamless: she helped co-found the semi-professional Nashville Nightshade, who would go on to join the Premier Ultimate League for its inaugural season in 2019. Around that time, she heard about a new mixed team forming and decided to take a chance. That first season, 'Shine finished a lowly 16th at Regionals, but Barnes didn't care. "I commit to people," says Barnes, "and the people on 'Shine were so much fun."
"Commit" is an understatement. Before the 2019 season began, Barnes moved to Nashville without a job or a place to live in order to spend more time with the team, couch-surfing for a few months until she found work. The team saw massive improvement while retaining the same goofy energy. Barnes was set to captain them in 2020 — with the explicit goal of making Nationals. Then the pandemic struck and put their aspirations on hold.
And this year, as you know, 'Shine put it all together. Barnes was on the line at universe point in the Southeast Regional final. The sidelines were thronged with North Carolina players supporting Toro ("it was so loud and obnoxious"). After peeling off to help against the Toro deep receiver who landed just inches out of bounds, she took an injury. When she watched her teammates huck on the counter and then complete the score, she had to try to hold everyone back from the field. "We were waiting for the observer to signal goal," she said. "But he just kept his hands down."
Reliving that moment still produces a "full-body sensation" for her. "Emotionally, it's raw. I'm still like, 'Oh my god, we did it.' It's something I've been fighting for since 2015."
But for Barnes, it isn't just about her personal achievement, or even about the team. "As Tennessee teams," she told me, "it's been so hard to fight, to get those reps at high-level tournaments. I've committed to Tennessee teams and Tennessee people my whole career."
Meg Lake, Minneapolis Drag'N Thrust, Age 25
"It was a great place to start playing frisbee," says Meg Lake, who came of age in the effervescent Twin Cities youth scene. It was only 2010, but even then lots of high schools had teams, and there was a large YCC contingent every year. She played at Armstrong High School, where she was coached by a couple of then-Drag'n Thrust players and was teammates with Erynn Schroeder. It was almost written in the stars that she would play YCC, then college, and probably Nationals, and maybe Worlds. That is, it seems inevitable looking back. Funny thing, hindsight.
In reality, Lake's journey has been a lot more crooked than all that. Yes, she did play YCC with the Minnesota girls' team — but that's where the straight-and-narrow hit a wall. She attended D-III Gordon College and played for their open team — just wait until you read this one — the Gordon Commissioners. The fact that she was a woman didn't stop her from rising within the club; in fact, she was both captain and player-coach in her sophomore and junior years. But the work it took to captain a team made up mostly of young men at a school without a network of support and knowledge already in place to lean on took its toll: "It killed some of my mojo for frisbee."
Her senior year, she went to study abroad in New Zealand. She didn't come back. A semester stretched into a year, a year stretched into five. Not only had she left the country: her extra-curriculars were also on the cusp of change. "I had given up on frisbee," says Lake. But then she went to check out the scene at University of Auckland. She was surprised on two fronts: how badly they wanted her to play on the top team, and what a close-knit community it was, not only on the university team, but throughout the country. "It was a really welcoming and fun community. There's something to be said for seeing how well people treat each other at the fields [there]."
Her rediscovery of the sport in New Zealand renewed her access to high-level play. She was able to play for their U24 mixed team in Perth, and then to manage the team as they traveled to Heidelberg after she aged out of eligibility. She also made an important personal relationship: fellow ultimate player Billy Armstrong, now her husband.
Lake and Armstrong moved back to Minnesota in April of this year and got vaccinated against COVID. Before long, a couple of her high school friends convinced them to come to Drag'n Thrust tryouts. She wasn't sure she and her husband had done enough to make the cut, but they must have done — they both earned spots on one of the strongest, most storied teams in the country. And in her first-ever season of American club, no less.
It isn't anything Lake ever thought would happen to her when she was in college. Back then it always seemed like she was "watching a lot of my friends posting stuff about 'We made it!' And it always made me think, 'I wish I could do that.'"
Kay Powell, Arizona Lawless, Age 33
Frisbee wasn't all that special when Kay Powell was growing up in Madison, Wisconsin in the early aughts. A lot of people played. They taught it in gym class in middle school. You didn't have to think much about it because it was just… there. So when she overheard a guy at Madison East High School telling another girl about joining his summer league team, she just walked over and asked him if she could join, too. She ran track, so she figured she could do it. It wasn't serious.
She kept at it during her college years at Lawrence University. The team there was serious enough to have a name ("Vici," as in "I conquered"), but not much else. "We were the team who brought ten or fewer players to tournaments." Those tournaments, by the way, were optional. So it was a big shift for Powell when she transferred to University of Wisconsin-Madison and joined Bella Donna. That year's squad featured Georgia Bosscher, Amber Sinicrope, and Laura Bitterman — and a whole slate of required practices and tournaments.
Bella Donna made it as far as quarterfinals at Nationals that year. It was around that time that Powell started to get a sense of the various tiers of competition, how intense top college play could be, and what sorts of opportunities she could use to continue after graduation. Her first club experience came in the summer of 2010 with a Whitewater-based mixed team called Evil Twin. She joined Madison Noise for the 2011 and 2012 seasons — it was then that Powell began seriously to think that she had a chance to play at Club Nationals. But Drag'n Thrust and CLX had a stranglehold on the division at the time. That was only the beginning of what would be a long journey through the club division.
Optometry school (and a desire for milder winters) took her out of Wisconsin. From her new home in Memphis, she commuted to Nashville to pick up with the women's teams De Soto and Encore for a few years. But she found the same situation there as back in Madison — a strong team stymied by the implacable presence of a pair of stronger ones, in this case Ozone and Phoenix.
"[Nationals] has always been a goal of mine," says Powell. So it was with large ultimate communities in mind that she began to look for a job as she finished her optometry program. But she was also committed to warm climates. The offer that seemed to fit both requirements came from Phoenix, Arizona. She moved there in 2017 and signed on with Uprising in the women's division. They weren't particularly competitive against the California teams at regionals. Not that Powell ended up having much to do with it: she tore her ACL at sectionals.3 In 2018 and 2019 she went back to her roots in mixed — first with Robos, then with Pivot — for two more ho-hum regional finishes.
But she and a few other area players noticed something interesting in 2019: at Southwest Regionals that year, Phoenix Pivot placed seventh, and Phoenix Rubix placed sixth. "The issue was filling in the gaps," Powell remembers. "There was no concentration of talent." Could there be to reorganize the Phoenix community and make a real run against the California cabal? And so Arizona Lawless saw the light of day.
"We just clicked," says Powell of her new team. They clicked, and they qualified. Powell sees it as a triumph of community organization, both in terms of how well the club played and in the broader mission of growing a more robust ultimate scene in Arizona at every level (the lack of which, as someone who grew up in Madison, she felt keenly). But she also recognizes her own personal achievement. "It's so rewarding to put in all of this hard work and have it pay off." All it took was eight clubs, eleven seasons, and a torn ACL to get there.
AJ Merriman, Washington DC Space Heater, Age 21
Once upon a time, there was a boy named AJ Merriman who wanted to be a professional athlete. The odds for him, as they are for anyone, were long. But he perhaps had enough talent and drive, and his mother, a high school track coach who had herself been an athlete, was supportive. Though far from a guarantee, his childhood goal was not out of reach. Then, he fell in love with ultimate.
He learned about the sport at cross country camp in 2015 and soon afterward started a club at his high school in Leesburg, Virginia. It started with 5-10 players. They would watch AUDL highlights together during lunch; Merriman cites Jakeem Polk reels as the most effective for recruitment. They cobbled together a decent squad, despite their inexperience. "Most of the team was over six feet tall, and we had a couple of girls who became D-1 athletes [in college]." It also helped, when they needed practice space, that his mom understood the inner workings of high school politics. "You help the A.D. move furniture, you get some fields."
Merriman continued to play as much as he could throughout high school: with his school team, in the popular DC-area youth leagues, with some friends on Watchdogs, a men's division club from Maryland. He went out to Breeze tryouts even though he was too young for them seriously to consider rostering him. At CUT Camp in 2017 in Raleigh, he was coached by, among other luminaries, Rowan McDonnell. It proved to be an important connection. "Rowan has been my consistent support," says Merriman. McDonnell was always training then, and the eager Merriman joined him as often as possible. You can see him as one of McDonnell's throwing partners in several videos in his popular YouTube series.
It wasn't clear how ultimate would continue to fit into his life when he accepted a track scholarship to D-III Marymount University in Arlington, Virginia. The track program wasn't a good fit, however. In the first place, his trackmates didn't share his ambition. "They were much slower, more cautious about their bodies. And they didn't have the 'get better' mentality," recalls Merriman. When the coach who recruited him left the program after his first semester, Merriman dropped out of school.
He kept thinking about ultimate, though, and he kept training, even though he didn't play for another seven months. That fall, though, he picked up with the team from George Mason. The way that team pushed him to try to get better made him think he had found his path. "This is what I want to do." He discovered a passion for the mental side of the game: "You can be yourself on the field differently than other sports. You have to balance fast vs. slow; you talk a lot; you have to slow your heart rate down to throw."
Since then his trajectory has been meteoric. McDonnell coaxed him out to Breeze tryouts in 2019. He was unhappy with his performance there, but he made the team and became a fixture on the D-line.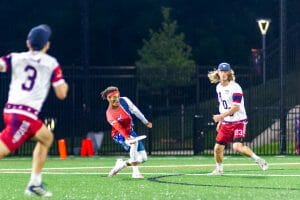 He lives with his mom in a rural town that, while it made for arduous commutes to the DC metro area during the Breeze season, was a perfect enclave during the pandemic. He would take a stack of discs to an empty field near his house and work on his power and edge control every day, and he used the empty track at the local high school for workouts. The quiet was conducive to meditation, too, a practice he has carried with him to the sidelines before games. All of that effort and concentration translated into big gains: Merriman vaulted to the top of the league in the semi-pro circuit this year, earning All-AUDL 1st Team honors.
Merriman knows, however, that, at least for now, a significant portion of the best players in the sport don't play semi-pro. And if he wants to turn his passion into a career, he has to be one of the best — you can't do that if you aren't playing with and against as many players of that caliber as possible. So he left his friends on Watchdogs for Space Heater, who had already established themselves as an elite program. And now here Merriman is, at a pinnacle of sorts, but also at one of the early stages of what he plans to make a much longer story.
It's pretty hard to go pro — fully pro, like for a living — in a field for which a professional framework does not yet exist. But Merriman is making a pretty good run at it so far. He's a key contributor on one of the top teams at the highest level of play, which, for the moment is, at the amateur level.
Will St. Charles, Denver Love Tractor, Age 32
Will St. Charles traces his introduction to the sport to some "bush league" pick-up with friends in Roosevelt, Minnesota during high school, playing with however many people showed up. He didn't really give it another thought, even as he began to attend the University of Colorado. St. Charles had no understanding of the prestige of the Mamabird program, and he didn't really have any interest in ultimate.
It's funny how something totally inconsequential can become the center of your life.
College Nationals was in Boulder that year, and he went out to watch. He thought it looked cool enough that during his sophomore year he joined up with Cockfight, Mamabird's B-team. He got more invested as he got better, and by the time he was a senior he had made it onto Mamabird proper.
He wanted more, and so he began his odyssey with Denver Inception. Inception's struggles have been chronicled elsewhere, but here's a tl;dr from St. Charles: "We lost in the game-to-go every year I played."
"The goal," says St. Charles, "was always to get to that game and take your shot. When you make the game-to-go, you have to believe you can win it. But after you lose five in a row… you get to be more process oriented." The problem was twofold. Not only were Johnny Bravo and Doublewide always extremely difficult matchups for them, but they couldn't even really build much year over year. The allure of Bravo and was too strong. "We just couldn't keep the talent."
It took a pandemic to create the kind of seismic shift in the Colorado club structure to finally dislodge St. Charles from Inception. Between not being sure that they would even have had enough players to compete4 and having a new challenge at home — a newborn — he started to look around for another club. He was thinking, "What do I want out of ultimate?" There were plenty of options — Boulder Lotus and Golden Fungi both absorbed a lot of the talent that might have gone to Inception in the past, and Bravo was always out there. He found the best fit with Love Tractor: for the first time in his career he switched to mixed.
St. Charles was pretty relaxed about the season and the team's chances to make it to San Diego until the second half of their game-to-go against Dallas Public Enemy, who stormed back from a 10-7 deficit to tie the game. "It was like I was re-living one of those games-to-go of the past. All of the things that went wrong were going through my head."
This time, however, his team's O-line didn't stumble on universe, so much so that it was almost anti-climactic. "They made it look easy," says St. Charles. "I was grateful for the opportunity to exorcise some demons."
Since then he has been pushing hard through all of his workouts. "This could be my only opportunity. I want to do everything I can not to have regrets about what more I could have done."
---