Live and filmed coverage in all four college divisions!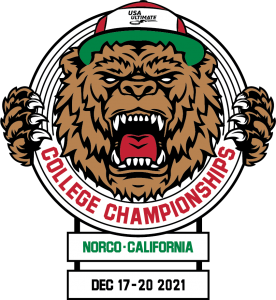 The 2021 College Championships are finally here! Beginning 8 AM Pacific on Friday, December 17, teams in all four college divisions — D-I men's, D-I women's, D-III men's, and D-III women's — will battle it out in Norco, CA for the first national college titles since 2019.
Streaming coverage of D-I games will be available on YouTube and Ultiworld.com/live starting with pool play on Friday. D-III coverage begins on Saturday as teams enter the bracket. On Sunday through Monday, ESPN3 or ESPN U will broadcast some D-I semifinals and both D-I finals; Ultiworld will stream all D-III semifinals and finals.
In addition to our video coverage, Ultiworld is posting round-by-round updates on our event page and livetweeting games at Ultiworld Live (D-I) and 7500 Club (D-III). Watch the site for full recaps, features, and stories from the tournament!
Here is the complete live video schedule for the tournament (all times local). Ultiworld is also filming multiple games per round for video subscribers — this post will be updated soon with our filming schedule.
Friday 12/17
Live
| | | | |
| --- | --- | --- | --- |
| 8:00 AM | D-I M | Wisconsin vs. Texas | Ultiworld |
| 8:00 AM | D-I W | SUNY Binghamton vs. Virginia | Ultiworld |
| 10:15 AM | D-I M | Tulane vs. NC State | Ultiworld |
| 10:15 AM | D-I W | Michigan vs. Pittsburgh | Ultiworld |
| 12:30 PM | D-I M | Pittsburgh vs. Brown | Ultiworld |
| 12:30 PM | D-I W | Colorado vs. Washington | Ultiworld |
| 2:45 PM | D-I M | Carleton vs. Washington | Ultiworld |
| 2:45 PM | D-I W | Western Washington vs. North Carolina | Ultiworld |
Tape Delay
Coming Soon
Saturday 12/18
Live
Tape Delay
Coming Soon
Sunday 12/19
Live
| | | | |
| --- | --- | --- | --- |
| 8:00 AM | D-I W | Quarterfinal | Ultiworld |
| 8:00 AM | D-I M | Quarterfinal | Ultiworld |
| 10:15 AM | D-I W | Quarterfinal | Ultiworld |
| 10:15 AM | D-I M | Quarterfinal | Ultiworld |
| 12:00 PM | D-I M | Semifinal | ESPN3 |
| 12:30 PM | D-III W | Semifinal | Ultiworld |
| 12:30 PM | D-III W | Semifinal | Ultiworld |
| 2:30 PM | D-I W | Semifinal | ESPN3 |
| 2:45 PM | D-III M | Semifinal | Ultiworld |
| 2:45 PM | D-III M | Semifinal | Ultiworld |
| 5:30 PM | D-I M | Semifinal | ESPN3 |
| 8:00 PM | D-I W | Semifinal | ESPN3 |
Tape Delay
Coming Soon
Monday 12/20
Live
| | | | |
| --- | --- | --- | --- |
| 10:00 AM | D-III M | Final | Ultiworld |
| 12:30 PM | D-III W | Final | Ultiworld |
| 3:30 PM | D-I M | Final | ESPN U |
| 6:00 PM | D-I W | Final | ESPN U |