A staff selection of images that stayed with us from last year.
In our UltiPhotos of the Month series, we feature some of our favorite shots from the leading photography company in ultimate. You get the play, they'll get the shot.
It's always fun to compile our UltiPhotos of the Month articles, combing through the hundreds of amazing photographs on the site to pick out a few handfuls that capture the best moments of the previous 30 days. When we have a whole year to choose from, it's a near impossible task to whittle it down to a consumable number. So rather than make any definitive claims about the best photographic achievements of the year — we'll leave that to the professionals1 — we asked our staff to pick out some of their personal favorites, based on whatever criteria mattered to them. Maybe it was a personal connection to the teams or players in the images, maybe it was capturing moments that spoke to a larger storyline during the year, maybe it's just the pure aesthetics of a particular composition. Either way, here's what some Ultiworld staffers came up with, along with a few words about why these photos spoke to them.
—

This photo has been stuck in my mind all year. Ultimate frisbee is not just a game that is enjoyed by the people on the field when they are on the field. It is a game that can be enjoyed by the whole family for generations to come.
– Victoria Davis (Associate Editor)

After the COVID bug hit the College Championships pretty hard, it is easy to forget that the original Norco COVID case came at Select Flight Invite back in August. Despite Dallas Public Enemy following the proper protocol as laid out by USAU and going above and beyond what the safety recommendations at the time required, they were skewered online and ended up withdrawing from the tournament. But before that happened, they at least had some moments to celebrate with their on-field performance.
– Alex Rubin (Senior Staff Writer)

As an editor, I sift through a lot of UltiPhotos when I'm prepping posts about the year's big stories. Title-cinching goals. Blocks that change the course of seasons. First-time qualifiers spraying each other with champagne. So why, with so many iconic moments to choose from, do I keep coming back to the Killjoys' Ben Ashton (right) trying and failing to get a piece of this ISO Atmo pass in the semis at SFI West?
Maybe because it's less like an image you'd see on a poster and more like the kind of split-second glimpse you catch on the field and barely get to register before play goes on. The sunbursts on the soles of those Tokay cleats are a design flourish you only ever see in action, like the Jeep tire covers that say "if you can read this, flip me over" in upside-down block letters: "if you can read this, I'm beating you deep, or think I am," or "if you can read this, I'm already three feet off the ground." It flashes in front of you and then it's gone, like most moments on most fields are. But in that instant, it's astonishing.
As for the Killjoys, they may have lost this possession, but fairly blew past ISO Atmo 15-7 en route to crushing Fungi 15-2 in the SFI West final. Anyone remember what happened after that?
– Mags Colvett (Associate Editor)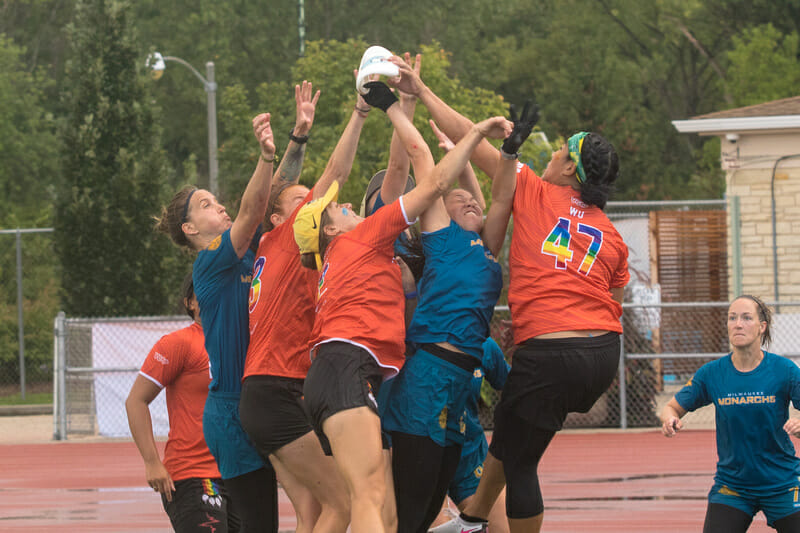 All of the PUL weekends in 2021 offered entertaining ultimate, but the last-minute excitement and overtime finish of the Midwest tournament was must see! After a huge comeback by Columbus to take the lead late in the game, Milwaukee forced overtime with this last-second grab — and poster for a lifetime endorsement from Layout, the PUL glove sponsor — by Keila Strick of the Monarchs. Milwaukee would go on to win the last game and de facto final of the PUL Midwest tournament.
– Ben Murphy (Contributor)

Nate Goff attempting a greatest for the Chicago Union during AUDL Championship Weekend just looks like awesome sports photography — the bright lights and high-flying player remind me of NBA arenas with camera flashes behind it.
– Keith Raynor (Senior Editor)

I love how the heartfelt gratitude for Shanye Crawford's incredible work organizing the Con10ent Tour and pushing for authentic racial equity in ultimate gushes from this photo. In a year where the joy of returning to play was a major theme, it feels only fitting that honoring Crawford's work to center Black joy and the talents and contributions of Black players is a top highlight of 2021.
– Isabel Cruz (Staff Writer)

I love a shot that forces your brain into mild contortions, as it attempts to reverse engineer how the still image in front of you came to be. I don't know exactly how Ben Sadok ended up Wile E. Coyoteing himself into the frame of this photo, wearing the maniacal grin of some deranged branch of Luigi's family tree, but I'm glad he did.
– Patrick Stegemoeller (Senior Staff Writer)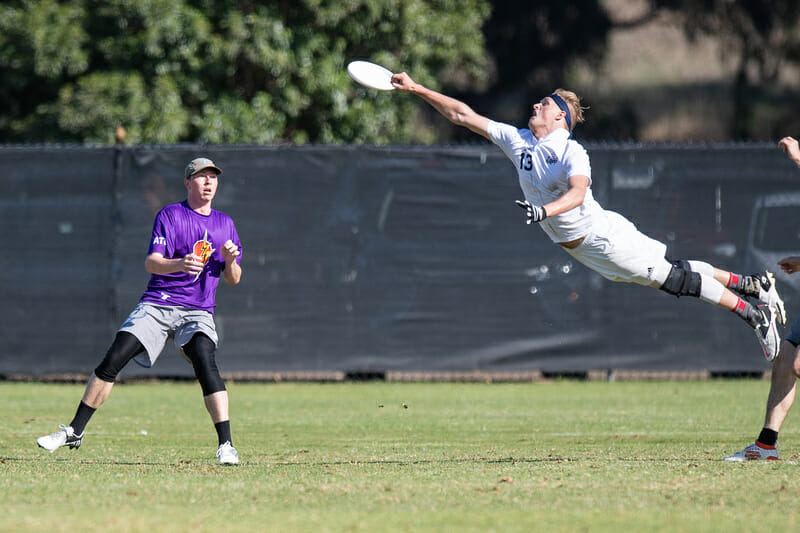 Every once in a while, a photo of an ultimate play will elicit an audible reaction from me. When I saw this one post among the daily highlights during Club Nationals, I'm not sure if the sound that escaped my mouth was more dramatic gasp or guttural croak or dumbfounded half-expletive, but I know it wasn't a response where I was fully in control of what came out. Such impressive athleticism. Then I looked up who the player was and noticed it's a kid who hadn't yet played in a college game. Cue next uncontrolled audible reaction — indignant full-expletive.
– Steve Sullivan (Executive Editor)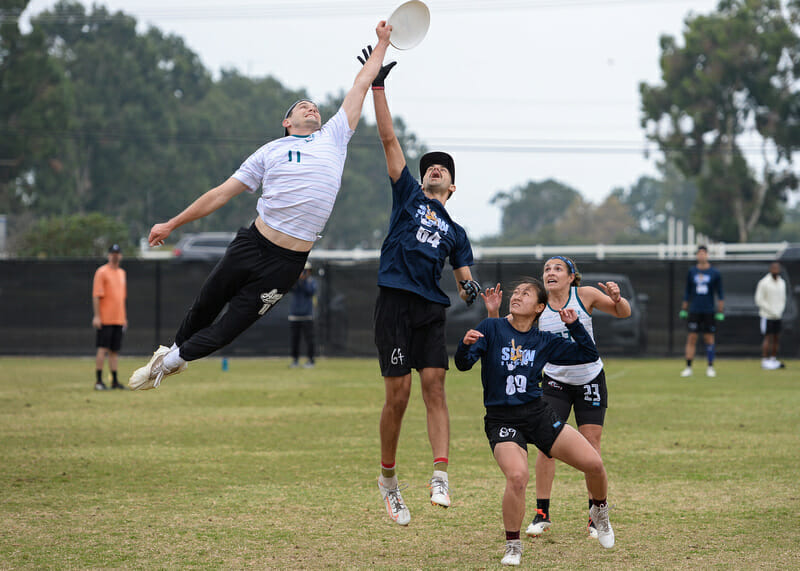 This might have been the most impressive play I witnessed up close this year. While my editing duties typically have me confined to the media tent throughout events, every once in a while I can sneak away and catch some of the action. Noticing that my former team was in a tight prequarter match in the bracket of Club Nationals, I hustled from my station at tournament central to the far corner of the complex in San Diego to see the last few points of Boston Slow vs. Philadelphia AMP. Shortly after arriving, this happened. With the game tied late and Boston needing a break to inch ahead, it looked for all the world like their D-line was going to get a chance when Slow's Davis Whitehead peeled off Jordan Rhyne to poach a hanging huck toward Natalie Bova. Instead, it was Rhyne flying in out of nowhere who soared over the pile to make an unbelievable catch that kept AMP in front.
While this one was a personal bummer for me as someone with a rooting interest, I'm so thankful that Kevin Leclaire just happened to be in the area to snap this photo. Given how far away it happened from the livestreamed fields and center of the action at the event, it very well could have been completely lost to history, with only those in attendance bearing witness to it. Instead, it serves as a reminder of why ultimate media is so important.
– Steve Sullivan (Executive Editor)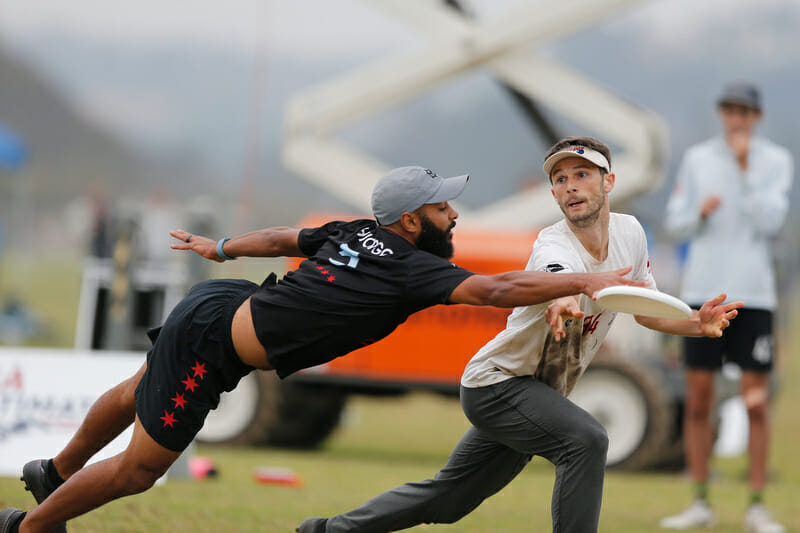 This one from Club Nationals stuck with me. The context for the shot is awesome — a layout hand block on universe point in an elimination game at Nationals — and the fact that it actually got captured by William Brotman in this exact moment is wild.
– Graham Gerhart (Senior Staff Writer)

Khalif El-Salaam laments losing in semis to BFG in the foreground while BFG celebrates in the background. Echoes my favorite UltiPhoto ever of Pat Earles amidst a celebrating UNCW. Adds the touch of a BFG player comforting El-Salaam. Joy and pain, winning and losing.
– Keith Raynor (Senior Editor)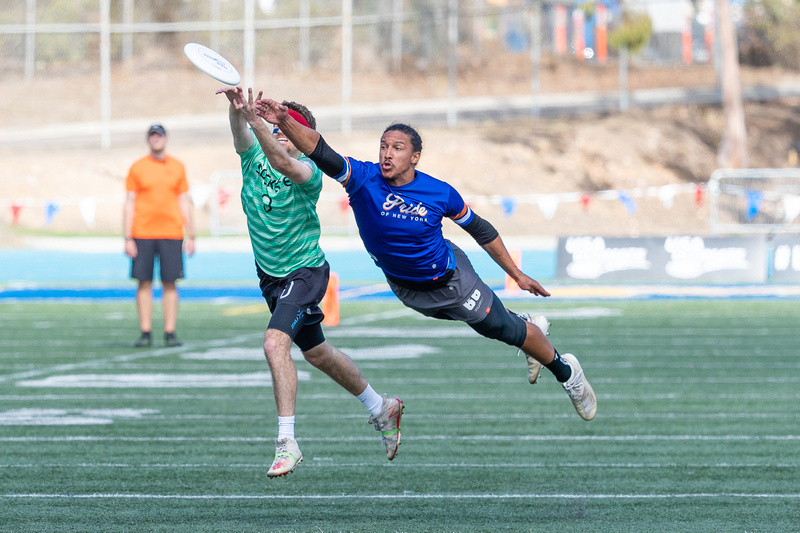 First of all, I love that this shot is great-on-great: one of the best pure cutters in the world (Jacob Janin) going toe-to-toe with one of the best pure cutter defenders in the world (Jibran Mieser). In that respect, and in this moment just before the outcome of a pass is determined, it is a beautiful representation of the essence of the sport.
Secondly – and this is the obvious point – look at Mieser's form on that bid! The height, the stretch, the clean line, the timing: it is as good an example of a defensive layout as you'll ever see.
But what really elevates this photo to best-of-the-year is that Mieser's block kicked off the craziest play I have ever seen in my life. The block knocked the disc high into the air and about 15 yards backward into Sockeye's endzone. Janin never stopped running; he just kept tracking the disc as it arced farther away from him – even when it curved out of bounds. Janin leapt for the greatest and got off the throw, in spite of the awkward flight of the tipped disc. Simon Montague, on the receiving end of the greatest, then threw a backhand 80 yards up the field for a score! Okay, okay, so it was called back. As it turned out, Janin's foot had been on the line when he jumped for the disc: out of bounds, no greatest, crazy play erased. But I don't care if it counted or not. I'm still going to tell my grandkids one day about the coolest chain of events ever to unfold on an ultimate field.
– Edward Stephens (Senior Staff Writer)

The facial expressions, colorful jerseys, displayed effort, and backlighting make this one of my favorite photos of the year. Every time I look at it I smile and every time it is for a different reason.
– Victoria Davis (Associate Editor)

This photo is easy to scroll by and not notice much; it looks like a typical chaotic D-III point. With the added benefit (read: bias) of being the coach of the team wearing white, I know that the goal scorer here is a 2020 graduate who waited nearly two years to play his last college tournament. He drove over an hour each way to practice all fall, showing more dedication than some of the students who lived walking distance from the practice fields, and capped off his career with a stellar performance at Nationals. It's debatable whether a photo is worth 1,000 words, but the impact that returning super-seniors were able to share with their small teams is immeasurable.
– Alex Rubin (Senior Staff Writer)

From an All-Club effort for Mixtape to her incredible showing at College Nationals in December, Abby Hecko was ubiquitous in 2021. And her performances were eye-catching — there were so many amazing photos of Hecko this year you could have filled an entire article with just a selection showcasing her highlight plays and celebrations. This one in particular stuck out to me because it feels like such a perfectly weird metaphor for her dominance in Norco — she completely overshadowed opponents, looking like she must be some kind of superhuman with extra limbs or length allowing her to make all the insane plays she did.
– Steve Sullivan (Executive Editor)
---
Already looking forward to their gallery and awards from 2021! ↩