And the Catch of the Year is...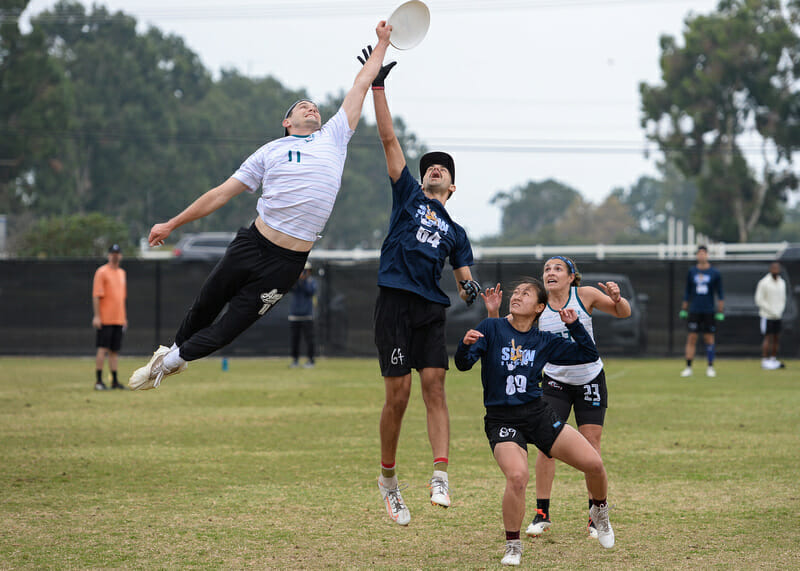 Ultiworld's 2021 Catch of the Year bracket is presented by Friction Gloves; all opinions are those of the author. Want to make highlights of your own? Try Friction Gloves!
One of our most popular series to begin each year, it's time to look back at last year and let our readers decide some of the top plays of the year from 2021.
We have decided the champion of our Catch of the Year bracket. We watched many hours of game footage and highlight reels to hunt down the catches, completions, grabs, snags, and everything else; believe us, there were more than enough options to fill up this bracket, so even some worthy nominees were left on the cutting room floor. We invited you, the Ultiworld readers, to vote for your favorite of the finalists selected.
And select you did! Thank you to all who voted, shared, or commented. We have our 2021 Catch of the Year:

Jordan Rhyne – Philadelphia AMP (USAU Club)
The dust has settled on the Catch of the Year bracket, and the winner is Jordan Rhyne, one of the primary AMP playmakers this past club season. He dominated in the bracket's final, earning a hearty 75% of the vote of Abby Hecko. Considering the shine on Hecko's name, that's pretty impressive for a player who hasn't been as spotlighted.
But Rhyne's been making the most out of his past couple of seasons in a big offensive role for AMP, having joined the team in 2019. It's the highest profile opportunity he's earned, having played his college ultimate D-III Kenyon before playing with Ohio area clubs like Mad Cow and eventually High Five. On this bigger stage, Rhyne has risen to the occasion, in a literal sense obviously on this play.
It's a remarkable catch on Rhyne's part, and there's a reason it has over 50K views on Ultiworld's Instagram. It's also garnered comments like:
"Still trying to figure out how he flew through two stationary people without fouling anyone."
"Saw this play live. It was incredible. Best play I personally saw at Club Nationals."
While it took some pretty close wins in the first two rounds, by tourney's end, Rhyne's catch asserted itself as the best of the year.